Investing in Airline Stocks
Airlines are an important part of the economy, but their stocks often have been lousy investments. Airline stock prices move with economic cycles, and past downturns have caused airline bankruptcies and failures.
Industry consolidation, however, has created a small group of competitors that are more effectively using technology to manage schedules and set fares. Today, four airlines control about 80% of the U.S. market.
Airlines after COVID-19
The COVID-19 pandemic temporarily caused airline revenues and share prices to fall. But vaccines have people traveling again, and airline stocks have regained some altitude as passenger numbers have increased this year.
As people start traveling more, domestic tourist destinations are recovering to near pre-pandemic highs. But that has created a fresh set of challenges for airlines that slimmed down during the crisis and are now struggling to adequately staff additional flights. Add in higher labor costs, and the return to a pre-COVID balance sheet is a struggle.
There is help on the way. As the pandemic recedes, business and international flying -- the most lucrative parts of the business -- are expected to return. However, the International Air Transport Association, the airline industry's trade organization, has said a full recovery might not happen until 2024, creating a lot of uncertainty.
The best airline stocks
Airline
Market Capitalization
Southwest Airlines

(NYSE:LUV)

$28.85 billion
Delta Air Lines

(NYSE:DAL)

$25.56 billion
United Airlines Holdings
$15.42 billion
American Airlines Group
$12.67 billion
Airlines in the U.S. fall into three categories:
Full-service companies, which fly globally, have different cabin classes, and serve many markets.
Discounters, which offer few frills and service few destinations.
Regional airlines, which provide small-jet service to secondary markets under the brands of full-service partners.
There are about a dozen publicly traded airlines in the U.S. Here are some of our top picks:
1. Southwest Airlines
Southwest Airlines was the original discounter, but it is now one of the titans of the industry and no longer a maverick start-up. The Dallas-based airline remains the only major carrier never to land in bankruptcy court, and its simplified operations have a track record of remaining profitable even when rivals struggle.
The airline has run into some labor trouble as it scrambles to rebuild its schedule, but Southwest has shown over the years that it can fly through turbulence. Southwest has the industry's best balance sheet and is an investor favorite for its ability to survive.
2. Delta Air Lines
This airline is the driving force behind much of the recent innovation in the industry. Atlanta-based Delta kicked off a round of consolidations that helped stabilize the business when it acquired Northwest Airlines in 2008, and it has revamped pricing to better compete with discounters. Delta even bought an oil refinery to help ensure its access to jet fuel supplies. Where Delta goes, its rivals follow.
Post-pandemic Delta has a stable balance sheet and relatively strong labor relations, making it a good choice to be among the first international carriers to fully recover.
3. United Airlines Holdings
United Airlines has large operations catering to Silicon Valley and the U.S. energy sector, as well as a massive network throughout Asia. The highly cyclical nature of those markets means that United's results can ebb and flow with tech or energy.
United, which is based in Chicago, has historically been the envy of the industry due to its large presence in key business markets and its ability to offer unrivaled connections to corporate travelers. That advantage has waned during the pandemic, but the network is still a key United advantage.
4. American Airlines Group
American is a classic brand under new management and has been taking on more of a discounter mindset since its 2015 merger with US Airways. The Fort Worth-based airline operates a massive network and enjoys strong ties with important European partners. However, as the airline with the highest debts and a route network optimized for international travel, American could find it more difficult to shake off pandemic-related issues. Company officials said in a recent earnings call that the airline is also actively looking to create partnerships such as its arrangement with JetBlue Airways (NASDAQ:JBLU) to offer additional service to the U.S. Northeast.
If you're bullish on airlines but would rather not choose among individual stocks, lower-risk investments such as exchange-traded funds (ETFs) also cover the airline sector. The U.S. Global Jets ETF (NYSEMKT:JETS) is specifically focused on airlines, while the iShares Transportation Average ETF (NYSEMKT:IYT) and the SPDR S&P Transportation ETF (NYSEMKT:XTN) each allocate more than 25% of their holdings to airlines.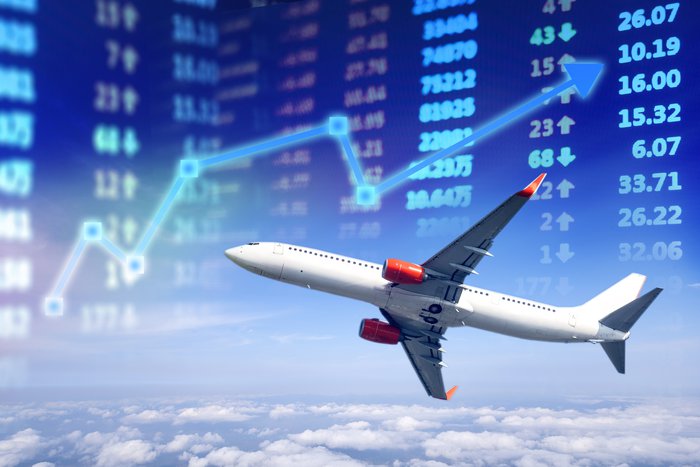 Trends in the air travel industry
After a lull, we've seen two airline initial public offerings in 2021. Sun Country Airlines (NASDAQ:SNCY) and Frontier Group (NASDAQ:ULCC) have tapped the public markets for expansion capital.
Both are discounters focused on leisure travelers, who are expected to make up the bulk of demand in 2021. Investors should closely watch these companies as potential investments and see how they affect their more established competitors.
Downturns tend to be good times for new airlines to emerge or for discounters to grow because airplanes tend to be available on the cheap. We'll likely see more expansion in the airline sector and perhaps new entrants into the market.
Understanding the airline sector
Investors should understand several airline-specific terms before buying any stock. Here's what you need to know:
RASM
Short for revenue per available seat-mile, RASM is a measure of airline profitability. A company's seat-miles is the number of seats an airline has made available multiplied by the number of miles the airline's jets flew. Dividing revenue by seat-miles equals an airline's RASM.
RASM is important because all flights have different fare and cost structures depending on many variables, including flight distance and aircraft type. Simply looking at total revenue or expenses won't give you the full picture.
An airline's RASM helps to indicate whether it is selling tickets at any price just to fill seats or if it has enough pricing power to sell seats for profit. Two different airlines could both have full airplanes, but, as an investor, you want to focus on the one able to do it with strong margins.
CASM
Short for costs per available seat mile, CASM is an airline's total costs divided by number of available seats, then multiplied by miles flown. It measures expenses the way RASM measures sales. If Foolish Airlines had total expenses of $24 billion during that year mentioned above, its CASM would be $0.12.
Load factor
Load factor measures how well an airline is filling its seats. For an individual flight, it is as simple as saying 60 of 79 seats were full. But for a major airline, that simple definition doesn't tell the full story, because of differences in flight times. Airlines calculate their systemwide load factor by measuring how many seats were filled for each mile flown. Major airlines will provide this information on earnings releases and conference calls, but investors can calculate it at home by dividing revenue passenger miles -- as mentioned above, the number of passengers on a flight times the number of miles flown -- by the available seat miles.
Related topics
Are airline stocks for you?
The airline industry remains cyclical, but the pandemic proved the companies are now strong enough to withstand tough operating conditions without having to fly into bankruptcy.
If you are bullish on long-term demand for travel, buying into a well-run airline is a way for your investment dollars to go along for the ride.
You might like: