Baby Doge Coin (CRYPTO:BABYDOGE) is a lighthearted cryptocurrency that calls itself a community coin. Launched in 2021, it started with a total supply of 420 quadrillion tokens, and the earliest recorded price was a mere $0.000000000175.
According to the "Woof Paper," the goal of Baby Doge Coin is bringing crypto to the average person and helping dogs in need. The team behind it has donated to several animal charities, and the token itself has been successful, posting a return of more than 3,500% at one point.
Baby Doge Coin is evidence of how much hype matters in cryptocurrency. As you'll see, this successor to Dogecoin (CRYPTO:DOGE) doesn't have much to offer as an investment.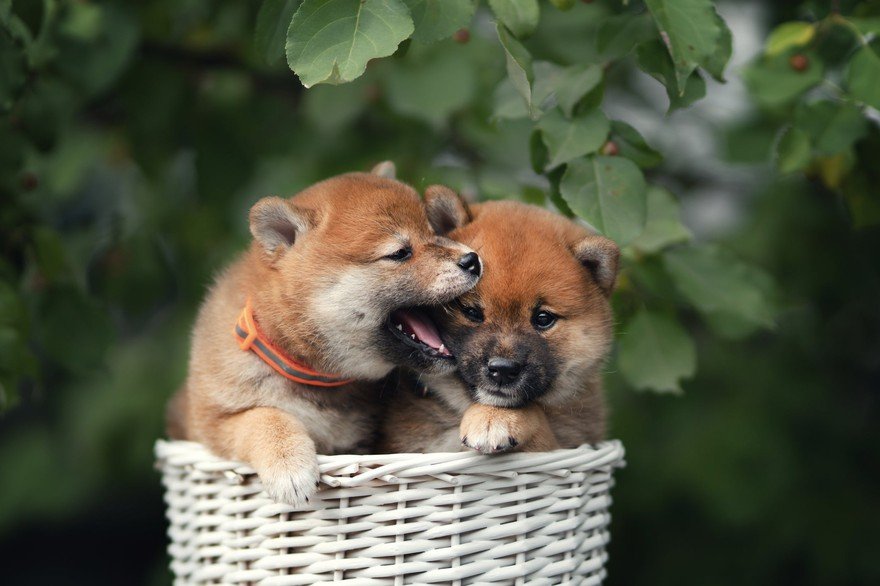 Image source: Getty Images.
What makes Baby Doge Coin unique?
The main gimmick of Baby Doge Coin is a 10% fee on every trade. If you want to sell 1 million BABYDOGE, you'll pay $100,000 for the transaction fee. That fee gets split in half, with 5% going back to all the existing holders of Baby Doge Coin and the other 5% being used to provide liquidity for trading.
Simply put, if you hold Baby Doge Coin, you earn a cut of every trade. If you want to trade yours, then you'll be charged 10% of the transaction. Baby Doge Coin isn't the first crypto token to do this since several new cryptocurrencies launched in 2021 with the same type of fee.
There's nothing that sets Baby Doge Coin apart from those other cryptocurrencies. It shot up in price based on its name and a strong social media marketing campaign.
Where Baby Doge Coin came from
Baby Doge Coin launched on June 1, 2021. Although there isn't any information about the development team on the website or in the white paper, the founder is reported to be Christian Campisi, who also created Save Lands and Pawz. Campisi uploaded a video addressing the Baby Doge Coin community and calling himself the founder of the cryptocurrency in July 2021.
Although Baby Doge Coin had an initial supply of 420 quadrillion tokens, almost 43% (180 quadrillion) were burned, which means they were destroyed. Since then, the development team has continued burning tokens monthly. These burns are a way to manage the supply and potentially increase demand, but they don't always coincide with price increases.
How Baby Doge Coin works
Baby Doge Coin is a BEP-20 crypto token, which means it's built on the Binance Smart Chain (BSC). One of the benefits of the BSC is that it offers greater speed and efficiency than many other blockchains. This allows for low gas fees (transaction fees) and processing in as little as five seconds.
As noted above, the Baby Doge Protocol charges a 10% fee on every transaction. It redistributes half of that fee (5% of the original transaction) to all existing holders of Baby Doge Coin in what's called a reflection.
The other 5% is split into two equal parts again. Half remains Baby Doge Coin, and the other half is converted to Binance Coin (CRYPTO:BNB). Both tokens are then deposited to a BABYDOGE/BNB liquidity pool on PancakeSwap (CRYPTO:CAKE), a decentralized crypto exchange. This helps keep the pool funded so that people can trade between Baby Doge Coin and Binance Coin.
Connections
Since part of its mission is helping dogs in need, Baby Doge Coin has partnered with and sponsored multiple animal organizations. Here's a list of some of its most notable donations:
North Shore Animal League America received $150,000 in December 2021.
Best Friends Animal Society received $100,000 in August 2021.
Paws with Cause received $75,000 in July 2021.
Furkids received $20,000 in July 2021.
The Baby Doge Coin team has also secured a couple of sports partnerships. In July 2021, it began sponsoring NASCAR driver Brandon Brown. In February 2022, it signed a promotional partnership agreement with soccer club TSG Hoffenheim to help develop non-fungible tokens (NFTs) for the club's fans.
Can I make passive income with Baby Doge Coin?
You can make passive income with Baby Doge Coin. In fact, that's one of the primary benefits of owning it. As a token holder, you'll receive reflections, which are a share of the fees charged on every transaction. Just by owning Baby Doge Coin, the balance in your blockchain wallet will increase.
The caveat here is that you're earning BABYDOGE tokens. If the price falls off a cliff, that passive income won't be worth a whole lot.
Unique risks
Interestingly enough, a similar crypto token was launched two months before Baby Doge Coin in May 2021. Kabosu (CRYPTO:KABOSU) is a dog-themed token that calls itself the "CEO of Doge."
Like Baby Doge Coin, Kabosu charges a 10% transaction fee that it distributes between existing token holders and a liquidity pool. Also like Baby Doge Coin, Kabosu donates to animal charities. One of those charities is Paws with Cause, a small local charity that lists both Baby Doge Coin and Kabosu as its partners.
It could all be a coincidence. However, considering the similarities between these two crypto tokens, it seems more likely that the same development teams are behind each one.
Whether the tokens are connected or not, the fact that there's an almost identical project doesn't reflect well on Baby Doge Coin. It's more evidence that there's nothing notable about either of these tokens, and that the only real goal is to launch one that manages to go viral.
Is Baby Doge Coin a good investment?
Baby Doge Coin isn't a good investment. Although it has had moments where it shot up in price, there's nothing that indicates it will be a long-term success. It's also riddled with red flags, including:
No competitive advantages or unique features.
A website and white paper full of capitalization and grammatical errors.
A road map that talks more about memes and popularity than goals related to Baby Doge Coin as a cryptocurrency.
There are plenty of cryptocurrencies that are just like Baby Doge Coin. They charge a fee on each transaction and redistribute it to existing token holders. They start out with a big marketing push and blast social media with posts about how the price is going to the moon.
These cryptocurrencies are designed to make money for the founders. If you're going to invest in cryptocurrency, make sure you're not investing in somebody else's get-rich-quick scheme.
How to buy Baby Doge Coin
Since Baby Doge Coin is a smaller crypto token, you won't find it on the major cryptocurrency exchanges. If you've decided you want to buy Baby Doge Coin, the recommended method is to trade for it on PancakeSwap. Here's how:
Purchase Binance Coin. For U.S. customers, one of the best places to buy Binance Coin is Binance.US.
Transfer your Binance Coin to a blockchain wallet such as Metamask.
Visit PancakeSwap and connect your wallet.
Go to the Swap page and exchange your Binance Coin for Baby Doge Coin.
Don't be fooled by the hype surrounding Baby Doge Coin. Over the long haul, the market isn't kind to meme tokens with zero utility. Unless you really want to be a part of its community, this cryptocurrency isn't worth buying.