A Bitcoin ATM is a standalone machine that allows users to deposit fiat currency and exchange it for Bitcoin (CRYPTO:BTC) or other cryptocurrency. The internet-connected kiosks are a way for people to bypass traditional financial institutions to buy and sell cryptocurrency.
What is a Bitcoin ATM?
A Bitcoin ATM allows users to buy cryptocurrency by directly depositing cash into a machine. 
While the machines may resemble an ATM from a traditional bank, they don't operate the same way. A traditional ATM will connect to your bank account to authorize the withdrawal of cash from your account. Many Bitcoin ATM machines only allow cash deposits to purchase Bitcoin or other cryptocurrencies. Newer machines may allow you to exchange Bitcoin for fiat currency and provide cash. While traditional ATMs can complete transactions in seconds, it can take anywhere from 10 minutes to an hour for a Bitcoin ATM to complete a transaction.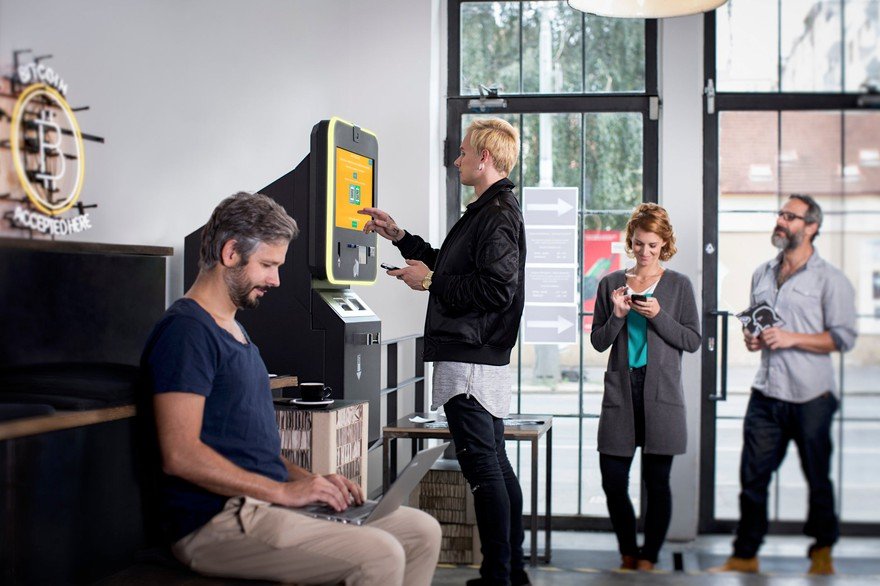 Image source: Getty Images.
All Bitcoin ATM operators in the U.S. must register with the Financial Crimes Enforcement Network (FinCEN) and comply with the anti-money laundering provisions of the Bank Secrecy Act. That means strict limits on the amount of cash users can deposit and the number of transactions they can make, as well as other restrictions. Users making big transactions will need to verify their identity with a government-issued ID and may need to provide additional information.
How Bitcoin ATMs work
Using a Bitcoin ATM is fairly straightforward. First a Bitcoin ATM will likely prompt you to enter your phone number. It uses that phone number to identify you and register your transaction. You'll receive a verification code via text that you must enter to proceed.
Next you'll input your blockchain wallet's address. The easiest way to input your address is via QR code, which most mobile wallets will generate for you. Be sure that you're using a wallet specifically for the cryptocurrency you plan to buy. This is where the Bitcoin ATM will send your crypto after completing the exchange.
Now you're ready to insert your cash into the machine. The machine will inform you how much you've deposited and how much you can exchange it for in cryptocurrency. If the rate is acceptable, you can push a button to proceed with the exchange. It may print out a receipt of the transaction, but it's not necessarily completed. For Bitcoin, it takes six confirmations on the blockchain to verify a transaction, which can take around one hour. Once the transaction completes, you'll see the cryptocurrency deposited in your wallet.
What are Bitcoin ATM fees?
Unlike regular bank ATMs that may charge a small flat dollar value fee for using an out-of-network ATM, Bitcoin ATMs charge a fee based on a percentage of the value of a transaction. And the fees are quite high at that.
Most Bitcoin ATMs charge a fee between 9% and 12% to buy Bitcoin. You might find fees as low as 4% and as high as 20%, though.
By comparison, many online cryptocurrency exchanges will charge less than 1.5% on transactions in highly liquid currencies such as Bitcoin. 
Where are Bitcoin ATMs located?
There are more than 35,000 Bitcoin ATMs installed around the world, the vast majority of them in North America. You may be able to find one in a cafe, gas station, airport terminal, or some specialty shops. There are websites dedicated to collecting data on the location of Bitcoin ATMs and the fees they charge. Checking a site such as coinatmradar.com is the best way to find Bitcoin ATMs near you.
Benefits and drawbacks of using a Bitcoin ATM
There are several benefits to using a Bitcoin ATM:
There's no need to go through a traditional financial institution to buy Bitcoin or cryptocurrency. This can allow the unbanked to gain access to decentralized finance and convert their fiat currency into cryptocurrency.
It's often faster to buy Bitcoin from a Bitcoin ATM than to deposit it in a bank, transfer those funds to an exchange, and then buy Bitcoin.
Bitcoin ATMs can offer more privacy than a centralized exchange that's required to perform a full know-your-customer check for any account.
There are drawbacks, however, including:
Bitcoin ATMs charge extremely high fees and may not offer the best pricing for buying or selling. As a result, your money doesn't go as far.
Due to anti-money-laundering rules, Bitcoin ATMs have set transaction limits.
You may not be located near a Bitcoin ATM.
Bitcoin ATMs can work for some people
A Bitcoin ATM is an easy way for anyone to turn cold hard cash into cryptocurrency. It can bypass traditional financial institutions, making the world of cryptocurrency and decentralized finance available to almost anyone.
The machine's certainly have their drawbacks, namely the high fees associated with transactions. But if the idea of staying off the grid appeals to you, it might be worth looking at Bitcoin ATMs where you live and work. Most people, however, will benefit from setting up an account at a centralized cryptocurrency exchange and buying and selling their cryptocurrency there.