Investing in Travel and Tourism Stocks
It's easy to be bullish on travel and tourism stocks, especially in non-pandemic times. After all, who couldn't use a vacation?
Historically, U.S. travel spending has grown between 2% and 4% annually, according to the U.S. Travel Association. The group says in an average year travel supports more than 15 million U.S. jobs and generates total economic output valued at more than $2 trillion.
Travel and tourism is a broad category, with a diverse list of well-known and startup companies engaged in a variety of pursuits and providing something of interest to almost any investor.
Best travel stocks to buy
There is a wide range of transportation, lodging, and amusement stocks that cater to getting you there and making sure you enjoy your stay. The companies vary a lot, so it is hard to nail down one key metric to watch. (Some are asset-heavy businesses, for example, while some are essentially tech companies.)
One thing all the best travel and tourism companies have in common is strong brand recognition and a loyal following. Here are some of the top travel companies:
1. Booking Holdings (NASDAQ: BKNG) is one of the largest online travel portals and the parent of Priceline.com, Booking.com, Rentalcars.com, and Kayak.com, among other brands. This is a business at the mercy of travel demand, which has suffered during the pandemic. But for a long-term stockholder, few companies have the ability to provide vacationers with planning and comparison tools equal to Booking, and it has a global reach that should serve it well in the years to come. During the pandemic, Booking slashed about 25% of its global workforce to save upwards of $300 million annually, and it came out of the crisis with billions in cash on its balance sheet to steady itself during down times.
2. Southwest Airlines (NYSE: LUV) and its airline brethren saw revenue plunge during the pandemic, but Southwest shares flew through the crisis better than most, and the company has a long track record of taking advantage of periods of industry weakness. Southwest's innovative operating philosophy enables its costs to stay lower than those of most of its rivals, and its streamlined nature allows it to trim costs more precisely when demand wanes. The company has been around for half a century now, but it still has the reputation of an outsider redefining the industry and making older, legacy airlines bend to its rules and match its policies. Southwest also has the best balance sheet in the airline industry, and it is one of the few that can say it has never fallen into bankruptcy.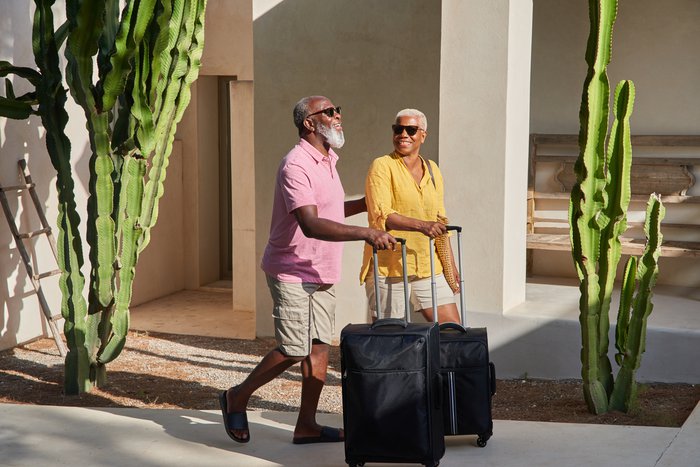 3. Marriott International (NASDAQ: MAR) is one of the world's largest hotel companies, with a portfolio of more than 7,000 properties spread across 132 countries. It is the holding company for 30 brands, including Sheraton, Westin, Ritz-Carlton, Courtyard, and Residence Inn. The company has an asset-light business model, meaning it earns fees for licensing its brands and managing properties but doesn't have the expenses of property ownership. The lodging industry is changing (see our next pick), but there is still ample global demand for hotel rooms. Marriott's extensive reach, world-class brands, and global loyalty programs make it a long-term winner.
4. Airbnb (NASDAQ: ABNB) has evolved from a red-hot startup to a publicly traded titan, boasting annual revenue growth rates north of 25%. Airbnb is disrupting hotels by allowing homeowners to list properties directly, which gives it a vast number of available listings around the globe and lets travelers get into neighborhoods and unique locations that hotel chains can't match. The company's diverse lodging offerings have something for everyone, from the middle of a party district to the middle of the wilderness, and the whole-house option is ideal for groups and families with kids.
5. Disney (NYSE: DIS) theme parks and hotels are some of the world's premier vacation destinations and complement a wide variety of television, movie, streaming, and merchandise businesses. Disney also operates a cruise line offering family-themed voyages. There's a lot of diversity in the portfolio with many revenue streams, and that should make Disney more resilient than some of these companies that are totally reliant on the ups and downs of travel demand to make a profit.
6. ETFs – If you are bullish on travel and tourism but would rather not pick among individual companies, lower-risk investments such as exchange traded funds (ETFs), which invest in baskets of stocks, are another way to gain exposure to the sector. The ETFMG Travel Tech ETF (NYSEMKT: AWAY) is among the most diversified ETFs, with about half its assets in bookings and reservations companies and the rest split between ride sharing, price comparison, and travel advice businesses. Travel subsectors also have their own ETFs. For example, U.S. Global Jets (NYSEMKT: JETS) is specifically focused on airlines.
You can buy space travel stocks, too
You no longer have to limit your portfolio to investments focused on exploring the corners of the Earth. Virgin Galactic Holdings (NYSE: SPCE) has a reservation list for $250,000-per-seat flights beyond the atmosphere and hopes to start service in 2021.
There are a lot of other companies exploring space, but few are public. Another option for investors is the Procure Space ETF (NYSEMKT: UFO), which allocates funds among a number of companies playing a role in getting Virgin Galactic and privately held companies into orbit.
COVID-19 and travel
The travel and tourism industry was seriously disrupted in 2020 due to the COVID-19 pandemic. The virus closed borders, left travelers homebound, and all but wiped out business for most travel and tourism stocks. Airlines and hotel chains saw revenue cut in half; cruise lines fared even worse.
Fortunately, the vast majority of travel and tourism stocks were able to weather the worst of the storm, and, with vaccines rolling out, there's reason to believe the worst is behind us. A recovery will take time, with airlines warning it could be the second half of the decade before conditions completely normalize. But the entire industry appears to be on the upswing, and the stocks should be safe for long-term, patient investors.
Travel stocks are often niche
Many of the best travel and tourism stocks cater to a particular type of traveler. Disney, for example, has the family demographic all but tied up.
One niche that is growing fast is ecotourism, or travel to exotic and often threatened natural environments designed to educate and support conservation efforts. It can take a lot of forms: Specialized tours, lodging in remote locales, or simply flying to new destinations. But given the interest in ecotourism, especially among the younger demographic that will shape travel in the years to come, investors should be on the lookout for eco credentials when evaluating stocks.
You might like: