By now, many investors have probably heard enough about CRISPR (clustered repeating interspaced short palindromic repeats) to be relatively familiar with the idea. And they likely know that the gene-editing technology has the potential to change the treatment of many diseases by modifying DNA to correct mutations. CRISPR could even cure diseases in some cases.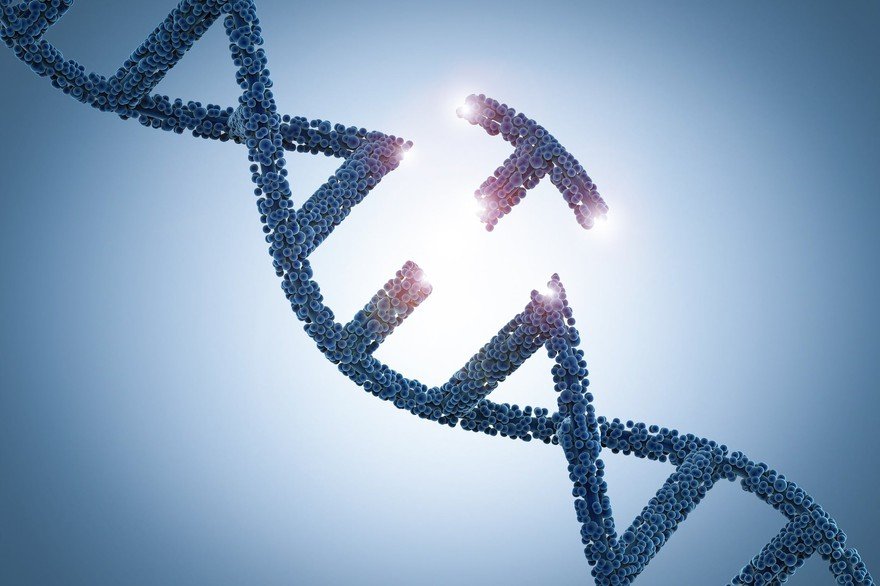 Image source: Getty Images.
But some investors might not be familiar with the exchange-traded funds (ETFs) tracking gene-editing stocks. There are now several ETFs that focus largely on CRISPR and gene editing in general. 
Best CRISPR and gene-editing ETFs
Quite a few biotech ETFs are available for investors to buy. The number of CRISPR and gene-editing ETFs, however, is more limited. Here are the top five ETFs that focus on CRISPR gene editing. 
Data source: ETF websites.

| ETF | Expense Ratio |
| --- | --- |
| ARK Genomic Revolution ETF (NYSEMKT:ARKG) | 0.75% |
| Global X Genomics & Biotechnology ETF (NASDAQ:GNOM) | 0.5% |
| Invesco Dynamic Biotechnology & Genome ETF (NYSEMKT:PBE) | 0.59% |
| iShares Genomics Immunology and Healthcare ETF (NYSEMKT:IDNA) | 0.47% |
| Wisdom Tree BioRevolution Fund (BATS:WDNA) | 0.45% |
1. ARK Genomic Revolution ETF
ARK Genomic Revolution ETF (ARKG) is one of several ETFs established by Cathie Wood's ARK Invest. It's an actively managed ETF that focuses on companies that stand to benefit from incorporating genomics into their businesses. Although ARKG isn't limited to CRISPR and genome-editing stocks, there are several in its portfolio.
Three of ARKG's top 10 holdings have CRISPR therapies in development: Vertex Pharmaceuticals (VRTX -1.2%), Intellia Therapeutics (NTLA 5.69%), and Beam Therapeutics (BEAM 1.15%). Vertex and its partner, CRISPR Therapeutics (CRSP 2.44%), which is the 12th-largest position in the ETF, have the most advanced CRISPR candidate.
Vertex and CRISPR expect to file for regulatory approvals of CTX-001 by late 2022. CTX-001 is a CRISPR gene-editing therapy that targets rare genetic blood diseases beta thalassemia and sickle cell disease. The two companies are also working together on a preclinical CRISPR program targeting cystic fibrosis.
2. Global X Genomics & Biotechnology ETF
Global X Genomics & Biotechnology ETF (GNOM) is run by the South Korean investment firm Mirae Asset Financial Group. This ETF looks for companies that should benefit from advances in genomics, including breakthroughs in gene editing and genomic sequencing. 
GNOM currently owns 41 stocks. Four of the ETF's top 10 holdings are directly involved in CRISPR gene editing. Sarepta Therapeutics (SRPT 1.93%) is best known for its gene therapies (which don't involve editing), but it also is exploring the use of gene editing to target rare diseases. Genscript (OTC:GNNSF) and Agilent (A -0.77%) offer CRISPR products and services to drug developers and researchers. Intellia Therapeutics is a CRISPR-focused biotech.
Intellia is arguably the most intriguing CRISPR stock among GNOM's top positions. In June 2021, the company and its partner, Regeneron Pharmaceuticals (REGN -0.28%), announced the first-ever clinical data showing positive efficacy and safety results for an in vivo (in the body) CRISPR therapy.
3. Invesco Dynamic Biotechnology & Genome ETF
The Invesco Dynamic Biotechnology & Genome ETF (PBE) seeks to track an index of 30 U.S. biotechnology and genome companies. Not all of these companies focus on CRISPR or other types of gene editing, but several do.
Among PBE's top 10 holdings, four have connections with gene editing: Gilead Sciences (GILD -1.96%), Catalent (CTLT 2.7%), Bio-Techne (TECH -0.05%), and Regeneron. BioTechne has used CRISPR to validate antibodies. The other three have partnered with other companies that are developing gene-editing therapies.
Gilead teamed up with Sangamo Therapeutics (SGMO 8.62%) to develop cancer cell therapies using Sangamo's zinc-finger nuclease (ZFN) gene-editing method, an older technology than CRISPR. Catalent provides development and manufacturing support for CRISPR-focused biotech Editas Medicine (EDIT 8.58%). Regeneron, as mentioned earlier, is working with Intellia, which is also a PBE holding.
4. iShares Genomics Immunology and Healthcare ETF
The iShares Genomics Immunology and Healthcare ETF (IDNA) attempts to track an index of companies in developed and emerging markets that focus on genomics, immunology, and bioengineering. It currently owns positions in 49 pharmaceutical and biotech stocks. 
IDNA's top 10 holdings include four stocks (Intellia, Regeneron, Sarepta, and Gilead) that are also owned by the other ETFs on the list. But its top 10 also feature two other companies that have dipped their toes into CRISPR gene editing -- Moderna (MRNA -1.55%) and Evotec (NASDAQ:EVO).
Moderna is best known for its messenger RNA technology. However, the company is also collaborating with small biotech Metagenomi to develop CRISPR gene-editing therapies. Evotec licensed CRISPR gene-editing technology from German drugmaker Merck KGaA in 2019 to develop new drugs.
5. WisdomTree BioRevolution Fund
The WisdomTree BioRevolution Fund (WDNA) seeks to track the performance of an index consisting of companies that "will be significantly transformed by advancements in genetics and biotechnology." Like the other ETFs discussed previously, WDNA doesn't limit itself to only CRISPR or gene-editing stocks. 
More than half of WDNA's top 10 holdings have ties to gene editing. Danaher (DHR 0.66%), PerkinElmer (PKI -0.02%), and Thermo Fisher Scientific (TMO -0.45%) supply products used in CRISPR research. Eli Lilly (LLY -0.27%) teamed up with Precision BioSciences (DTIL 0.62%) to develop therapies using Precision's ARCUS genome-editing platform. Gilead Sciences, as discussed earlier, is working with Sangamo to use ZFN gene editing to develop drugs.
WDNA's second-largest position is AstraZeneca (AZN 0.27%). The big drugmaker has been involved in CRISPR research since at least 2015. AstraZeneca has especially focused on minimizing unwanted off-target edits that can occur when using CRISPR.
Keith Speights
has positions in Vertex Pharmaceuticals. The Motley Fool has positions in and recommends Beam Therapeutics, CRISPR Therapeutics, Editas Medicine, Gilead Sciences, Intellia Therapeutics, Precision BioSciences, Thermo Fisher Scientific, and Vertex Pharmaceuticals. The Motley Fool recommends Moderna. The Motley Fool has a
disclosure policy
.