Investing in Airline Stocks
Airlines are an important part of the economy, but for much of their history, the stocks have been lousy investments. Airlines move with economic cycles, and past downturns caused multiple airline bankruptcies and failures. But in recent years, a series of mergers have created a smaller group of competitors more effectively using technology to manage schedules and set fares. Today, four airlines control about 80% of the U.S. market.
Alas, the COVID-19 pandemic has threatened to undermine the good work the industry did. Airline revenue fell 90% year over year during the second quarter of 2020 as the pandemic dried up travel demand. Few businesses can survive that sort of revenue drop, and most airline stocks lost 50% or more of their value as the pandemic spread globally.
The good news is that no U.S. airline has had to declare bankruptcy to date. The industry in the first half of 2020 raised more than $50 billion in private funding, alongside a similar amount of government assistance, to help weather the storm. But with travel volumes expected to take years to return to pre-pandemic levels, investors buying in now will be waiting on a multiyear turnaround even in the best-case scenario.
Airlines in the U.S. fall into three categories:
Full-service companies, which fly internationally, have different cabin classes, and serve many markets.
Discounters, which offer fewer frills and fewer destinations.
Regionals, which provide small-jet service to secondary markets under the brands of full-service partners.
Investors should assume that through 2021 at least most travel will be domestic, and not international, and demand will be price-sensitive. In such an environment keeping costs low is essential.
In order to track how individual airlines are doing, it is important investors understand several airline-specific terms and risk factors before they consider buying in. Here's what you need to know about investing in airlines and how to pick the best stocks to buy.
Stay up to date
This sector is rapidly changing in the current economic climate. Check out the recent articles feed for the latest.

The best airline stocks
There are about a dozen publicly traded airlines in the United States. Here are some of the most important companies to know: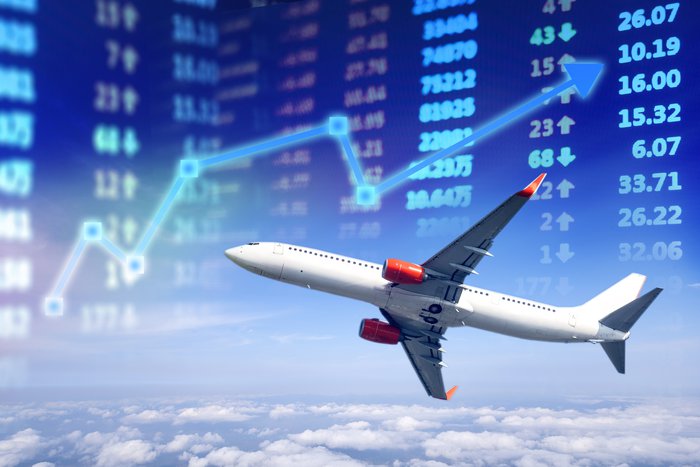 Key terms airline investors need to know
First-time investors in airlines will encounter terms and jargon unique to the sector:
RASM
Short for revenue per available seat mile, RASM is an airline's total revenue divided by the number of seats an airline made available for sale, then multiplied by the number of miles an airline's jets flew. A plane with 100 seats flying 500 miles would generate 50,000 available seat miles.
This is important because international flights have a much different fare and cost structure from domestic flights, and different airplanes have different operating expenses. Simply looking at total revenue or expenses can't give you the full picture. If Foolish Airlines, for example, flew 200 billion available seat miles in a year and reported total revenue of $30 billion, its RASM would be $0.15. That would be good: In recent years, the industry has posted an average RASM of just under $0.12.
RASM and its cousin CASM (explained below) are the most important numbers investors can look to when deciding between airlines. The figure helps to distinguish an airline that is selling tickets at any price just to fill its seats from one that has enough pricing power to sell seats at a price that covers its costs. Two different airlines could both have full airplanes, but as an investor, you want to focus on the one able to do it with strong margins.
Related topics
Cyclical stocks
These stocks trend as the broader economy does, in both times of expansion and recessions.
Defense stocks
Focused on one customer, the U.S. government, these companies offer investors some predictability.
CASM
Short for costs per available seat mile, CASM is an airline's total costs divided by number of available seats, then multiplied by miles flown. It measures expenses the way RASM measures sales. If Foolish Airlines had total expenses of $24 billion during that year mentioned above, its CASM would be $0.12.
Load factor
Load factor measures how well an airline is filling its seats. For an individual flight, it is as simple as saying 60 of 79 seats were full. But for a major airline, that simple definition doesn't tell the full story, because of differences in flight times. Airlines calculate their systemwide load factor by measuring how many seats were filled for each mile flown. Major airlines will provide this information on earnings releases and conference calls, but investors can calculate it at home by dividing revenue passenger miles -- as mentioned above, the number of passengers on a flight times the number of miles flown -- by the available seat miles.
You might like: