Project management is such an interesting industry due to the fact that it spans across so many different fields and professions.
Content writers, architectural firms, schools, government organizations, nonprofits, marketing firms, event managers, auto manufacturers, IT teams, and so many other professions apply any number of the project management basics in their line of work.
This means your business or organization would more than likely benefit from project management software tools and features. There are dozens upon dozens of options to choose from, and if you're new to this market, it's understandable you'd be intimidated by your choices.
That's why I've done the heavy lifting for you and put hours of trials and experience into reviewing the most popular project tools on the market.
Here the top picks for the best project management software options:
Our top 10 picks for the best project management software
I've reviewed many of the most popular project management tools on the market today and rated them based on their ease of use, benefits, customer support, user interfaces, target markets, and affordability.
I've considered the nuances of what these tools have to offer given the context of their attributes and rated them accordingly. These are my top 10 picks for the best project management software options based on those ratings.
If you're looking for additional information about each software option, be sure to click on any named software hyperlink to find my full review.
1. monday.com
The way I see it, monday.com is the best at balancing everything you'd need from a project management system, from the features list to its simple user interface.
Even if you're new to project management software, most users will have little trouble learning monday.com's unique presentation that puts it ahead of the competition.
This platform uses its own proprietary task management and dashboard system meant for covering all of the project management steps, including task management, time tracking, resource management, and even budgeting.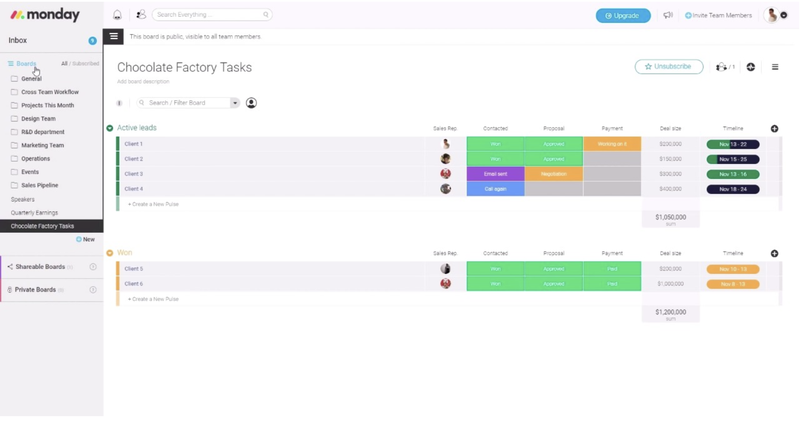 The only area where monday.com slightly struggles is in the pricing department. There is no free version and the most basic option starts at $17/month for two users. Besides that, this tool is a fantastic option all around.
2. Podio
Podio is an extremely customizable and affordable project management tool. In fact, I rated it as the project management software that offers you the best value for money.
Every pricing tier for Podio is offered at a flat monthly rate no matter how many users you need to take on.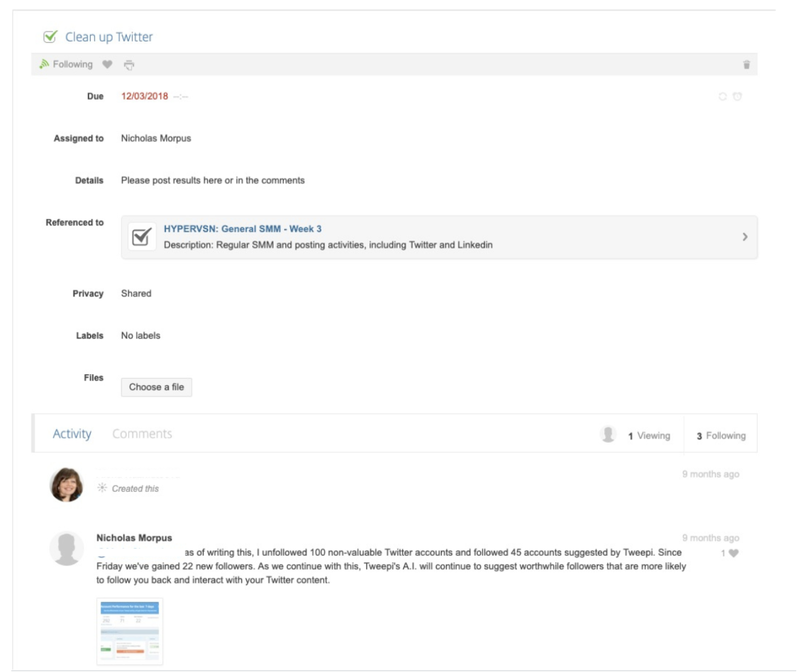 Podio will help you track your projects, collaborate with your team, and even give you the flexibility to create your own custom functions using the application builder. It's great for projects with specific needs that your basic project management software doesn't cover.
The only downside to this platform is learning how to navigate and use this tool to its full potential.
However, once you've managed to learn everything you need to know, Podio will do everything you need it to do, and more.
If you're looking for help, there's a significant user community that can offer quick answers on YouTube and other online forums.
3. Scoro
Scoro is made for the corporate world. Everything about this software from its user interface to its pricing tells me that its target user works in the New York office of a multinational conglomerate.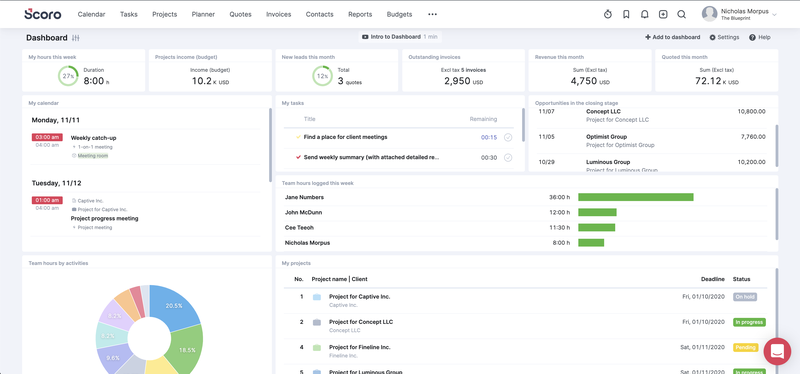 Scoro condenses the corporate project management experience typically fragmented into three or four different software tools into one comprehensive package that'll handle any step of the project management process.
It covers everything, including your project planning phase, proposal phase, execution, and even invoicing. On top of all of that, Scoro is especially data-driven with its complex and detailed main dashboard which covers every aspect of your project.
Remember what I said about the pricing? Well, this software is not cheap, but when it comes to large and expensive enterprise-level projects, this is the price you pay for the right software for the job.
4. Trello
Once you consider the extremely simple learning curve and a healthy list of features, it's no mystery why I rated Trello as the easiest project management software to use.
This kanban-based project management platform is perfect for all kinds of projects or teams including content teams, marketing projects, software development, customer support tracking, sales pipelines, HR tracking, and even certain forms of Agile methodology.
Even if you're just developing a project management plan before you move into the execution phase, managing projects in Trello is great for tracking and mapping out your process.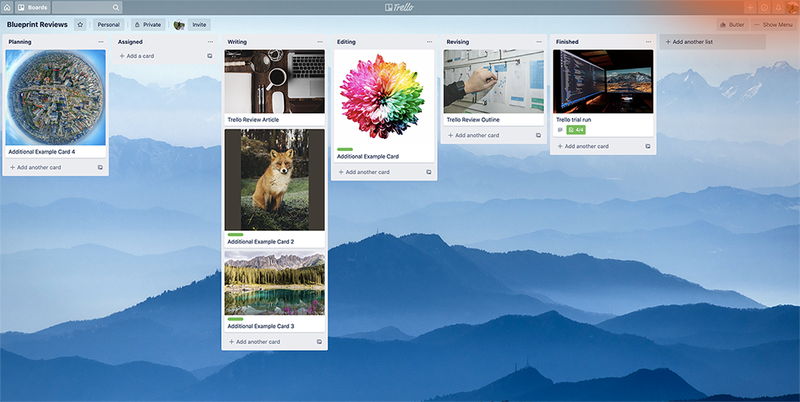 It's an all-around great fit for most teams so long as they don't require any native budgeting tools or client invoicing features.
It isn't particularly expensive, nor is it the cheapest option on this list, but Trello does offer a generous free version of their platform that is perfect for those still deciding on a new tool to buy.
5. Mavenlink
Mavenlink is yet another high-quality enterprise-targeted project management software. While not as functional as Scoro, Mavenlink is still a quality option to consider at an even better price point, starting at $19/month.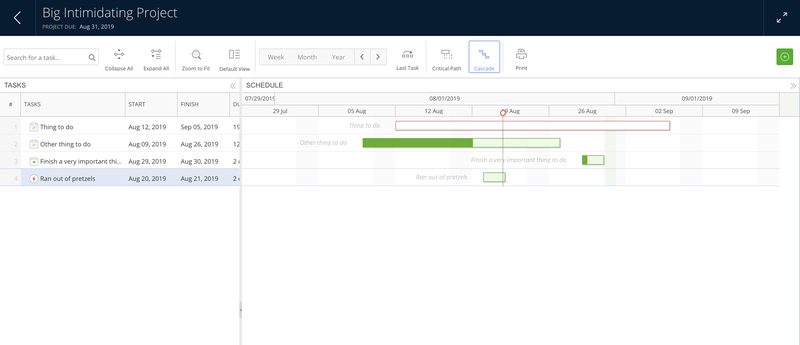 Mavenlink is very easy to navigate considering the number of features and functions it offers. There is nothing particularly intimidating about using this software, unlike Scoro, which is extremely data-driven. This tool even strives to make your task creation and management experience as convenient as possible.
While reviewing this software, I never had to go back to the main task manager to create new tasks and add details to any one of them. I was able to create tasks in any task management view, including from shared calendars and Gantt charts.
6. Airtable
What sets Airtable apart from the competition is its visually appealing take on standard project management features. It is an interesting approach that gears their software toward more creatively inclined users.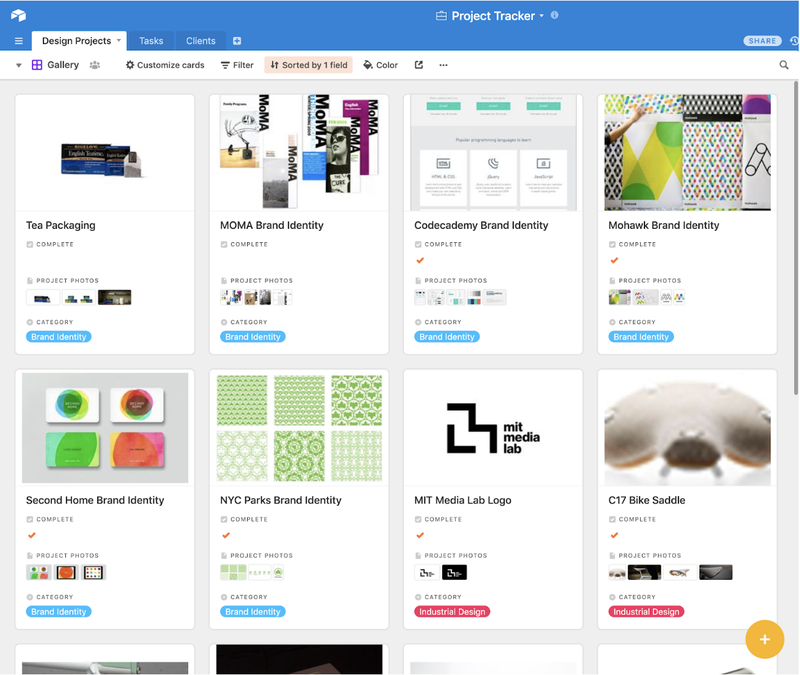 Airtable uses a lot of the same task management methods you would expect from a project management software, including task lists, kanban boards, and a shared project schedule, but among those features, the gallery task-tracking view stands out.
This method is different from the kanban view since it doesn't track your deliverables along a compartmentalized workflow, but instead organizes each card into whichever sorting method you choose, alphabetical, due date, client, project team, etc.
As for pricing, most of the tiers are pretty standard with their per user, per month rates.
Luckily, Airtable does offer its own free project management software that includes unlimited project databases, a decent attachment size limit, and a mobile application.
However, once you exceed the 1,200 record limit per database, you might have to look to a paid option or consider scaling back your records.
7. Wrike
Wrike is a flexible and scalable project management tool that'll help you manage your tasks throughout the project life cycle using Gantt charts, kanban boards, task lists, and issue tracking.
All of the features in this tool were built with Agile methodologies in mind, making it great for fast-paced projects with continuously changing needs and demands.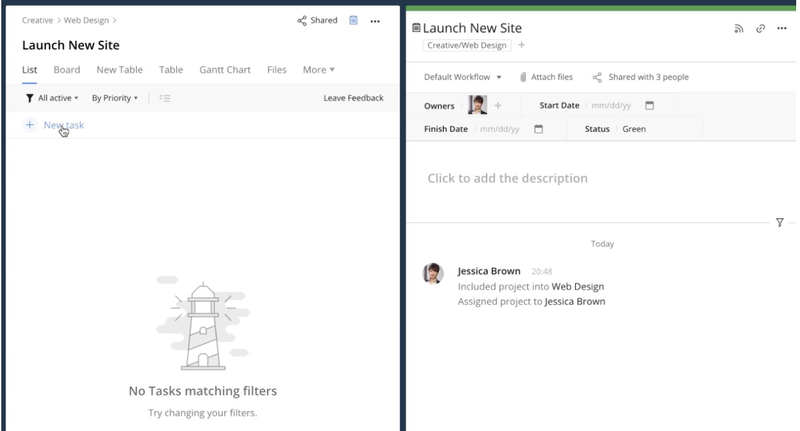 Wrike's user interface is a bit on the plain side, but when it comes to functionality, it delivers in spades. Wrike even offers features that are often overlooked by its some of its similarly priced competitors such as budget management and project reporting.
Speaking of pricing, Wrike offers a free introductory option for up to five users and an average paid tier range in the same neighborhood as Asana and Airtable of $10 to $25/user, per month.
8. TeamGantt
TeamGantt is incredibly user-friendly and easy to learn, making it great for teams of all experience levels.
However, the biggest issue facing this tool is the higher price tag. If it weren't for this issue, I would recommend TeamGantt to teams of all sizes in nearly any industry.
Where the pricing really gets in the way of TeamGantt is its lack of financial management features. If you're going to pay top dollar for your project software, you should expect a little more than planning and collaboration features.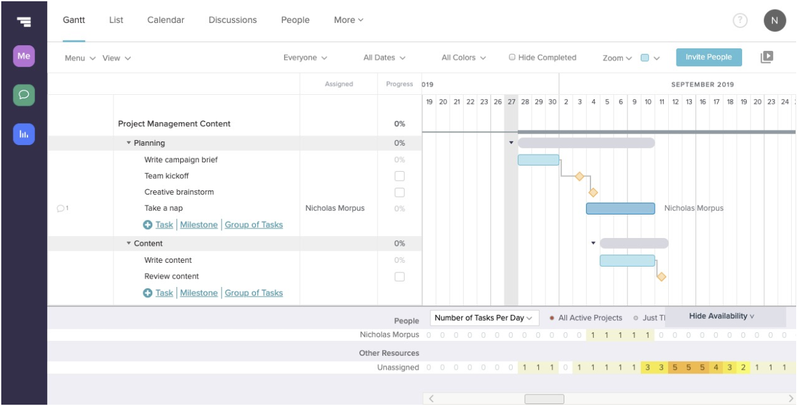 That being said, if you can afford this platform, you'll find an extremely capable project management tool that'll handle everything from Gantt charts to project roadmaps.
No matter if you have several different projects going on at one time or have multiple teams coordinating a specific task, you can track it all in this tool.
9. Basecamp
While I gave the nod to Trello for being the easiest project management software to use, I did so within the context of everything that it had to offer.
On its face, Basecamp is the easiest project management tool I've ever used, but most of that stems from the fact that it has an extremely short features list. This isn't a bad thing necessarily, but it does limit its uses.
That being said, it is extremely competent at what it does offer, which is a streamlined task management and collaboration system.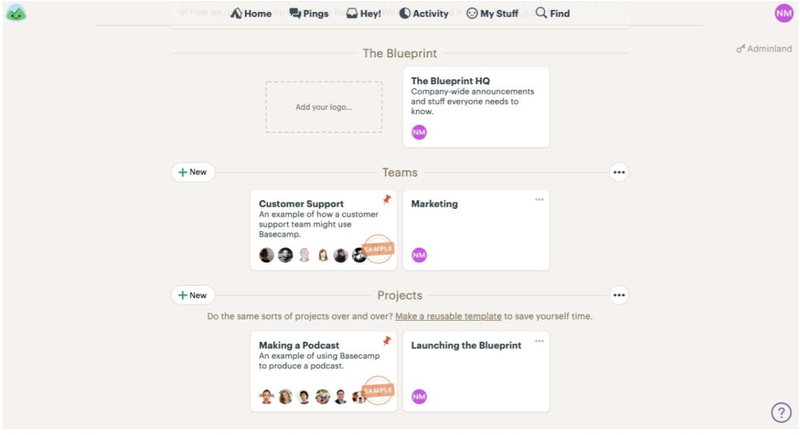 I've used Basecamp to track projects requiring lots of creative input, such as developing social media marketing campaigns, organizing event promotions, graphic design projects, and even company rebranding efforts.
Basecamp doesn't offer any budgeting or major reporting features, so it's definitely better suited for managing simpler internal projects.
When it comes to the price, Basecamp is the most unique software I've reviewed thus far with a $99/month flat rate. That is the only price they offer without any caps on users, features, or integrations.
10. Asana
Asana prides itself on creating a project management software that is accessible to as many people as possible while providing several task management options and useful team collaboration features.
The developers for this platform centered the user experience around empowering all members of the project team to collaborate, communicate, and work closely with their managers.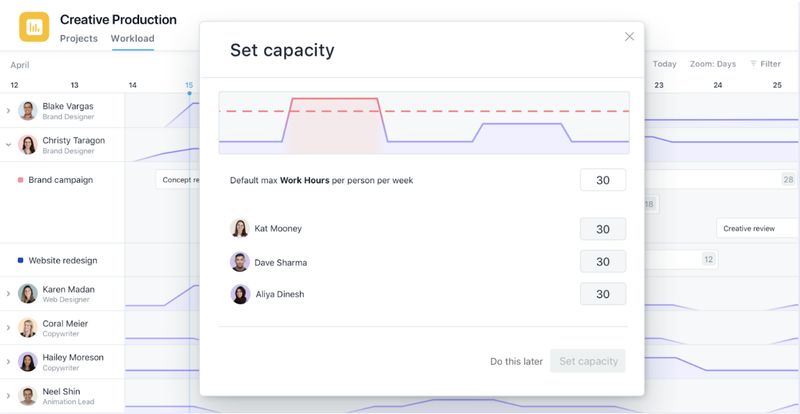 My favorite Asana feature is their rendition of workload management, which uses graphs and notifications to alert managers when team members are assigned more work than they can reasonably handle.
Clearly, the developers were worried about burnout and the issues of relying solely on meetings to communicate when a problem arises. The only downside to using Asana is the lack of any budgeting or reporting features, making this a better choice for teams looking primarily to improve their collaboration.
Who uses project management software? 
Project management software isn't limited to one industry. In fact, project management software is used by all sorts of industries, such as engineering, construction, education, marketing, IT, and finance. The most common users of project management software include software and web developers, digital and traditional marketing teams, editorial teams, construction crews, and architecture firms.
The truth is, the list of industries that don't use (or need) project management software is much shorter than the list of those that do.
Why use project management software? 
Asking this question is like asking "Why do we use cars?" or "Why do we use phones?" Sure, we could walk most places and send letters instead, but we use cars and phones because they make our day-to-day lives more convenient. The same can be said for project management software. Rather than managing your own paper budgets, communicating with your teams on long email chains, and doing your best to track team progress through meetings and calls, project management software combines all these functions and more in an easy-to-track system. Project management software is like the task assistant you've always wanted.
The best project management software options make sense of the mess, act a project tracker, and streamline your day-to-day operations through these four core functions:
Ease of collaboration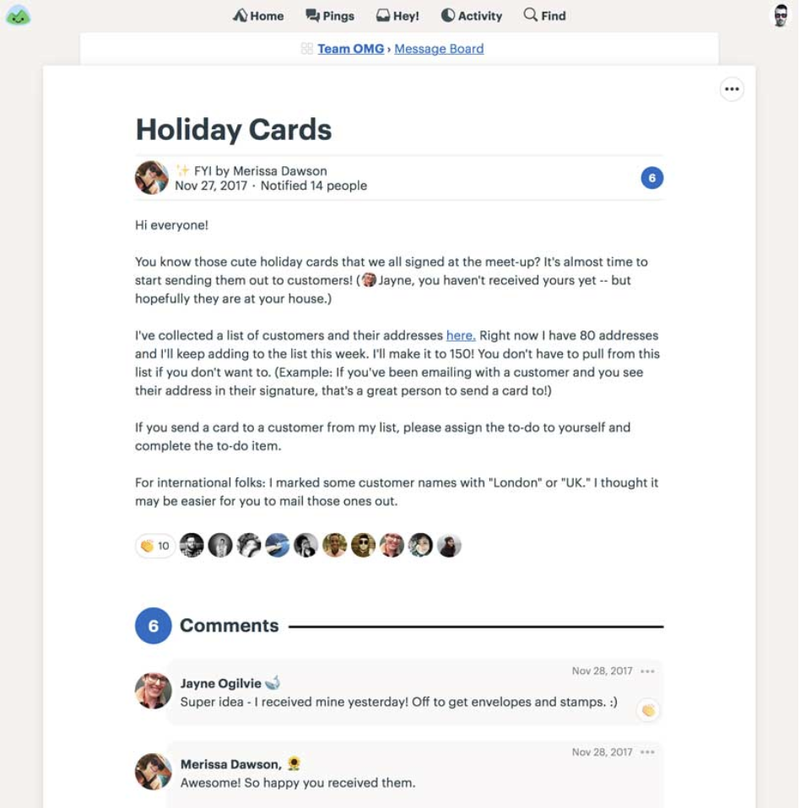 One of the biggest responsibilities most project managers face is bringing team members together to complete a single task. In the past, I've seen countless projects collapse through lack of communication and the most common phrase I've heard from those involved was "Oh, I didn't know I was working with [insert person here]."
It's not easy getting an entire team on the same page when everyone has their own ideas and systems. Project management software will help you bridge these gaps through collaborative tools such as messaging functions, file sharing, group chats, and dashboard features.
Resource and budget management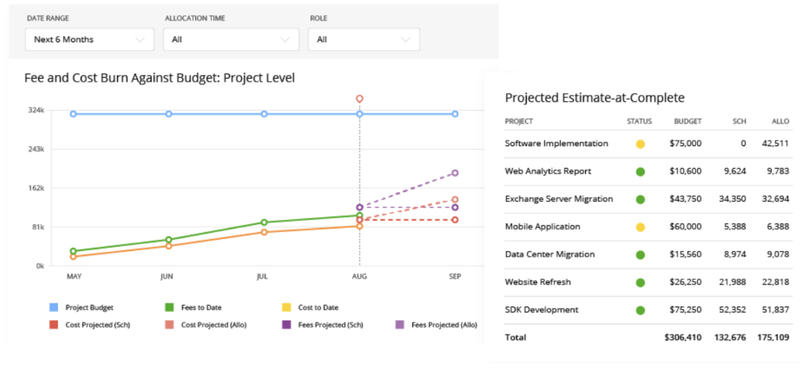 When managing projects, not only do you keep track of tasks and people, but resources like time, money, and assets as well. Use project management software to help you track your tools and supplies, reduce expenses wherever possible, and even notify other managers when resources go missing. You can't afford to let your project collapse under the weight of separate management systems, so slim your operation down to one project management software.
Scheduling and planning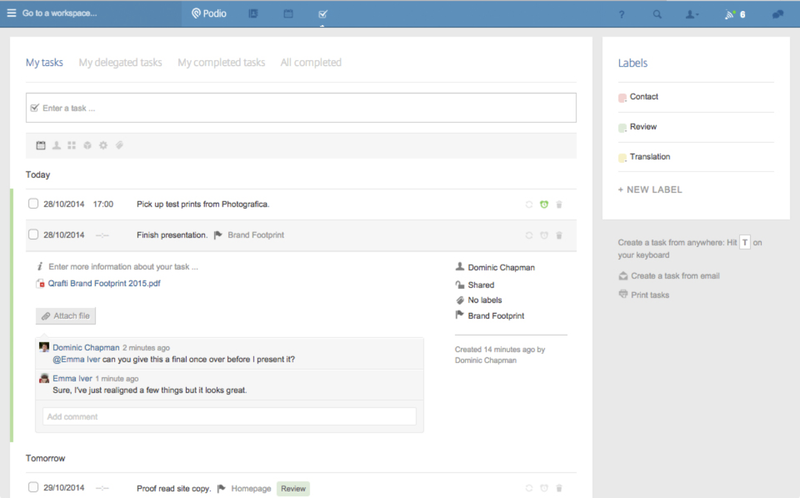 As a project manager, one of your biggest struggles is fighting against the clock. You're constantly scrambling to meet deadlines and plan out future tasks to keep your team on schedule. Project management software is the key to scheduling and planning every move. Create a project management plan to set deadlines for tasks, plan out future steps, and keep your team members notified of all project changes. Imagine all the time and headaches you will save using a project scheduling software tool for the creation, organization, and completion of all of your tasks.
Tracking and documentation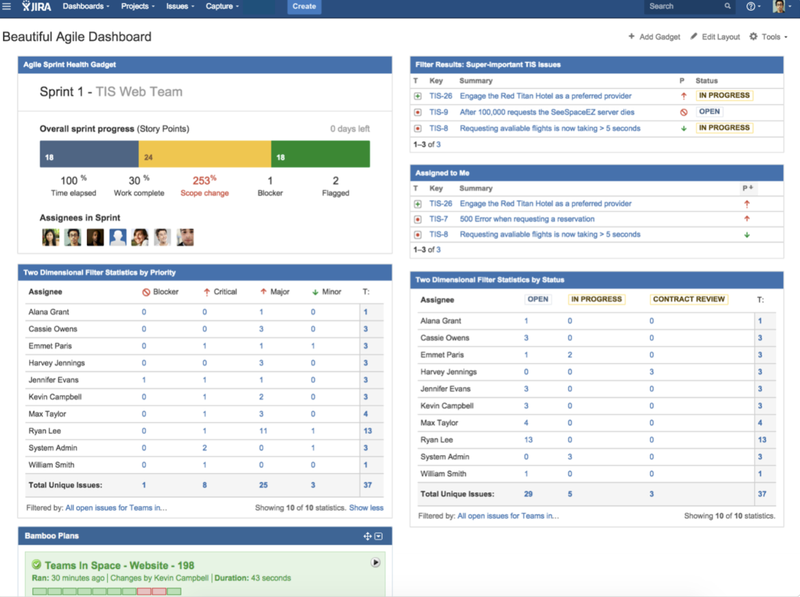 I'm sure you're always looking for ways to improve with each new project your company or organization takes on. Instead of relying on multiple different tools for storing and documenting your progress, project management software gives you the ability to learn from each project using documentation and reporting features. Most, if not all, project management systems provide users with key performance indicator (KPI) dashboards, insight reporting, and central data storage perfect for measuring successes and shortcomings.
What are the different types of project management software?
Project management software is split into two separate categories: "Deployment" and "Use."
Deployment types
Desktop: With the creation of cloud-based software, desktop-deployed project management software is considered an older deployment type. Desktop project management software is typically used by single users rather than large organizations due to its limited collaboration capabilities.
Web-based / cloud-based / software as a service (SaaS): Most new project management software options fall under this category. Web-based/cloud-based/SaaS software isn't installed on any one machine but instead runs through a web browser on the internet, making it accessible to anyone so long as they have internet access. This type of project management software is best for large organizations or teams that require lots of collaboration, data storage, and remote access.
Mobile: This deployment type is a subsidiary of the web/cloud/SaaS deployment type. Mobile project management software is accessible through smartphone and tablet applications. If you're looking for flexibility and on-the-go access to your team, make sure your project management software offers mobile functionality.
Use types
Personal: This type of project management software is used at home to manage lifestyle projects or even family functions. These project management systems offer far fewer features than commercial systems, leaving out large collaboration functions or mass data storage. Unless you're managing a small, at-home project, you won't have much need for this use type.
Single-user: A single-user project management software may share some similarities with the personal user type; however, these systems are typically more commercially focused with only one user in mind, and are best suited for small businesses. If you don't require any collaboration features, then this is the type of project management software for you.
Collaborative: When most people think of project management software, this is the most common type that comes to mind. Most collaborative project management tools on the market are web/cloud/SaaS-based and offer lots of team-centric features, including data storage, calendar sharing, resource tracking, and KPI tracking. Chances are, this is the most likely type of project management software your organization will require.
Key project management features:
Management and planning features
Task prioritization: Want your team to know what comes next and what is already completed? Your project management software will need task prioritization functionality. This way you can plan out tasks based on their urgency and importance for accomplishing a goal.
Shared team calendar: Task lists and schedules are helpful, but sometimes your team needs a visual aid to keep them on top of everything that is happening. A shared team calendar will keep your team in the loop with upcoming tasks, meetings, and relevant events all in one place.
Task scheduler: No project management software is complete without some form of task scheduling feature. Use the task scheduler to let your team members know what, where, and when their work is due.
Resource management: If you want to know what you have when you have it, then your project management software needs a resource management feature. This way you'll never lose track of your physical materials, assets, and tools for your project. Also, it doesn't hurt to track where all the Post-it notes keep disappearing to.
Time tracking: Want to know which app feature Terry spent 36 hours building this week? You're going to need time tracking. Time tracking is a required feature for any project using contractors with billable hours. Track and store hours spent on tasks, not only for billing purposes but also to plan out time needed for similar tasks in the future.
Documentation features
Document storage: All projects require lots of documentation, and what better way to keep track of it all than on your project management software? Store all your contracts, documents, and spreadsheets in an easily accessible location using your project management software .
Collaboration features
Communication: Any project management software worth its salt needs some form of communication, whether that be chat functions, message boards, forums, or task comment sections. These features will help bring your teams closer together and prevent mistakes.
File sharing: File sharing typically goes together with any communication features. Share files and other resources with team members and other project stakeholders. Also works great for cat-picture sharing!
Team dashboards: What project manager doesn't want to know what their team is up to? Team dashboards are where you find all of the tracking data for everyone involved in your project. Track team KPIs such as earned value, return on investment, planned vs. actual hours worked, and other metrics in one convenient location.
Budgeting features
Budget reports: In the end, it's all about the money. Find out what you're spending all of your money on and what you need to cut back on by using exportable budget reports.
Invoicing: Why wait to get paid? Send automated reminders and collect payment from clients in order to stay on top of your budget using an invoicing function.
Budget dashboards: Sometimes you don't need a fully detailed and printed budget report. Keep it simple and track all your current expenses live in one convenient location using a budget dashboard.
What to consider when buying project management software
When buying a project management software system, it's important to know exactly what your teams will need, how they will use it, and if there are any additional functions you will need in the future. If your projects only focus on internal functions, such as managing an internal marketing project, chances are you won't need any budgeting or invoicing features. You don't need to spend all your money on a massive project management tool, like Microsoft Projects or Podio, when you're only planning to use half of the features during your project management process.
If you plan on widening your scope of work, the best project management software is one that offers multiple pricing tiers of features based on your needs. Tools like Mavenlink offer cheaper versions of their software with basic task management and collaboration features with the ability to upgrade to more elaborate systems when needed.
Lastly, you don't have to blow through your budget to get quality project management software. If you do your research and read my reviews, you'll find that quality is affordable. Don't go with the first product that you find just because it's a popular system; popularity doesn't always equal quality. Chances are you won't need the most expensive software out there to solve your problems. Go with what you can afford, thoroughly test the products, put their customer support to the test, then decide.
Frequently Asked Questions
How much is project management software going to cost my business?
Unfortunately, there isn't a straightforward answer to this question. Many project management software vendors offer their product for both a monthly and annual rate; however, some still adhere to the antiquated model of a one-time purchase. Most software companies are moving to a subscription-based service model rather than requiring customers to buy their product outright.
Typically, if you opt for an annual rate, vendors will offer you their product at a discount versus their month-to-month rate. These monthly rates range from as low as $5/month to as high as $800+/month, although those kinds of high-end rates are rare. As for one-time purchases, these vendors offer their software for upwards of $5,000+ to buy their product outright.
Pricing models and tiers also vary based on the offered features, the number of users that will have access to the software, and support systems available. Finally, some companies even offer their product for a flat monthly rate with all features included, unlimited users, and full access to their customer support.
On the flip side, some project management software vendors don't advertise their pricing at all. If a vendor does not openly advertise their pricing on their website, this often indicates that their software is versatile and customizable based on the specific needs of the client. One thing to keep in mind, if the price isn't readily available, is that the price tag will likely be high, so get your wallet ready.
Should I use free project management software?
"The best things in life are free – and $19.95." – Billy Mays
As I explained above, what is most important is finding project management software that suits your needs, not always what you pay. If your needs don't go any further than a task manager and basic collaboration features, there are lots of free options out there to choose from. In fact, many paid project management software products out there, such as Airtable, Podio, and Pipefy, offer free starter versions of their software.
Keep in mind that these free options typically come with barebones customer support, minimal features, and limits on users. If all you're looking to do is organize a small internal project without any money management or outside help involved, then there is nothing wrong with using a free option.
At the end of the day, what's most important is finding a project management tool that suits your needs and will work when you want it to.
What is the best project management software?
Just like the first question, there isn't a simple answer. No two projects are the same and certain project management systems lend themselves to certain needs better than others. For example, Basecamp is one of the best project management platforms for increasing team collaboration, whereas Wrike is one of the best tools for Agile project management.
The best project management software is the product that best suits the needs of your processes and teams.