Since treasuries have become significantly more attractive over the past 18 months, it's important to know how to calculate the percentage return of a Treasury bill. You should also know how to compare them effectively against other types of securities.
Here, we'll go step-by-step through the Treasury bill calculations.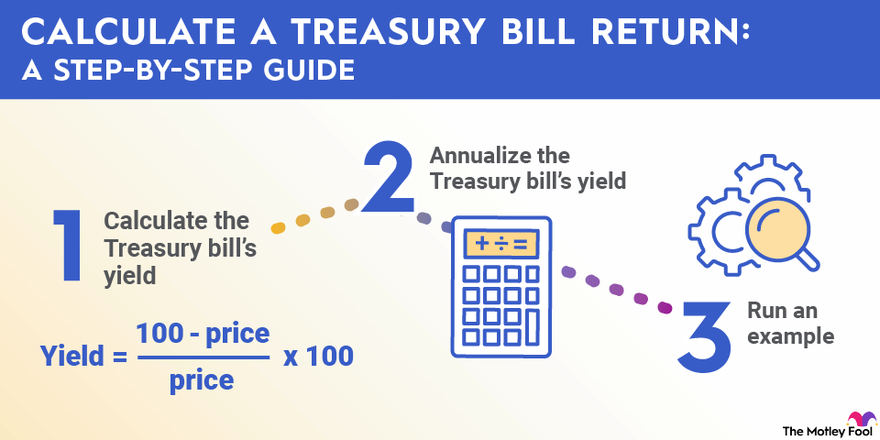 Image source: The Motley Fool
What is a Treasury bill?
What is a Treasury bill?
A Treasury bill is a short-term government bond with a maturity of less than one year. Treasury bills, or T-bills, pay no interest but are sold at a discount to face value. For example, a bill with a redemption value of $1,000 might sell for $985 at auction.
Bonds are debt securities that entitle the holder to receive interest payments.
You won't receive ongoing interest payments, but at maturity, you will receive an amount reflecting a certain investment return. Unlike stocks, T-bill investments are backed by the full faith and credit of the United States government.
Step 1
Step 1: Calculate the Treasury bill's yield
First, gather some key information about the bill you're trying to analyze. This includes:
The bill's purchase price
The bill's purchase date
The bill's maturity date
For ease of calculation, the bill's par value is expressed as 100 in the annualized yield calculation, and the bill's purchase price is expressed as a number less than 100 to reflect the implied discount.
To calculate yield, subtract the bill's purchase price from its face value and then divide the result by the bill's purchase price. Finally, multiply your answer by 100 to convert it to a percentage. The image below provides a visual of this formula.

Image source: The Motley Fool
Step 2
Step 2: Annualize the Treasury bill's yield
After you've found the Treasury bill's yield, multiply it by 365 and divide the result by the bill's days to maturity. The result will provide an annualized yield that will allow you to compare bills and other securities more easily.
Step 3
Step 3: Run an example
Say you were evaluating a Treasury bill with a 26-week maturity and a price of $97.
First, to calculate the bond's yield, you'd subtract 97 from 100 and divide by 97. From there, you'd multiply by 100 to arrive at a yield of 3.09%.
To annualize the bill's yield, multiply 3.09% by 365, and then divide the result by 182 (the bill's number of days to maturity) to arrive at an annualized yield of 6.2%.
This may seem like an unrealistic yield, but since interest rates have risen in 2023, Treasury bill rates have begun to approach 6% for the first time in many years.
The bottom line on T-bill returns
T-bills have only recently come back into focus after over a decade of minuscule returns. Today, they can make up a meaningful part of your portfolio, particularly if you're approaching or in retirement.
In 2023, it's key to understand how to calculate and annualize T-bill returns so you're able to make informed decisions for your portfolio. Take an active part in analyzing potential investments to create a financial plan that works for you.