Get our 43-Page Guide to Real Estate Investing Today!
Real estate has long been the go-to investment for those looking to build long-term wealth for generations. Let us help you navigate this asset class by signing up for our comprehensive real estate investing guide.
The surprise element of owning a home is that anything in it might break for any number of reasons -- and home warranties exist to provide some peace of mind and a quick solution when repairs are needed. The basic premise is that, for an upfront annual fee, a home warranty covers the repair or replacement of covered home systems and appliances that break due to normal wear and tear. Immediately after a covered item breaks, the home warranty promise is that a licensed service technician will come and take care of the problem.
Home improvement platform Porch published a study showing that the estimated average cost per year of home maintenance ranges from $14,890 to $18,151, so a service contract that covers many medium-expensive home maintenance needs is appealing to new homeowners. In a new construction home, or a home where one resident is an expert at DIY repairs, home warranties may get little to no use. But at their relatively low cost (they typically range from $250 to $750 per year), it's an extra measure of protection that non-handy homeowners appreciate -- especially if the manufacturers' warranties on their appliances have expired.
What is a home warranty?
A home warranty is a year-to-year service contract that helps cover the cost of repairing (and sometimes replacing) different appliances and systems in the house in case they break or are rendered unusable due to wear and tear.
Home warranties have varying levels of coverage, but at any level, they are not a replacement for homeowners insurance. Rather, they activate when covered items break due to wear and tear. The more expensive levels of home warranties also take care of the replacement of covered items if repair is not possible.
Different levels of home warranty
Every home warranty provider offers different levels of pricing and coverage. Some only cover major appliances; others only cover systems. Some providers offer a build-your-own home warranty where buyers can choose their covered items. Typically, a home warranty that covers replacement as well as service is a more expensive level than a basic repair contract. The more expensive levels of home warranties also typically have higher limits and can have lower deductibles.
How is a home warranty different from a manufacturer's warranty?
A home warranty is a one- to two-year service contract that covers several appliances and systems, and comes with an option to renew. A manufacturer's warranty covers a specific appliance from the time of purchase/installation to a set expiration date.
How is a home warranty different from homeowners insurance?
Homeowners insurance offers assistance after covered unexpected events, such as theft or accidents. Usually homeowners insurance has exclusions regarding wear and tear -- unless the items were damaged by some event that homeowners policy would cover.
For example: If a pipe bursts, causing water damage to your refrigerator motor, your homeowners insurance would cover it. A home warranty wouldn't. But if your refrigerator just stopped working independent of any other larger occurrence due to a parts malfunction, the home warranty would cover it.
How does a home warranty factor into the homebuying process?
It comes into the buying process after closing on the property and after the home inspection and appraisal, when you know the age and overall state of the appliances and systems in the house. It's not a topic that needs to be addressed before you close.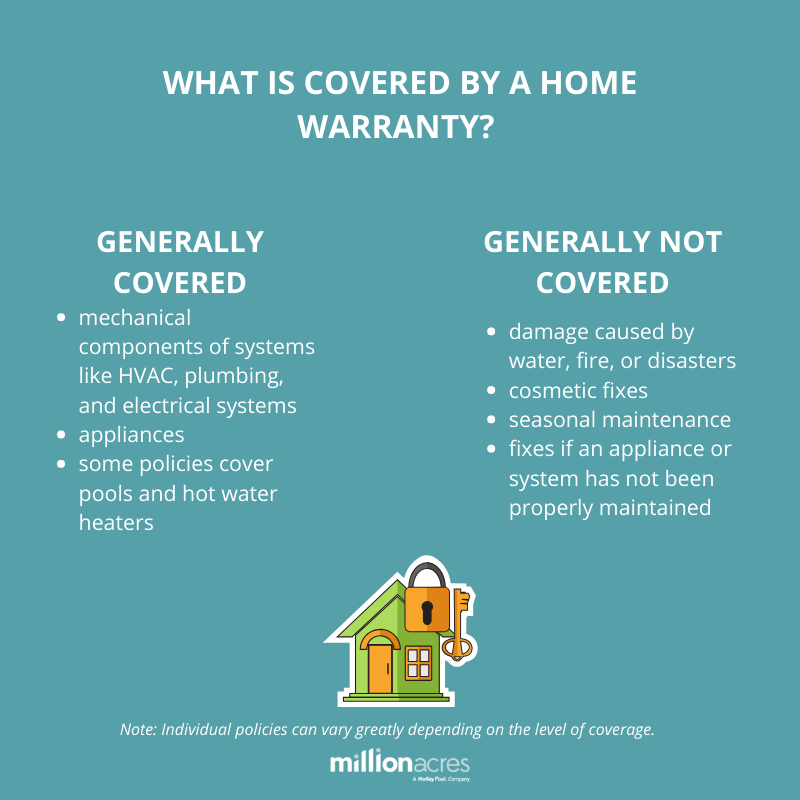 What does a home warranty cover?
Generally speaking, a home warranty covers the mechanical components of systems like HVAC, plumbing, and electrical systems.
Home warranties that cover appliances usually include the dishwasher, washer/dryer, refrigerator, and oven. Additional options or higher levels of coverage may include air conditioning, pool and spa equipment, septic pump, water heater, and fans.
Don't assume that all home warranties cover the replacement of items that cannot be repaired. In some cases, the replacement option is only available in higher-priced home warranty coverage levels.
What does a home warranty not cover?
A home warranty won't cover damage caused by water, fire, or disasters that might be covered by homeowners insurance. If a fire happens in your kitchen, the warranty won't cover resulting damages.
Cosmetic and fixture repairs, including light bulbs and batteries, are not covered in home warranties.
A home warranty also won't cover appliances that weren't maintained properly.
Regular seasonal maintenance is not covered.
The structural components of a home are also not covered.
Premium or alternative home systems or appliances, such as a solar panel system or a steam oven, are typically not covered.
Often found in the fine print
The definitions of "properly maintained" are debatable, and records of service may be requested before the home warranty company covers certain claims. This can be a big problem for homeowners who did not occupy the home during the early years of a covered system or appliance's lifespan.
A home warranty company can send out repairmen in their network many times in a row to try to fix a covered item before replacing it.
Many home warranties will refuse to cover items that are over a certain age -- i.e., 10 years.
In complex home systems, a home warranty often covers only certain components, but not the entire system.
Example: In one major home warranty company's plans, plumbing stoppages are a different coverage item than the plumbing system. If you have a stoppage that breaks the entire system, but only stoppages are covered, the warranty may fix the stoppage but not cover the cost of fixing all the problems caused by the stoppage.
How to use your home warranty
The simplicity of reporting a problem to a home warranty provider is a large part of the appeal for many customers. When something goes wrong, you file a service request with the home warranty company, either online or over the phone. Within a predetermined amount of time, the company will send out a licensed tradesperson in its network to assess the problem. In most cases, the home warranty company will then contract and pay for the appropriate repair service -- although the homeowner will probably be responsible for a copay or deductible.
Service call fees/deductibles
A service call fee is the amount you pay each time a different type of tradesperson visits your home to respond to your service request. This is also known as the deductible. You can often choose to go with a higher service call fee to lower the cost of the annual plan fee.
Annual limits
Coverage limits are typically per item, and the limit depends on what level of coverage you have. The typical range is between $500–$2,000 per system or appliance.
What about unlimited service?
Some home warranty plans do offer unlimited service requests, meaning they'll send out a professional as many times as needed to repair a covered appliance. However, not all plans do, and even those that do will often require a call fee for each home visit.
Pros of having a home warranty
If you're not sure how old an appliance is, a home warranty can pick up where the manufacturer warranty leaves off.
A home warranty covers many items, so you don't have to track the warranties for all those items separately.
If an expensive appliance such as a refrigerator or hot water heater breaks and can't be fixed, you may be able to get a brand new one.
The deductibles are known upfront, so you know what you're going to pay when the repair person comes.
A home warranty fills in coverage gaps that your homeowners insurance doesn't cover.
Cons of having a home warranty
The fine print often includes many exclusions and limitations.
Most home warranties have a 30-day waiting period between the time a home warranty is purchased to when customers can use it.
Because repair is usually less expensive than replacement, home warranty companies may try to do an inexpensive repair that's only a temporary solution, rather than a full replacement.
Because the home warranty company wants to minimize expenses, instances of disagreement over price/value of a system or an appliance are common.
If the home warranty company can prove a preexisting issue with the system or appliance, the home warranty will not cover it. Therefore, home warranty companies often ask homeowners to provide proof that a system was in working order at the time of purchase.
What to look for in home warranty companies
While different people look for different things in their home warranty company--as in all aspects of a home--there are also some elements that factor into most people's buying decision one way or the other.
Here are some things you may want to look for when shopping for a home warranty:
Cost of service call fee/deductible:
A lot of people who have repairmen or tradespeople in their personal network will complain after their first few attempts to use a home warranty, "I could have gotten someone out to give me a quote on fixing my __ for free, and probably fix it for $50. When I used my home warranty, it cost $35 per visit and they sent three people out before it was handled."

If you relate to that, look for a home warranty that covers only major systems and appliances, i.e. water heater and plumbing, leaving minor repairs to your fix-it person. And, consider paying a bit higher of an annual membership to lower or eliminate call fees.

Process of getting a service professional:
Further on the topic of homeowners who have their own pros on speed dial: The typical home warranty process of farming the job out to any available in-network service professional often frustrates people who would like to use a professional they know and trust. While the "choose your own service person" option isn't common, America's 1st Choice (AFC Home Club) does offer it, and it's a big differentiator.

Coverage limits:
If repairs on a certain problematic item are usually expensive, make sure your plan has high coverage limits--otherwise, when it goes out, your home warranty may only cover a percentage of the cost to repair it. Also, if you own an uncommon/specialty brand or type of appliance, double-check that it's included in the list of covered brands.

Replacement option:
It's important to note that, for some home warranties, the replacement option only comes as part of a more expensive plan. If you believe that some of your items may be on their last legs and need to be replaced in the next year, make sure you're getting a home warranty that will cover replacement when the time comes.

Flexibility to choose/upgrade coverage:
This is the most important plan feature for many people. Although the standard list of covered items might look long, closer perusal may reveal that your home only contains half the items. Hence the popularity of the choose-your-own, "a la carte": home warranty plan. If you choose this, make sure and inquire about available upgrades like preventive maintenance and increased coverage limits for big-ticket items in your plan.
Is a home warranty a smart purchase for you?
Consider the age of the house you're buying, the age of the major systems and appliances, and whether you feel confident in getting repairs done or doing them yourself when something breaks down. If your home is new, the major appliances are new, or you've got a great network of service professionals, you may not use a home warranty. If your home or appliances are older and you're not able to focus on home repairs, a home warranty may provide a useful first layer of protection, plus peace of mind.
Got $1,000? The 10 Top Investments We'd Make Right Now
Our team of analysts agrees. These 10 real estate plays are the best ways to invest in real estate right now. By signing up to be a member of Real Estate Winners, you'll get access to our 10 best ideas and new investment ideas every month. Find out how you can get started with Real Estate Winners by clicking here.