The Complete Guide to a Debt-Free College Education

You know your education is the key to a prosperous future. But you also know that student loan debt can derail that dream. It's a dilemma students have faced for decades.
If you're hoping to be a student who bucks the trend, you're in luck. We've compiled nine debt-reduction tips for undergraduates that anyone can use.
We've also drilled down into more specifics for students studying:
Medicine
Education
Law
Science
Nine tips anyone can use
After graduation, the work you'll do will vary depending on your educational background. But while you're in school, you'll experience financial challenges similar to students in all different fields. Some of the tips they use to save money could apply to you as well.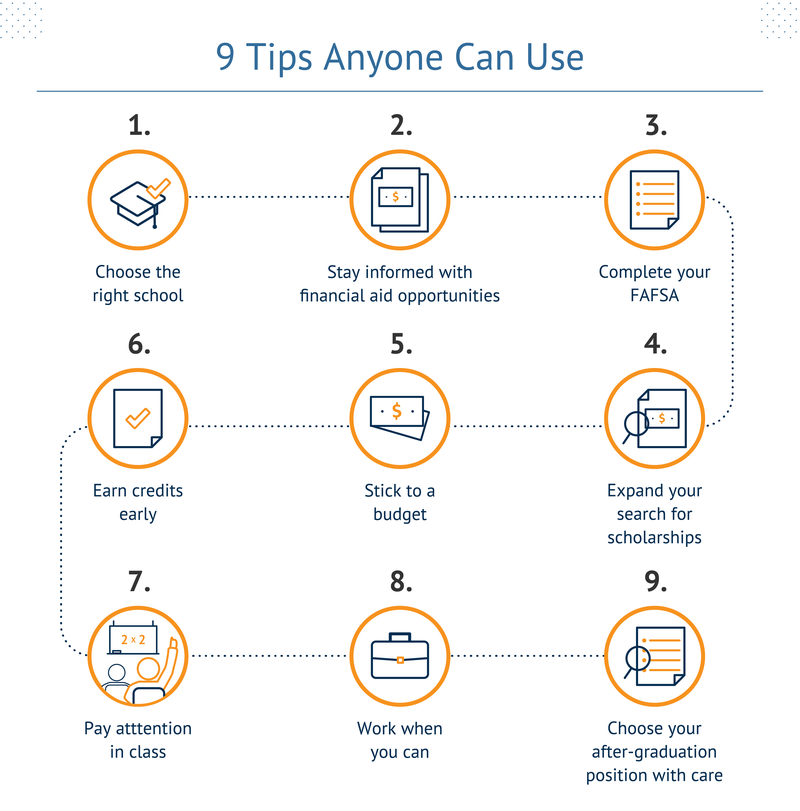 These nine ideas can help you reduce your debt load:
1. Choose the right school
Educational institutions are not created equal. Some are expensive and offer no real benefit for the extra cost.
If you can, start your degree at a community college and then transfer to a university after two years. You'll get the same education with a much smaller price tag. Choose a community college close to home, and you could save even more on housing by commuting, rather than living on campus. Opting for a state school over a private university could also save you tens of thousands of dollars.
To decide whether paying for a more expensive school is worthwhile, consider:
Whether the school has a specialty program in your chosen field.
The average salaries of graduates and the percentage who are employed a year after graduation.
Whether the school offers strong networking opportunities.
Unless a more expensive school would help you make substantially more money or open the door to many more job opportunities, choose the school with lower tuition costs.
2. Stay informed about financial aid opportunities
Visit the school's financial aid office and ask about scholarships, work-study programs, grants, and federal loans. You'll walk away with many forms to fill out, and each one could cut back your overall bill. Staff members can also help you optimize your applications so you're more likely to get the financial aid you need.
3. Complete your Free Application for Financial Student Aid (FAFSA) ASAP
The FAFSA becomes available on Oct. 1. While the federal deadline to complete the FAFSA isn't until June each year (for example, June 2020 for the 2019-20 academic year), you should submit your forms ASAP, as many sources of aid are first come, first served.
Completing your FAFSA as soon as you can will increase your chances of landing grants, scholarships, and work-study opportunities.
4. Expand your search for scholarships
There's a whole world of scholarship opportunities out there beyond your school's financial aid office. Begin your search for free sources of money as soon as possible and cast a wide net. Some places to look include:
Online scholarship search engines, including CollegeBoard.org and Fastweb
Community groups
Your church or religious institution
Labor unions and professional organizations
Advocacy groups
Health organizations
Veterans organizations
5. Stick to a budget
Know how much money you have and how much you spend. Make a list of your income and your expenses and compare them each week. You'll spot trends that can help you cut costs, and you'll know when splurging on something is a bad idea.
While you'll need to set aside some money for fun and entertainment in your budget, try to limit unnecessary spending. While it's cheapest to live at home with your parents, if this isn't a viable option, you can keep costs down by:
Living close to school to reduce transportation expenses.
Living on campus or sharing housing with roommates.
Cooking meals at home or participating in the campus dining plan instead of eating out.
6. Earn credits early
Take AP classes while you're still in high school or courses at a community college during the summer to complete prerequisites. If you start college with some of your credit hours already completed, you can save time and money.
If you're planning to attend a graduate program or earn an advanced degree, make sure you know what course requirements must be fulfilled to gain admission and take those courses as soon as possible so you don't end up needing to complete extra coursework after graduation.
7. Pay attention in class
You pay for each credit you take, whether you pass or not. Don't throw money away by skipping class or failing your tests. Make sure you pay attention and do well in every class, so you don't have to repeat your work.
8. Work when you can
Holding a job while you're in school can help you cover living expenses. A job can also help you pay down your fees, so you'll need to borrow even less.
Some employers contribute to the cost of a college education. Look for companies that will subsidize tuition if you have flexibility in where you work. Keep in mind that these programs come with strings attached. Make sure you are comfortable with the requirements of the program before you commit.
9. Choose your after-graduation position with care
The Perkins loan cancellation program, the Public Service Loan Forgiveness Program, and others like them will erase your federal student debt if you work for underserved communities or take hard-to-fill positions for a certain amount of time.
Your financial aid department can help you find out whether a job you're considering qualifies for a program like this. Before you sign an employment contract, make sure you check.
Graduating with an exceptional education and a small debt load isn't always easy. But with a little planning, a little hard work, and some help from professionals, it can be done.
Tips for undergrads
Sixty-nine percent of college students in the class of 2018 took out loans, and these undergrads left school with an average student debt load of $29,800. Earning a bachelor's degree has become a prerequisite to find a job in many different fields, but unfortunately, the costs of tuition have climbed.
To avoid incurring unnecessary expenses, plan out your college coursework before entering school. Don't waste time taking unrelated classes or change your major halfway through school. If you do, you could be forced to pay tuition for additional semesters. If necessary, take a "gap year" to work in different fields to discover your areas of interest and save money.
When exploring degree programs, consider the average salaries, the availability of job opportunities, and whether an advanced degree will be needed. Avoid going into debt for a degree that's unlikely to lead to a job with a salary that allows you to repay your student loans quickly. And remember: Choosing a field in which a master's or other postgraduate degree is a prerequisite will add to your total educational costs.
Tips for doctors
It's no secret that a medical degree comes at a substantial cost. In fact, the median four-year cost at a private medical school is an eye-watering $278,455. Clearly there's a lot to learn, and the facilities that provide that knowledge tend to be filled with advanced and expensive equipment.
There are very few ways to avoid student debt entirely, but with smart career planning, you could eliminate your financial obligation soon after graduation.
Consider the National Health Service Corps Loan Repayment Program. It's designed to help medical, dental, and behavioral health students. You'll agree to work, either on a full-time or part-time basis, in a community that has limited access to medical care. In return, you'll get a salary, and your loans will be repaid.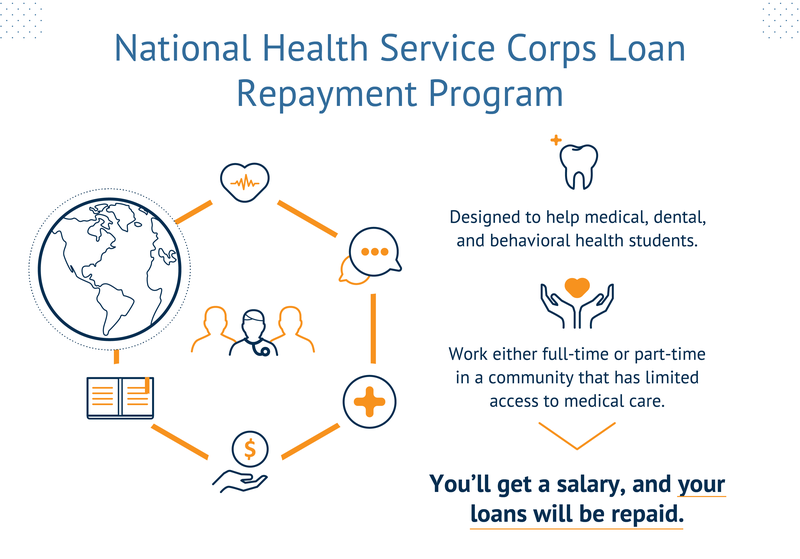 In a program like this, you won't get to choose where you work, and some communities can be challenging to call home. But you'll get a top-notch education in return with no debt to show for it.
If you're hoping to stick close to home, build a relationship with a medical provider while you're in school. Consider the following providers:
Hospitals
Rehab facilities
Long-term care facilities
Medical clinics
Some organizations offer positions appropriate for students. For example, you could work as a certified nursing assistant (CNA) while in school, and you could apply your salary toward your tuition.
Some facilities offer student loan forgiveness programs in exchange for your promise of service. Here, you'd sign a contract agreeing to work for the facility for a certain amount of time after you've earned your degree. Complete that contract, and your education fees could be covered.
It can take a little digging to find these programs, and unfortunately, there is no national database of participating facilities. But if you seek out these programs, you could get the career you want without sitting under a mountain of debt.
Working for a nonprofit or the government could also qualify you for Public Service Loan Forgiveness. PSLF allows you to make income-based payments on federal student loans for 10 years, after which the remaining balance of your debt will be forgiven. You must be making these payments while working for a qualified employer.
There are strict requirements to qualify for loan forgiveness, so talk with your loan servicer and financial aid office if you're considering this option.
Tips for teachers
It seems ironic that you'd incur debt in school to work in a school. But for many teachers, that's exactly what happens. But by making savvy choices about your post-graduation employment, you could erase that debt soon after graduation.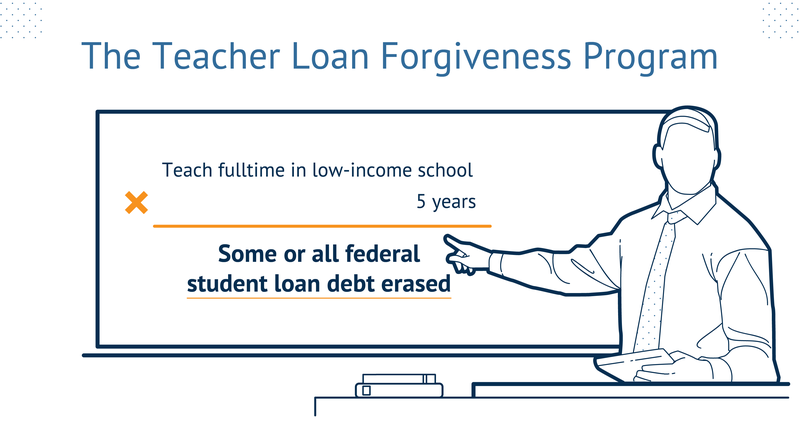 The Teacher Loan Forgiveness Program requires you to take a full-time position for five consecutive years in a low-income school. Do that, and you may be eligible to get as much as $17,500 of your federal student loan debt erased.
Keep in mind: There are a lot of qualifications here. For example, loan forgiveness programs apply only to federal loans, not those you might get from a bank or credit union. But these programs could allow you to serve a community that really needs your help, all while helping you to get an education without long-term debt.
The student loan office of your college or university can help you understand how to take advantage of programs that provide forgiveness for student loans like this. In some cases, your advisor can help you find a school or career that could allow you to qualify.
As a budding teacher, you're also in a perfect position to help your fellow students. Determine your strongest subject and tutor struggling classmates for a fee.
You could even tutor from the comfort of your own home. Companies like VIPKid and Qkids pay up to $21 per hour for tutors to help children learn English.
There are also many programs that staff tutors to assist high school students with ACT and SAT prep.
The money you earn can help you cover your tuition costs, and you'll develop your teaching skills at the same time.
Tips for lawyers
Unfortunately, there are few forgiveness programs made specifically for lawyers. But there are options for law students that aren't open to other types of students. With a little luck and a lot of hustle, you could earn a great deal of money to cover your education expenses.
Consider working as a paralegal in your gap year between undergraduate and graduate school. You'll get exposed to the nuts and bolts of a law practice, and in some states you could earn a handsome salary at the same time. With a little discipline, you could pay down your education debt from undergrad work before you spend more on your law degree.
If taking a step away from your education isn't right for you, there are plenty of side hustles that are appropriate for law students, including:
Freelance legal correspondents. Write articles about the law for people running internet searches. Do the work on your own time and keep all the profits.
Research assistants. Get to know your law professors and offer to work on a project in progress. You may make a bit of money while building up a strong connection you can lean on after graduation.
Document reviewer. Look over legal documents for errors and make sure they're processed properly. Legal staffing agencies can help you find a job like this.
Law library clerk. Find resources for fellow students and support research happening at your school.
During law school, the job you get in the summer between your second and third years could also pay you a hefty salary -- in addition to helping you establish connections that could lead to a full-time position. Choose your 2L summer position carefully and put any money you earn toward paying back loans or covering the costs of your third year of law school.
Tips for researchers and scientists
If you're studying the sciences, you're preparing for a life of invention and research. There are some steps you can take while in school to cover your education costs.
Consider your inventive mind. Many of the most successful companies in business today, including Apple and Facebook, were started by young people with a bold idea that could change the world. Get together with like-minded students and try to solve a pesky problem.
You could patent your idea, but beware: Patents can cost you thousands of dollars, and you'll need to spend even more to keep your documentation up to date.
A better idea: Join a local inventor organization. Find them by searching for the term in your area. Meet with other inventors who have been through the process and find out about local incubator groups that can help you make your dream a reality.
If you'd like to make money with a little less hassle, consider a research assistant position. Here, you're helping other professionals to perfect their ideas before they go to market. While you may not share part of the invention's profits at the end of your work, you could take home a steady paycheck while the experiment goes on.
Find a research assistant position by talking to your professors, or ask the guidance counselor of your department to connect you with a professional.
Frequently asked questions
I already have student loan debt. What can I do now?
If you've borrowed federal money (through a Perkins Loan, for example), you may qualify for programs that pay back your debt. There are programs like this for doctors, teachers, and nonprofit workers. You can contact the U.S. Department of Education to find out more, or call the financial aid office of the school you went to.
How much can I save by going to community college?
It depends. It's not uncommon for students to save a significant amount by spending two years in the community college and then transferring to a university. But even one year in a school like this could save you a lot of money, especially if you can continue to live at home while you learn.
Does it make sense to work while I'm in school?
Yes, but do it wisely. Your salary can help you pay for tuition, books, and housing, so that's a huge benefit. But if you work so much that you fail your classes, you'll waste your tuition fees. Pay close attention to your schedule, and if you find you never have time to study, it's time to cut back on work.
Do gap years help me cut my student loan debt?
In some cases, yes. If you're hoping to go to law school, spending a year working as a paralegal could help you to understand the field even better while you're paying back undergraduate debt.
How can my financial aid department help me?
Even if you think you're not qualified for aid, the team can connect you with work-study programs, internships, and other opportunities that can help you cover your fees while you're in school.
Will my employer help to cut my debt?
In some cases, yes. This is especially true if you plan to work in medicine. Hospitals, long-term care facilities, and clinics may agree to pay your tuition while you're in school, so long as you promise to work for them when you've graduated.
References
Other Research