Investing in Textile Stocks
Data from the U.S. Census Bureau show that retail sales of clothing and accessories were among the hardest hit during the COVID-19 pandemic in 2020. Retailers' sales, which fell 26% in 2020 over 2019, are impacting textile companies as well.
But consumer spending is beginning to rebound, and trends such as e-commerce and athletics-inspired attire are creating new opportunities for companies that specialize in textiles manufacturing. If you want to know how to invest to benefit from these trends, keep reading.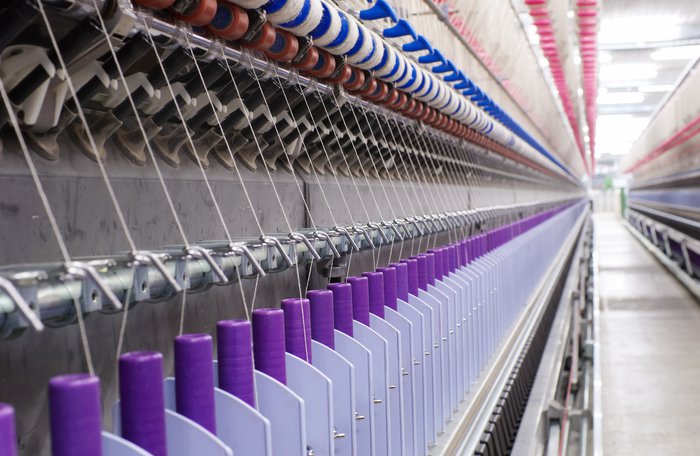 Investing in textile stocks
Many companies specialize in processing raw materials into textiles for use in clothing and accessories. However, some of the best investments in this area are companies that develop new textiles and clothing and use their know-how to forge direct relationships with customers. Often called "direct-to-consumer" sellers, this movement or trend has been significantly enabled by the booming e-commerce industry. It's now easier than ever for companies to cut out the middleman, reach their fans directly, and make sales.
Thus, some of the best textile companies are actually becoming retailers themselves -- a clear competitive advantage. Here are a few to focus on.
1. lululemon athletica
Athleisure (athletics-inspired apparel for everyday use outside the gym) has been cemented in place as a mainstay by the COVID-19 pandemic. More than just stretchy pants and comfortable workout clothes, athleisure has become part of high fashion. Canada-based athleisure pioneer lululemon athletica (NASDAQ:LULU) has taken great strides to advance this segment of the textile market.
Lululemon benefits from the ideal business model for a modern textile and apparel company. Nearly half of its revenue comes from online sales, and it has forged a loyal customer base via its website, social media, and other digital channels. While many of its traditional peers stumbled during the start of the pandemic, lululemon experienced minimal disruption and quickly returned to producing double-digit growth.
The company got its start specializing in women's clothing but has since expanded beyond that and has full lines for men and kids, too. The company is also highly profitable and generates plenty of free cash flow. It achieves this in part by not owning any manufacturing operations itself but instead leaving the actual clothes-making process to its partners. Managing the supply chain and owning the customer relationship is a far more valuable business focus these days.
Building on its success to date, lululemon got into the fitness industry in 2020 with its $500 million acquisition of MIRROR, a maker of digital workout displays. For now, though, lululemon remains an athletics-inspired apparel company -- and one of the best ones around in which to invest.
2. Canada Goose
Also based north of the border, Canada Goose (NYSE:GOOS) is also a top textile company and retailer. Unlike lululemon, though, Canada Goose prides itself on making the down-filled parkas it is known for in its own manufacturing operations in Canada -- with some knitwear and accessories produced in other locations in Italy, Romania, and Asia.
Canada Goose is famous for adventurer and extreme weather gear, but it has grown into a global luxury brand that makes a variety of adventure-inspired apparel. The company was also hit hard by the pandemic but recently returned to expanding its revenues during the final months of 2020. It, too, has experienced success via online direct-to-consumer sales, reporting that nearly two-thirds of its sales come from the web.
Largely bypassing retailers and keeping online retailing proceeds for itself, Canada Goose is highly profitable and has generated ample free cash flow, even during the worst of the pandemic-fueled market crash. The company is expanding fast in international markets as well. This is a top textile company in the luxury space.
3. Levi Strauss
Levi Strauss (NYSE:LEVI) is an iconic American brand trying to find its way in a new era. Although the denim company traces its roots to the California gold rush more than 150 years ago, it only had its IPO in 2019. It's been on a bumpy ride since, and the company reported steep losses in the spring of 2020 during the first wave of lockdowns.
However, Levi Strauss and its global jeans manufacturing empire is adapting. It's been closing brick-and-mortar locations to refocus on its online sales. Between its own e-commerce business and online sales from its partners, Levi reports that close to one-quarter of its revenue is derived from a digital channel. As a result, profit margins have been rising as it reaps the rewards of a more efficient internet-based selling model. Levi Strauss stock also pays a small quarterly dividend to sweeten the deal.
4. Kontoor Brands
Speaking of jeans, Kontoor Brands (NYSE:KTB) is another top name in the textile industry. Spun off in 2019 from former clothing conglomerate parent VF Corporation (NYSE:VFC), Kontoor owns denim brands Lee, Wrangler, and Rock & Republic.
Like Levi Strauss, the pandemic deeply disrupted Kontoor's business. However, unlike its famous peer, Kontoor quickly returned to year-over-year growth by the end of 2020. In keeping with the theme, e-commerce was responsible for the rebound. Brands such as Lee and Wrangler are finding new success with marketing and selling to consumers directly. Kontoor's stable of denim is also expanding overseas, and the company remains highly profitable and pays a generous quarterly dividend to shareholders.
5. Hanesbrands
Hanesbrands (NYSE:HBI) has not had the most graceful transition to the digital era. The parent company of brands such as Hanes and Champion has seen its share price in persistent decline for a few years as the company tries to find its way with e-commerce.
However, Hanesbrands was able to weather the worst of the pandemic by quickly switching its textile manufacturing business to personal protective equipment and capitalizing on the high demand for face masks and the like. The company doesn't think this will be a long-term growth driver, but it did at least smooth out what would have otherwise been a really rough patch for the company. Since then, it's doubling down on athletic wear and e-commerce, has a licensing deal with DKNY through an acquisition, and sponsored a marketing campaign for the Champion brand using the likeness of boxing great Muhammad Ali. In spite of its struggles, Hanesbrands pays a reliable dividend and could be part of an income-generating investment portfolio.
6. Tapestry
Not all textiles are fabric. Famous for its leather goods, Tapestry (NYSE:TPR) is another top name in the industry. The conglomerate manages the high-end accessories and apparel brands Coach, Kate Spade, and Stuart Weitzman.
Before the pandemic struck, the luxury and high-end apparel industry was stubborn about transitioning to an online format, but Tapestry was somewhat of a pioneer in this regard. While the company still heavily relies on retail partners, it had a healthy internet business before COVID-19 and was winning over a new younger generation of fans. Although the company has yet to produce robust growth, its digital stores are thriving -- especially in emerging markets such as China. This is poised to be a top textile stock in the years ahead as the effects of the pandemic ease.
The best textile stocks are also e-commerce stocks
Much like the rest of the economy, the textile industry is dealing with structural changes accelerated by disruption from the coronavirus pandemic. Comfortable attire inspired by athletic wear is here to stay, and consumers are showing no signs of losing interest in shopping from home.
E-commerce presents new challenges for textile makers but also new opportunities. In fact, for those companies making good use of the advances of the digital era, a new period of business growth is occurring. For investors looking to invest in textile stocks, the best companies in the industry are also e-commerce companies. Focus on these stocks and remember to keep a long-term focus as textile businesses develop their direct relationships with consumers.
Related Investing Topics