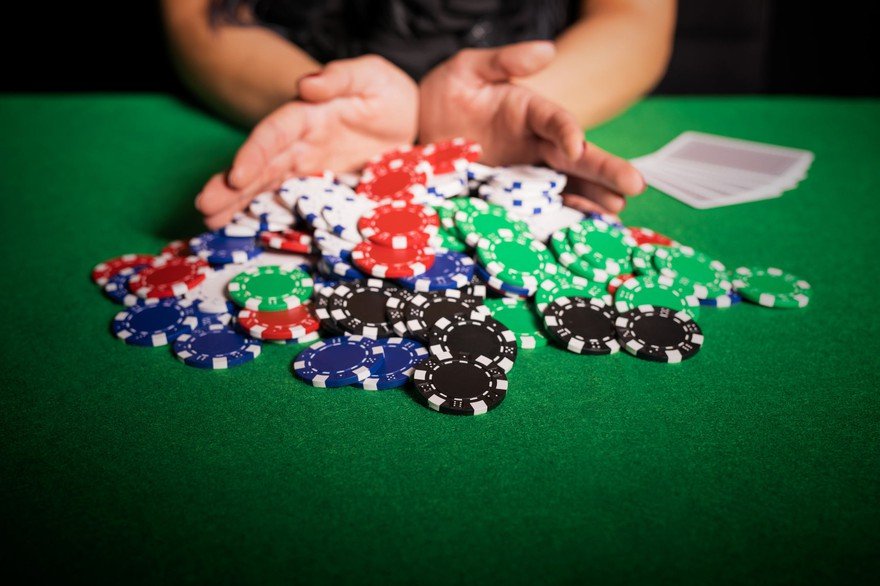 Image source: Getty Images.
A night at the casino might seem like an experience frozen in time -- imagine visions of James Bond or pressing your luck at the craps table -- but the casino industry is changing fast, and new developments present a unique opportunity for investors.
Online gaming is becoming legal in many U.S. states, and both old-school casino chains and upstart online gambling stocks are jumping on the trend. Meanwhile, the Asian market, centered on the Chinese territory of Macau, has asserted itself as the largest gambling market in the world with big winnings for operators who own one of the handful of licenses to operate on the island.
After getting hit hard by the COVID-19 pandemic, the industry has made a successful comeback as pent-up demand prompted gamblers and tourists to return in full force to destinations such as Las Vegas. After all, brick-and-mortar casinos don't just make money on table games and slots. Like other leisure and hospitality stocks, they operate like hotels, relying on room occupancy for a substantial portion of their revenue, as well as conventions and other gatherings. Since spending on gambling and tourism is highly correlated with the overall health of the economy, casino stocks are considered consumer discretionary stocks.
If you're looking for some of the best casino stocks out there, keep reading to see six of the most attractive gambling stocks you can buy today.
Top casino stocks in 2023
Source: Yahoo! Finance. (Market cap data as of Mar. 21, 2023.

| Company | Market Cap | Description |
| --- | --- | --- |
| | | |
| MGM Resorts (NYSE:MGM) | $16 billion | Operator of casinos in Las Vegas, Macau, and regional U.S. markets and also involved in online gambling through BetMGM. |
| Las Vegas Sands (NYSE:LVS) | $42.2 billion | Casino operator primarily focused on the Macau market. |
| Wynn Resorts (NASDAQ:WYNN) | $12.3 billion | Casino operator in Macau, Las Vegas, and Boston. |
| PENN Entertainment (NASDAQ:PENN) | $4.5 billion | Owns regional casinos and racetracks, as well as online casinos and a minority stake in Barstool Sports. |
| DraftKings (NASDAQ:DKNG) | $8.6 billion | Owner of online casino gaming platforms and online sports books. |
| Caesars Entertainment (NASDAQ:CZR) | $9.6 billion | Operator of a wide range of U.S. casinos and online sports books. |
1. MGM Resorts
MGM has one of the most impressive collections of properties in the casino industry. It owns many of the most familiar casino resorts on the Las Vegas strip, including the Bellagio, MGM Grand, Luxor, and New York-New York, as well as locations in Atlantic City, Detroit, and Mississippi, among others. It also has 56% stakes in two Macau casinos, MGM Macau and MGM Cotai.
About two-thirds of its 45,000 guest rooms are on the strip, making it more exposed to Las Vegas tourism than many of its peers.   
MGM's stock plunged when the pandemic first struck in March 2020 but has since rallied to post-financial crisis highs with the help of an investment from IAC/Interactive (IAC -0.76%) and a pivot to online gaming with BetMGM. In 2021, it launched online betting in several states and opened sportsbooks at several of its properties. It reported record EBITDAR for its Las Vegas Strip and regional properties in 2022. Its performance in China, however, was marred by COVID-19-related casino shutdowns for much of the year.
Still, MGM was awarded a new 10-year gaming license Macau, ensuring its future in the gaming territory.
2. Las Vegas Sands
If you're looking to make a bet on Macau, Las Vegas Sands is the way to go. The company is focused entirely on the Asian market with five casinos in Macau, as well as the Marina Bay Sands in Singapore. It sold its Las Vegas business, including the Venetian, to a private equity firm in March 2021 for $6.25 billion.
Unfortunately, the strategy of focusing on Asia backfired during the COVID-19 pandemic as traffic to Macau plunged due to strict lockdowns in China and other Asian regions. In 2022, the company struggled with the restrictions and posted an operating loss for the third year in a row.
Nonetheless, that business should return as the region emerges has begun easing restrictions, and Macau should remain the world's biggest gaming market because of its proximity to large populations and the cultural affinity for gaming in China and other parts of Asia. The company is also experiencing a solid recovery at its Marina Bay Sands resort in Singapore.
With its focus on the international market, Las Vegas Sands has been slower to move into online gaming, but it announced plans in July 2021 to become a strategic investor in digital gaming technologies. The effort, however, seems to have fallen apart after the two people leading it, Davis Catlin and David Williams, left to form their own gambling investment firm.
3. Wynn Resorts
Wynn is another diversified casino operator, with 72% ownership of the Wynn Palace and Wynn Macau in Macau. Additionally, it wholly owns the Wynn and Encore in Las Vegas, and the Encore Boston Harbor, which opened in 2019.
The company also launched Wynn Interactive in October 2020, in which it owns a 97% stake, partnering with BetBull, which it later acquired, to create an online sportsbook and online casino.  Wynn almost sold Wynn Interactive to a SPAC in 2021, but it backed away from the deal in November 2021. Media reports in January 2022 indicated the company was again seeking a buyer. Former CEO Matt Maddox had said that the economics for online sports betting aren't favorable because competitors are spending too much on customer acquisition costs.  In 2022, the company lost $98.5 million in adjusted property EBITDAR on Wynn Interactive after losing $267.4 million in 2021.
Wynn has not fully recovered from the COVID-19 pandemic. The company posted an adjusted net loss in 2021 and 2022 due to challenges in Macau and with Wynn Interactive, and it faces heavy interest expenses due to $12 billion of debt.
However, it continues to aim at developing big luxury properties and recently announced plans for a resort near Dubai in 2026. Wynn's focus on underserved markets such as Dubai and the Boston area could pay off for investors down the road.
4. PENN Entertainment
PENN Entertainment shares skyrocketed early on the pandemic as investors were impressed by its moves into online gambling. However, the stock has cooled off since then as the online gambling boom has faded, and Penn has given up essentially all of its pandemic-era gains.
The company owns 44 properties in 20 states, but the stock has become primarily associated with online gambling. Penn Interactive operates as an online sportsbook and casino. It also has a 36% stake in Barstool Sports, and it formed a strategic partnership with Barstool to exclusively promote its own sportsbooks, including Barstool Sportsbook.
The company followed up the Barstool deal by acquiring theScore, another digital media and gaming platform, for $2.1 billion, asserting its position in online gaming even more.
Despite headwinds from the pandemic on its casino properties, the company posted solid growth through 2020 and 2021 and was even profitable on a GAAP basis, unlike many of its peers. Profits fell in 2022 due in part to an increase in lease payments, but if the company can generate significant profits from online sports betting, it looks well-positioned to be a winner.
5. DraftKings
DraftKings, which went public through a SPAC in 2020, is the only pure-play online gambling company on this list. It has something of a duopoly in online sports betting with FanDuel, claiming 27% of the market behind FanDuel's 47%.
Like many of its peers, DraftKings has used acquisitions to help it grow. In August 2021, it spent $1.5 billion to acquire Golden Nugget Online Gaming, strengthening its position in online casino games to expand its reach beyond sports betting and daily fantasy sports.
Social distancing and stay-at-home orders during the COVID-19 pandemic led to a boom in online sports betting and gambling, and DraftKings' revenue has continued to surge even well after the COVID-19 pandemic has faded. In 2022, revenue jumped 73% to $2.24 billion, but it still lost $1.5 billion as the company continues to spend heavily on marketing.
The company reached 2.6 million monthly paying users at the end of 2022. While it's still significantly unprofitable, if you're looking for growth in the casino industry, it's hard to beat DraftKings' potential.
6. Caesars Entertainment
Caesars Entertainment was acquired by Eldorado Resorts in 2020, which retained the name Caesars after the deal. Post-merger, Caesars became the largest casino operator in the U.S. with 54 properties worldwide, including eight on the Las Vegas strip. Caesars operates casinos in 16 states.
Eldorado had been a top casino stock prior to the merger, and the company now known as Caesars has delivered returns of roughly 1,700% since its 2014 initial public offering (IPO), thanks in part to Eldorado's aggressive acquisition strategy. The company spent $4 billion to buy British online gaming company William Hill Group in April 2021.
Although the company has made strides in online gaming, the majority of its business still comes from its Las Vegas and regional casinos. Like other casino chains, Caesars seeks to leverage its national network through a loyalty program, encouraging visits to multiple properties.
With a strong push into online gaming, a well-respected sportsbook, and a balanced casino business between Las Vegas and regional locations, Caesars looks well-positioned for future growth, especially if you're looking to avoid the tumult in Macau.
Related consumer discretionary stocks
Should you buy casino stocks?
As a sector, casino stocks have underperformed the market over the past 10 years, but there have been big winners, including Caesars and online gaming stocks such as DraftKings and Penn National.
With the expansion of online gambling in the U.S., the next 10 years will likely be much different than the past decade, and the post-pandemic reopening has brought a surge in traffic to brick-and-mortar casinos, showing that traditional gambling isn't going away. While there's still a lot of uncertainty ahead for the industry, you could find a big payoff waiting in the casino industry if you're a risk-tolerant investor.
Jeremy Bowman
has positions in Iac. The Motley Fool recommends the following options: long January 2025 $25 calls on Penn Entertainment and short January 2025 $30 calls on Penn Entertainment. The Motley Fool has a
disclosure policy
.