DiversyFund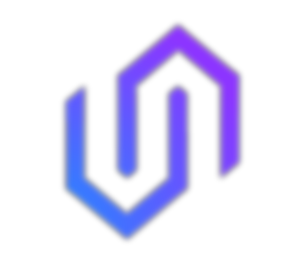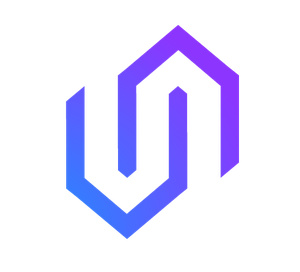 Summary
DiversyFund is a crowdfunded platform that touts zero fees to investors buying its REIT, but the fees the manager charges to the REIT itself are extraordinarily high.
Highlights
Low investment minimums
Invests primarily in residential real estate
Higher than normal fees charged to the REIT from the sponsor.
Bankruptcy Protection 5/ 10
Diversified Fund Options 1/ 5
Non-accredited Investor Offerings 5/ 5
View More
What is DiversyFund?
DiversyFund describes itself as one of the few vertically integrated companies in the crowdfunded real estate investing space. The company offers two real estate investing funds, one that's open to non-accredited investors and says it invests in multifamily real estate and one that's open to accredited investors with the goal of generating income. The company is also in the late stages of a Series A pre-IPO capital raise from accredited investors.
In addition to its description of being vertically integrated, DiversyFund also leads with a claim of charging zero fees to investors, a big draw in an industry that has many fund operators charging 2% per year or more to manage assets. But what's not said in the company's marketing is that the fees it charges as the sponsor -- fees paid by the real estate investment trust (REIT) -- are some of the highest we have seen in the industry.
Summary: Is DiversyFund a good investment?
In this case, we will focus on the DiversyFund Growth REIT, which is marketed as a low-cost (Zero Fees. Period.) real estate investment for anyone with $500. In short, our findings aren't particularly favorable for this fund.
First, it owns a handful of primarily multifamily residential properties (though it owns what its most recent annual report says are debt positions on two luxury homes). This concentration of property types and markets can make for more risk.
Next, we aren't convinced that it's necessarily a benefit for DiversyFund to be vertically integrated. This also adds additional risk of losses if the company performs poorly or fails. Your investment may be bankruptcy-remote from DiversyFund since the REIT is a separate entity, but a DiversyFund failure would negatively impact the REIT and could cause losses for investors.
Last, the fees DiversyFund, the sponsor and manager, can charge the REIT are some of the highest we have seen, making its "zero fees" claim disingenuous. Sure, the fees aren't charged to investors, but they are paid by the REIT, which is funded by investor capital. Just because investors aren't paying the fees directly doesn't mean they don't impact returns.
When you combine the concentration risk, the operator failure risk, and what we see as a less-than-ideal way to present the total fees structure with the lack of a public track record operating a REIT, we think there are better investment opportunities for investors than DiversyFund.
What are DiversyFund's pros and cons?
Pros
No need to be an accredited investor: DiversyFund's Growth REIT is open to non-accredited investors.
Low minimum investment: Invest with as little as $500.
Cons
Very high developer fees: DiversyFund touts no investor fees at the fund level, but the fees it charges the REIT itself as the developer/sponsor are very high. Higher fees, even at the REIT level, mean lower returns for investors.
No liquidity or secondary market: There is no redemption policy as with other crowdfunded REITs, and no guarantee DiversyFund will agree to repurchase your investment. The manager intends to hold properties for five years before liquidation. If you invest, don't use any cash you may need within that period of time.
Concentrated assets risk: The DiversyFund Growth REIT only owns a small collection of residential real estate properties. This means more concentrated risk.
Limited track record in this space: The Growth REIT has only reported very limited results to date, making it difficult to measure management's ability to deliver.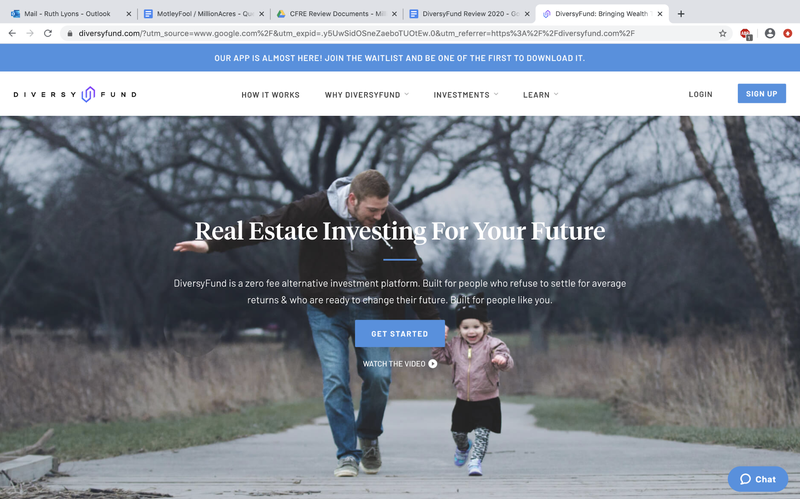 Is DiversyFund legit? How strong is it?
DiversyFund is a legitimate business with multiple real estate holdings in various entities, including the DiversyFund Growth REIT.
DiversyFund's performance
As of the most recent SEC filing, the DiversyFund Growth REIT was still burning more cash than its operations were generating. The company itself has had what looks like a successful capital raise that it intends to utilize primarily for marketing purposes to fund investor growth into its REITs.
At this stage, that means we have limited information about the financial performance of the business, the REITs, or the properties owned by the REITs.
DiversyFund management
DiversyFund was founded by CEO Craig Cecilio and CIO Alan Lewis, who have some experience in real estate but primarily in real estate finance (Cecilio) and finance law (Lewis).
How DiversyFund works: How are investments sourced?
DiversyFund touts itself as a vertically integrated platform, acting as the sponsor, developer, and asset manager. The concept is that this allows for a lower-cost fee structure, since the company can source properties directly for the REIT, develop them to grow cash flows and increase the property value, and then sell them for a profit, sharing in the returns with equity investors in the REIT.
As a result, DiversyFund does not charge annual asset management fees to investors in the DiversyFund Growth REIT directly. However, the fees that it discloses as being able to collect from the REIT as the sponsor and developer are well above the industry average.
Who can invest with DiversyFund? What is the minimum investment?
The DiversyFund Growth REIT is open to anyone who can invest at least $500, while it also offers a fund for accredited investors with a $100,000 minimum investment. DiversyFund has also launched a Series A capital raise for DiversyFund itself, with a $25,000 minimum investment open to accredited investors. This investment is being marketed as a pre-IPO venture capital raise, with the long-term goal of taking DiversyFund public in the future.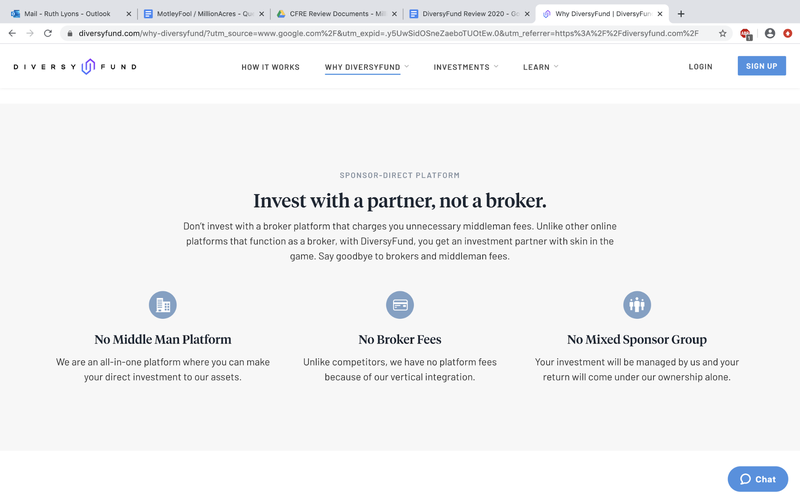 What are DiversyFund's fees?
This is one of the more cloudy areas for many Reg A investments. DiversyFund touts the fact that it does not charge fees, under the slogan, "No. Fees. Period." Sadly, while true at the investor level, it's not an accurate representation of the impact fees will have on an investment in the REITs funds.
A review of the disclosures in the SEC filings for DiversyFund Growth REIT shows that in many cases, DiversyFund, as the sponsor and developer, will charge the REIT a litany of fees. Some of these fees are near industry standard rates, but many are far above what you would expect to pay on a standalone real estate deal.
Here are the various fees DiversyFund charges the REIT:
Developer fee: 6% to 8% of both hard (e.g., real estate, construction, renovation) and soft (e.g., professional fees) costs.
Disposition of property: 1% of total sale price.
Construction management: no range disclosed; states "shall also be consistent with industry standards, as determined by the Sponsor."
Additionally, there's this quote from the offering circular (bolding added for emphasis):
"The Company engages third parties to provide a variety of other services, including insurance and marketing. If the Manager is able to engage third parties at lower-than-market rates, then the Manager is entitled to retain the difference. The Manager will determine the market rates for the services in question -- and thus its own compensation -- based on its experience in the real estate industry and, if it believes necessary, by reviewing proposals from other providers of such services."
In other words, if DiversyFund finds better deals for some services, it can charge the REIT the higher rate and just pocket the difference.
There's more. In addition to the fees it can charge, here is the promoted interest schedule from the offering circular for the DiversyFund Growth REIT:
"The Promoted Interest is paid in two levels: first, after Investors have received a 7% preferred return on their investment, the Sponsor is entitled to a catchup return equal to approximately 53.85% of the preferred return paid to Investors; and second, after Investors have received their preferred return and the Sponsor has received its catchup return, the Sponsor is entitled to 35% of the remaining profits."
Where to start. Probably the best place is this: A promote schedule that allows the sponsor to share in profits isn't a bad thing. It helps create more incentive for a developer, as its share of the profits grows with the profitability of a deal.
But, plain and simple, it's rare to see a promote structure with this low a bar for returns, and rewarding the sponsor with an outsize share of profits. A more typical promote structure is an 8% preferred return followed by an 80/20 or a 75/25 (investor/sponsor), with no catch-up returns.
Here's the bottom line: Investors in the REIT are the ones putting capital at risk, and how the returns are split should reflect that. The DiversyFund fees and promote structure reward the sponsor more than is typical, at the expense of investors putting their capital at risk.
DiversyFund returns: What should you expect?
DiversyFund says its Income Fund for accredited investors has averaged 10.5% per year in net return. But the past couple of years its results have come in below the average, with an 8.4% return in 2018 and a 7% annualized return through the first three quarters of 2019 reported at this writing.
The jury is still out on the DiversyFund Growth REIT, which has yet to report a period with positive operating cash flows. The concern is that the fee structure creates opportunity for DiversyFund to profit more than investors in its funds.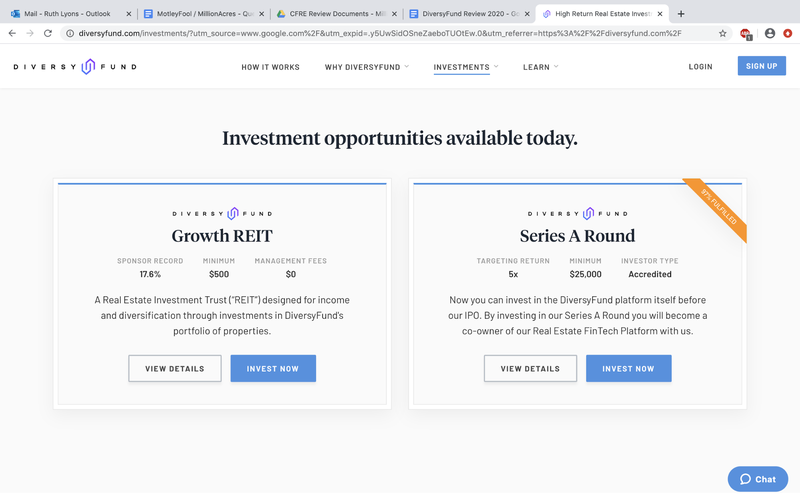 When (and how) can you sell DiversyFund investments?
DiversyFund investments, like most real estate investments, are illiquid in nature. One of the attractive aspects of private real estate is that it's not as volatile as other investments like stocks, but the downside is that once you've made the investment, it's hard, or even impossible, to liquidate that investment before the deal is completed.
Despite this, many other non-traded REITs have a redemption schedule or share buyback policy that gives some limited opportunity to sell, while DiversyFund doesn't offer any liquidity at all. Taken a step further, the DiversyFund Growth REIT won't actually send cash dividends to investors. The REIT reinvests all dividends into more shares, retaining the cash flows to reinvest into new real estate deals.
For many investors looking at real estate as a source of income, that makes the Growth REIT a no-go.
Going mobile: Is there a DiversyFund app?
DiversyFund has a fully featured mobile app as well as a mobile-optimized website that works well from both smartphones and tablets.
DiversyFund risks: Is DiversyFund safe to invest with?
We are limited in the information we have access to, and the DiversyFund Growth REIT is a newer investment without much of a track record. But with that said, we think there are other crowdfunded real estate platforms that could make for safer investments.
DiversyFund touts its vertical integration as a feature that lowers costs, but it also creates additional risks. When one party handles so many aspects of a real estate deal, including asset management for investors, developing properties, sourcing and acquiring them, and asset sales, there's more risk to investors if something goes wrong.
As an asset class, commercial real estate is generally a safer investment, and that's potentially the case with most of DiversyFund's investments, too. But investors should go into an investment with this platform with the understanding that since the company handles so many aspects of every deal, the potential impact of a DiversyFund failure would likely cause more harm than if other platforms were to fail or have problems.
Moreover, there are some questions about leadership that we have flagged, including past violations with state real estate regulators prior to the founding of DiversyFund as well as some ongoing litigation on a current DiversyFund development that was not disclosed in SEC filings. Company representatives said the ongoing litigation is not what it considers material to the business and that all prior violations were settled, but with past issues with regulators at the founder level, it's enough for us to want to practice heightened caution.
Lastly, there's the lack of liquidity via either a secondary market or redemption policy and no option to take dividends as cash for Growth REIT investors.
Put it all together, and there are a lot of small things that add up to raise flags for us, particularly without a substantial track record of results for the Growth REIT to justify investing in it. Right now, we think there are better opportunities for your money than DiversyFund.
Unfair Advantages: How Real Estate Became a Billionaire Factory
You probably know that real estate has long been the playground for the rich and well connected, and that according to recently published data it's also been the best performing investment in modern history. And with a set of unfair advantages that are completely unheard of with other investments, it's no surprise why.
But in 2020 the barriers have come crashing down - and now it's possible to build REAL wealth through real estate at a fraction of what it used to cost, meaning the unfair advantages are now available to individuals like you.
To get started, we've assembled a comprehensive guide that outlines everything you need to know about investing in real estate - and have made it available for FREE today. Simply click here to learn more and access your complimentary copy.
Popular Articles On Millionacres