FREE - Guide To Real Estate Investing
Take the first step towards building real wealth by signing up for our comprehensive guide to real estate investing.
*By submitting your email you consent to us keeping you informed about updates to our website and about other products and services that we think might interest you. You can unsubscribe at any time. Please read our Privacy Statement and Terms & Conditions.
Fundrise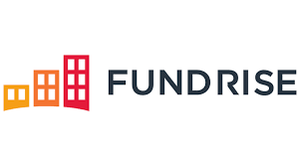 Summary
Fundrise's core offerings are diversified funds, either commercial properties in the case of its eREITs, or real estate transactions in its eFunds. Their unique structure makes it one of the most accessible options for non-accredited investors.
Highlights
Excellent Non-Accredited Options
Broad Regulation A Access
Easy, low-cost diversification
Bankruptcy Protection 8/ 10
Diversified Fund Options 3/ 5
Non-accredited Investor Offerings 4/ 5
View More
What is Fundrise?
Fundrise is one of the oldest and largest real estate crowdfunding platforms. While most other crowdfunding platforms require you to be an accredited investor -- meaning you meet certain minimum income and/or wealth requirements -- Fundrise is open to non-accredited investors as well, allowing people of nearly any financial situation to invest in private real estate deals. It also has some of the lowest minimums compared to other real estate crowdfunding sites, with a plan that lets you invest as little as $500.
What separates Fundrise from many other real estate crowdfunding companies, however, is that you don't have the option of picking and choosing individual deals to invest in or even choosing from its many REITs -- real estate investment trusts -- to put your money in. Depending on which of its "core plans" you choose, your money will be invested in multiple Fundrise REITs, each of which is invested in potentially dozens of separate properties.
Put it all together, and Fundrise is excellent in that it makes private real estate investing accessible to so many people, but it may not be ideal for someone looking to pick and choose individual real estate deals to participate in.
Summary: Is Fundrise a good investment?
In terms of the returns Fundrise's investments have generated so far, yes. However, the answer to the more personalized question "Is Fundrise a good investment for me?" is, "It depends."
For investors who are working with smaller amounts of capital or want to set up recurring new investments, Fundrise is one of the only games in town. Moreover, the way its core plans diversify investor capital across dozens of deals has some appeal in that it prevents investors from having too much wealth concentrated in a single property deal. For many investors, that's a good thing.
However, for someone who's working with larger amounts of capital and wants to pick individual real estate deals to invest in, Fundrise probably isn't a good fit.
Fundrise pros and cons
Pros
Some of the lowest minimums, starting at $500.
Ability to set up automatic recurring investment.
Relatively low fees.
Built-in diversification.
Redemption plan that allows you to sell some of your investment early.
Cons
Investors can't invest in individual Fundrise REITs or property deals.
The sheer number of real estate deals you'll be invested in can make it difficult to do due diligence.
Unlike investing in standalone deals with a defined investment period until return of capital, it may be difficult to fully exit your position all at one time.
Fundrise makes most of its money from origination fees it charges developers, not the fees it charges investors. This could be a conflict of interest in its due diligence. That's important since investors will be counting on Fundrise management to pick the best investment options.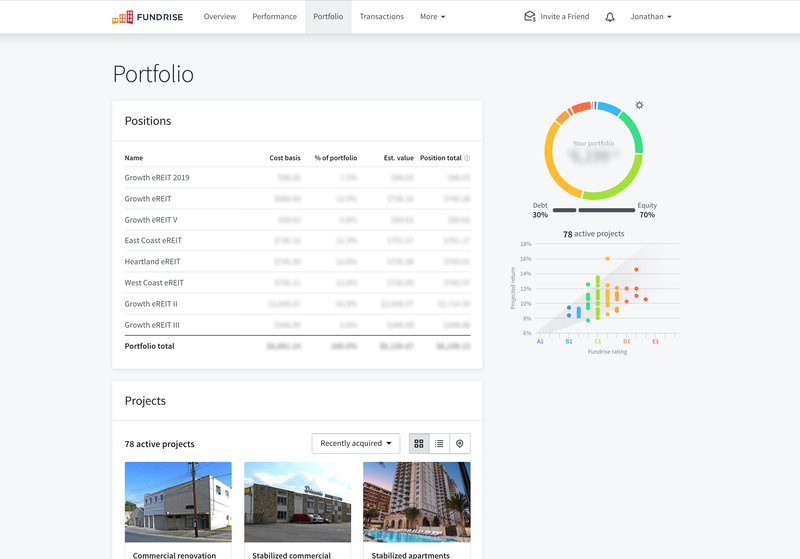 Is Fundrise legit? How strong is it?
I don't think there's much doubt that Fundrise is a legitimate real estate investing business. As one of the oldest and largest crowdfunding real estate platforms, Fundrise has a solid documented track record. By the end of June 2019, it has originated $816 million in debt and equity real estate investments since its founding.
It also regularly files reports with the Securities and Exchange Commission for all its REITs and for Rise Companies, the parent company. This means that we can learn far more about Fundrise's performance and balance sheet than we can from the vast majority of its peers, which tend to be closely held private companies.
Fundrise performance
In terms of financial strength, Fundrise -- specifically Rise Companies -- had $29 million in net current assets -- assets in cash or easily convertible to cash, minus current liabilities like accounts payable -- and no long-term liabilities or debt. That makes for a relatively strong balance sheet.
However, the company does continue to generate a significant operating loss. Through the first six months of 2019, Rise reported an operating loss of $7.9 million, slightly larger than the $7.8 million operating loss year over year. Its operating cash flows are better -- or maybe just not as bad -- with $1.8 million in negative operating cash flows. But that's well within the company's balance sheet to maintain for the next few years.
With that said, there is one big risk to Fundrise's business that investors should consider. The majority of revenue -- 60% in the first half of 2019 -- comes from origination and acquisition fees, versus only 28% from the fees it charges investors. This isn't necessarily a bad business model, but it does create a level of risk in two ways.
The level of demand for commercial real estate lending is very high. So long as the economy remains healthy, that's likely to remain the case. However, when we see an economic downturn -- it's inevitable, though when it will happen is debatable -- Fundrise will face two potential challenges:
Commercial real estate development will slow, reducing demand for the loans it makes most of its money originating.
Retail investors could significantly cut back on making new investments, drying up the source of capital Fundrise relies on to fund those loans.
And chances are, they'll both happen at the same time, and that could cause Rise Companies' cash flows to fall off substantially. And, depending on the length of the downturn, a worst-case scenario could see it failing.
That said, the company's balance sheet gives us good reason to think Fundrise has the financial strength to ride out a downturn. It doesn't have any debt, and it has more than sufficient cash to keep the lights on if and when the cycle invariably turns away from growth for a period of time.
Fundrise stock
The main reason we know so much about Fundrise is because of its SEC filings as a publicly-held company. In recent years, Rise Companies has offered stock for sale -- but only to investors who've invested on Fundrise -- to raise capital. So even though its stock isn't publicly traded, it's still publicly held and must file regular reports of its financial condition with the SEC.
Sales of Fundrise stock through the company's IPO -- internet public offering, not initial public offering -- have helped the company raise substantial capital to fund its growth. Moreover, the company has increased the per-share price every time it has updated this ongoing offering.
But before you consider participating in it, be forewarned: Unlike the Fundrise REITs, there is no redemption plan for Rise Companies stock. So be prepared to own a stake in the company for potentially many years before you have any opportunity to cash out of your investment.
Fundrise management
One of the main things about Fundrise that makes it appealing is its management. The CEO, Ben Miller, is also a co-founder and one of the largest investors in the company. Miller, along with other executives and several members of the Miller family, owns a controlling stake in Rise Companies.
There are a few positives to this. First, we have executives -- and family members of the executives -- whose interests are aligned with investors in Rise Companies. Moreover, since the business operators have control, there's less risk of a large outside investor, such as a venture capital fund, forcing management to act in a way that may not be aligned with the company's best interests.
On the other hand, there's some risk to this structure, particularly since Fundrise makes most of its money from lending fees, not asset management fees. What's in the best interest of the company itself -- and its owners -- isn't necessarily what is in the best interest of investors in Fundrise's various investment products, at least in the short-term.
Yet, there's one more aspect of management that must be considered: experience in real estate development. The Miller family has a multiple-decade track record of developing commercial real estate, and in every part of the real estate and economic cycle. This experience should prove valuable in navigating the real estate cycle in the future.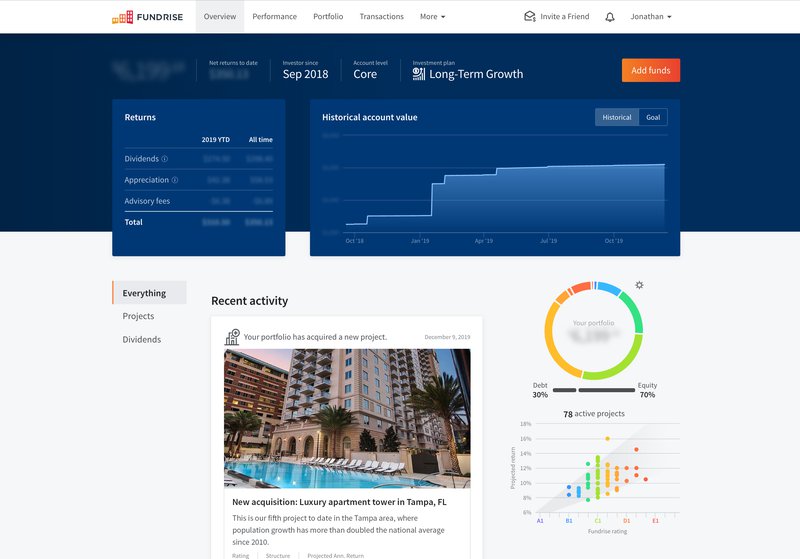 How Fundrise works: How are investments sourced?
Unlike other real estate crowdfunding platforms where investors choose individual real estate deals to participate in, Fundrise investors choose one of four investment directions based on their personal investing capacity or goals:
Starter Portfolio: Fundrise's $500 minimum investment plan, with your investment split 50/50 into the Income eREIT 2019 and Growth eREIT V as of this writing.
Supplemental Income plan: With a $1,000 minimum, this is Fundrise's dividend-focused investment choice. 60% of your investment is put in the Income eREIT 2019, and 40% is put in the Heartland eREIT.
Long-Term Growth plan: This plan has a $1,000 minimum investment and is focused on delivering capital appreciation; 75% of your investment would be in the Growth eREIT V and 25% in the Heartland eREIT.
Balanced Investing plan: This plan has a $1,000 minimum investment and is for investors looking for a balance of both dividends and capital appreciation. Investments are spread across three REITs in this plan, with 40% in the Heartland eREIT, 40% in the Growth eREIT V, and 20% in the Income eREIT 2019.
Fundrise plans: Which is best?
There's really not a right or wrong answer to this. It's more a matter of choosing the core plan that matches best with your investing goals and risk/reward profile. Here is a summary of each of Fundrise's three core plans.
| Investment Plan | Strategy | Who's It For? | What's In It? |
| --- | --- | --- | --- |
| Starter Portfolio | Open the door to investors with limited capital. | Beginning investors starting with less than $1,000. | Funds to be allocated 50/50 in two REITs aimed at owning debt and equity, respectively. |
| Long-Term Growth plan | Invest in real estate assets that can be improved to increase their value and generate capital returns.  | Investors looking to grow the value of the underlying investment. | 58% debt, 42% equity at this writing. Projected annual returns target is 9.4% to 10.1%, with dividends to contribute 1.3% to 1.4% and capital appreciation to generate 8.1% to 8.6%. |
| Supplemental Income plan | Invest in real estate assets that generate strong cash flows. | Investors looking for the biggest dividends. | 83% debt, 17% equity at this writing, with the equity in stabilized apartments and the debt in a range of multifamily real estate deals. Projected annual returns are 8.8% to 10.8%, with 7.4% to 8.1% from dividends and 1.5% to 2.7% from capital appreciation. |
| Balanced Investing plan | Apply both income and growth strategies to deliver dividends and capital growth. | Investors looking for balanced total returns (dividends and capital appreciation). | 72% debt, 28% equity at this writing. Projected annual returns are 9% to 10.4%, with 3.8% to 4.3% from dividends and 5.2% to 6.2% from capital appreciation. |
Deciding which plan is the best for you is largely a matter of need and preference. Remember that this is a highly illiquid investment. Once you've invested your $500, $1,000, or more, your ability to cash out -- after Fundrise's 90-day satisfaction period when you can get a full reimbursement -- will be very limited and will come at a cost in fees in the first five years.
With that in mind, choose the plan that provides you with the income or cash flow you need or want today, and the long-term returns profile that fits within your expectations. Also consider the tax implications. If you won't need the dividends and plan to hold for many years to come, you can likely reduce your taxes by choosing the Long-Term Growth plan.
This is because REIT dividends are generally taxed at your marginal income tax rate in the year they're paid (whether you reinvest them or not, they're still taxable income). Capital gains, on the other hand, won't be taxed as income until you realize the gain and sell your investment, while also being classified as long-term capital gains, a much lower tax rate than most people's marginal income tax rate.
Fundrise takes the pool of money from you and other investors and then invests it across dozens of different real estate deals, including debt and equity stakes. This is great for diversification, reducing the risk of losses from too much exposure to a single property. It's also nice for investors who don't have the time, capacity, or interest in vetting standalone real estate offerings and picking individual investments.
On the other hand, it also means you're passing along essentially all of the due diligence and capital allocation decisions to Fundrise's managers. They will decide which kinds of properties to invest in, how to invest in them, and for how long. For a lot of long-term investors, that's simply too much responsibility to hand off to someone else.
Who can invest on Fundrise?
Just about anyone, including non-accredited investors, can invest on Fundrise. As noted above, Fundrise offers a "Starter Portfolio" with a $500 minimum investment, one of the lowest minimums we have seen for commercial real estate. Even the $1,000 minimum for its "Core" plans, which give investors the ability to "fine tune" the kinds of returns you'll get, is on the lower side for platforms offering commercial real estate investments.
Fundrise also supports automatic investments, starting at $100 per month. This can be an excellent way for investors who are working with smaller amounts of money or just getting started to gradually build up their real estate investment portfolio over time.
Don't mistake Fundrise's low minimums as meaning it's not a platform for high-wealth individuals. Anyone working with larger amounts of money can invest on Fundrise, too; particularly someone looking for a more "hands-off" way to invest in a portfolio of diversified commercial real estate assets.
What is the minimum Fundrise investment?
Let's break down the different minimums across Fundrise's various offerings:
| Investment Plan | Minimum Initial Investment | Who's It For? | Automatic Investment Minimum |
| --- | --- | --- | --- |
| Starter Portfolio | $500 | Beginning investors starting with less than $1,000 | $100 per month |
| Long-Term Growth plan | $1,000 | Investors looking for capital appreciation | $100 per month |
| Supplemental Income plan | $1,000 | Investors looking for the biggest dividends | $100 per month |
| Balanced investing plan | $1,000 | Investors looking for balanced total returns (dividends and capital appreciation) | $100 per month |
What are Fundrise's fees?
Investors pay a 0.85% management fee and a 0.15% advisory fee per year, for 1% annualized. The fees are based on the net asset value (NAV), or the market value of the equity and debt stakes held in the various REITs Fundrise manages on your behalf.
Fundrise collects this fee on a quarterly basis, but it doesn't send you a bill. It takes the fees directly from the REITs.
However, it's worth noting that these fees aren't how Fundrise makes most of its money. Through the first six months of 2019, it earned $2.1 million from asset management and advisory fees, versus $4.4 million in origination and acquisition fees.
In other words, Fundrise makes most of its money putting deals together and charging property developers origination fees for the loans investors fund.
Fundrise returns: What should you expect?
The table above offers a pretty decent review of this topic, and Fundrise has generally delivered on the returns it has projected. Here's the rub: With the exception of dividends, your ability to realize those returns is limited by the Fundrise redemption plan, administered separately for each REIT. In short, it's really important to understand when and how you can cash out your investment in Fundrise.
When (and how) can you sell Fundrise investments?
You can put in a request to sell your stake in a REIT purchased through a Fundrise plan at any time. The catch is, depending on how long you've invested, there are fees you'll pay, and due to limitations on how much of each REIT Fundrise will redeem in any month or quarter, your request isn't guaranteed to be honored.
Here is how the redemption plan is structured:
| | |
| --- | --- |
| How Long Have You Owned? | Percentage of Net Asset Value You Will Receive |
| Less than 90 days | 100% of your investment  |
| 90 days to 3 years | 97% of NAV |
| 3 years to 4 years | 98% of NAV |
| 4 years to 5 years | 99% of NAV |
| More than 5 years | 100% of NAV |
Here's the way it works. After you submit your redemption request, there's a 60-day waiting period before your request will be honored. Next, Fundrise limits redemptions to no more than 0.5% of net asset value of the REIT in any given month, and no more than 1.25% of NAV in any quarter. It also does not intend to redeem more than 5% of shares in any calendar year.
Simply put, your ability to liquidate all, or even part, of your investment could be impacted by these limitations in the future. Take that into consideration before you invest.
If you're considering using the automatic investing feature, there's another major consideration. Fundrise follows a "last in first out" basis for redemptions. That means the most recent shares you bought will be the first shares it sells. In other words, even if you've been investing with Fundrise for more than five years, you could still end up paying fees if you sell.
Lastly, the redemption plan is specific to Fundrise REITs, not the Rise Companies IPO. There is no redemption plan for investments in the Fundrise parent company.
Going mobile: Is there a Fundrise app?
Fundrise is one of the only real estate crowdfunding platforms with an app, and it's a good one. It is simple to use, gives users a plethora of information at their fingertips, and -- maybe most importantly -- gives investors the same level of access and control they'd find through a web browser on a desktop computer.
In today's mobile computing world, Fundrise is ahead of many of its peers. If there's an argument to be made against this, it's that the Fundrise app could make it too easy to invest, letting people easily skip personal due diligence, including understanding how truly illiquid an investment in Fundrise could prove to be.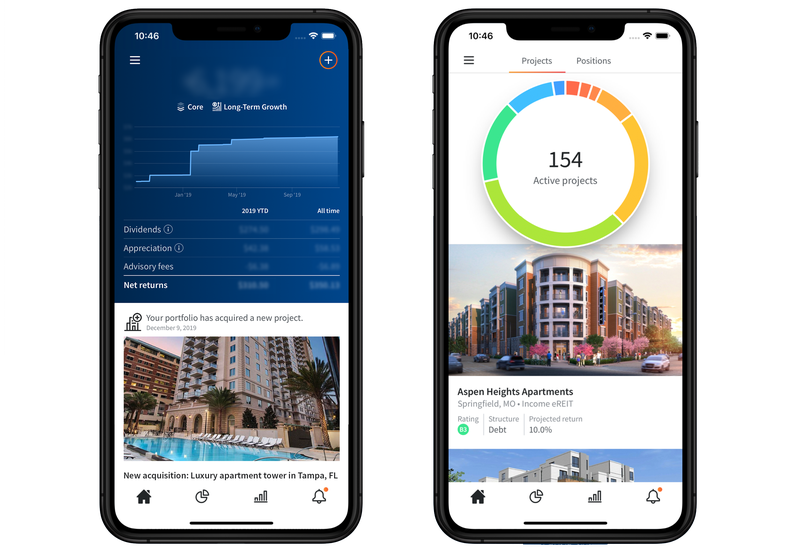 Fundrise risks: Is Fundrise safe to invest with?
There are two parts to this. First, let's talk about Rise Companies, which manages the investments, and its ability to continue as a going interest.
Here are the risks as we see them. The market will turn at some point, and when it does, Rise Companies' biggest business -- originating funding for developers, not managing assets for investors -- could struggle for three reasons:
Reduced capital demand from developers who slow development.
Reduced access to capital from investors in a weak economy.
Added pressure from increased redemption requests, likely to happen in a market downturn or recession.
But those risks are likely to prove short-term in nature and would be a risk for Rise Companies, not the individual REITs investors own. Moreover, Rise Companies' balance sheet and experienced management will likely prove strong enough to navigate the market's cycles.
But what if there were a worst-case scenario and Fundrise went bankrupt? The good news is, your investments -- with the exception of the Fundrise IPO -- are in bankruptcy-remote entities. Each REIT is a separate legal business from Rise Companies. And while Fundrise does own a small stake in each of its REITs, individual investors by far make up the controlling shareholders and would be able to elect a replacement investment manager were Fundrise to fail.
In other words, creditors would not be able to go after the assets held in the REITs, or the cash flows those REITs generate that are then paid to investors in dividends (beyond the portion tied to Fundrise's small stake in each REIT). A Fundrise bankruptcy could temporarily impact the business of the REIT, delaying dividend payments until a replacement manager could be hired, but it's unlikely it would have a permanent impact on the value of the underlying investments.
Put it all together, and Fundrise -- both the business itself and the underlying investments available via its crowdfunded real estate platform -- look about as safe as any other commercial real estate investment out there, while the built-in diversity of the Fundrise investments probably reduces investors' risk of losses, at least as compared to investing in a single property. Moreover, since it's almost entirely multifamily residential real estate, investors are further protected from economic downturns by owning one of the safer asset classes in commercial real estate.
Unfair Advantages: How Real Estate Became a Billionaire Factory
You probably know that real estate has long been the playground for the rich and well connected, and that according to recently published data it's also been the best performing investment in modern history. And with a set of unfair advantages that are completely unheard of with other investments, it's no surprise why.
But those barriers have come crashing down - and now it's possible to build REAL wealth through real estate at a fraction of what it used to cost, meaning the unfair advantages are now available to individuals like you.
To get started, we've assembled a comprehensive guide that outlines everything you need to know about investing in real estate - and have made it available for FREE today. Simply click here to learn more and access your complimentary copy.
Learn More About Real Estate Investing