Fundrise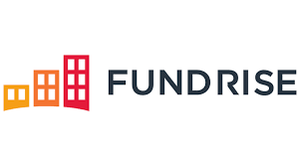 Summary
Fundrise's core offerings are diversified funds, either commercial properties in the case of its eREITs, or real estate transactions in its eFunds. Their unique structure makes it one of the most accessible options for non-accredited investors.
Highlights
Excellent Non-Accredited Options
Broad Regulation A Access
Easy, low-cost diversification
Bankruptcy Protection 8/ 10
Diversified Fund Options 3/ 5
Non-accredited Investor Offerings 4/ 5
View More
Summary
Fundrise is different from most other real estate crowdfunding platforms. While most of its peers act primarily as marketplaces to connect investors with deal sponsors, Fundrise makes it easy for anyone to invest in a diversified portfolio of real estate assets.
Unlike most of its peers, Fundrise's main offerings are funds, not individual real estate projects.
Moreover, Fundrise is open to investors of all stripes, not just accredited investors (only one of its many funds is limited to accredited investors). And with minimum investments starting at $500 -- compared to $25,000 or more for some platforms -- it's accessible to just about anyone.
The catch? You're counting on Fundrise's vetting process to filter out weak projects and sponsors. It's also up to them to identify real estate offerings that will deliver the short-term and long-term returns you're after.
What is Fundrise?
Fundrise is a real estate crowdfunding platform that lets you build a diverse portfolio of real estate assets. Instead of individual deals, investors select from a collection of diversified funds. "Core plans" focused on income, long-term appreciation, or a mix of both are also available.
These funds are managed directly by Fundrise.
The platform also offers a starter portfolio with a $500 minimum investment amount. That's a very small dollar amount to invest in real estate, since it's invested across multiple assets in four different Fundrise REITs.
Most people don't have the time, inclination, or skills to research individual real estate projects on other real estate crowdfunding platforms. Many don't have the capital to meet the larger minimum investments, either. So it's no surprise Fundrise has proven to be one of the most popular real estate crowdfunding platforms.
How does investing on Fundrise work?
Instead of picking individual real estate offerings to invest in, Fundrise helps investors identify their objectives -- income, growth, or a mix -- and allocates their investment across a mix of Fundrise funds that meet those objectives.
This is quite different from most other real estate crowdfunding platforms, where it's up to you to identify real estate projects on the platform's marketplace that meet your investing requirements. Fundrise's model puts the onus squarely on Fundrise to identify the best real estate projects since investors don't choose which real estate deals their capital is allocated towards.
It also means Fundrise plays a bigger role in asset management than many other real estate crowdfunding platforms. Since each investor owns a smaller stake of many more projects across multiple funds, your investment is more complex and difficult to track. Fundrise's investor dashboard does a fantastic job of aggregating all that data to make it clear how your investments are performing. So far, Fundrise has done an admirable job making sure investors get up-to-date reporting, tax documents, and dividends.
Here's the bottom line: If you invest with Fundrise, a much bigger portion of your returns will be tied to Fundrise's role in asset selection and fund management.
What are Fundrise's fees?
Fundrise charges an annual advisory fee of 0.15% per year along with 0.85% management fee per fund. In other words, you'll pay Fundrise what works out to 1% of the net asset value of your investments on an annualized basis, paid quarterly, if you invest in a single fund.
Of course, there are additional fees and expenses to develop and manage real estate projects or properties that aren't reflected in the fees Fundrise charges. And these fees can get a little bit harder to parse when investing in funds, since different properties may have different parties charging different fees to provide different services, such as property management fees (paid out of cash flows from rents or other revenues) or construction management fees (typically a percentage of the construction project's total cost). It gets back to investors trusting Fundrise to thoroughly vet each deal in order to maximize returns and cash flows by minimizing any third-party fees they don't charge you directly.
Who can invest on Fundrise?
Anyone with at least $500 to work with can invest on Fundrise. The low minimum contribution and highly diversified nature of its fund structure make Fundrise the most accessible real estate crowdfunding platform for the average person.
Moreover, it's not just for investors working with smaller amounts of capital. There are plenty of high-wealth individuals who could find Fundrise a good fit as well.
If you want to invest in real estate but don't have the time, expertise, or inclination to vet individual real estate offerings, Fundrise might be perfect for you. It doesn't matter if you're working with $500 or $500,000.
How can you use Fundrise?
It's easy to make single investments on Fundrise -- and investing on a recurring basis is simple, too. This is different from most other platforms where you make large single investments in real estate projects that you choose.
Looking to invest with an IRA? Fundrise offers a number of choices including traditional, Roth, and SEP IRA, serviced by Millennial Trust Company. Note that if you choose this investing method, it costs an additional $125 per year as of this writing, which can make it cost-prohibitive if you're starting with a small amount of capital.
If you invest with Fundrise, you'll want to be comfortable and familiar with the platform -- especially the investor dashboard. This is where you'll find information and updates about the properties held in the funds you are invested in, a breakdown of how your portfolio is performing including dividends and net value, and other communications and documents, such as tax reporting. The good news is Fundrise hasn't shirked on its investor dashboard, which is easy to use and laid out in a manner that makes it easy to track your investments as a whole, and to dig deeper into individual funds.
What makes Fundrise unique?
Fundrise's diversified funds, which are available to investors across nearly any income or wealth level, make it a unique and appealing real estate crowdfunding platform. Most real estate crowdfunding platforms are marketplaces for investors to find individual real estate deals to invest in. The few that offer investment management tools or diversified funds typically have much steeper minimum investment commitments that can be as high as $100,000.
Fundrise's fee structure is quite compelling as well. For 1% of net asset value on an annualized basis, investors gain access to a "turnkey" portfolio aimed at delivering income, long-term growth, or a balance of both. (That's if you invest in a single fund; it's slightly higher if you invest in more than one.)
Fundrise also handles much of the property and construction management that's often handled by third parties or developers (and often with additional fees). This can help boost returns since less of the invested capital and less of the property's revenue go to paying a developer or property manager.
Lastly, Fundrise also give investors opportunities to redeem capital early that could be far easier than any other platform. In general, investors should only enter any real estate deal with the ability and willingness to leave their capital invested for the duration of the project, which is often five years or longer. Moreover, some platforms don't have any mechanism for early-redemption, meaning you'd have to find a buyer through a third-party secondary market, usually paying exorbitant fees and selling at a steep discount to the asset's value.
Fundrise structures their funds for a five-year capital redemption at 100% of market value, but also allows for limited redemption as early as within the first 90 days, with a 3% penalty. Moreover, the longer you hold the smaller that penalty becomes, until going away completely at the five-year mark. Again, investors shouldn't go into these deals planning to cash out before five years, but it's nice to know there's a mechanism in place that makes it possible, if at a cost.
How safe is Fundrise?
The nature of Fundrise's diversified real estate funds helps make it a safer real estate investment in terms of the risk of permanent capital losses.
Even if you only start at the $500 "starter" investment, your money is spread out across four different funds, each of which owns multiple assets across various locations and property types. That reduces your risk, since your exposure to a single real estate deal going bad is minimized by the other real estate projects you also own a small stake in.
However, because Fundrise plays a much bigger role in asset development and managing investor's portfolios than other real estate crowdfunding platforms, there's a different kind of risk to consider: platform failure.
How safe would your invested capital be if Fundrise were to fail? According to the company, each fund exists as an independent company; they're not wholly owned subsidiaries of Fundrise. That's good, because it separates them from Fundrise in the eyes of a bankruptcy; they aren't assets that Fundrise owns.
However, Fundrise plays a major role in the management of the assets owned by each of these funds. If the company were to go bankrupt, that would almost certainly cause delays in reports being filed, the payment of dividends, and other operational delays until a new manager -- likely appointed by a bankruptcy judge -- could be put in place.
In a worst-case scenario, these delays could disrupt ongoing real estate projects substantially enough to cause significant and permanent losses for investors in those funds.
How at-risk is Fundrise? There's good news. According to its most recent annual report, Fundrise ended 2018 with $54 million in cash and no debt, giving it more than sufficient capital to operate its business.
It's worth noting that the company did burn about $438,000 in operating cash in 2018, but that's a big improvement from the $2.4 million in negative operating cash flows in 2017. Based on that positive trend, investors have some evidence that its growing scale should result in a cash-flow positive -- and therefore sustainable -- business in the near future.
Here's the bottom line: Your core capital investments aren't directly at risk if Fundrise were to fail, but because of its deep involvement in managing the funds and the properties in them, a Fundrise bankruptcy would almost certainly cost investors money. The good news is that Fundrise seems to be on strong financial footing, but investors would do well to monitor its SEC filings to make sure that remains the case.
Become A Mogul Today
Real estate is one of the most reliable and powerful ways to grow your wealth - but deciding where to start can be paralyzing.
That's why we launched Mogul, a breakthrough service designed to help you take advantage of this critical asset class. Mogul members receive investing alerts, tax optimization strategies, and access to exclusive events and webinars. Past alerts have included investments with projected IRRs (internal rates of return) of 16.1%, 19.4%, even 23.9%.
Join the waitlist for Mogul here and receive a complimentary 40-page guide on a NEW way to build wealth. Join waitlist now.