Whether you've examined your options for passing along your wealth or not, you probably know that there are a number of different possibilities when it comes to managing your wealth and handing it down to the next generation.
About 20% of Americans use living trusts as part of their estate plans, and it's a sensible option for a lot of retirees. Keep reading to learn more about what a living trust is and decide whether it's right for you.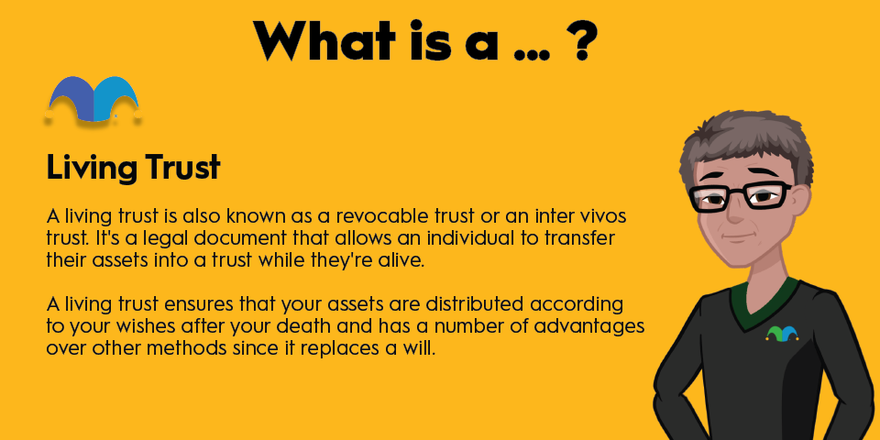 Image Source: The Motley Fool
What is a living trust?
What is a living trust?
A living trust is also known as a revocable trust or an inter vivos trust. It's a legal document that allows an individual to transfer their assets into a trust while they're alive.
By doing so, the individual, known as a grantor or settlor, can manage the trust until they die and make changes as necessary.
Advantages
What are the advantages of a living trust?
A living trust ensures that your assets are distributed according to your wishes after your death and has a number of advantages over other methods since it replaces a will.
First, it allows your descendants or beneficiaries to avoid probate court, which can be a time-consuming process.
By avoiding using a will, a living trust can also protect your and your family's privacy. A will, on the other hand, becomes public record once it enters probate so anyone can read it. A living trust can keep the distribution of your assets and the beneficiaries private.
The revocable nature of the trust also allows you to make changes as needed or even revoke it if you decide it no longer suits your needs.
Finally, a living trust also makes it easy for someone else to manage your assets if you become incapacitated, avoiding the need for a court-appointed guardian or conservator.
Drawbacks
Are there any drawbacks to a living trust?
Like most legal transactions, a living trust has both pros and cons.
Among the drawbacks of a living trust is the cost. They are generally more expensive and complex than a will. There's a multistep process of drafting the trust, transferring your assets into it, and administering it. There's also a good chance that you'll want to have an attorney help write the trust or sign off on the process.
Living trusts also require their own sets of record-keeping and filed tax returns since the trust is a separate financial entity from your own assets.
Finally, living trusts also have a longer contesting period than wills, allowing beneficiaries to protest any distrdibution from the trust for one to five years after your death.
What kind of person would want to use a living trust?
What kind of person would want to use a living trust?
A living trust tends to be favored by wealthier Americans and those who don't want their assets and disbursements to become public.
A living trust can also help ensure that people with blended families or complicated family situations can control how their assets are distributed. For example, if you had children from a previous marriage, but are remarried, you'd want to make sure both your spouse and your children are taken care of, even if they're at odds.
If you've achieved financial success from investing in bull markets, running a profitable business, or having a thriving career, you'll want to have an estate plan to ensure that those assets are distributed as you see fit.
A living trust could make sense for you.