Loser Coin (CRYPTO:LOWB) is a Chinese cryptocurrency made by losers and for losers. This is the rare case where that isn't an insult. It's stated in Loser Coin's white paper and on its website, which also includes plenty of cheeky attempts at humor such as the slogan, "Make Loser Great Again."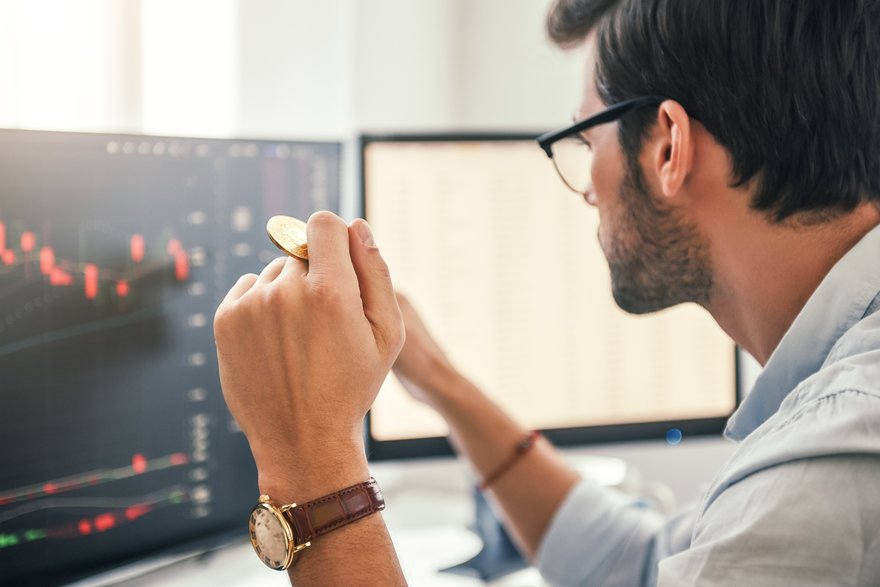 Source: Getty Images
Despite the humorous tone, this cryptocurrency is trying to be more than just a meme token. The team behind it is working on a whole Loser Coin ecosystem with yield farming, non-fungible tokens (NFTs), and games. In this Loser Coin guide, we'll go into detail about what it's doing and why it won't be a winner for anyone's portfolio.
What makes Loser Coin unique?
The main difference between Loser Coin and other crypto tokens is its theme, and it really leans into that theme. Almost every one of its projects has the word "loser" somewhere in the title.
Here's what Loser Coin currently has to offer:
LoserSwap is an automated market maker (AMM) and yield farm. Curiously enough, there's no swapping function allowing users to trade crypto, so all you can do is stake a few different tokens and earn interest.
Lowb NFT Market is Loser Coin's NFT marketplace. The project's first release is Loser Punks 666, a tribute to CryptoPunks, one of the earliest NFT collections.
The team behind it is working on multiple crypto games, including Loser Land, Peachland Stone Gate, and LowbCraft.
Loser Coin's appeal is primarily because of how it leans into the role of a cryptocurrency for loveable underdogs. The founders portray themselves as perpetual losers who wanted to be rich but kept losing money on investments.
That helped it gain a following, especially in its native China where retail investors often feel like the system is rigged in favor of large institutions. Loser Coin quickly built a following from people who could relate to its founders' experiences.
Where Loser Coin came from
According to the Loser Coin white paper, it was founded by two poor guys from China. One is the father of two kids in a village, and the other is a coder living a miserable life working 60 hours per week. They first heard about Bitcoin (BTC 1.93%) in 2017 and lost money investing in it.
The two decided to create their own cryptocurrency and launched Loser Coin on April 20, 2021. They reportedly put their entire life savings into the liquidity pool, but there's no way to verify that, and the founders' identities are unknown.
How Loser Coin works
Loser Coin is a BEP20 crypto token issued on the BNB Chain, a blockchain created by Binance. It has a maximum supply of 100 billion tokens that are distributed as follows:
40 billion (40%) for LoserSwap yield farming.
30 billion (30%) for community incentives.
10 billion (10%) for liquidity on PancakeSwap (CAKE

1.21%

).
10 billion (10%) for marketing.
10 billion (10%) for development.
The Loser Coin ecosystem is powered by its cryptocurrency, so most of its projects use LOWB tokens. For example, if you want to buy a LoserPunk NFT on the NFT marketplace, you'll need to pay in Loser Coin.
Partnerships
Since Loser Coin is a small cryptocurrency, it hasn't established any major connections. It does, however, have a few partnerships:
CryptoTycoon (CRYPTO:CTT) and Loser Coin announced a strategic partnership in June 2021. The projects will each participate in the other's ecosystem.
Loser Coin also announced in June 2021 that it would work with Peppa Token (CRYPTO:PEPPA) on a joint game project.
Can I make passive income with Loser Coin?
You can make passive income with Loser Coin by staking it on the LoserSwap platform. There are two ways to stake cryptocurrency on LoserSwap:
Stake your Loser Coin in the liquidity pool for that token.
Stake equal amounts of two separate crypto tokens, such as Loser Coin and Tether (USDT

-0.01%

), in one of LoserSwap's farms.
You'll earn interest on the amount that you stake. The interest rate depends on the pool or farm where you stake your crypto. Keep in mind that they all have variable interest rates, so the amount you earn will change over time.
Although passive income sounds like a great perk, you'll be earning the same type of cryptocurrency that you stake. If you stake LOWB tokens, your earnings will be dependent on the price of Loser Coin, which is a significant drawback.
Unique risks
The biggest issue with Loser Coin is obvious: It's called Loser Coin, which kills its chances of any sort of widespread adoption. For every person who will buy a cryptocurrency solely based on a "funny" name, there are likely thousands who will avoid it for the same reason.
Looking past the name, Loser Coin also isn't well-designed and has nothing to distinguish it from other projects. Its homepage has multiple broken links, and everything in the Loser Coin ecosystem has been done better by other cryptocurrencies. Its most notable feature so far is LoserSwap, but it pales in comparison to the large decentralized finance (DeFi) platforms.
Is Loser Coin a good investment?
Loser Coin is a poor choice as an investment. It has a name that's going to drive away most buyers, and it has nothing special to offer as a cryptocurrency.
In terms of ROI, the Loser Coin chart paints one of the grimmest pictures you'll see. It hit a high of $0.003487 on May 11, 2021, and then fell off a cliff, losing more than 95% of its value over the next 10 days. Aside from a few minor rebounds, it has mostly lost money since then.
One of the messages the founders of Loser Coin are trying to get across is that it's OK to lose. Whether you agree with that or not, that's not exactly the credo you'd want from an investment.
For those who want to add crypto to their portfolio, there are plenty of better options out there. Bitcoin and Ethereum (ETH 2.26%) are good places to start, and you could also look into investing in cryptocurrency stocks. These are all volatile, high-risk investments, just like everything related to cryptocurrency, but they at least have legitimate use cases and potential upside.
How to buy Loser Coin
It's a little difficult to buy Loser Coin because most crypto exchanges either don't have it or have very limited liquidity. The most popular place to get it is XT.com. Other places where you can trade for Loser Coin include Gate.io and PancakeSwap.
Loser Coin has built a community, so the story behind it clearly connected with some people. But even with its following, Loser Coin has been a consistent loser in terms of value, making it a cryptocurrency you should avoid.
Lyle Daly
has positions in Bitcoin, Ethereum, PancakeSwap, and Tether. The Motley Fool has positions in and recommends Bitcoin and Ethereum. The Motley Fool has a
disclosure policy
.