A letter of intent in commercial real estate (CRE) is frequently used by real estate investors as a means to initiate the purchase or lease of a commercial property. If you plan on buying or leasing commercial real estate, it's important to know when to use a letter of intent (LOI) and how to write a clear one. This article explains what a letter of intent is, when it is used in CRE, and what it should include.
What is a letter of intent?
A letter of intent (LOI) is a short, one-to-two-page formal letter that states the intent to enter into a contractual agreement to lease or purchase a commercial property. It's a nonbinding offer that initiates the negotiation and due diligence process before a formal binding agreement or contract is executed between both parties. It summarizes the basic terms of the offer without the extensive legal terms that are included in a real estate contract, giving the seller or landlord a concise snapshot of the terms of the real estate purchase or lease agreement.
When is a letter of intent used in commercial real estate?
A letter of intent is submitted by a serious prospective tenant, buyer, or representing broker in a commercial real estate transaction as an initial offer. It is prepared based on basic preliminary information that was provided by the seller or selling broker and on initial due diligence of the property. Negotiations and formal due diligence begin after the LOI has been delivered and before a formal purchase agreement is entered into.
It's not uncommon for LOIs to be submitted and agreed upon, to then later have the terms change or the initial offer withdrawn altogether. Since it's nonbinding, it states the buyer's intent subject to verification and further due diligence and can be amended or changed at any time.
How do you write a letter of intent in commercial real estate?
The content of a letter of intent may change based on who is writing it. Typically an LOI is just one to three pages, but it can be longer depending on the complexity of the property. Regardless, an LOI should include:
An introduction paragraph: a brief sentence or two stating what the letter's purpose is.
Involved parties, including the buyer's and seller's names and contact information.
A property description, including the address and possibly the legal description.
The purchase price of the property, as well as terms for financing or loan contingency, if applicable.
Escrow, including the escrow agent and sum to be paid as an escrow deposit.
Due diligence including the length of time allotted to the buyer to conduct due diligence and specific documents or items that need to be produced by the seller during this period.
The closing date.
Closing costs.
The inspection period, including how long the buyer has to conduct inspections, the specific inspections that will be completed, and terms to exit the agreement if it does not meet the buyer's criteria during the allotted inspection period.
Whether the offer is subject to additional clauses or terms outside of the clauses above, such as 1031 exchange, broker commission, or covenants.
Date of acceptance of the LOI, which could be a specific date or the date the final party signs the LOI.
A closing statement, which usually includes a sentence or two about how the LOI is not a contract and is nonbinding, followed by signatures from both parties.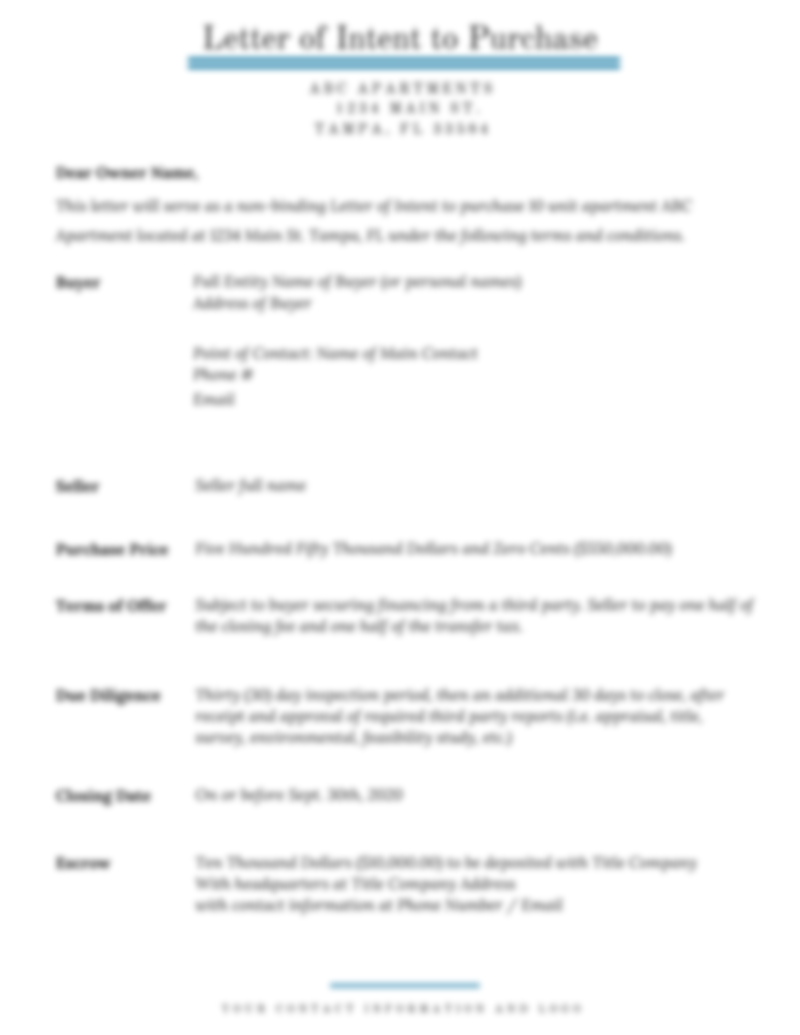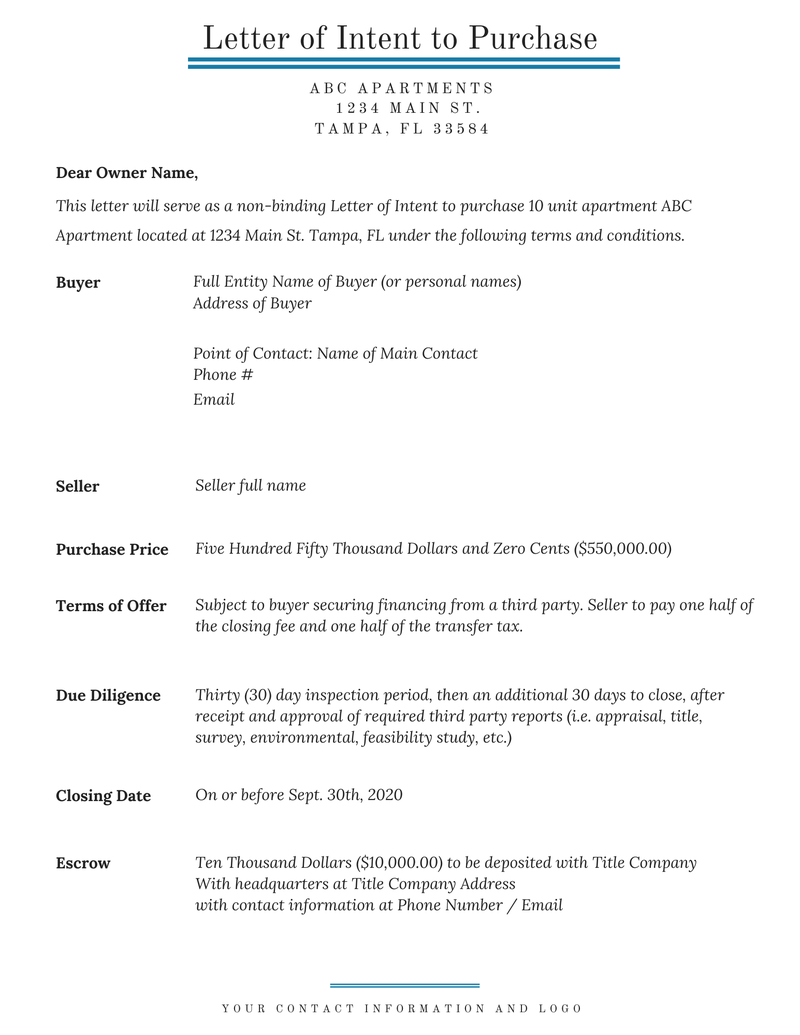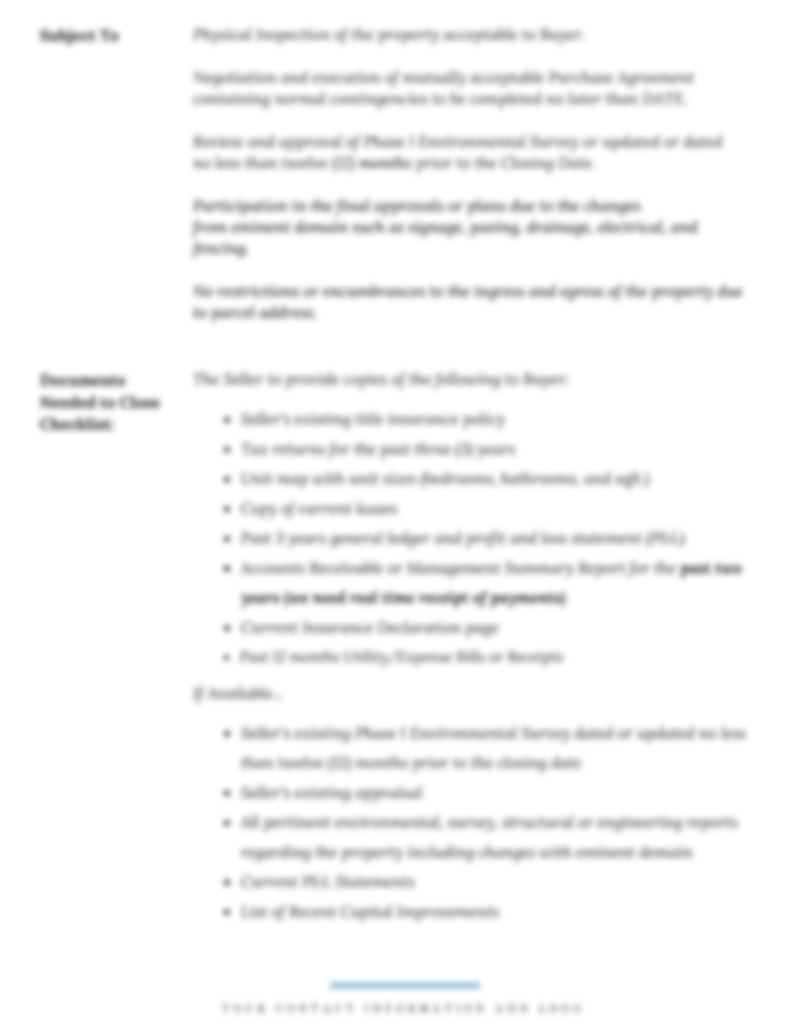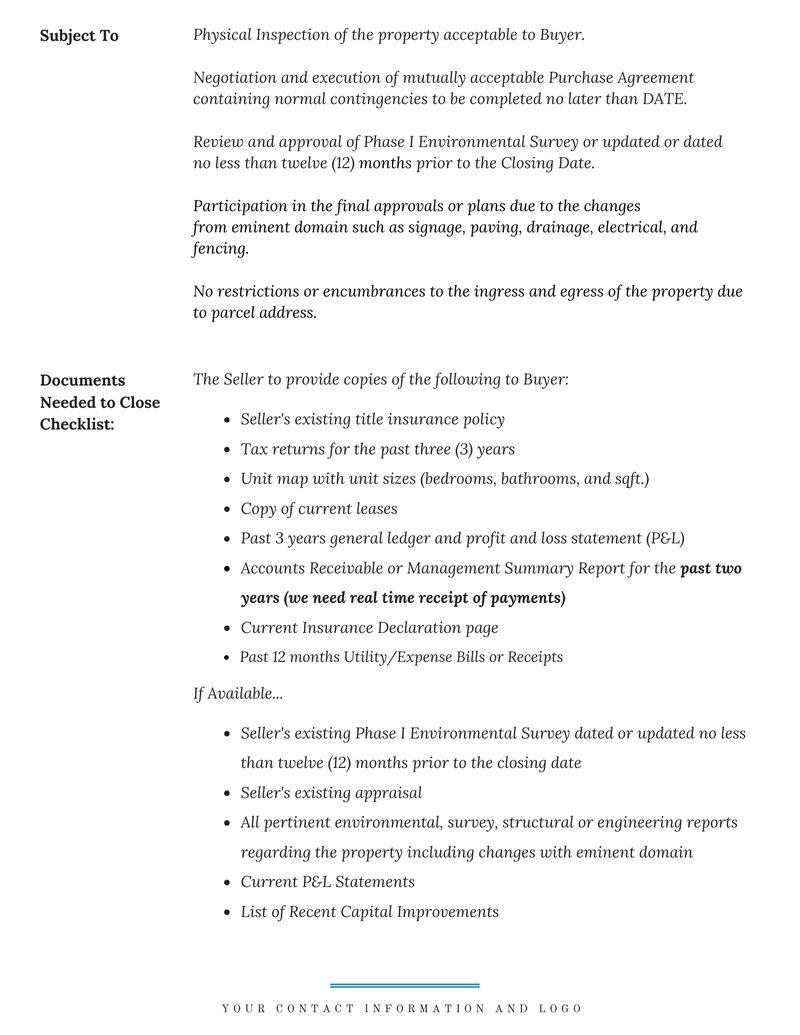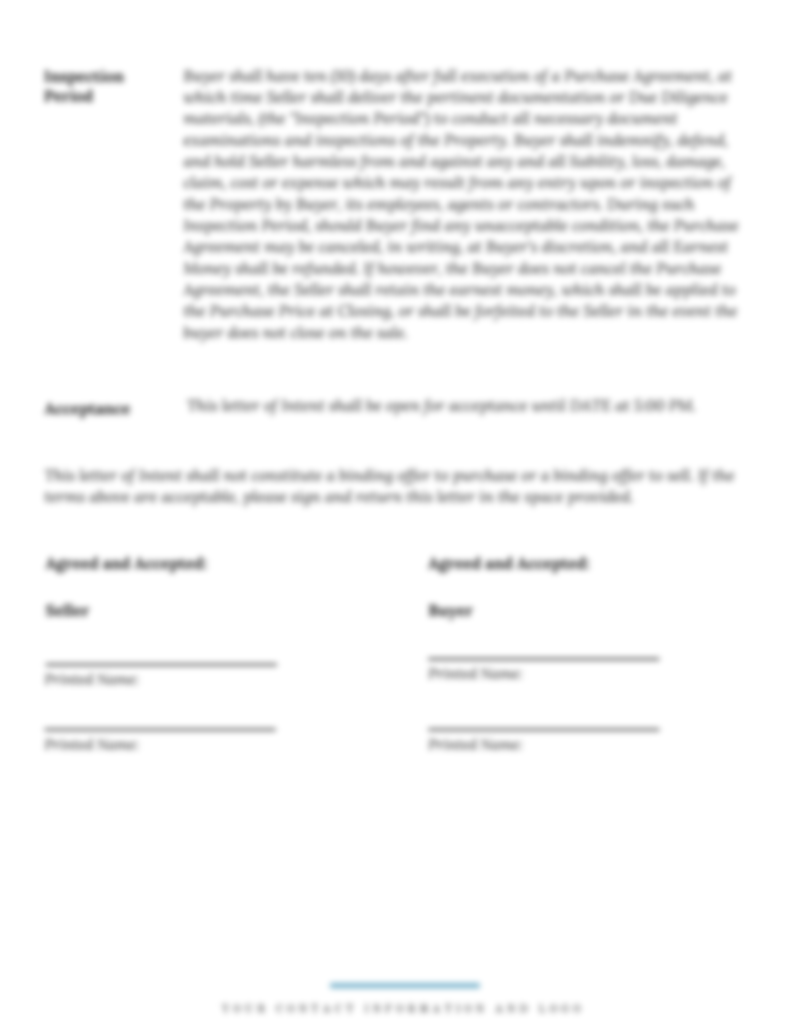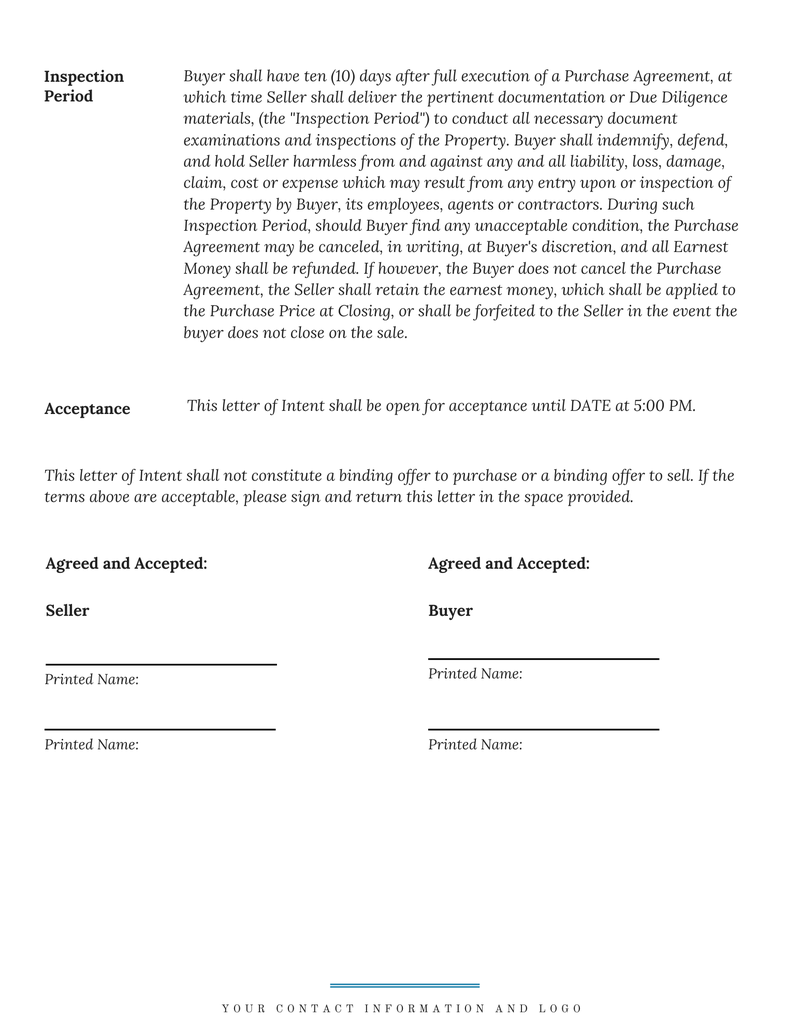 If you plan on actively investing in CRE, you'll want to get familiar with writing an LOI as it is the initial stage of purchasing property. You can write a letter of intent yourself, but it's imperative you understand the terms of the LOI. Your letter of intent should be clear, concise, complete, and professional. If you are new to the business, having an attorney review your LOI for accuracy and thoroughness is recommended.
Sign Up for Our Newsletter
Become A Mogul Today
Real estate is one of the most reliable and powerful ways to grow your wealth - but deciding where to start can be paralyzing.
That's why we launched Mogul, a breakthrough service designed to help you take advantage of this critical asset class. Mogul members receive investing alerts, tax optimization strategies, and access to exclusive events and webinars. Past alerts have included investments with projected IRRs (internal rates of return) of 16.1%, 19.4%, even 23.9%.
Join the waitlist for Mogul here and receive a complimentary 40-page guide on a NEW way to build wealth. Join waitlist now.
FREE - Guide To Real Estate Investing