FREE - Guide To Real Estate Investing
Take the first step towards building real wealth by signing up for our comprehensive guide to real estate investing.
*By submitting your email you consent to us keeping you informed about updates to our website and about other products and services that we think might interest you. You can unsubscribe at any time. Please read our Privacy Statement and Terms & Conditions.
YieldStreet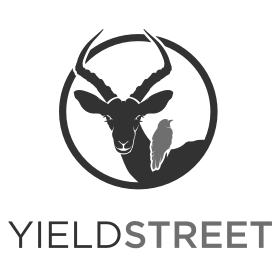 Summary
YieldStreet is a unique platform that offers accredited investors a wide array of investment options including real estate, art collections, and commercial loans. It also offers some of the shortest-term deals available on crowdfunding platforms.
Highlights
Mix of assets beyond just real estate
Shorter-term deal offerings
Low minimums compared to other accredited-only platforms
Bankruptcy Protection 9/ 10
Diversified Fund Options 2/ 5
Non-accredited Investor Offerings 0/ 5
View More
What is YieldStreet?
YieldStreet is mainly a short-term, online, crowdfunded lending platform, featuring shorter-term debt offerings that are secured by commercial or multifamily real estate, art, or marine assets. Most of the loans it offers have terms of three years or less (with many less than two years).
YieldStreet is only open to accredited investors, meaning you must have a net worth of $1 million or more, excluding your primary home, or earn at least $200,000 per year (or $300,000 combined with your spouse).
Summary: Is YieldStreet a good investment?
Most of the crowdfunded platforms and investments we look at on Millionacres are entirely focused on real estate development, but YieldStreet is a little bit different. Yes, it does offer plenty of real estate deals -- mainly debt or preferred equity in commercial real estate assets -- but it also features debt investments in art collections, marine vessels, and short-term commercial loans.
And these aren't just a random collection of assets it's trying to make money on; YieldStreet has experienced experts in each asset, vetting deals and the sponsors and originators looking to list them on its platform. That's important, since most of us don't have the knowledge to value an art collection or determine the scrap value of a tanker ship that may be the collateral on a high-yield short-term loan.
Like with any other platform, there is risk, particularly if you're investing in debt secured by an asset you may not be familiar with or capable of valuing, but also potential reward, based on the higher interest rates paid by the offerings on YieldStreet.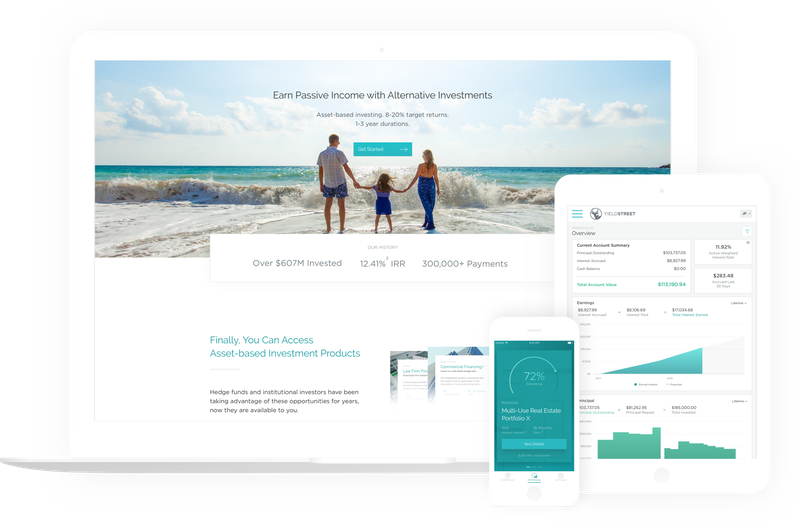 What are YieldStreet's pros and cons?
Pros
Mix of assets: Alternative assets beyond just real estate could make the platform even more compelling for investors looking to diversify.
Low minimum investment: $10,000 minimum investments is lower than many other platforms.
Short-term choices: Many of the loans on its platform are less than two years in length. Most platforms target real estate projects that will take three to five years -- or more -- to complete. If you're looking to add more "quick" investments to your portfolio, YieldStreet may be a great fit.
Reasonable fees: 1% to 2% fees on most of its offerings is lower than you will find on many other platforms, with the caveat that the new YieldStreet Prism Fund's fee structure is on the higher end.
New diversified fund with BlackRock: The YieldStreet Prism Fund, which is being managed in partnership with BlackRock's (NYSE: BLK) Global Fixed Income Group, will give investors a way to invest in a diversified portfolio of asset types.
Cons
Accredited investors only: If you have less than $1 million in net worth and/or earn less than $200,000 per year, you can't invest on YieldStreet.
Mix of assets: Yes, this is both a "pro" and a "con," since investors looking for just real estate may find platforms that only do real estate a better place to find appropriate investments.
IRA limitations: If you want to use a self-directed IRA (SDIRA), you have to create a new one that you can only invest through YieldStreet. This could result in paying more fees if you want to use your SDIRA for other investments as well, as you will have to have more than one. Most other platforms work with multiple third-party IRA custodians.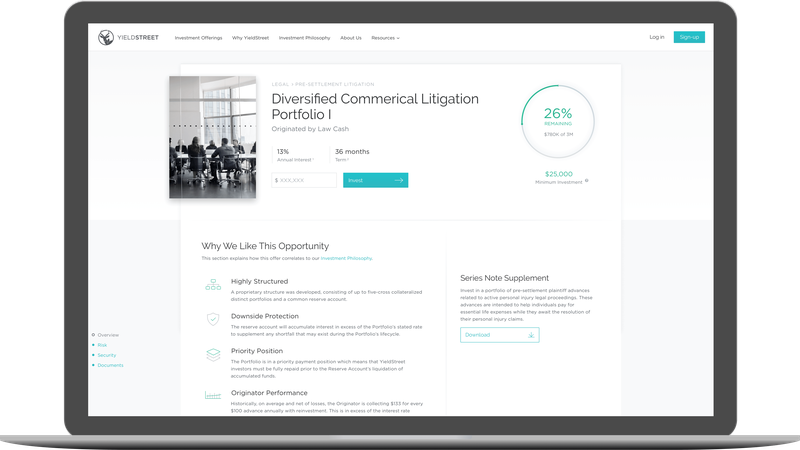 Is YieldStreet legit? How strong is it?
YieldStreet's founders and managing executives are high-profile, known entities in alternative finance and technology entrepreneurs. The company also has the financial backing of major investors like George Soros via a substantial credit facility, and they recently announced a huge deal with Citi (NYSE: C), which said it will use the YieldStreet platform to invest $2 billion for its wealth clients over the next two years.
Lastly, it has returned more than $500 million back to investors through 2019, including over $100 in interest. Sounds pretty legitimate to us.
YieldStreet management
Co-founders Milind Mehere (CEO) and Michael Weisz (president) give YieldStreet a powerful mix of tech entrepreneurial success and deep experience in alternative finance. That's a valuable combination in this space, where great technology doesn't matter if you can't make sure the investments you're offering are high-quality and risk-appropriate.
In addition to its two founders, who set YieldStreet's investment strategy and corporate vision, the company has three directors who oversee its real estate, art, and marine asset classes. These are very specialized assets that require the proper due diligence, and YieldStreet counts on the deep connections its directors have in these industries to give it access to high-quality deals for investors to participate in.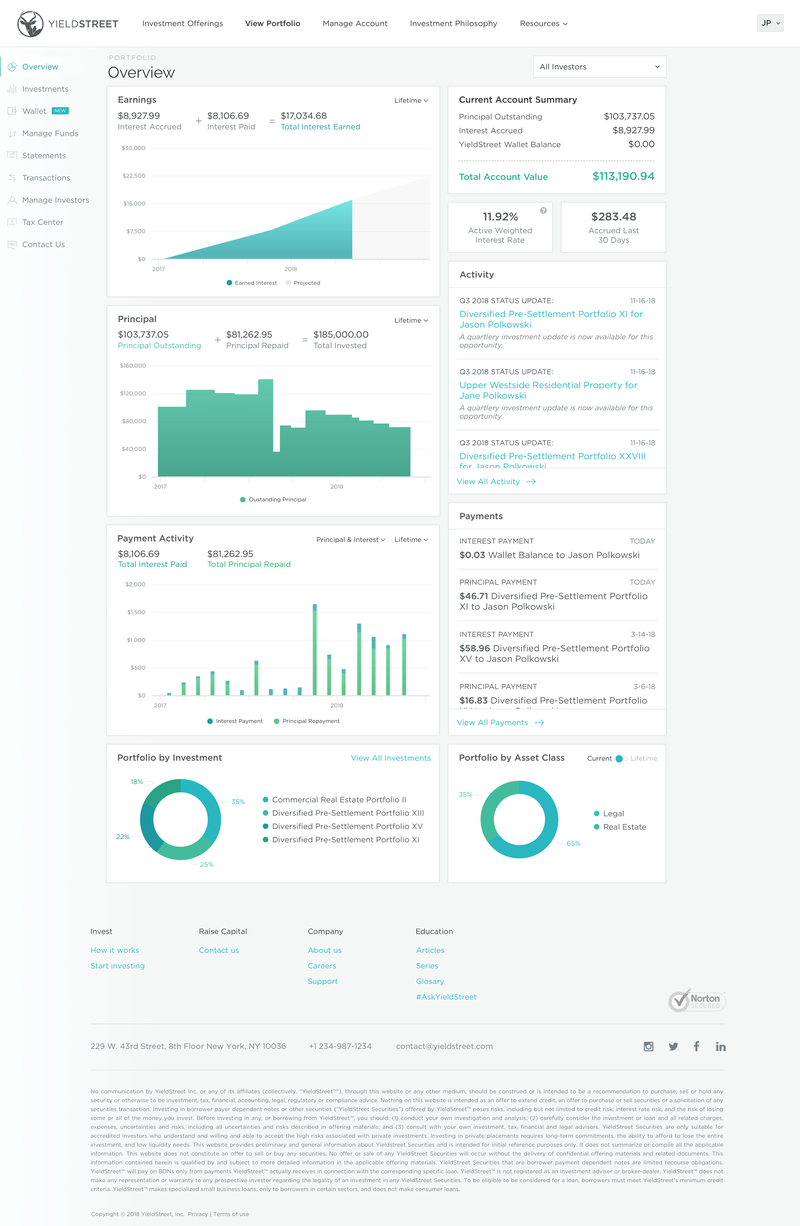 How YieldStreet works: How are investments sourced?
In short, investors on YieldStreet are lending money, making a return on the yield paid by the borrower. YieldStreet takes a fee to manage the loan, collect payments, and distribute money back to investors. It also plays an important role in making sure investors get their capital back, in the rare case when a borrower defaults on their loan.
To invest on YieldStreet, investors find a deal they are interested in, including the asset type -- real estate, art, or a marine vessel -- the term of the loan, and that it falls within their return (net yield) parameters, and then invest in that particular debt instrument. Your investment is a loan to the owner of the asset, and the debt is secured by that asset.
Who can invest with YieldStreet?
Like with the majority of other crowdfunded real estate investing platforms, only accredited investors can invest on the YieldStreet platform. That means as an individual you must meet one of the following qualifications:
Net worth of at least $1 million, excluding the value of your primary home.
Earn at least $200,000 annually, with a reasonable expectation that will continue.
For couples, the $1 million net worth minimum still applies, but you can also qualify as an accredited investor with a combined $300,000 annual income, versus the $200,000 minimum for an individual.
In addition to the accredited investor requirement, you will need to have the capacity to make the minimum investment in each offering as described below.
YieldStreet says that it is "actively researching ways" to offer investments to non-accredited investors, and there is a path to do that, under so-called "Reg A+," but it requires increased regulatory oversight, which can substantially increase costs.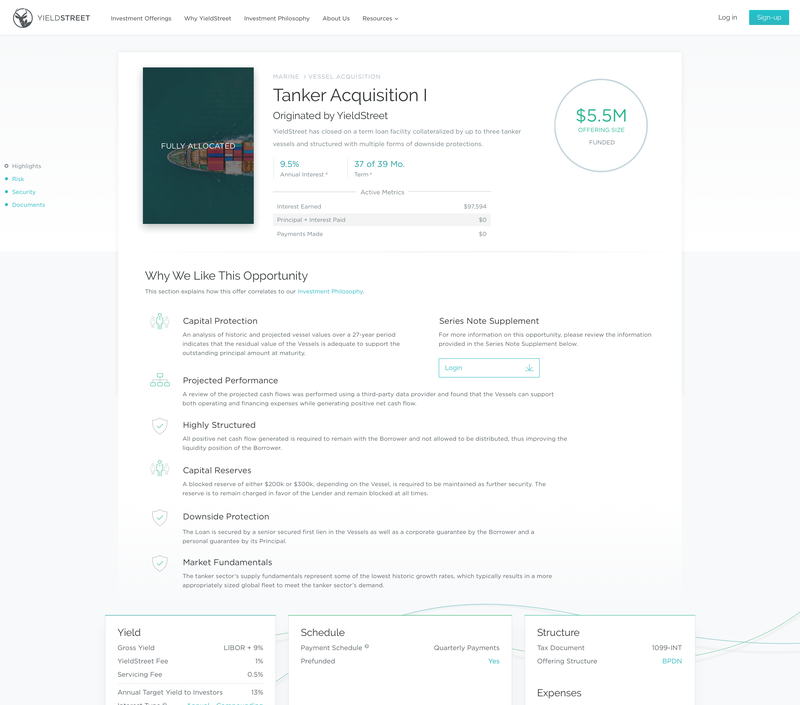 What is the minimum YieldStreet investment?
YieldStreet minimum investments can be as low as $10,000, specifically if a deal is structured as Borrower Payment Dependent Notes, which are debt obligations to YieldStreet but legally structured to be independent and bankruptcy-remote (meaning investors are protected from losses related to a YieldStreet bankruptcy). For Special Purpose Vehicles, which are structured as separate LLC subsidiaries of YieldStreet owned by its investors, and thus also bankruptcy-remote entities, the minimums may be higher. In addition to a difference in the investment minimums, each structure also has different fees, as described below. It may also have different unique tax consequences; it's a good idea to consult your tax professional to determine how that might impact you.
What are YieldStreet's fees?
YieldStreet earns between 1% and 2.5% in management fees on an annualized basis for each loan listed on its platform. The fee on each investment is clearly listed on the deal page and in the relevant documentation. It's also taken out of the cash flows paid by the borrower, and not paid by investors. In other words, if the borrower isn't paying, YieldStreet feels the pinch, too. That helps keep its interests aligned with those of its investors.
YieldStreet also charges a flat annual fee per investor. The fee depends on the legal structure of the loan: It's $100 for "Special Purpose Vehicles" and $150 for "Borrower Payment Dependent Notes" in the first year, and then $70 and $30 respectively in following years. Like the management fee, it's not billed directly to investors but is deducted from your initial distributions.
At this writing, YieldStreet and BlackRock have just announced the YieldStreet Prism Fund, a closed-end fund with an anticipated investing period of 48 months (with another year or so of wind-down time to liquidate assets). This fund will provide a way for investors to gain exposure to diversification, but at the price of quite high fees. According to the prospectus, there will be a 0.8% one-time offering fee and total annualized fees of 3%. That's a pretty high price to pay but may prove the only way for most investors to gain access to some of the assets the fund will invest in.
YieldStreet returns: What should you expect?
Lending in art and marine assets, along with real estate categories like hospitality, can be risky, just like with any other asset. There are a combination of risks, including appropriate asset valuation, unexpected things that could cause the borrower to default on the loan (including poor execution or unexpected macroeconomic events), or a change in market conditions that makes it hard to fully recoup your capital if the asset securing the debt can't be sold for at least the value of your loan, plus any other debt that's senior to your position.
The good news is, YieldStreet says that every loan that's fully completed so far -- more than 100 of the 150-plus at the end of 2019 -- has at least fully returned capital to investors. That includes four it says defaulted, leading to various final arrangements that satisfied full capital return.
In other words, if YieldStreet continues to provide solid due diligence and the economy remains relatively healthy, investors should be able to count on generally making profitable loans, and in the case of default, relying on YieldStreet to get a return of their capital. However, every deal you consider investing in has unique risk characteristics that should be considered before you risk any money, because at some point, YieldStreet's streak of no losses will probably come to an end. Consider that, and take advantage of the lower-than-average minimum investment to build a diversified collection of loans to help reduce your individual risk of permanent losses.
With that said, one of the things that many investors may find most compelling about YieldStreet is the number of short-term deals it lists, and at high interest yields. If you're looking for deals that last a couple of years or less and offer high yields, YieldStreet may be right up your alley.
When (and how) can you sell YieldStreet investments?
Like most other crowdfunded real estate investments, when you invest in a standalone deal, you are invested for the duration. These are not liquid investments and should not be treated as such. With that said, YieldStreet has regularly featured debt offerings with terms of less than one year to as long as four years or longer. That should make it easier to find an investment that works with your liquidity needs.
The upcoming YieldStreet Prism Fund, however, will be different than YieldStreet's other investments. This fund is expected to last for 48 months before liquidation of the assets and return of capital over another year or so, but YieldStreet says it intends to begin allowing for limited liquidity 15 months after launching the fund.
Going mobile: Is there a YieldStreet app?
YieldStreet is one of a small number of online crowdfunded investing platforms that has an app for smartphones and tablets. And while the app isn't required for mobile users -- its website is mobile-optimized and works just as well as the desktop site -- it's nice if you prefer a standalone app.
IOS reviewers have given it a 4.5-star rating in the App Store, while Android reviewers have given it only 3.5 stars. A review of comments made by people giving it two stars or less found that many were dissatisfied that YieldStreet was only open to accredited investors, not with the quality of the app.
YieldStreet risks: Is YieldStreet safe to invest with?
The biggest risk investors will face with investments on YieldStreet is a borrower's inability to repay the loan. Your investment is bankruptcy-remote from both YieldStreet and from the originator who brings the loan to YieldStreet to list on the platform, structured as separate legal entities with you, and other investors, as the owner of the debt in each investment.
To be specific, the loans on YieldStreet are short-term in nature, pay a high yield, and are secured by the asset described, either real estate, art, or a marine vessel. If the borrower defaults, and cannot satisfy the loan or reach a satisfactory agreement, then the asset gets foreclosed, and there are no guarantees that it will be liquidated at a high enough price to satisfy all creditors. That could mean you lose money, particularly if the loan you invest in is junior to other debt on the asset.
The good news is, so far that hasn't happened; with four of the 104 fully matured offerings at year-end 2019 having defaulted but been resolved with full payback of investors. But YieldStreet has also operated in a favorable economy that has helped borrowers paying their loans and underpinned the value of the assets securing loans on its platform.
Here's the rub: Four out of 104 matured loans on YieldStreet defaulted, or 3.8%. For context, the St. Louis Fed reported average default rates at commercial banks of 2.32% in the third quarter of 2019 on consumer loans, 1.13% on industrial loans, and 1.46% on all loans. In other words, the default rates are substantially higher on YieldStreet than the average bank loan. Of course, investors are well compensated for that risk with much higher interest yields than bank loans, and alternative finance rates are usually higher, along with defaults.
Put it all together, and so long as the economy keeps plugging along, the default risks should continue to be more than offset by the potential yields on this kind of short-term debt, particularly if you spread your capital across multiple loans and asset types. The risk is that defaults could move much higher if the macroeconomic winds were to shift. Keep that in mind, and invest according to your personal risk tolerance.
Unfair Advantages: How Real Estate Became a Billionaire Factory
You probably know that real estate has long been the playground for the rich and well connected, and that according to recently published data it's also been the best performing investment in modern history. And with a set of unfair advantages that are completely unheard of with other investments, it's no surprise why.
But those barriers have come crashing down - and now it's possible to build REAL wealth through real estate at a fraction of what it used to cost, meaning the unfair advantages are now available to individuals like you.
To get started, we've assembled a comprehensive guide that outlines everything you need to know about investing in real estate - and have made it available for FREE today. Simply click here to learn more and access your complimentary copy.
Jason Hall has no position in any of the stocks mentioned. The Motley Fool has no position in any of the stocks mentioned. The Motley Fool has a disclosure policy.