Investing in Tobacco Stocks
The tobacco industry may be reviled by some, but it has been a darling to investors for much of its history. Throughout the 20th century, tobacco stocks were among the best performers, benefiting from an addictive, highly profitable, recession-proof product, as well as a reputation for offering generous dividend yields to investors.
In fact, according to Wharton professor Jeremy Siegel, Altria Group (NYSE:MO), the domestic owner of the Marlboro brand, was the best-performing stock on the market from 1968 to 2017 including reinvested dividends. The cigarette maker returned an annualized average of 20% during that time.
Did You Know...
The tobacco industry produced some of the 20th century's best performing stocks.

Industry overview
Today, however, tobacco companies face a new set of challenges. Smoking rates have steadily declined around the world, especially in the U.S, amid health concerns and increasing regulations. As a result, the industry has sought to pivot to next-generation products like e-cigarettes and vaporizers that avoid some of the drawbacks of cigarettes, like the smell, and are perceived by some to be better for your health. Some operators have looked beyond tobacco, partnering with marijuana companies in an attempt to capture the breakout growth in an industry that bears a number of similarities to tobacco.
Tobacco stocks come with a number of risks, however, including increased regulation and declining smoking rates. Therefore, revenue and profit growth have been slow lately, but these stocks still hold appeal for investors because their profits and dividends have been so reliable. Meanwhile, investors are hopeful that next-generation products will eventually lead to stronger growth.
A wave of consolidation in the industry has left just three major players in tobacco: Altria, Philip Morris International (NYSE:PM), and British American Tobacco (NYSE:BTI). With fewer competitors, these companies have been able to raise prices to generate more profits, even as cigarette volumes have fallen. After the big three, there are some smaller stocks investors may want to consider, including Imperial Brands (OTC:IMBBY) and Vector Group (NYSE:VGR).
Most of the discussion around tobacco stocks focuses on traditional cigarettes and next-generation products, but it's worth noting that these companies also make smokeless products like chewing tobacco, as well as cigars, pipe tobacco, and accessories like rolling papers.
Keep reading to learn more about some of the top stocks in tobacco.
Top tobacco stocks
| Company | Sells smoke and smoke-free nicotine products? | Notable subsidiary brands |
| --- | --- | --- |
| Altria Group (NYSE:MO) | Yes | Marlboro |
| Philip Morris International (NYSE:PM) | Yes | Virginia Slims |
| British American Tobacco (NYSE:BTI) | Yes | Camel |
Source: Company websites
1. Altria Group
The domestic manufacturer of Marlboro, Parliament, and Virginia Slims split from Philip Morris International in 2008, but still owns Philip Morris USA, the subsidiary that oversees its cigarette brands.
Almost all of Altria's sales come from the United States, where smoking rates have steadily declined over the last generation. According to the federal Centers for Disease Control and Prevention, the percentage of American adults who smoke fell from 21% in 2005 to 14% in 2018. Not surprisingly, Altria's cigarette volumes have slipped, too. In 2019 cigarette volumes declined by 7.3%, and the company forecast a 4% to 6% decline in volume domestically in 2020.
That pattern explains why Altria has taken steps to diversify away from traditional cigarettes, most notably taking a 35% stake in e-cigarette manufacturer Juul Labs and a 45% stake in Canadian marijuana grower Cronos Group (NASDAQ:CRON).
However, those investments haven't played out as investors hoped. In December 2018, Altria plunked down $12.8 billion for a piece of Juul, but after regulators stopped Juul from making most of its flavored cartridges and questioned its marketing tactics, its valuation has fallen significantly. Altria has taken two writedowns on its Juul investment, and as of January 2020 values the stake at just $3.9 billion, less than a third of what it paid.
The same month it took a stake in Juul, it also acquired 45% of Cronos Group for $1.8 billion and made the company its exclusive partner in cannabis. However, the value of that stake was down by more than 50% as of March 2020.
Altria does, however, remain a dividend powerhouse. It's raised its dividend 54 times in the last 50 years, effectively making it a Dividend Aristocrat (its status is unofficial because of its spinoff history). Management has set a target payout ratio of 80% per share, knowing that its dividend is the main reason shareholders own the stock. As of March 2020, its dividend yield went as high as 10.9%.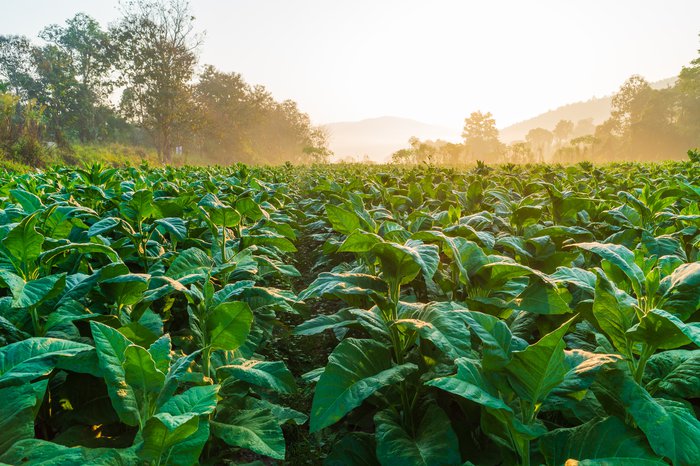 2. Philip Morris International
While Altria has looked outside the company to diversify and cushion itself from the decline of cigarette sales, Philip Morris is counting on an in-house strategy. The company -- which sells many of the same brands that Altria does, except outside the U.S. -- has pinned its hopes on heat-not-burn (HNB) tobacco products, primarily its IQOS devices.
While the HNB process is similar to the process used by vaporizers and e-cigarettes, devices like IQOS use tobacco rather than the liquid that vaporizers use. By using tobacco, Philip Morris can use the same supply chain for IQOS that it would for traditional cigarettes. The company claims that HNB devices are safer than regular cigarettes because they don't burn tobacco; however, the science is still being debated, and the FDA has not concluded that they are safer than cigarettes.
Considering what happened with Juul, IQOS runs a similar risk of regulatory crackdown internationally and in the U.S., where Philip Morris has partnered with Altria to sell it.
Like Altria, Philip Morris saw a decline in cigarette volume in 2019, about 4.5%, but volume sales of heated tobacco units rose 44.2%, showing the growth potential of IQOS, though sales of the product are still much smaller than sales of traditional cigarettes. The company also said it finished the year with an estimated 13.7 million IQOS users.
As a dividend stock, Philip Morris does not disappoint, either. The company has raised its dividend every year since it split from Altria in 2008, and as of the end of 2019, its dividend has increased 154%. Including its history as part of Altria, it would be a Dividend Aristocrat.
3. British American Tobacco
British American Tobacco has become a titan of the industry as well with the help of its $49 billion acquisition of Reynolds American in 2017. Today, the company owns a range of popular cigarette brands, including Camel, Newport, Dunhill, Natural American Spirit, and Lucky Strike, as well as next-gen products like Vuse for vaporizing and glo for HNB.
Like other tobacco companies, BAT is focused on transitioning to less risky next-gen products. Last year, the company saw a 4.7% decline in cigarette volume, though volume sales of tobacco-heated products rose 31.6%. Sales from new categories were close to $2 billion, but the vast majority of its revenue still comes from cigarettes.
The advantage of British American Tobacco over Altria and Philip Morris is that it gives investors exposure to the whole world, rather than just the U.S. or international markets, and to a wide range of products including cigarettes, vaporizers, chewing tobacco, and heated tobacco. It's the closest investors can get to investing in the whole industry in one tobacco stock.
British American is also a generous dividend payer, and its high operating margin, which topped 30% in 2019, helps ensure the safety of its quarterly payout.
Related topics
The tobacco industry is evolving
Tobacco companies all find themselves facing the same conundrum these days. Though traditional cigarettes are highly profitable, that business is in decline and expected to remain that way. They need to find a new way to grow and diversify their business.
Investors may want to consider investing in a basket of tobacco stocks to get exposure to different growth strategies and to cut down on risk. While income investors can still count on tobacco companies to deliver, the path to growth in the industry is uncertain.