New streaming TV options have launched at a frenzied pace over the last few years. With many subscription internet TV services to choose from, streaming entertainment has become ubiquitous in U.S. homes.
Consumers spend increasingly large amounts of time on streaming media, so TV providers are responding by rapidly migrating their advertising activity over to those streaming platforms.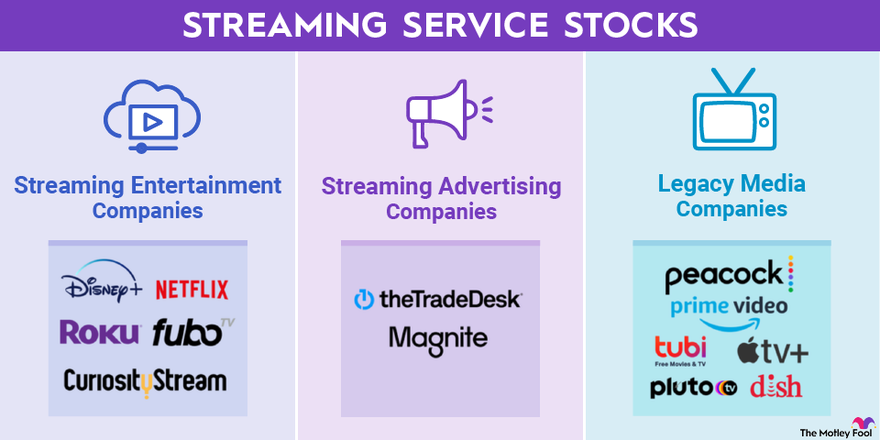 Image source: The Motley Fool.
The streaming phenomenon
The streaming phenomenon
The COVID-19 pandemic further accelerated the streaming entertainment trend. Stuck at home, millions of people in households around the globe signed up for a streaming service for the first time in 2020.
As economies reopened when the pandemic eased, consumers began spending more time outside the home again. Nevertheless, there are still opportunities to invest in streaming. Many years of growth likely lie ahead for the industry.
Which are the best streaming TV service stocks to invest in? What makes this relatively new industry so attractive? Keep reading to find out.
State of Streaming
The Motley Fool surveyed 1,500 Americans about their streaming habits and preferences to find out what the future might hold for streaming services.
Best streaming service stocks in 2023
Best streaming service stocks in 2023
There are many ways to gain portfolio exposure to streaming services. Here, we focus on the companies that are either pure plays or earn outsized returns on streaming.
The best streaming entertainment stocks include industry pioneer Netflix (NFLX 0.33%), entertainment giant Disney (DIS 1.15%), and streaming platform leader Roku (ROKU 3.69%). Industry newcomers, like Fubo (FUBO 2.3%), are also worth researching.
Cash flow is how we measure the actual money flowing through a business that can sometimes be hidden behind complexities.
1. Netflix
As the company that got the streaming TV party started, Netflix remains the largest streaming pure play, with more than 230 million subscribers. Net new subscribers in the U.S. have slowed in recent years, but Netflix is growing internationally.
Also, as a prolific producer of TV shows and movies, Netflix is constantly adding content in local languages as part of its strategy to continue growth abroad. Producing entertainment isn't cheap, though.
Consequently, at times, Netflix has generated negative free cash flow in the past few years. However, the company is cleaning up its act by cracking down on password sharing and providing a new lower-cost ad-supported subscription tier.
2. The Walt Disney Company
The much-anticipated Disney+ streaming service was launched in late 2019, just in time for the pandemic. In its first few years, it added tens of millions of subscribers worldwide and quickly became the second-largest subscription streaming service after Netflix. Disney also owns streaming services Hulu and ESPN+ in the U.S.
Due to content creation expenses, Disney doesn't expect to turn a profit on its streaming business for another year or so. However, Disney is still profitable overall.
The company's vertically integrated operations -- spanning valuable real estate assets in its theme parks, merchandising, broadcast television, and in-house video production technology -- give it plenty of cash to invest in new content without generating excessive losses.
Now well established in the online TV era, Disney investors will want to focus on its ability to control costs and get its new digital business into profitable territory.
When a company takes direct ownership of the various stages of its production process by acquiring the means to do so internally rather than relying on contractors or suppliers.
3. Roku
Streaming TV has been a boon for the smart TV and streaming device maker. Roku has become the largest TV platform in the U.S., distributing content via The Roku Channel and acting as a hub for households to manage all their streaming subscriptions. The company has more than 71 million active accounts worldwide.
Roku distributes its smart TV software and streaming devices at minimal cost, making money instead through advertising and by managing subscriptions. In addition, the company acquired Nielsen's Advanced Video Advertising segment to maximize its streaming ad platform's effectiveness.
Acting as the gateway into internet-based TV for tens of millions of households, Roku is a top way to invest in the growing streaming industry. Much like other high-growth streaming platforms, though, Roku has struggled with controlling its costs. Monitor the company's progress as it turns the corner on profitability so it can operate sustainably.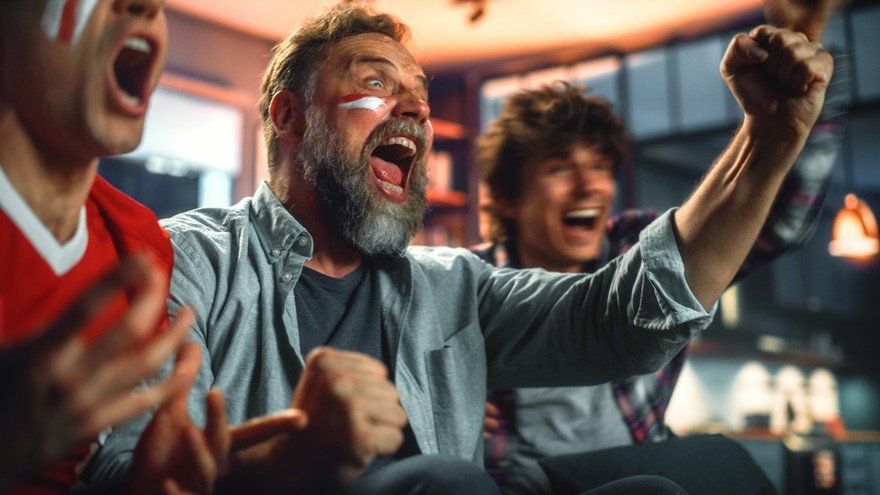 Image source: Getty Images.
4. Fubo
Streaming service Fubo, a relative newcomer to the streaming media industry, completed its initial public offering (IPO) in the fall of 2020. The small service gained popularity as a live TV and sports events platform.
Building on its strength in sports media, Fubo made a few acquisitions to jumpstart its entry into the burgeoning sports betting industry. The bear market of 2022 was not kind to Fubo, though. Faced with steep losses and a shriveling cash position on its balance sheet, the sports betting segment was shuttered in late 2022.
Fubo has been trimming expenses and raising more cash by issuing and selling new stock on the market. The business is still growing and has partnered with actor and all-star investor Ryan Reynolds.
Best streaming advertising stocks in 2023
Best streaming advertising stocks in 2023
Advertising software firms are key to helping streaming video content creators monetize their work and capture new subscribers. They also help companies to advertise within streaming media.
In this new era of abundantly available at-home entertainment, traditional media companies are faced with new challenges. Chief among them is paying for and profiting from making a TV show or movie.
The global theater industry has an uncertain future and may never be as profitable as before COVID-19, and millions of households cancel their cable TV subscriptions every year. Consequently, revenue derived from advertising via cable channels isn't as plentiful as it once was for TV stocks.
Streaming shows and movies are monetized via monthly subscriptions and online ads rather than global box office or cable TV advertising. As companies seek to advertise via streaming media and content producers look for businesses wanting to purchase ad time, The Trade Desk (TTD 0.59%) and PubMatic (PUBM -0.25%) are well positioned to profit.
1. The Trade Desk
This cloud-based software company is a buy-side platform, meaning it helps automate the purchasing and management of marketing campaigns for companies that pay for advertising.
Streaming television (also known as connected TV, or CTV) has been one of the fastest-growing segments for The Trade Desk, and it's likely to remain so for some time as the entertainment industry rapidly migrates to internet-based video.
Image source: Getty Images.
2. PubMatic
PubMatic is a sell-side ad platform, meaning its cloud software works with content creators themselves. A sell-side platform is a counterparty to a buy-side platform like The Trade Desk.
PubMatic's CTV segment has been a standout, offsetting declining ad revenue elsewhere in its operation during the bear market of 2022. PubMatic is profitable and focused on ramping up profit margins in the years ahead.
Media conglomerate companies offer streaming exposure, too
Media conglomerate companies offer streaming exposure, too
Telecommunications companies have streaming services, too, such as Comcast's (CMCSA -1.16%) NBCUniversal launching of Peacock. As with others, though, costs are out of control. Comcast reports steep losses from Peacock.
Many of the tech giants offer TV streaming subscription services as well. Amazon (AMZN 0.91%) has Prime Video and add-ons for Prime e-commerce subscribers. Apple (AAPL 0.3%) TV+ has been a steady addition to the iPhone company's "services" segment. And Alphabet's (GOOGL -1.1%)(GOOG -0.96%) YouTube TV is a newer subscription designed as an internet-based replacement for cable.
Legacy companies are also offering new ways to consume live TV over the internet as replacements for traditional cable packages and broadcast television. Paramount Global (PARA 0.62%) has reorganized its streaming segment, which includes Paramount+ and the ad-supported service Pluto TV.
On the subject of reorganizations, AT&T (T 0.07%) completed the spin-off of its media segment, merging it with cable TV company Discovery. The new digital entertainment conglomerate Warner Bros Discovery (WBD 1.59%) is showing promise, nearing robust profitability. And in the world of satellite TV, Dish Network (DISH -0.85%) owns Sling, a flexible and low-cost cable TV replacement.
Is investing in streaming services right for you?
Is investing in streaming services right for you?
The streaming TV industry got crowded during the pandemic, but it's in the process of sorting itself out. Investors should keep in mind that this nascent segment of the entertainment industry is not yet very profitable. However, the field is consolidating to a few leaders focused on profitably accumulating subscribers and bringing their ad marketplaces online.
As a result of the sector's rapid changes, stock prices of streaming media companies can be volatile. The long-term growth potential of internet-based TV streaming is immense, with streaming services in the next decade set to recreate the way entertainment is consumed.
John Mackey, former CEO of Whole Foods Market, an Amazon subsidiary, is a member of The Motley Fool's board of directors. Suzanne Frey, an executive at Alphabet, is a member of The Motley Fool's board of directors.
Nicholas Rossolillo
has positions in Alphabet, Amazon.com, Apple, Comcast, PubMatic, The Trade Desk, and Walt Disney. The Motley Fool has positions in and recommends Alphabet, Amazon.com, Apple, Netflix, PubMatic, Roku, The Trade Desk, Walt Disney, Warner Bros. Discovery, and fuboTV. The Motley Fool recommends Comcast and recommends the following options: long January 2024 $145 calls on Walt Disney and short January 2024 $155 calls on Walt Disney. The Motley Fool has a
disclosure policy
.