30 Ways to Keep More Money in Your Bank Account This Summer
Author: Selena Maranjian | July 25, 2018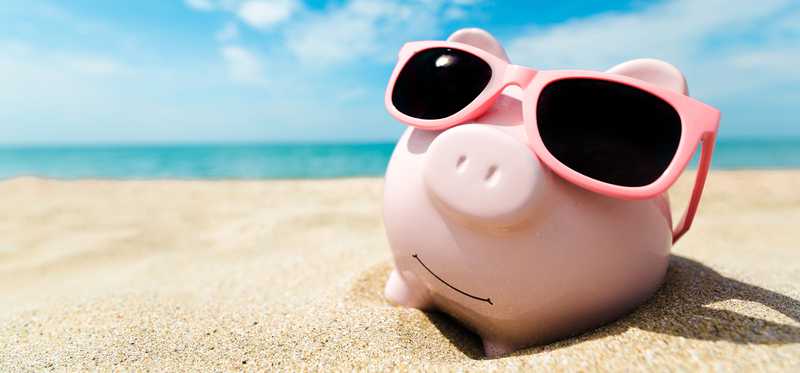 Take advantage of these summer savings
Summers can get pretty hot. Your face can get hot in the sun, your car can bake in it, too, and even your bank account can feel the heat, if it's suddenly being tapped to pay for vacations, summer camps, and air conditioning bills.
Here are 30 ways that you can take some pressure off your finances -- by saving more and/or spending less. Many are rather painless, and if you can put a dozen or so of them to work, you may be able to save $1,000 or more this summer -- and even more throughout the year.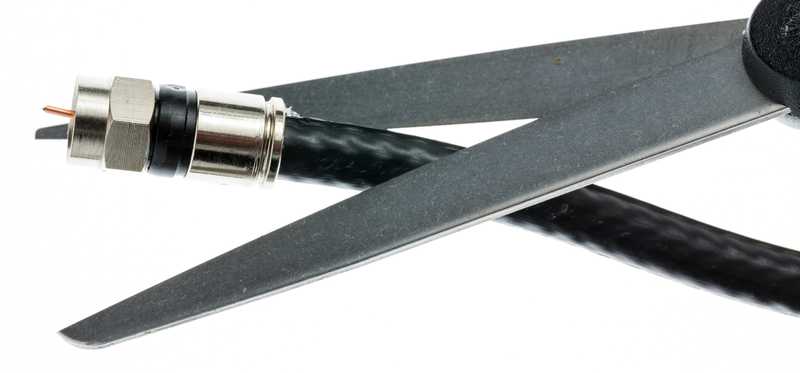 1. Quit cable and stream your video
You've probably heard of this idea before, as millions of people have been doing it. Top U.S. cable companies shed 290,000 subscribers in the third quarter of 2017, while satellite companies lost around 475,000 subscribers in the same period, per creditdonkey.com. It's well worth considering, though, if you haven't thought about it seriously yet. Think about how much you pay each month for your cable TV service -- it could easily be $75 to $100 or more per month -- which can total $900 to $1,200 or more annually. You might discontinue that and sign up for a few powerful streaming services instead. For instance, Netflix recently charged between $8 and $14 per month, while Hulu charges between $8 and $12, and an Amazon.com Prime subscription costs $119 per year, or about $10 per month. Those three together will give you gobs of content for $36 or less per month. Over just three months of summer, you could save around $100 to $200 or more.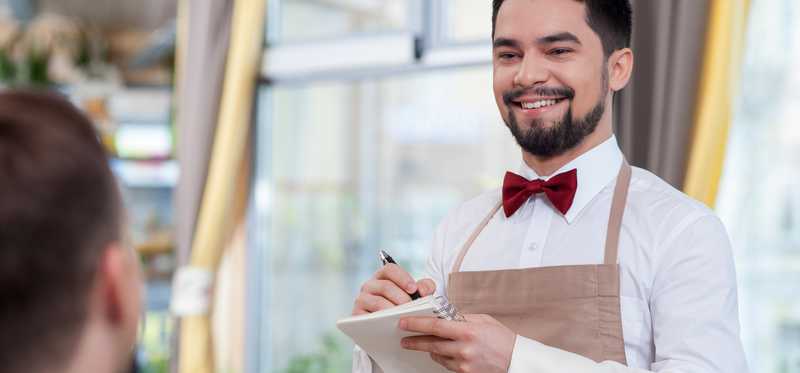 2. Eat out less
If you go through three to 12 months' worth of your credit card statements, you might be surprised by how much you charge at restaurants. If you dine out once a week or so and spend around $50 each time, that's $2,600. Over just three months of summer, it's $600. Consider eating out half as often -- every other week. That could save you $300 over the summer and, if you keep it up, a hefty $1,300 or so annually. If that's too unappetizing an idea, you might keep dining out but opt for plain water instead of costly alternative thirst quenchers -- or go out for lunches instead of dinners, as they tend to be less expensive.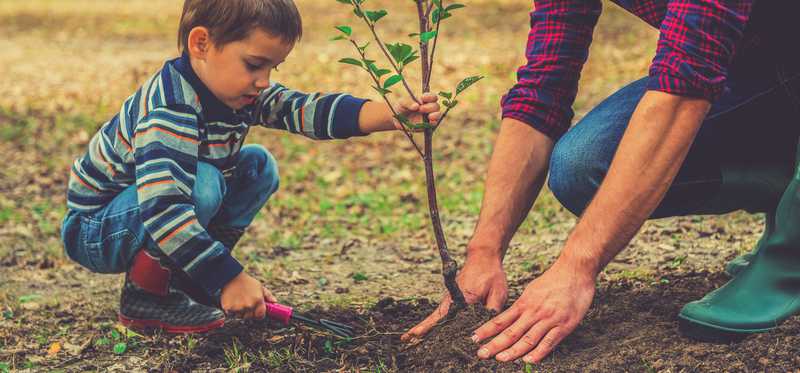 3. Plant trees
This may seem like an idea that isn't worth it, but give it some consideration. "Large deciduous trees planted on the east, west, and northwest sides of your home create soothing shade from the hot summer sun and reduce summer air conditioning costs by up to 35%," say the folks at arborday.org. The U.S. Department of Agriculture has estimated that a young, healthy tree's cooling effect on a home is equivalent to 10 room-size air conditioners running for 20 hours a day. Better still, having more trees on your property can increase your property's value, too, helping you recoup (and even exceed) the cost of the trees. The Council of Tree and Landscape Appraisers has noted that a full-grown tree can offer between $1,000 and $10,000 of value. If you're paying $200 per month in the summer for electricity, with most of that due to your air conditioner, you may save $75 or more per month with trees.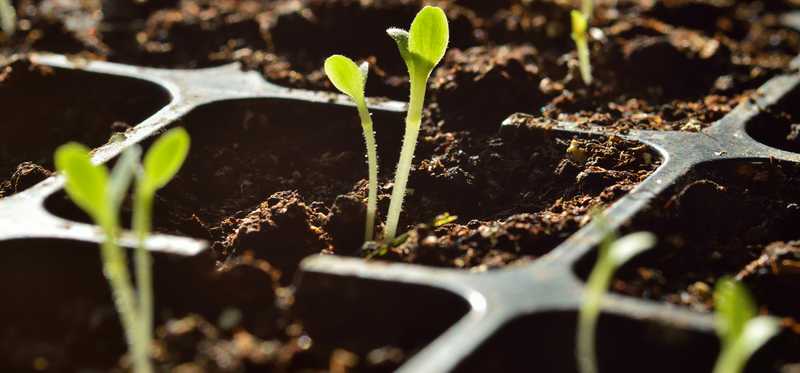 4. Plant a garden
While you're out planting trees, consider planting a garden, too. (Just be careful, lest you plant trees that will keep sun out of the garden.) Think about how nice a bouquet of fresh flowers looks on your table each week. If that costs you $20 a pop, it can total $240 -- whereas some packets of seeds can cost just $10 and a variety of potted flowers for planting from a nursery can set you back just $50 or less.
Think about how much you spend on certain produce, too. If you buy lettuce, tomatoes, and various other fruits and veggies each week and spend about $25 on that, you're laying out around $300 during the summer. You might instead grow your own tomatoes, lettuce, zucchini, strawberries, and other treats, saving several hundred dollars and enjoying the freshest of food and the charm of a garden.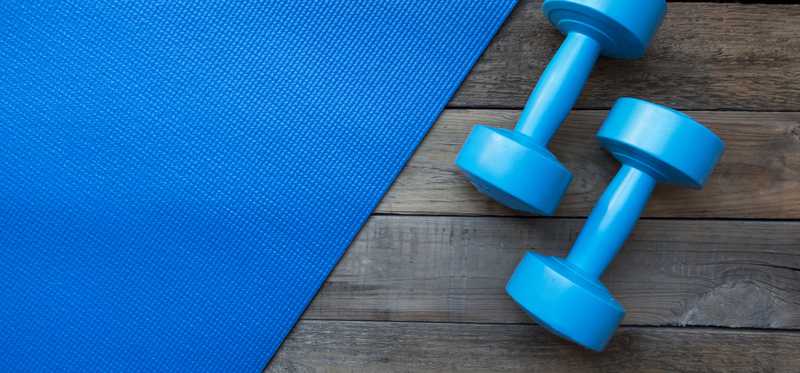 5. Cancel that gym membership
If you're like many people, you're paying for a gym membership each month and are not using it much or at all. Even if you do use the gym, you might consider giving it up -- in order to save a significant sum. Two years ago, USA Today noted that the average gym membership cost close to $60 per month, and that 67% of memberships were not used. That kind of fee will cost you $180 over a summer and $720 over the course of a year. Yes, working out offers definite health benefits, but you don't have to get those benefits at the gym. You might instead lift some weights at home, go for walks or runs regularly, and ride your bike. If you use the previous money-saving tip of planting a garden, that can offer a workout, too.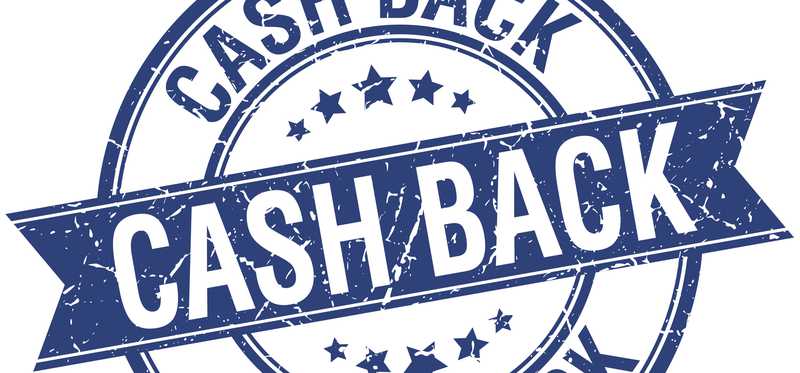 6. Use cash-back credit cards
This tip is extremely easy to put to work. If you're a regular credit card user, you can sign up for a card that pays you to use it. There are cards that offer anywhere from 1% to 2% back on every purchase, and some that pay up to 5% or 6% back on certain purchases, such as those at supermarkets or certain retailers. If you spend $250 per month at Amazon.com, for example, and earn 5% back on most purchases there, you'll essentially be spending 5% less while saving about $150 annually. There are lots of great credit cards out there, so make sure you're using one that serves you best. If you travel a lot, your best bet might be a card that offers travel rewards and discounts.
Don't use this tip if you're struggling with credit card debt or are not disciplined enough to only charge what you can afford on credit cards. If you're in debt, focus on paying off your debt, perhaps with the help of a 0% Intro APR card or a balance-transfer card.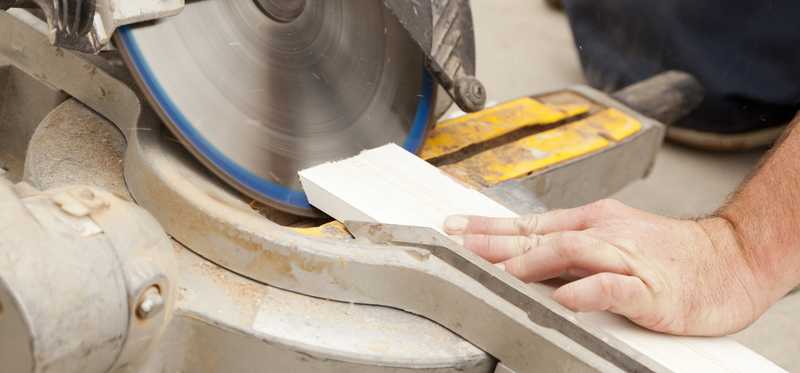 7. Borrow tools instead of buying them
It's a common summer scenario for many people: You have a renovation or repair project you're finally getting to, but you need a particular tool or two -- perhaps a miter saw for cutting trim or moulding at an angle or maybe a flooring nailer to help you lay down a hardwood floor. (You may even need a compressor to get some of your tools working.) Those items can cost $200 or considerably more -- and there's a good chance you may never use them again, or at least that you'll do so very infrequently, while they take up space in your garage or basement. Consider just renting the tools you'll need. It can cost a fraction of what it would take to buy them, and you'll end up with less clutter in your home, too. Better still, if you have some handy friends or neighbors, maybe you can borrow the tools you need -- for free!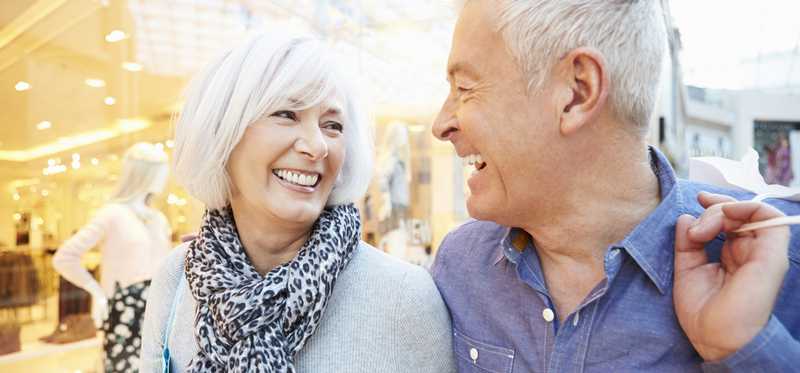 8. Ask about senior discounts -- if you're 50 or older
Few of us want to think about how old we are, but there are some upsides to aging. For instance, there are senior discounts galore. Discounts for seniors start around the age of 50, with more and more available as we get even older. Here are just a few examples of some savings you might enjoy: You could get 10% off fares on Amtrak trains if you're 65 or older, 10% or more off of rates at many hotel chains such as Best Western and Marriott, and a lifetime pass to America's national parks if you're at least 62. Most major airlines offer special fares for seniors, as do cruise lines and many restaurant chains and movie theaters. Just ask!
ALSO READ: 3 Steps to Saving Money for Retirement if You Don't have a 401(k) at Work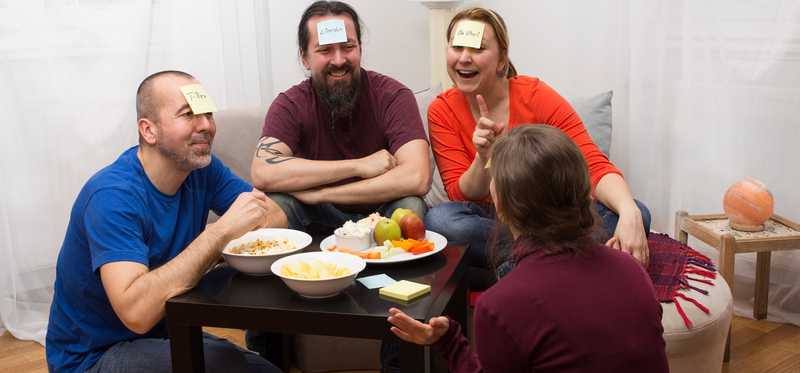 9. Socialize in less costly ways
You may not notice how much money you spend socializing, but it can add up to a lot. For example, do you dine out at restaurants frequently with friends? Do you go out to the movies together, with tickets costing $10 or more apiece and concessions adding another $10 per head? You can cut those expenses significantly by planning less costly socializing events. For example, have lots of friends over for a potluck get-together. Or prepare a meal for everyone yourself -- it's likely to still cost less than dining out. Plan some game nights -- you may already have some great board games your friends will enjoy and if not, you can buy a few for $20 to $40 each and enjoy playing them dozens of time.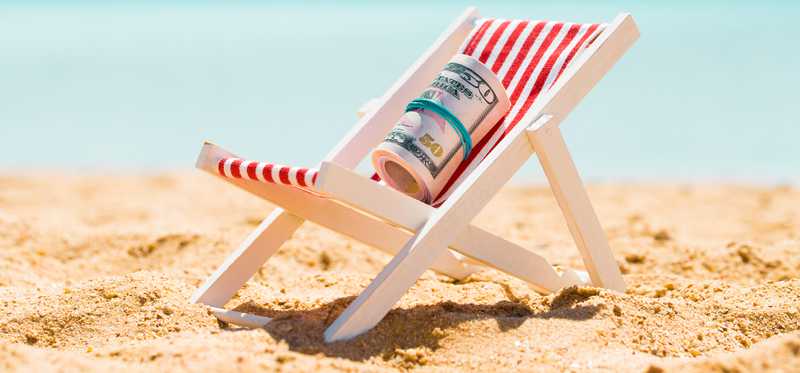 10. Explore free family fun
You can have great fun as a family throughout the summer without spending too much, too. Here are just a few ideas: Visit museums at times when they offer free admission (many museums have free times) -- or check with your local public library about discount passes to local museums. Spend time at the library, too, where you can all find reading of interest, and often movie nights and activities for kids, too. Have picnics at public parks -- or attend free concerts in parks. Go hiking, go to public beaches, bike along bike paths. As a family, you might take on some projects, such as building a garden, learning a language, or running.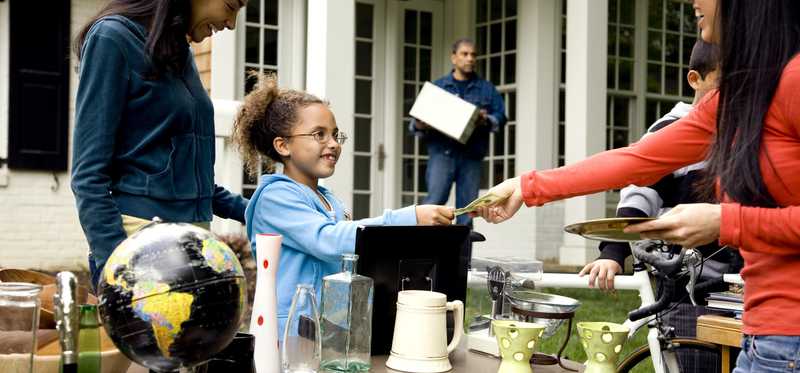 11. Have a yard sale
This is a money-making idea instead of a money-saving one, and it's perfect for summer. Go through your basement, attic, and/or garage, as well as some other rooms in your home, and you'll find gobs of items that you just don't use or need anymore. They may include vinyl records, books, furniture, clothing, toys, housewares, exercise equipment, and so on. Hold a yard sale -- perhaps jointly with your neighbors -- and you may collect $100 or several hundred dollars in a single day. If you don't want to have a sale, you might instead just donate all that stuff to a local charity. Get a receipt and you might be able to enjoy a nice tax deduction.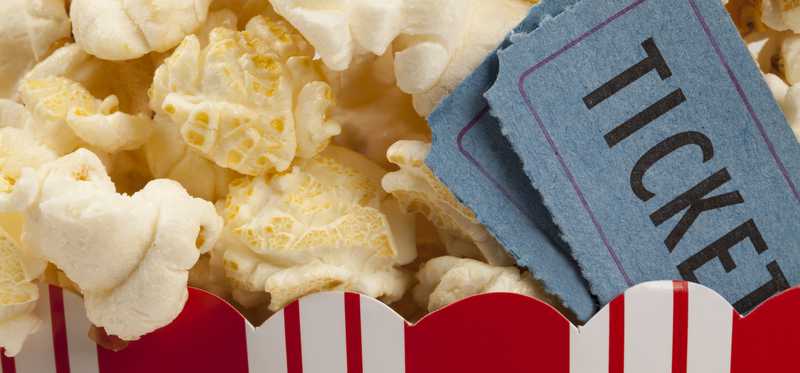 12. Look into workplace-sponsored discounts
Many employers offer special discounts to their workers, and it can be well worth asking your human resources department about what may be available. For example, some offer lower rates when renting cars or discounted tickets to local movie theaters. You might even get a meaningful percentage chopped off your hefty cell phone bill. Lots of employers offer discounts on vacation and hotel bookings, restaurant bills, and computers and electronic equipment.
ALSO READ: 20 Terrible Ways to Save Money (That People Have Actually Tried)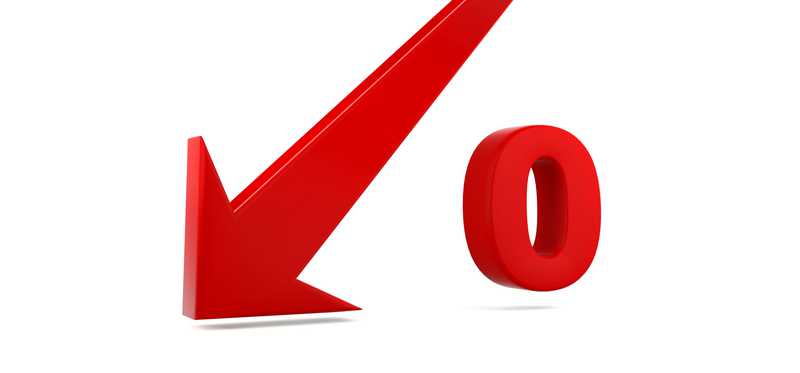 13. Shrink your credit card interest rate
This is a tip that can work at any time of the year, and can pay off for a long time. If you're being charged a hefty interest rate by your credit card company, you can try to get it lowered. According to a report by creditcards.com, 69% of cardholders who called their credit card companies and asked for a lower interest rate got one. The national average credit card interest rate recently hit an all-time high of 16.92%, per creditcards.com, so it's not unthinkable that you may be paying a few points more than that. If you're paying 20% and can get your rate lowered to 15% while you're carrying a $10,000 debt load, you may save around $500 per year.
Note, too, that 82% of cardholders who called their card companies were successful in lowering or eliminating their annual fee as well, while 87% got a late fee waiver just for asking.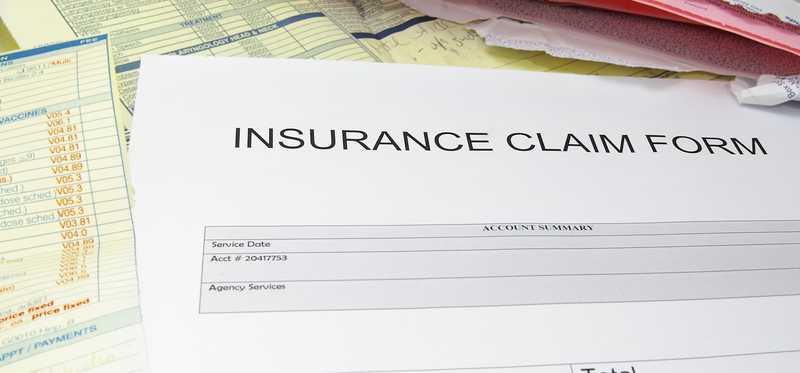 14. Increase your deductibles
Here's another all-season money-saving tip: Increase the deductibles on various insurance policies (but only if you can afford to pay the deductible, should you need to). The higher your deductible, the lower the monthly premium. When the folks at valuepenguin.com looked at sample premiums at different deductible rates for a 34-year-old married man with a 2010 Toyota Camry, they found an annual collision premium of $548 with a $100 deductible, a premium of $370 for a $500 deductible, and a $285 premium for a $1,000 deductible.
You can easily save $100 or more by hiking your deductible -- especially if the policy is one you aren't likely to make a claim against very frequently, as is often the case with car insurance and home insurance and even health insurance.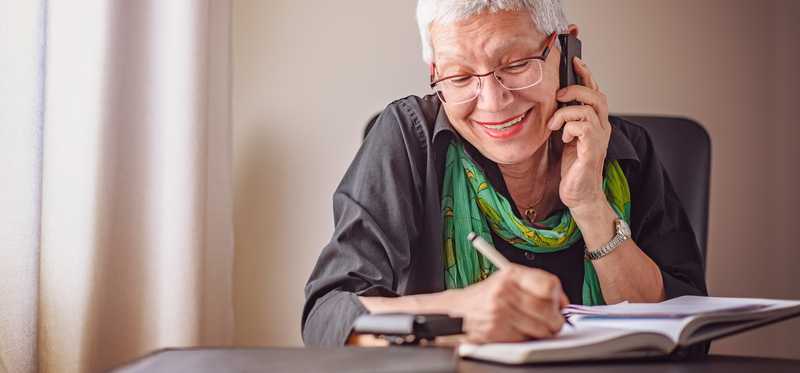 15. Pay less for insurance
Another surprisingly effective insurance-related tip is simply to shop around -- regularly. You may have done your homework and found the best available deal when you bought each of your insurance policies (for your home, car, etc.), but calling around to a handful insurers every year or two can result in your finding better deals. After all, each insurer has its own formulas for calculating rates, and the company with the best deal for you in one year may not offer the best deal a year or two later. (Of course, some insurers will offer a discount for sticking with them, and a further discount for having two or more policies with them, so keep those in mind.)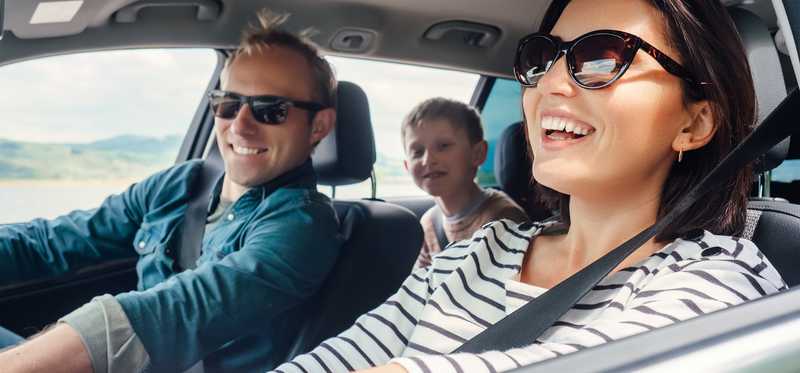 16. Downsize your vacation plans
Summer is when many families go on a big annual vacation, and that can be rather costly, when you add airfare, hotels, food, entertainment, and other expenses. You can spend a lot less, though, if you determine to do so. For example, you might opt for a road trip, exploring some parts of the U.S., instead of flying to a foreign or domestic destination. If you don't mind camping, spending a few nights of your trip outdoors can save $100 to $200 or more per night. You might save the most by having a staycation, where you only leave home for day trips, exploring your local area. Many people haven't really explored the cultural and historical highlights that their region offers, and you may have some terrific beaches or mountains or hiking trails near you, too.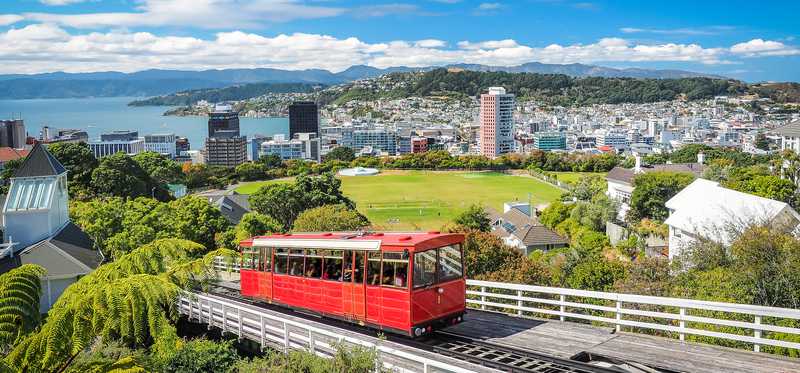 17. Visit off-season destinations
Another money-saving tip for summer travel is to go to off-season destinations. Yes, you may like to travel to Paris or Venice in the summer, but there's a good chance you'll be peering at the Mona Lisa through crowds at the Louvre or rubbing shoulders with a throng in St. Mark's Square. If you head to places that experience their off-season in the summer, you can fare much better. Yes, the weather may be worse, but you'll typically find lower prices and fewer crowds. If you don't have school schedules to mind, you'll often have a better experience at places that are crowded in summer if you head there in September or October.
Consider Costa Rica, Taiwan, Peru, New Zealand, Mexico, South Africa, British Columbia, and the Caribbean, among many other possibilities. If you're not a skier, you might visit ski destinations in the summer just to enjoy their natural beauty.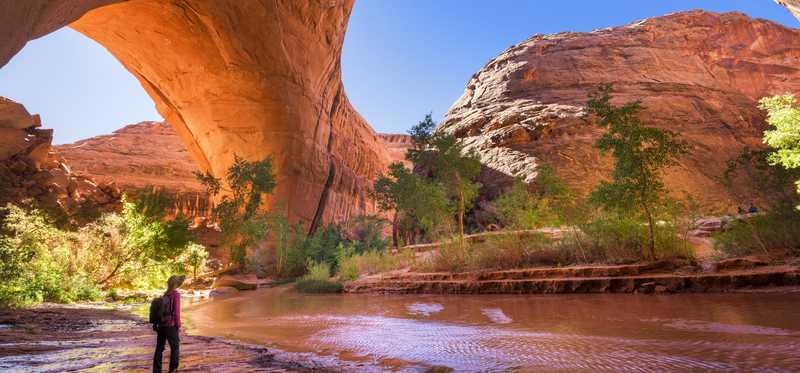 18. Get an annual pass for national parks
For $80, you can get an annual pass to America's diverse national parks, which can save you a bunch of dollars if you're planning to hit some parks this summer. (Seniors 62 and older can get a lifetime pass for $80 or an annual pass for $20.) The park service explains what you get with the pass:
"A pass is your ticket to more than 2,000 Federal Recreation sites. Each pass covers entrance fees at national parks and national wildlife refuges as well as standard amenity fees at national forests and grasslands, and at lands and waters managed by the Bureau of Land Management, Bureau of Reclamation and day use fees at U.S. Army Corps of Engineers. A pass covers entrance and standard amenity fees for a driver and all passengers in a personal vehicle at per vehicle fee areas (or up to 4 adults at sites that charge per person). Children age 15 and under are admitted free."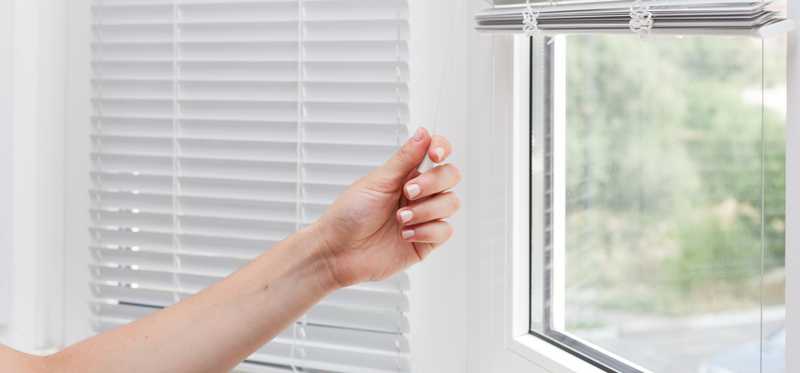 19. Keep your shades and curtains drawn
You may remember your mom or dad admonishing you to keep the curtains drawn to keep the sun and heat out -- and you may roll your eyes at the memory, too. But it turns out they were right. Being smart and strategic about all kinds of window treatments such as curtains, shades, and blinds, can reduce heat increases in your home by up to 77%, per the Department of Energy. Yes, fancier, costlier, and higher-tech treatments may save you the most, but simple medium-color curtains with a white plastic backing can keep out as much as 33% of the heat that would otherwise enter the home through the window. If your electric bills in the summer mostly reflect air conditioners running, being more strategic about windows might be able to cut those bills by a third or half.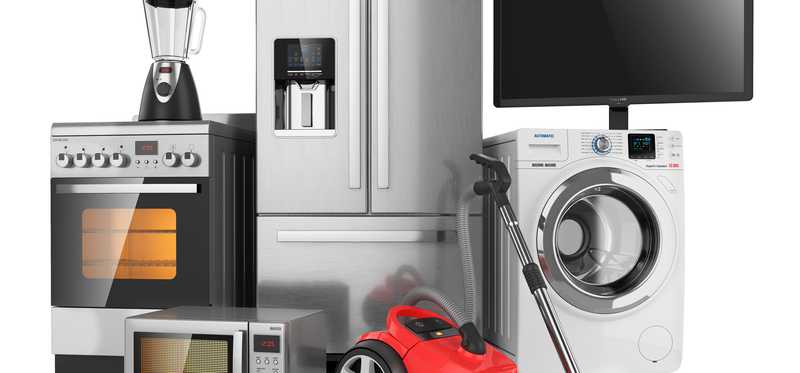 20. Buy and use Energy Star appliances
If you haven't given much thought to the yellow "Energy Star" stickers affixed to many appliances in stores, start paying attention -- because they help you zero in on equipment that will cost a lot less to run. According to the folks at EnergyStar.gov, "More than 2,200 product models from more than 140 manufacturers were recognized as 'ENERGY STAR Most Efficient' in 2017. By choosing ENERGY STAR, a typical household can save about $575 on their energy bills and still enjoy the quality and performance they expect." This might be reason enough to finally replace your refrigerator or air conditioner or washing machine, as you'll not only get a shiny new machine, but you can save money, too, while being more kind to the environment.  
ALSO READ: 30 Eco-Friendly Products That Will (Eventually) Save You Money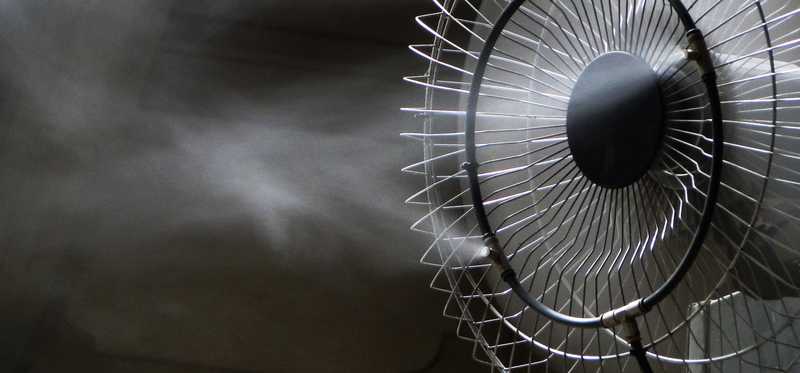 21. Use air conditioners less and fans more
If your house's temperature is around 80 degrees and you'd like it to be closer to 70 or 75, you may be headed for your air conditioner's on switch, but wait a minute -- consider using fans instead. Fans can make a room feel about 10 degrees cooler, while using only 10% of the energy that an air conditioner uses, according to the National Resource Defense Council. Besides oscillating fans on bases or stands, consider installing or using ceiling fans. Attic (or whole-house) fans are also effective. You typically turn them on in the evening or early morning, removing hot air from a house quickly while drawing in cooler air. Remember to turn fans off when you leave a room, though, as they don't actually cool the air -- instead, they cool the people in the room by moving air across the skin briskly.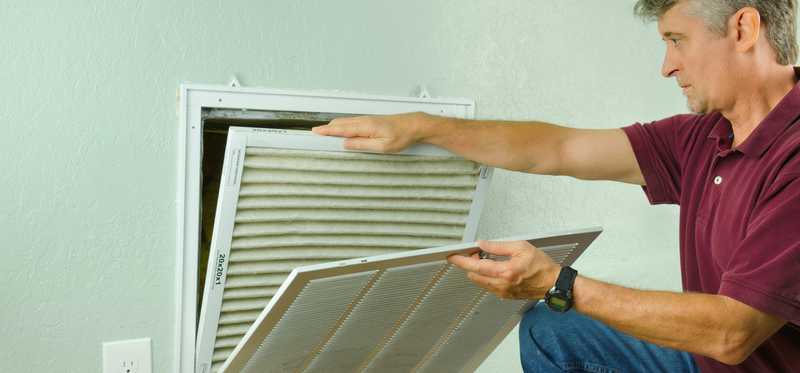 22. Clean and don't block air vents in your house
Of course, when it's very hot, you're probably going to use your air conditioner, if you have one. That will cost some money to run -- but you can spend less running your air conditioners if you tend to their maintenance properly. For example, clean vents and ducts to the extent that you can, so that air can flow as freely as possible through them. Clean or replace air filters, too, as your machine will have to work harder to get air through dirty and clogged filters.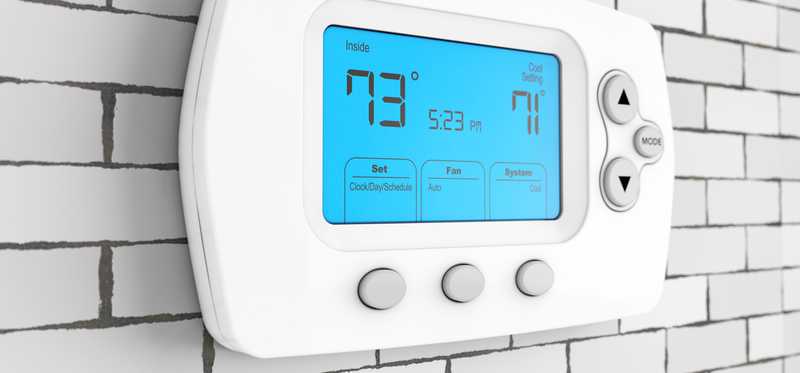 23. Get a programmable thermostat -- or several
Here's a common summer scenario: You crank your thermostat to a nice, low temperature in the morning because the house feels too warm and you're getting ready for work. Then you leave the house a while later, having forgotten to raise the temperature. So all day your air conditioner is running, costing you money, cooling your house unnecessarily. A programmable thermostat can help you avoid that situation, as it lets you set different temperatures for different times of the day or week, so that the house can be warmer when you're home and awake and cooler when you're away or asleep. Some are extra clever and can set the temperature lower when they don't sense you around -- and they can even be tied to apps that let you adjust temperatures when you're out of the house and to your home security system, too. The less energy used in your home, the more you'll save. It's estimated that between $100 and $200 or more can be saved annually.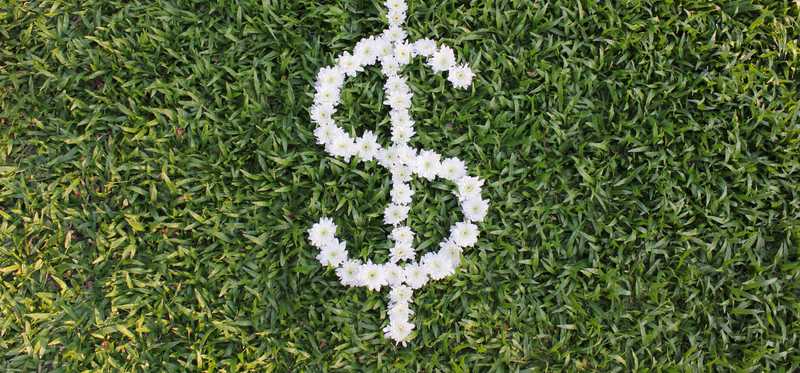 24. Mow your own lawn
If you have a lawn and you hire others to keep it in shape throughout the year, you may be paying $25 to $50 or more per week, costing you $300 to $600 or more over the summer. If you can mow the lawn yourself (or have a resident kid do it), you can save some significant dollars. You might need to get a lawnmower first, but there are some decent ones to be found used, online, for $150 or less, and some new ones can be had for $150 or less, too. An even less costly option is getting a push mower powered by you instead of gas. It will require more effort but can serve as a weekly workout.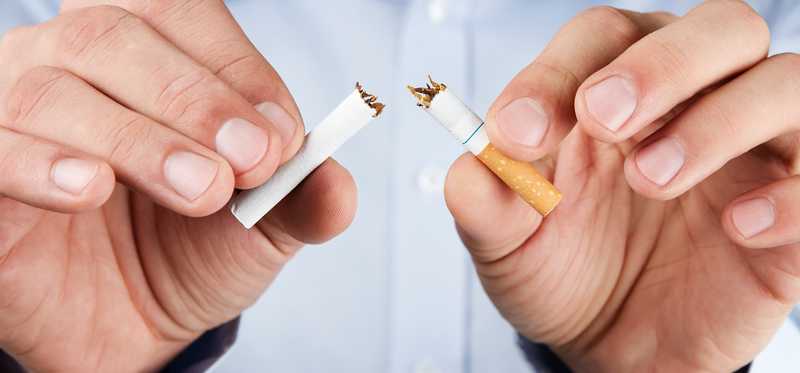 25. Quit smoking
Summer is a time when many people think more about their health and manage to exercise more, aided in part by longer days. It can be a good time to quit smoking, too, which will leave a lot of money in your pocket. The national average price for a pack of cigarettes was recently about $6.16, with the cost varying widely by region, largely due to taxes. In New York City, for example, where people recently paid an average price of $11.23 per pack, the minimum price is going up to $13. If you smoke one $6 pack a day, it's costing you $42 per week, or $2,190 per year. Smoke two packs a day? That's a hefty $84 per week and $4,380 per year. If you're paying $10 per pack, as some people do, that's $70 per week or $3,650 per year. Two packs? $7,300! Quitting smoking can leave you healthier and wealthier.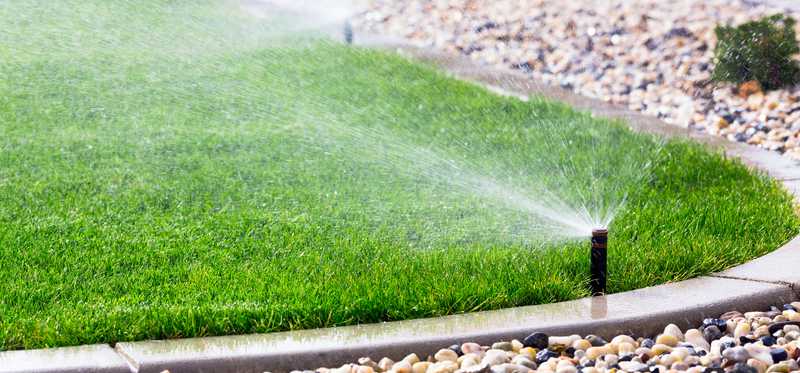 26. Be water-smart about your lawn and garden
You can keep your water usage down by watering your yard strategically. Many people do so at high noon, often on weekends, but that's when the sun is high in the sky and much water can evaporate before reaching thirsty roots. Instead, water early in the morning, when it's still cool and the sun is low. It's also recommended to not just water generously, every week or so. Instead, wait for the lawn to look like it needs a drink. It's also smart to not mow your grass too short. The longer blades can get more sunshine and nutrients, and they can keep more water in the shade they create.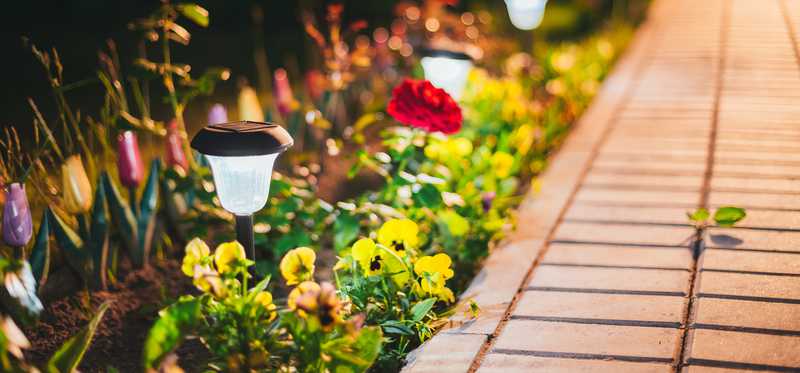 27. Install solar lighting
If you like seeing your garden, yard, and/or walkway lit in the evenings, you may be spending more than you need to on the electricity required for all that. Consider swapping those lights for solar-powered ones that require just a battery and sunshine. They come in all shapes, sizes, and colors and can make a yard look magical.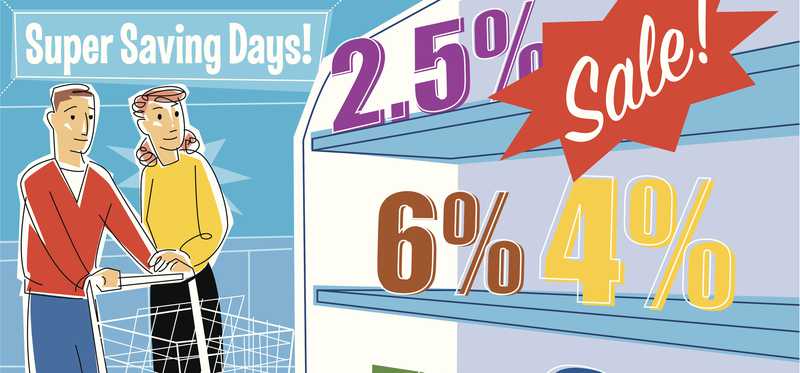 28. Buy what's on sale
When you shop in the summer, and throughout the year, it's always smart to seek out sale prices and to use any coupons you can find -- online or in print. You might also aim to buy certain big-ticket items when they tend to be priced lower. In summer months, for example, you'll likely find better prices on items such as furniture, tools, air conditioners, dehumidifiers, snowblowers, outdoor furniture, and lawn mowers. 
ALSO READ: Saving Money Was Never Easier With These 10 Mobile Apps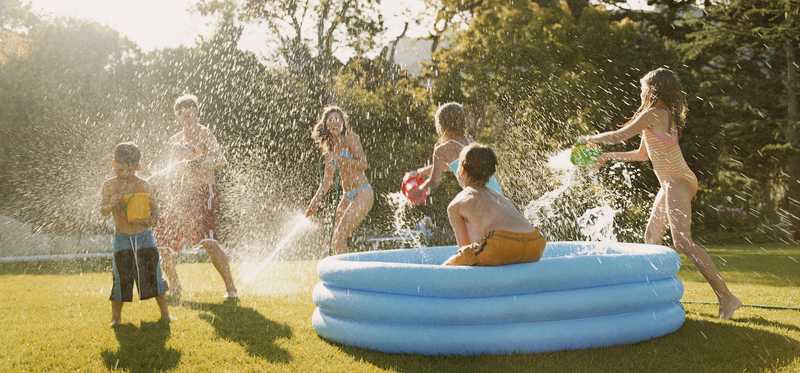 29. Make your yard a summer playground for the kids
Instead of taking your kids and their friends out on costly outings -- perhaps to the movies or mini-golfing, consider giving them more fun at home. You can buy inexpensive water toys and an inflatable pool, for example, and they can have a lot of fun simply running through a sprinkler and enjoying a treat of pizza.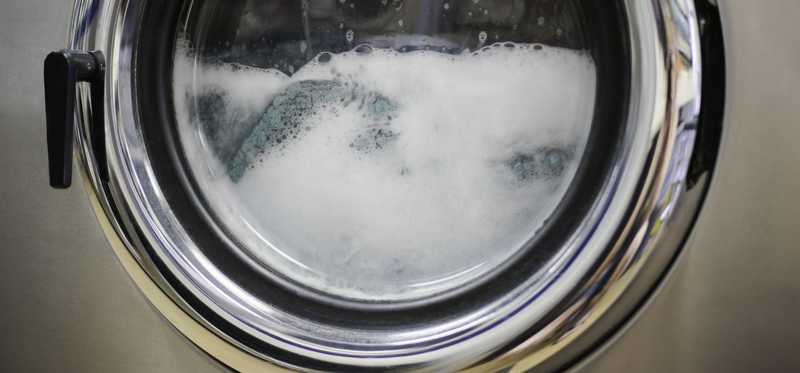 30. Wash your clothes in cold water
Nearly 90% of the energy a washing machine uses is for heating water, according to the folks at Energy Star. Washing clothes in warm or hot water used to be the thing to do in order to get clothes as clean as possible, but today's detergents have been made more effective, and those designated as cold-water detergents are dedicated to getting your clothes just as clean as with hot water. The Department of Energy has noted that, "Using warm water instead of hot can cut a load's energy use in half, and using cold water will save even more." Cold water can even help clothes last longer. You can save even more by avoiding half-full loads, using lower heat settings (even if it takes longer to dry), cleaning the lint filter before every load, and air-drying clothes when possible.

John Mackey, CEO of Whole Foods Market, an Amazon subsidiary, is a member of The Motley Fool's board of directors. Selena Maranjian owns shares of Amazon and Netflix. The Motley Fool owns shares of and recommends Amazon and Netflix. The Motley Fool has a disclosure policy.