Frontier Communications (NYSE: FTR) is a telecommunications company that provides landline phone service, as well as data, video, and Internet services to consumers.
Today, let's look at three things investors should be watching regarding Frontier Communications, as they'll provide us with better insight into the company.
1. Expense control
Controlling expenses and paying down debt are the primary priorities shareholders of Frontier would like to see the company undertake after a prolonged $5.25 billion buyout of Verizon's (NYSE: VZ) rural wireline assets, which cover residents across 14 states. In order to avoid drawing the ire of the Federal Communications Commission, Frontier agreed to further build out the broadband capabilities of its network in these rural communities. Although the move instantly made Frontier the largest rural provider, it still meant sizable build-out costs that Verizon's subsidiaries had previously failed miserably at.
The good news for shareholders is Frontier's integration costs are basically over and the company can focus on other aspects of its business. That doesn't, however, negate the fact that Frontier has nearly $8 billion in net debt to contend with. With approximately $2.5 billion due between 2013 and 2016, management will need to focus on cutting costs and maximizing margins to generate enough cash flow to make a dent in Frontier's mammoth debt pile.
2. Customer retention and attraction
With its capital expenditures returning to normal levels and its network integration complete, in addition to controlling expenses, Frontier is going to need to figure out a way to add high-margin broadband and data service package bundle customers to its network. In Frontier's latest quarterly report, we continued to witness a steady exodus of both residential and business customers with only minimal progress on adding broadband customers. If there was one bright spot, it was that its satellite TV segment added 9,200 net customers during the quarter.
But it's not going to be enough to just trickle along. Comcast's (Nasdaq: CMCSA) triple-play package of phone, Internet, and cable known as Xfinity has successfully pushed its subscribership north of 50 million customers. Comcast also offers a video-on-demand service known as Streampix to rival Netflix and has partnered with Apple (Nasdaq: AAPL) under its AnyPlay tag to allow customers to watch live TV on their iPads. AT&T (NYSE: T) is offering U-Verse, a combination TV and Internet package to its customers, which also will compete against Netflix. Frontier is clearly going to need to be more innovative and proactive with its customer retention and attraction approach if it's going to compete against the much larger Verizon, AT&T, and Comcast.
3. Frontier's dividend
I'm not purposely trying to sound like a broken record by always telling you to keep your eye on a company's dividend, but let's face it, a 10% yield is bound to turn some heads. Frontier is a go-to income-producing stock for riskier investors, and it pays to keep up on the sustainability of its dividend -- a dividend, mind you, that has been cut twice now in just over two years.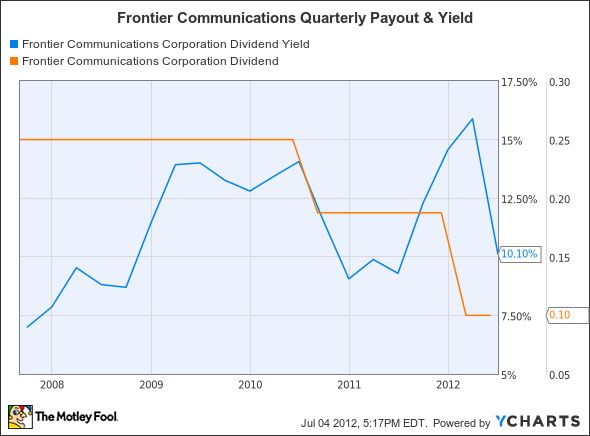 FTR Dividend Yield data by YCharts
Based on Frontier's first-quarter report in early May, I'd say its quarterly payout of $0.10 appears safe, at least temporarily. Frontier was able to generate $253 million in free cash flow and paid out a dividend equal to 39% of that free cash flow. But leading back to my earlier argument, as much as I'd love to see Frontier continue rewarding its shareholders with double-digit yields, its primary focus should be on debt reduction and high-margin broadband customer addition. This dividend is very unlikely to increase anytime soon, so the real focus is on ensuring that it doesn't fall further.
Foolish roundup
Now that you know what to watch for, it should be easier to analyze Frontier Communications' successes and pitfalls in the future, and hopefully you'll gain a competitive investing edge.
If you're still craving even more info on Frontier Communications, I would recommend adding the stock to your free and personalized watchlist so you can keep up on all of the latest news surrounding the company.
Even if Frontier isn't the stock for you, you're bound to appreciate the 9 Rock-Solid Dividend Stocks outlined in our special free report. Inside, you'll discover a bundle of sustainable companies cutting checks to investors year-in and year-out. Click here to claim your free copy today!