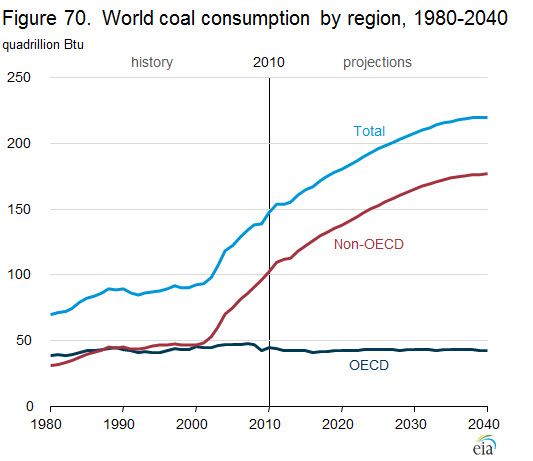 Coal companies in the past have relied on demand from developed nations, but now they are turning elsewhere for growth. From 2010 to 2040, OECD coal consumption is expected to be flat or slowly slip, while non-OECD consumption is expected to increase roughly 75%.
Two giants
India and China make up 70% of non-OECD nation's coal consumption, which will increase to 81% by 2040. Some environmental concerns may get in the way of China's aggressive growth plans, but at the end of the day coal is the cheapest form of energy.
China's exponential growth has worked wonders for BHP Billiton (NYSE:BHP), which is still trying to capitalize on China's continued growth. This past September, BHP Billiton increased metallurgical coal production by 14% year over year while only increasing thermal coal production by 3%.
Metallurgical coal is used in the production of coke to make steel, while thermal coal is for energy purposes. It's important to note BHP Billiton's increasing metallurgical coal production, because steel production is less at risk than coal based power plants. If China decides to try and cut down on pollution it will try to utilize its shale fields to switch some production from coal to natural gas.
Steel production, on the other hand, will keep increasing as China keeps up the massive urbanization effort it has going on. In 2011 China had an urbanization rate of 50.6%, which is expected to grow 2.85% each year over the next few years.
BHP Billiton has five major coal projects going on right now in Australia which will add heavily to both metallurgic and thermal coal production very soon because most of the projects are ~80% complete.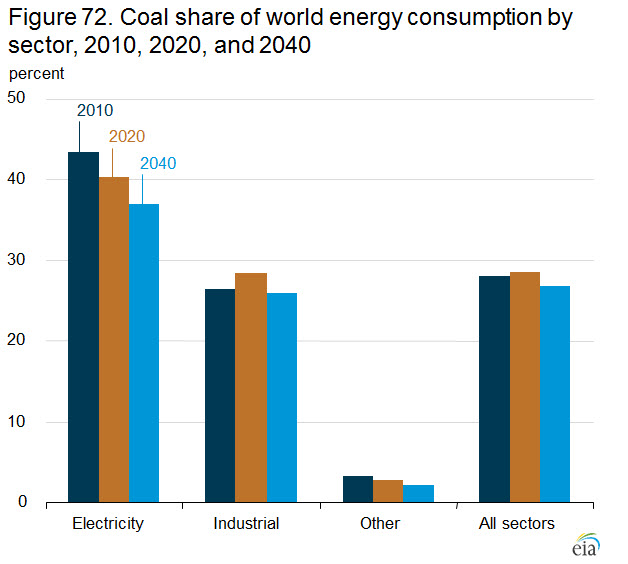 As China keeps urbanizing it will need more roads, buildings, sewage plants, etc. This is supported by electricity demand as a part of coal consumption dropping during that time period. Urbanization means more steel will have to be produced to fill that demand. BHP Billiton is also trying to fill the other side of the equation. BHP Billiton increased iron production by 23% year over year, with two major projects going on right next to China.
The WAIO Jimblebar Mine Expansion project in Australia is going to increase production from 35 million metric tons of iron ore to 55 million metric tons per year. WAIO Port Blending and Rail Yard Facilities is going to allow BHP Billiton to optimize and improve BHP Billiton's supply chain.
BHP Billiton needs China to keep coal and iron ore prices up and provide a strong source of demand for the years to come as India begins its urbanization process.
India
In 2011, India had an urbanization rate of just 31.3%, which leaves ~700 million people that could potentially move into cities. BHP Billiton is positioning itself so it can provide the raw resources India needs, but it isn't the only resources company doing so.
Peabody Energy (NYSE:BTU) is forecasting for global coal fired electricity to rise from ~8,000 TWh in 2010 to ~16,000 Twh by 2030. The benefit for both BHP Billiton and Peabody could be huge and long lasting. Urbanization efforts eventually leads to enough infrastructure being built, but power generation will be needed for centuries to come.
Peabody wants in on China's and India's growth, and plans on investing in their economies through Australia. In 2005, Peabody produced 8 million tons of coal from Australian operations. By 2012 that grew to 33 million tons, and Peabody plans on increasing that to ~36 million tons by 2013. Just under half of that is metallurgic coal and the rest is thermal.
Peabody will be able to play these two giants at both ends, from steel production to electrical consumption. Not only is Peabody growing production in Australia, but over the past six quarters it has reduced Australian production costs from $85 to ~$74 per ton. Going forward Peabody expects that to keep decreasing.
Final thoughts
Coal companies need developing nations for demand, as developed nations aren't going to provide much help. India and China have massive urbanization projects ahead, but there are already plenty of suppliers yet few buyers in this market.