Traditional banks -- specifically the biggest ones -- seem more than happy to let their smaller customers leave for credit unions and small regional banks. By dropping free checking, these banks practically invite a certain type of consumer to seek out a better option, and this has been good for credit unions.
Bankrate's 2014 Credit Union Checking Survey found that 72% of the nation's 50 largest credit unions offer a free checking account, meaning that the account charges no monthly service fees or point-of-sale transaction fees regardless of the balance. In contrast, the percentage of free checking accounts at banks fell from 76% in 2009 to only 38% in 2013, according to Bankrate's data.
"Credit unions and credit union members really value free checking as a service," Carrie Hunt, senior vice president of government affairs for the National Association of Federal Credit Unions told Bankrate. "A lot of credit unions feel very strongly about maintaining that service even with tightening margins because it's something that's core to being a credit union."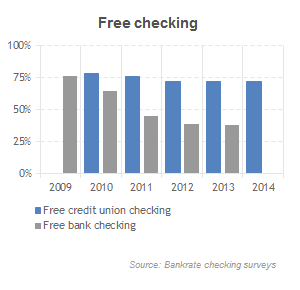 Banks want to make money
Credit unions' orientation as not-for-profit cooperatives that are beholden to their members rather than to shareholders is a big reason so many have maintained free checking, Jim Burson, a senior director with Cornerstone Advisors, told Bankrate.
Basically, banks need to make money while credit unions just need to break even. Banks adding fees to checking accounts for individuals with small balances forces them to either pay the fee (making the relationship worthwhile for the bank) or leave. Losing customers that make them very little -- if any -- money does not hurt the banks. It might even help them as they spend less time and resources processing transactions for customers who don't affect the bottom line.
What do the biggest banks offer
If you have enough money then you can get free checking, but what is considered enough varies from bank to bank. These are the lowest-cost options from three large publicly traded banks.
JPMorgan & Chase's (JPM 0.01%) Chase Banks' basic checking account comes with either a $12 monthly service fee or no monthly service fee with either direct deposits totaling $500 or more or with $1,500 minimum daily balance. They also charge no fee with an average daily balance of $5,000 in linked deposits/investments.
Bank of America (BAC -1.03%) offers a similar deal as accounts receiving a qualifying direct deposit of $250 or more or having an average daily balance of $1,500 each monthly statement cycle allow customers to avoid a $12 monthly maintenance fee.
Citigroup's (C 0.53%) Citi banks charge a $10 fee for accounts with a balance of less than $1,500. The company doesn't make the exact charge amount easy to find as it's not listed on the bank's website page promoting the account, but is instead in a hard-to-find linked PDF.
Clearly, these big banks only want to deal with customers living paycheck to paycheck if those customers are willing to pay for the service. That's not an indictment of large banks, however, because for-profit companies should focus on making money. Credit unions (and smaller banks trying win share from the big boys) have made access to free checking available to just about anyone with any bank balance.
"Free checking accounts remain a staple of the product lineup at many credit unions, and they aren't going away," said Greg McBride, CFA, Bankrate's senior financial analyst.
Finding a credit union is even easier
In the face of rising checking account fees, customers have been leaving big banks and heading toward credit unions.
"There was a sort of fee fatigue among consumers," McBride said. "You saw a demonstrated movement of consumers from banks into credit unions."
Credit union membership has grown more than 8% since 2008, according to data from NAFCU; total assets grew more than 30%.
Big banks are not doing this to be mean
Not every business has to be everything to all people. Every company tailors its offerings to attract the type of customer it's looking to do business with. If a local pizza place chooses to sell slices so it can appeal to individuals looking for lunch, nobody salutes it as providing a service for the little guy. Similarly, if another pizza shop sells only whole pies, nobody demonizes it for not caring about people who only want (or can afford) a slice.
Customers have a right to choose where they put their money, and credit unions are increasingly closer to the idyllic bank from It's a Wonderful Life than big banks are. There might be a Chase in your neighborhood, but its money may not be invested in your neighbor's house or the small business down the road.
That's OK, because the big banks not wanting small customers has led to the credit unions that do. People who aren't rich (or even mildly well off) can still get free checking and banks can focus on their most lucrative customers. Everybody wins, and everybody gets exactly what they want.