Late last year, the merger between US Airways and American Airlines parent company AMR became official. But combining the two major airlines into American Airlines Group (NASDAQ:AAL) is an enormous task that's still going on today.
Moving day
To make operations more efficient and position the new American Airlines' gates in greater proximity, US Airways and American Airlines are changing terminals at many airports across the country.
Since American Airlines Group wants to do as little moving as it has to, the company is looking to move the smaller airline's operations. With American Airlines being significantly larger than US Airways, this has meant that US Airways' operations are typically the ones to move.
Moves by either US Airways or American Airlines have already taken place at Los Angeles International, Phoenix Sky Harbor International, Miami International, and New York JFK International, which are among the most notable.
As these two airlines consolidate, travelers should expect to see their ground operations working closer together.
Policy integration
Before the merger, American Airlines and US Airways had differing policies that were fine when they were separate, but that can't continue as the two become one. To truly become one unified airline, American Airlines Group can have only one set of policies.
Among the things to disappear were American Airlines' bereavement fares to match the policy at US Airways. Checked-bag fees have also increased on many American Airlines flights to Mexico, the Caribbean, and Central America to match those of US Airways. In addition, American has matched the unaccompanied-minors policy of US Airways by raising the maximum age for the unaccompanied-minor fee from 11 to 14.
Frequent flyer programs
Loyalty programs are a core part of the modern airline business model, and American Airlines Group will have to work on integrating American's AAdvantage program and US Airways' Dividend Miles program. Because of the intricacies of these programs, American Airlines Group currently expects that it will be 2015 before Dividend Miles members are brought into the AAdvantage program.
In the meantime, American Airlines Group has been unifying certain parts of the programs. As of June, AAdvantage elite members can now upgrade to first class on US Airways flights. That comes on top of a series of changes put in place in January involving select reciprocal benefits, including complimentary checked bags, priority screening, and lounge access. Ordinary members will also be affected as the two airlines are aligning their redemption rates, resulting in a lower frequent-flyer-mile cost for certain American Airlines flights.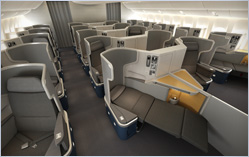 Aircraft refresh
Obviously, the US Airways aircraft will have to be repainted in the American Airlines colors, but there is more to be done here. American Airlines Group is undergoing a massive fleet overhaul that's seeing the addition of hundreds of new aircraft.
To unify the features of both airlines, the aircraft will be similarly equipped so that American Airlines can offer the same features throughout its network. This means personal entertainment systems on narrowbody aircraft and features such as lie-flat business-class seats on many long-range widebody aircraft.
Building one airline
Once combined, the new American Airlines will be the world's largest airline. But to get the job done, policies have to be integrated, operations moved, frequent flyers combined, and aircraft refreshed. Travelers and investors should keep an eye on this integration, with most tasks expected to be wrapped up in 2015.