For the 2015 model year, Ford (NYSE:F) is launching an updated version of its popular F-150 pickup truck with major changes, including new engine options and an aluminum body.
The multibillion-dollar question is: How does the new Ford F-150 stack up against its rivals?
Battle of the trucks
Truck sales are big moneymakers, with these models being high-volume and high-margin. American automakers still lead the pack in sales, with the Ford F-150, Chevrolet Silverado, GMC Sierra, and Ram 1500 taking the top four sales spots in the half-ton truck category.
While it can be difficult to break truck sales down by category, PickupTrucks.com was able to provide some estimates by combing through several sources, including the Cars.com dealer network database.
|  Truck |  Full-Year 2013 Sales |
| --- | --- |
| Ford F-150 | 469,515 |
| Chevrolet Silverado 1500 | 382,185 |
| RAM 1500 | 224,074 |
| GMC Sierra 1500 | 142,842 |
Of note is that the Chevrolet Silverado and GMC Sierra are brand engineering cousins, and their sales combined would exceed that of the Ford F-150.
The current market has also set up a few key factors that could make the pickup truck segment as a whole even more valuable. Some of these include:
A recovery in construction driving demand for hauling vehicles
A significant slide in gas prices, making trucks less expensive to operate
Near-record levels for the age of the average U.S. vehicle
An ultra-low interest rate environment, making financed purchases less expensive
The new Ford F-150
For 2015, Ford is going where no major automaker has gone before in giving the F-150 an aluminum body, with the goals of boosting fuel economy, increasing hauling capacity, and fighting rust.
But Ford wants to make sure the F-150 is also up to handling all the tasks users throw at it, so it's using what it calls a "high-strength, military grade, aluminum-alloy body." For the frame of the F-150, Ford is sticking with high-strength steel, making the aluminum F-150 really a combination of aluminum and steel.
The new F-150 also gets two new engine options designed to boost fuel economy and power-to-weight ratio. One new engine, a 3.5L Ti-VCT V6, is the base engine, and the other, a 2.7L EcoBoost V6, is available as an option for an additional $795.
How it stacks up
The Ford F-150 has held the title of the best-selling truck in America for more than three decades now, but General Motors (NYSE:GM) and Fiat Chrysler Automobiles (NYSE:FCAU) each have their own challengers. GM has the Chevrolet Silverado and GMC Sierra, while Fiat Chrysler has the Ram 1500.
Motor Trend recently took a look at the new F-150 alongside the Chevrolet Silverado and Ram 1500 in a comparison test of top-selling pickups.
Reviewers were positive on the new 2.7-liter EcoBoost engine in the Ford F-150, with Motor Trend saying: "The 2.7-liter EcoBoost engine feels wildly more powerful than its official ratings suggest. It sprints off the line as if competing in a NASCAR Truck Series race."
In terms of towing, the reviews found the Ford and Ram to be better at taking corners compared to the Chevrolet, which rolled more than its rivals. But Motor Trend picked a favorite nonetheless, saying: "Each carried a flaw in one test or another, but given only one truck to tow with regularly, we'd pick the Ram for its ease of towing, backing, and its ride quality."
When it came to deciding the winner, the reviewers easily put the Silverado in third place, saying: "The Chevrolet Silverado is simply a step behind the Ford F-150 and Ram 1500 in every regard."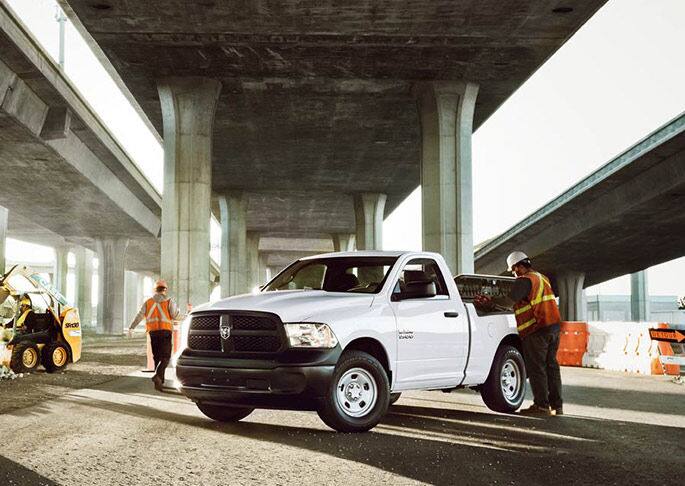 Making a decision between the F-150 and Ram 1500 was more difficult for Motor Trend, but the Ram won out in the end due to towing ability, driving experience, and the unknown maintenance costs related to the redesigned aluminum F-150.
In a separate decision, the magazine dealt another blow to the F-150 by giving its Truck of the Year award to the Chevrolet Colorado. While the Colorado is not as direct a competitor as the Silverado, Ford not winning this award has been seen as a disappointment considering the resources the automaker spent redesigning its top truck.
While the Motor Trend review is one of the most important, there will be more reviews of the redesigned F-150 coming soon, and both truck buyers and investors should keep an eye out for them.
If the new F-150 were to completely flop, the result would be a major hit to Ford, considering the truck brought in 40% of last year's profit and carried $30 billion in revenue. However, I view a complete flop as unlikely since the new F-150 seems to be performing well in recent tests and carries a fuel-efficiency advantage over its rivals, and there are enough consumers who are loyal Ford buyers that they could keep a significant amount of sales alive.
The real question is whether the F-150 can live up to expectations of maintaining the best-selling truck spot or go even further and gain market share from rivals. To determine this, we have to look at the model rollout and beyond.
Model rollout
The Motor Trend review and fuel-economy numbers that came in at the low end of expectations don't look great for the F-150, but Ford has some reasons to be hopeful.
As of early November, the automaker noted that over a quarter-million people had visited the Ford website to build and price the new F-150, with about 225,000 leaving contact information. This indicates there is at least a strong curiosity about the new F-150 as well as widespread awareness among potential truck buyers.
Ford has chosen to become the first automaker to mass-produce a pickup truck with an aluminum body -- a trend that is likely to continue, with General Motors planning an aluminum pickup for sometime around 2018.
At this point, the new F-150 doesn't look like it has moved significantly above the competition, leaving the pickup segment competitive for years to come. However, the F-150 still puts up a strong showing in recent tests, which should help in maintaining market share, especially among current Ford owners and consumers looking for higher fuel efficiency.
Investors should watch sales of the F-150 as Ford begins the model rollout to see how successful the automaker is at converting online interest in the truck into actual sales.
Alexander MacLennan owns shares of Fiat Chrysler Automobiles N.V. and General Motors Class B warrants and General Motors Class C warrants. He also has the following options: long January 2015 $40 calls on General Motors, long January 2016 $10 calls on Ford, and long February 2015 $15 calls on Ford. The Motley Fool recommends Ford and General Motors. The Motley Fool owns shares of Ford. Try any of our Foolish newsletter services free for 30 days. We Fools may not all hold the same opinions, but we all believe that considering a diverse range of insights makes us better investors. The Motley Fool has a disclosure policy.