No stranger to ruffling feathers across disparate corners of the business world, Amazon.com (AMZN 3.15%) is again staking its flag in a number of new industries, contending with some of the world's biggest companies in the process.
Just in the last month, the e-commerce giant moved closer to challenging Netflix by offering Prime Video as a stand-alone pay-per-month service, separate from the usual smorgasbord of Prime perks. It then announced that it would take on Alphabet's YouTube with a Video Direct service that allows users to upload videos and receive a percentage of ad revenue. 
Amazon also said it would dive into private-label goods in food and household products, competing with a range of heavyweights including Procter & Gamble and Kraft Heinz. Amazon is partnering with Treehouse Foods to sell shelf-stable items like nuts, tea, baby food, and diapers.
Earlier in the year, Amazon also took steps to enter the logistics industry, when it revealed it would begin building its own delivery service and agreed to lease 20 freighter planes, potentially taking on UPS and FedEx.
Amazon, of course, is no stranger to throwing its weight around, and founder Jeff Bezos seems to relish a competitive dogfight. When Wal-Mart Stores offered to buy his company in its infancy in the '90s, Bezos countered, and said that Wal-Mart instead should let Amazon run its e-commerce operation.
Retailers waited long enough to take Amazon seriously, and it may now be too late for some of them. Department stores like Macy's have been shuttering outlets and seeing sales slide; Amazon is set to pass Macy's as the No. 1 clothing retailer next year, without a single dressing room.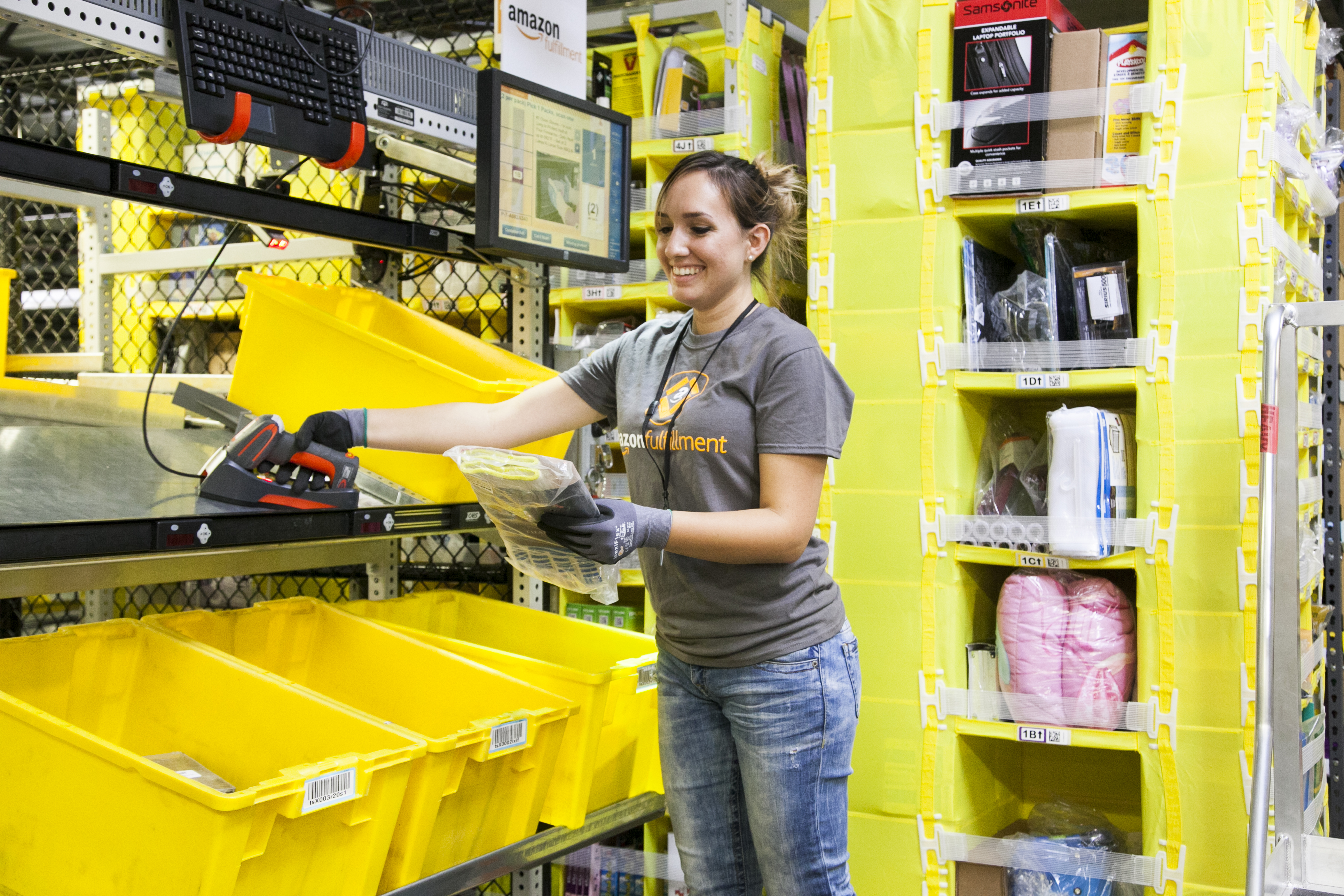 But Amazon's rivals aren't stupid. They see what the company's done to industries like book publishing and what its aspirations are in retail. As it faces off with even more competitors, its biggest risk may be that those rivals team up to fight back against it. After all, competition has a way of making companies band together to resist monopolists, and the free-market model encourages it. 
In fact, Amazon was the beneficiary of just this tactic when HBO agreed to sell old seasons of its hit shows. HBO, called out by Netflix as its biggest rival, has no interest in seeing the leading streamer further pad its subscriber rolls, and aims to thwart Netflix's dominance of the emerging industry. Selling those old shows helps to prop up a Netflix competitor and levels the streaming playing field.
In a different industry, General Motors pulled a similar move with its $500 million investment in Lyft, helping to challenge the leading ride-hailing app Uber. Carmakers may not be able to resist the ride-hailing app revolution, but they can prevent Uber from monopolizing it.
Any day now...
Of all Amazon's competitors, Wal-Mart would seem to have the biggest target on its back. The world's largest retailer pulls in nearly $500 billion in revenue a year, more than four times what Amazon does -- but Wal-Mart's growth has stalled, in large part due to the e-commerce leader. It's begun stepping up investments in e-commerce, and introduced ShippingPass to compete with Amazon Prime. And it's easy to imagine Wal-Mart offering a package that mimics the best-known benefits of Prime. Alphabet would seem like a natural ally, as both companies consider Amazon their top competitor.
Through Google Express, Alphabet has already partnered with brick-and-mortar retailers to offer a competing service to Prime Now, with one-hour deliveries in select cities. 
Another of Amazon's advantages, its Marketplace, has also gone mostly unchallenged. Amazon's army of third-party sellers has given it a leg up in a number of ways, expanding the range of its merchandise, and feeding it ideas as the company pilfers from hot-selling items. More than 40% of the items sold on Amazon now come from third-party vendors, but brick-and-mortar players have stood still while Amazon builds an e-commerce fortress. 
Wal-Mart launched its own Marketplace in 2009, but only had six merchants until 2014, rendering the platform essentially useless. That hesitance contrasts markedly with Amazon, which regularly hurls itself headlong into new ideas and new markets.  Now Wal-Mart finally seems ready to ramp up its Marketplace, as the channel saw 65% growth in the fourth quarter of 2015, and it's currently working with ChannelAdvisor to recruit new merchants.
Vendors, meanwhile, are hungry for a competing outlet to loosen Amazon's grip on e-commerce. In a recent Wall Street Journal article, some likened working with Amazon to a "deal with the devil." Many complained about the fees Amazon charges (which generally range from 8% to 15%), not to mention competing with Amazon itself while becoming dependent on it.
Wal-Mart would seem to be in an ideal position to challenge such an order. Adding third-party sellers may be the best way to fuel its e-commerce growth, which slowed last quarter to just 7%. A consortium such as the Merchant Customer Exchange, which is developing mobile payment for a group of major brick-and-mortar retailers, could also set up such a marketplace where small businesses could sell their goods free of direct competition from the host. Such a move would be similar to Hulu, the joint venture launched by major broadcasters to give them a stake in the streaming game and resist Netflix's ambitions.
There are myriad possibilities for such a combination, and Amazon's growing market power will only make it more necessary.  
Amazon's advantages have become self-evident, but the brick-and-mortar players aren't going to cave without a fight. Expect some combination of retailers, merchants, and other rivals to begin resisting Amazon's monopolistic ambitions in more deliberate ways. Their very survival could depend on it.