15 Countries That Export the Most Oil
By Matthew DiLallo - Nov 27, 2018 at 2:44AM

15 Countries That Export the Most Oil
Flush with oil -- and cash
Oil is the top exported product in the world. In 2017, crude accounted for 4.3% of the value of all exported products, with oil shipments totaling a staggering $841.1 billion. That oil trade shifted funds from oil-consuming nations to crude exporters, with 15 nations claiming nearly 80% of that prize. Here's a look at the countries that make the most money exporting oil. 
ALSO READ: Oil Stocks: 1 Oil Exec Thinks Shale Will Surge in 2019 (Again)

No. 15: The United Kingdom -- $19 billion of oil sales in 2017
While the U.K. might not be known as a major oil producer, it accounted for 2.3% of global oil exports in 2017, shipping oil to places like the Netherlands, Germany, South Korea, and China. Though, it's worth noting that the country imported more oil than it exported last year, which has been the case since 2004 due to declining output from its oil fields in the North Sea. However, with output from those fields set to rise 10% this year as new projects from BP (NYSE: BP) and other producers come online, the U.K. will be a net exporter of crude in 2018 for the first time in more than a decade. 

No. 14: Mexico -- $19.9 billion in oil sales in 2017
Mexico is a key oil supplier to the U.S., contributing 7% of America's total oil imports and 2.4% of the global total. However, most of that oil eventually makes its way back to Mexico as refiners in the U.S. turn it into higher valued products like gasoline and diesel and then ship it back to Mexico, which was the No. 1 destination of U.S. petroleum product exports in 2017 at 17% of America's total. Because of that Mexico has a negative energy trade balance with the U.S. that totaled $12.1 billion last year. 

No. 13: The United States -- $21.8 billion in oil sales in 2017
The U.S. has been the fastest growing oil exporter in recent years, with the value of its exports rocketing 328% since 2013 and now accounts for 2.6% of the global total, most of which went to China. Driving America's fast-growing oil export business is the abundance of oil produced from tight shale formations, which led the country to lift its long-standing ban on crude oil exports a few years ago. While America is still a net importer of oil, that number has fallen dramatically over the years and should continue declining in those ahead as shale output keeps rising. Meanwhile, its oil export volumes should also continue increasing since the country doesn't have the right kind of refining capacity to use all the oil it's producing.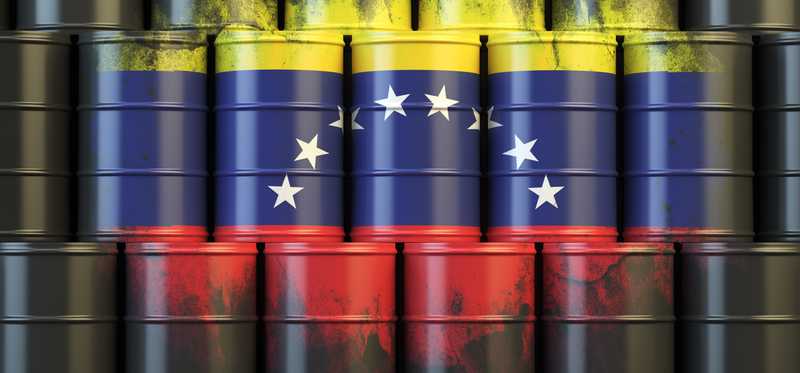 No. 12: Venezuela -- $23.1 billion in oil sales in 2017
Venezuela has tumbled down the list of major oil exporting countries in recent years due to slumping oil prices and declining output from its aging fields. Overall, oil sales by the South American country have plummeted 69.2% since 2013 to just 2.7% of the global total last year. While Venezuela has the oil reserves to be a top oil exporter -- it leads OPEC in that category -- it's not investing enough money into its oil fields to keep production from falling off a cliff. That's unlikely to change anytime soon given the country's deepening economic crisis. 
ALSO READ: These 2 High-Yield Energy Stocks Have the Same Growth Plan. Will It Work?

No. 11: Norway -- $25.9 billion in oil sales in 2017
Norway supplied about 2% of the world's oil last year, -- most of which came from the Norwegian shelf in the North Sea -- which worked out to roughly 3.1% of the total value of global oil exports. Overall, oil accounted for nearly a quarter of Norway's export value in 2017, with most of its exports going to other European countries like the U.K. and the Netherlands. 
No. 10: Kazakhstan -- $26.6 billion in oil sales in 2017
Kazakhstan contributed 3.2% of total crude exports last year. Oil is an important commodity for the central Asian country, with it supplying roughly a third of its export value in 2016 when the country only shipped $13.2 billion worth of oil. That value should continue rising in the future after U.S. oil giant Chevron (NYSE: CVX), which is the largest private oil producer in the country, announced a major expansion of the Tengiz field. The $36.8 billion mega-project should come online in 2022 and significantly boost the country's oil production and export volumes. 

No. 9: Angola -- $30.5 billion in oil sales in 2017
Oil is crucial to the Angolan economy. While the African nation's share of the value of global oil exports was just 3.6% last year, oil contributed 50% of the country's gross domestic product (GDP) and 92% of its exports. The country pumps most of its oil from offshore platforms in the Atlantic Ocean where production has steadily declined due to underinvestment. While the country is working to reform its oil industry to boost exploration drilling, it could be years before it reverses the production decline and that's only if companies discover more oil, which hasn't been the case in recent years.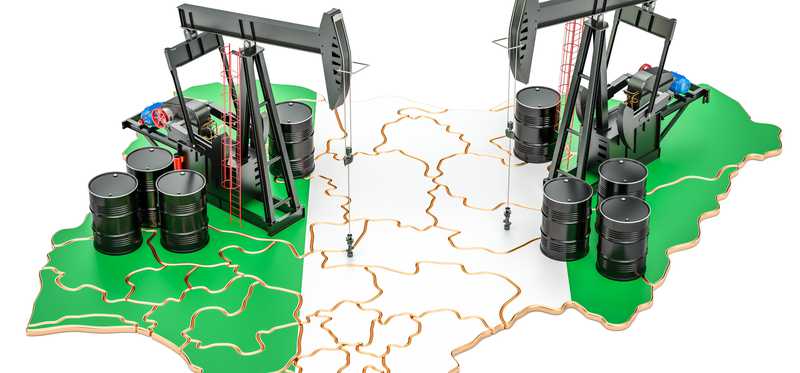 No. 8: Nigeria -- $33 billion in oil sales in 2017
Nigeria is the largest oil producer in Africa. Overall, crude oil production contributed 10% of its GDP, which is the country's biggest export, accounting for 83% of its export revenue last year as the country captured 3.9% of the global total. Nigeria produces oil from several regions, including onshore in the Niger Delta as well as offshore. Nigeria's oil production has ebbed and flowed in recent years, due in part to attacks by militant groups on pipelines, which caused producers to halt exports until they completed repairs. That instability will likely continue holding back the country from exporting at full capacity. 
ALSO READ: Oil Prices: This Exec's Outlook Says This Downturn Will Be Short Lived

No. 7: Kuwait -- $38.2 billion in oil sales in 2017
Oil is a vital fuel to the Kuwaiti economy. Overall, the sector accounts for 40% of its GDP and 92% of its exports, with its crude exports accounting for 4.5% of the global total. Most of the country's oil comes from the Burgan Field, which is the second largest oil field in the world. Meanwhile, oil will likely remain a vital fuel for Kuwait's economy since it has the fourth largest oil reserves in the world, which gives it the resources to continue pumping for years to come. 

No. 6: Iran -- $40.1 billion in oil sales in 2017
Iran captured 4.8% of all oil exports by value last year, which pumped more than $40 billion into its economy. That amount has moved around quite a bit in recent years due to both oil price volatility and international sanctions on its ability to export. While the Obama administration lifted those sanctions in 2015, which enabled Iran to export oil once again, the Trump administration promised to reimpose them in 2018. However, instead of completely restricting Iranian oil exports, the administration granted waivers to many of the country's key oil buyers. Because of that, it should remain a top oil exporter. 

No. 5: United Arab Emirates -- $49.3 billion in oil sales in 2017
The UAE was a top-five oil exporter last year, capturing 5.9% of the total. Because of that, crude is a vital fuel for its economy, supplying 30% of its GDP last year. The bulk of its oil goes to Japan, which was its largest customer at 62% of the total. The UAE still has plenty of oil in reserve, with the country estimating that it still has 97.8 billion barrels still in the ground, which will enable it to remain a major oil exporter for years to come.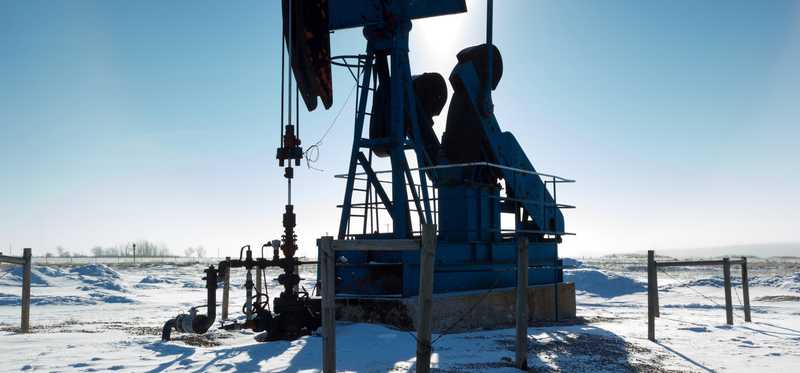 No. 4: Canada -- $54 billion in oil sales in 2017
While many Americans think OPEC supplies most of the country's oil, that's not the case. Canada is the biggest oil supplier to the U.S. at 40% of the total, followed by 9% from Saudi Arabia. Most of that oil flows by pipeline from the sands region in Western Canada to refineries in the Midwest and Gulf Coast. Overall, 71% of the oil produced in Canada heads to the U.S., and just 2% goes to overseas markets. The country is hoping to boost its exports to Asia by expanding the Trans Mountain Pipeline, which would triple the flow of oil to a port on the country's west coast. 

No. 3: Iraq -- $61.5 billion in oil sales in 2017
Iraq is a major oil exporter, contributing 7.3% of the global total last year. Because of that, crude exports are the major fuel of Iraq's economy, with it accounting for 99% of its export goods and 55% of GDP. More than half of its oil goes to China, India, and South Korea, though it is the fifth largest supplier to the U.S. at 6% of America's total oil imports. 

No. 2: Russia -- $93.3 billion in oil sales in 2017
Russia overtook Saudi Arabia as the world's largest oil producer last year as it delivered its highest level of crude output in 30 years. However, because the country consumes 30% of its output, it was only the second largest exporter at 11.1% of the global total. 70% of that oil went to Europe where Russia supplies about a third of the continent's oil imports. Meanwhile, it's also the leading supplier to China, ahead of both Saudi Arabia and Iran.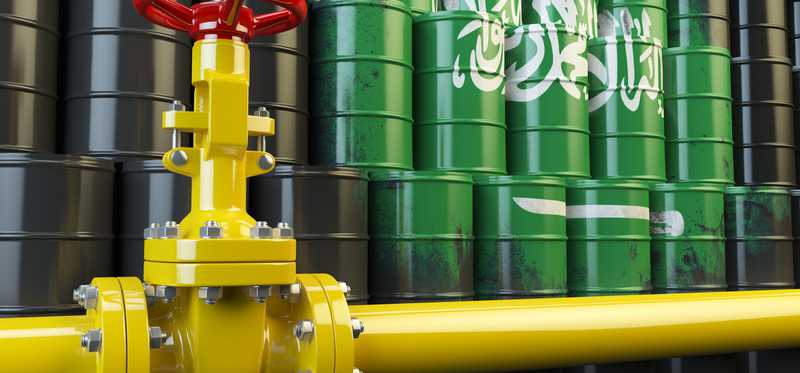 No. 1: Saudi Arabia -- $113.6 billion in oil sales in 2017
Saudi Arabia is the world's leading oil exporter, controlling 15.9% of the market in 2017. As such, it's no surprise that oil is one of the main fuels of its economy, supplying about 50% of GDP and roughly 70% of its export earnings. Saudi Arabia was the second largest supplier of U.S. oil imports in 2017 at 9% of the total, making it the Middle Eastern country's fourth largest customer behind China, Japan, and India.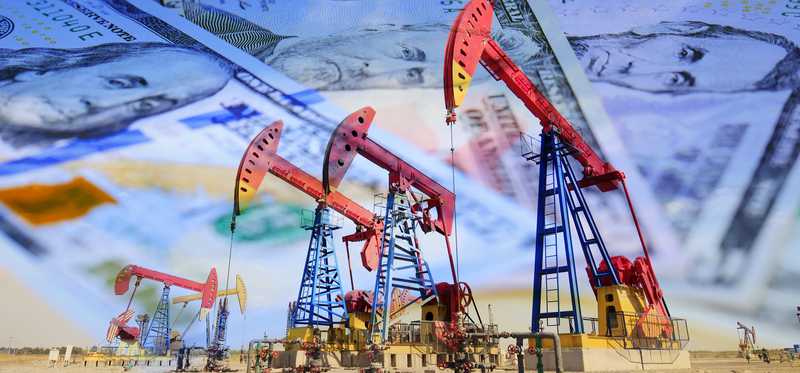 Oil will remain a crucial fuel to the global economy
Crude oil met about a third of the world's energy needs last year due in large part to the supplies of these leading oil exporters. While oil's market share will erode in the decades ahead due to the rise of renewables, demand for crude is expected to continue rising until around 2040. Because of that, leading oil exporters will likely continue cashing in on the global oil trade. 

Matthew DiLallo has no position in any of the stocks mentioned. The Motley Fool has no position in any of the stocks mentioned. The Motley Fool has a disclosure policy.

Premium Investing Services
Invest better with The Motley Fool. Get stock recommendations, portfolio guidance, and more from The Motley Fool's premium services.