15 Things to Consider Before Cutting the Cord
Author: Adam Levy | September 19, 2019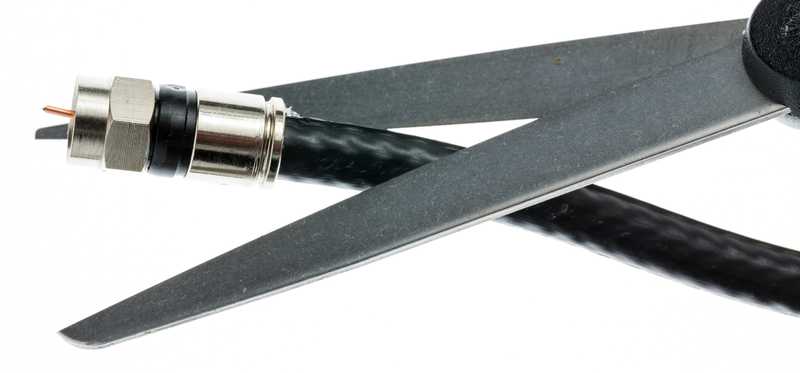 Everybody's doing it!
More people will cut the cord this year than ever before. As cable companies keep finding new ways to raise prices and media companies expand the number of streaming video on-demand services, the trend is only going to accelerate.
You might be eager to jump on board with cord-cutting too. Who doesn't like the idea of saving money and skipping commercials? But cord-cutting isn't for everyone. There are some important things consumers need to consider before canceling their pay-TV subscription and officially cutting the cord.

1. What do you like about pay-TV?
If you've held onto your cable subscription this long, there's got to be something you love about your big bundle of channels. Do you really enjoy live broadcasts? Is there a specific channel or show you can't live without? Do you cherish your DVR where you hoard episodes of Hoarders? Do you like the ease of it all -- one subscription for all of your content?
Now, consider whether you can find a suitable substitute for the things you like about your pay-TV subscription. (Hint: Hulu has several seasons of Hoarders on demand.) If there's no substitute, how much are you willing to pay for it? Is it worth the price of staying subscribed to your current video service provider? Cutting the cord may mean making some sacrifices or at least changing your video viewing habits. You'll need to embrace those sacrifices and changes.
ALSO READ: What Cord-Cutters Actually Want Is Cable in Disguise

2. What don't you like about pay-TV?
There's probably something -- or a lot of things -- you don't like about your current TV service. You wouldn't be considering cutting the cord if you weren't frustrated about something.
Is it just a matter of price? Pay-TV prices are climbing steadily higher every year, and cable companies seem to find something new to charge customers for every couple years. It's certainly possible to save money by cutting the cord.
Maybe you hate sitting through commercials. Services like Netflix (NASDAQ: NFLX), Amazon (NASDAQ: AMZN) Prime, HBO Now, and Hulu can all stream commercial-free content. So instead of 20 minutes out of every hour going to waste watching commercials, you can watch your "hour-long drama" in 40 minutes.

3. How much do you spend on pay-TV?
The biggest reason most people cut the cord is the price of their video package. While the price of cable seems to go up year after year, for some consumers pay-TV might still be a value. If you want to subscribe to Netflix, Amazon Prime, Hulu, HBO Now, Showtime, Starz, Disney+ (NYSE: DIS), ESPN+, Apple (NASDAQ: AAPL) TV+, and a half dozen other services, you probably won't actually save money.
Consider how much content you consume and the sources of that content. If you were to put together an a la carte bundle of streaming video on-demand services to replace everything you watch, would you actually save money?

4. Your internet service price might go up if you cancel video service
You probably get your video and internet service from the same company, and they'll often give you a discount for bundling multiple services. When you cut the cord, you'll probably see an increase in the price you're paying for internet service. Be sure to consider how much your internet service will cost without the bundle discount and factor that price into your total budget.

5. Your internet speed and data caps
If you're switching from using cable or satellite TV to using your home broadband connection to deliver most of your video entertainment, you might run into a couple surprises. First of all, your internet speeds might not be fast enough to deliver video at the quality you want. That's especially true if you want 4K high-definition video or multiple simultaneous streams.
Netflix recommends a 5 Mbps downstream connection for HD video and a 25 Mbps connection for Ultra HD. If you want to run multiple streams at the same time, or otherwise use your home internet while you're streaming, you'll need an even faster connection.
Likewise, if your internet service provider puts a cap on your monthly data allotment, you may find what was once plenty of broadband capacity, is no longer enough to get you through a couple weeks of streaming video all the time. You can lower the amount of data you use by sacrificing on picture quality.

6. You need a good over-the-air antenna
You can still catch popular shows, sports, and big events by buying an antenna to pick up local broadcast affiliates over the airwaves. Yes, those rabbit ears you might have seen attached to some old-time television sets can still receive broadcast signals networks are sending out in the world.
If you want to get the best picture quality and the most channels, though, you might want to invest in something a little more powerful. Determine whether a simple HD antenna mounted by your TV will suffice, or if you should go all out and install an antenna on your roof. This handy tool from TVFool.com (no affiliation) will help.

7. What will you use to stream video to your TV?
There are dozens of streaming players and a handful of companies that make them. You may face a paradox of choices when it comes to finding the one that meets your needs. Some things to consider when selecting a streaming device include:
You may already have a game console or smart TV that meets your streaming needs
The channels each device supports (and doesn't support)
The picture quality
Integration with other devices (e.g. Amazon Alexa, Apple ecosystem)
Customization options
Price

8. Which shows and channels can you not live without?
Everybody has that can't-miss television series or the channel they consider their guilty pleasure. Consider whether you'll be able to watch those shows and channels without a pay-TV subscription. Do you need to watch a certain series as soon as it airs a new episode, or are you willing to wait until the next day or maybe even several months before watching it?
Rest assured, if you're only subscribing to cable for one or two specific series, there are less expensive alternatives than paying over $100 per month to your provider. But be sure to consider what it is you'll prioritize in your cord-cutting budget.

9. How will you find stuff to watch?
It's hard enough to find something to watch in your 200-channel cable bundle, even when the cable provider provides a nice guide of what's currently on TV. Imagine how hard it might be to find something to watch when you don't even know what streaming options are out there.
If there's a specific series or film you're interested in, try a search engine like justwatch.com. Justwatch searches through dozens of streaming services to show you where you can stream or download what you're looking for. It also provides a list of popular searches, so you might find something interesting.
ALSO READ: Forget Netflix, Cord-Cutters Love This One Company

10. Are you a news junkie?
If you constantly have your television tuned to CNN, MSNBC, or Fox News, you might be worried about getting your 24/7 news fix. Most cable news networks post videos on YouTube throughout the day that you can subscribe to in order to stay up to date. You might be able to find a live stream of your go-to network on Pluto TV. Or you can stream live news for free from ABC News or CBS (NYSE: CBS) News through services like the Roku (NASDAQ: ROKU) Channel. Over-the-air broadcast networks will provide you with local news in the mornings and evenings.
But if you're dedicated to a certain network, anchor, or program, you might not be able to find an alternative way to watch it without a pay-TV subscription.

11. Are you a sports fanatic?
If you have a favorite sports team, chances are that's one of the biggest reasons you're staying subscribed to cable. But there's no reason to pay for your cable bundle year round if you're only watching your team six months out of the year.
Subscribing to a virtual MVPD like Dish Network's (NASDAQ: DISH) Sling TV, or Hulu + Live TV will allow you to get your regional sports networks. You can cancel whenever your team's season ends, and then pick it back up again next year. Not only will you be able to save money by subscribing for half a year at a time, but those packages typically cost less than a standard cable bundle.

12. Would you like that all on one bill?
One of the biggest conveniences of the cable bundle is that you get just one bill at the end of the month. And while you probably won't be able to get everything you want on a single bill, there are a few services out there that allow you to consolidate your billing while providing a nice interface to see everything you're subscribed to.
Amazon Prime Video Channels requires a Prime subscription, but it has an extensive selection of services, many of which aren't available elsewhere.
The Roku Channel added the ability to subscribe to select premium channels in early 2019. While technically available on several platforms, it's most useful if you're using a Roku streaming device.
Apple TV Channels is the latest aggregator, and is great for those fully embedded in the Apple ecosystem.

13. Does your mobile phone service provider offer a free streaming service?
The big wireless companies started bundling video streaming services with their plans a couple years ago, and if you're not taking advantage of what's already available to you, you're missing out big time.
T-Mobile One and Magenta subscribers get free access to Netflix's single-stream plan, or they can upgrade to Netflix's two-stream plan for just $2 per month.
Sprint unlimited subscribers get access to Hulu's ad-supported plan. Unfortunately, there's no option to upgrade to the ad-free plan and save money.
AT&T unlimited plan subscribers get access to AT&T's Watch TV, which includes 35 live TV channels. (Non-AT&T customers can subscribe for $15 per month.) AT&T's premium plan includes a subscription to one of seven different premium streaming video and music services.

14. There are tons of free streaming services
There are hundreds of free ad-supported streaming video services available. If you already have a streaming device, take some time to get lost in what's available for free and test it out before fully cutting the cord and switching to more paid on-demand services. Some of the free ad-supported video sources include:
YouTube, a massive repository of both professional and amateur videos spanning nearly every category of video content.
The Roku Channel, available on web browsers, but best experienced on a Roku device, includes series and films with intermittent ad breaks.
Vudu offers a selection of free ad-supported films that change every month.
Crackle has partnerships with several big movie and television studios, and it's developed some of its own originals as well.
Pluto TV includes a selection of live streaming channels and on-demand films and series.

15. And when that's not enough, you can always make a digital purchase or rental
If there's a show or movie you just can't find available for streaming, you can always make a one-time payment for a digital purchase or rental. There are several digital video stores, the most popular being Apple's iTunes, Amazon, and Google Play. A digital rental can cost as little as $0.99 and a purchase might only be a few dollars. Canceling your cable may free up some of your budget to make those purchases and enjoy the content you really want to watch.

Are you ready?
There's a lot to consider before making the leap, calling your cable company, and telling them you want to cancel your subscription. If you think you can save some money and enjoy your television time more without cable after making all those considerations, it's time to make the call. If it turns out cord-cutting isn't for you, you can always call them back up and reactivate your subscription, so it doesn't hurt to try it out.

John Mackey, CEO of Whole Foods Market, an Amazon subsidiary, is a member of The Motley Fool's board of directors. Suzanne Frey, an executive at Alphabet, is a member of The Motley Fool's board of directors. Adam Levy owns shares of Alphabet (C shares), Amazon, Apple, and Walt Disney. The Motley Fool owns shares of and recommends Alphabet (A shares), Alphabet (C shares), Amazon, Apple, Netflix, Roku, and Walt Disney. The Motley Fool has the following options: long January 2021 $60 calls on Walt Disney, short October 2019 $125 calls on Walt Disney, short January 2020 $155 calls on Apple, long January 2020 $150 calls on Apple, short January 2020 $155 calls on Apple, and long January 2020 $150 calls on Apple. The Motley Fool recommends T-Mobile US. The Motley Fool has a disclosure policy.