While it doesn't influence our opinions of products, we may receive compensation from partners whose offers appear here. We're on your side, always. See our full advertiser disclosure.
If you're an international student looking for ways to pay for college, here's what you need to know about getting a student loan.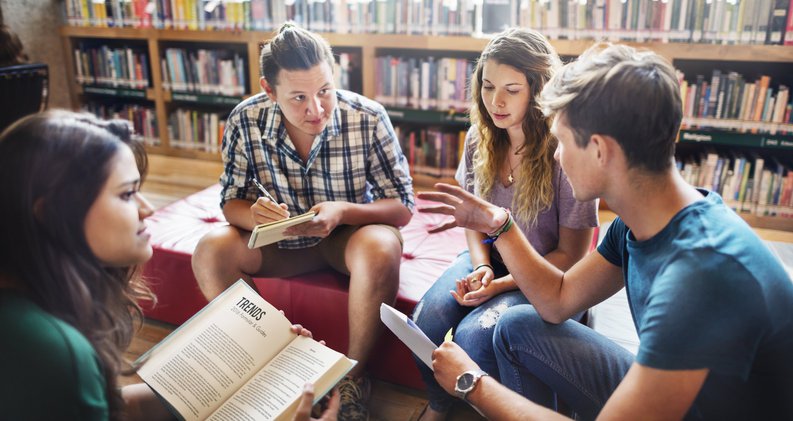 The opportunity to study in the United States is something many international students cherish, but it's also a big financial challenge. Between tuition and the cost of living, coming to the United States to go to school can cost $30,000 or more per year.
While student loans are the most common way to pay for school here, it can be more challenging to get a loan as an international student. If attending a college in the United States is your version of the American Dream, knowing what your loan options are could help you make that dream a reality.
Can international students get student loans?
International students can get private student loans, but they can't get federal student loans, as those are only available to U.S. citizens and eligible noncitizens.
"Eligible noncitizens" primarily refers to permanent residents in the United States and not to international students. If you think you may be an eligible noncitizen, here's a page courtesy of the Federal Student Aid office explaining exactly who fits into this category.
One additional hurdle for international students who want to get a private student loan is that most private lenders will require a cosigner in the United States to approve the loan application. Here's why:
International students don't have a credit file, which is what lenders would check to evaluate an applicant.
International students typically won't have income during their time in school, since you can't get an off-campus job on a student visa (unless you have a qualifying financial hardship).
There's an additional risk with lending money to international students, because they may return to their home country after graduation. This would make it harder to collect if they defaulted.

To be fair, it's not just international students who need to get cosigners for private student loans. Many American students need to do the same because they don't have the credit score and/or income to qualify on their own.
Not all private lenders require a cosigner for international students. There are some that offer student loans specifically for international students without the need for a cosigner.
How to get a student loan as an international student
To get a private student loan as an international student, this is what you'll need to do:
Estimate what your costs will be to determine how much you need to borrow.
See if you can get a cosigner.
Compare loan options through different private lenders.
Fill out a loan application with your lender(s) of choice.

Now let's take a closer look at each of these steps.
You can use student loans to pay for all kinds of costs, but you need to know approximately how much those costs will be before you apply for any loans. Here are the main expenses you'll need to include in your calculations:
Tuition and course fees
Room and board
Textbooks
School supplies
Food
Health insurance

I'd recommend that you start by deciding whether you'll live on- or off-campus. Living on-campus tends to be cheaper and makes it easier to calculate your cost of living, because you'll have fewer expenses to worry about.
If you live off-campus, you'll likely need to pay for electricity, internet, and other utilities, whereas those would be included if you lived on-campus. Living on-campus also means much lower transportation costs.
Schools typically provide cost-of-living estimates for students. You can access this on your school's website, and it makes it much easier to get a realistic idea of your future expenses.
This is the time to comb through any connections you or your family may have to try to find a cosigner on your student loans.
While there are private lenders that don't require this, you'll get the best deal on a loan if you have a cosigner with a high credit score.
Your cosigner will need to be a U.S. citizen or permanent resident. If you know anyone who will cosign your loan, this could save you a lot of money by getting you a lower interest rate.
Your lender options here will depend on whether you found a cosigner for your loan application.
If you have a cosigner, then you can apply with any private lender. To help with picking one, we've compiled a shortlist of the best student loan providers. On each provider's website, you can see what kind of loan options they have available. You can also use the provider's prequalification tool to see the loan terms they could offer you. Keep in mind that to use this tool, you'll need to enter your cosigner's personal information.
What if you don't have a cosigner? In that case, you'll need to shop around with lenders that offer student loans for international students without a cosigner. Three popular options are:
Stilt
Prodigy Finance
MPOWER Financing
After selecting a lender, you can apply for your student loan online. The loan application will ask about your school, your personal information, and your financial information. If you're applying with a cosigner, their personal and financial information will also be required.
Depending on how much money you plan to borrow and the lending limits of each student loan provider, you may need to get student loans from multiple providers.
Do international students pay out-of-state tuition?
Depending on the school, international students usually must pay either the out-of-state tuition rate or a higher international rate.
There are some exceptions, though. Some colleges offer in-state tuition to all international students, and there are also schools that offer the in-state tuition rate to international students who receive a minimum scholarship amount.
Can international students get financial aid?
Although international students can't receive financial aid from any federal programs, they may be eligible for aid from the state where their school is located and from their school itself. They can also apply for any scholarships that they qualify for, and there are many scholarships exclusively for international students.
To see what financial aid options are available to you as an international student, contact your school's financial aid office.
Paying for school as an international student
When you're an international student, going to college in the United States presents some unique challenges. You can't receive loans or financial aid through the federal government, and it can be harder to qualify for student loans with private lenders. On top of that, there's the huge adjustment that comes with living in a new country.
That being said, it's entirely possible to come to the United States and get the financing you need for your education. After all, there are over 1 million international students who have managed to do so.
Try to pay for as many of your expenses as possible through your own college savings, scholarships, and any support your family offers. To cover the rest, you can apply for private student loans either with a cosigner or through lenders that don't require a cosigner.
Bonus read: Are you an international student? See The Ascent's list of the best credit cards for international students.
None