Growing Your Career in the Modern Workplace
Around the world, the nature of work is permanently changing. While it was once normal to work for one company for decades and retire with a pension (and a gold watch), changing preferences among workers and employers have made this career trajectory unimaginable for most workers.
Advances in technology have resulted in even more dramatic shifts in the labor market, affecting everything from available jobs to traditional geographic limitations. At the same time, worker preferences have changed, with employees demanding more meaning from their work -- even if it comes at the price of stability.
The COVID-19 pandemic only accelerated these trends, forcing employees and companies across all ages and demographic levels to develop new paradigms, including working remotely. Amid this rapidly changing landscape, workers must embrace new techniques, new technologies, and new skills to get ahead in the workplace.
To help employees excel in the modern workforce, let's take a look at some crucial changes in the labor market, the technologies that brought us here, and what the future holds.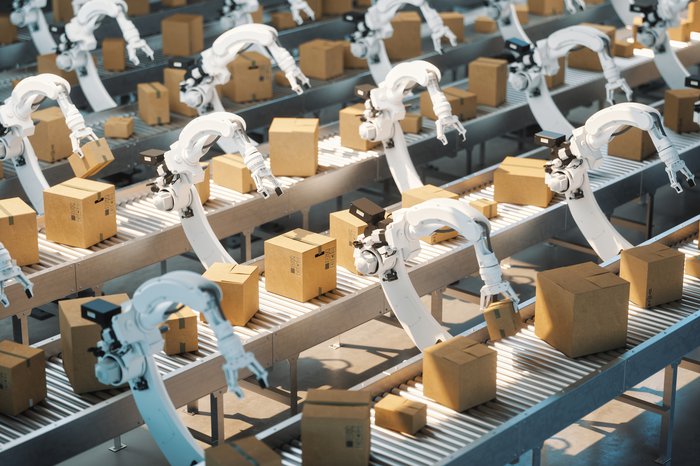 Automation has eliminated many traditional positions
In 2020, the World Economic Forum announced in its Future of Jobs Report 2020 that a shocking 85 million jobs would be displaced by automation and the COVID-19 pandemic within the next five years.
The jobs are not distributed evenly across all sectors of the economy. As The Motley Fool's recent report on workplace automation reveals, the rapid advances in automation will affect both blue collar workers and professionals. The research also revealed the most affected career fields will include sales, office and administrative support, and production occupations.
Lower-paid workers are likely to be most affected -- and least likely to be able to shift career paths. The median hourly wage is just $14.26 in jobs susceptible to automation. Three of five employees in threatened positions lack a college education. By contrast, 90% of workers with graduate degrees and 75% of bachelor's degree holders work in jobs unlikely to be affected by automation. Workers in more stable, professional positions earned a median hourly salary of $22.06 in 2020.
The jobs expected to see the largest declines include the following:
Data source: The Motley Fool

| Industry | Decline in Employment From 2020 to 2030 | Percentage Decline | Median Annual Wage in 2019-2020 |
| --- | --- | --- | --- |
| Sales and related occupations | -202,900 | -1.40% | $31,500 |
| Office and administrative support occupations | -539,200 | -2.80% | $38,720 |
| Production occupations | -39,000 | -0.40% | $37,440 |
Sales and related-occupations
Cashiers, with a median annual wage of $25,020 in 2020, will see an estimated loss of 336,000 positions, making people in this job the hardest hit of any category. Retail supervisors (median annual wage of $41,580), retail salespersons ($27,080), and telemarketers ($27,920) are expected to lose thousands of positions each.
Office and administrative support
By 2030, there will be 156,900 fewer secretaries and administrative assistants working outside of the legal, medical and executive field. The office support positions had a median annual salary of $38,850 in 2020. Executive secretaries and administrative assistants will also see 100,600 positions disappear. These are jobs offering a median annual salary of $63,110 in 2020 -- well above the national average.
Bank tellers are expected to lose 73,100 positions. The number of office clerk jobs will likely fall by 60,400. Another 48,100 jobs for bookkeepers, accounting, and auditing clerks are predicted to disappear. The positions paid a median 2020 annual salary of $32,620 for tellers, $35,300 for office clerks, and $41,410 for bookkeepers, accounting, and auditing clerks.
Telephone operators, data entry keyers, switchboard operators, and legal secretaries and administrative assistants also will lose thousands of jobs as well, with these professions seeing the fastest declines in the coming decade.
Production workers
Miscellaneous assemblers and fabricators, with a median annual salary of $33,550 in 2020, will lose around 84,600 positions. There will be 68,100 fewer inspectors, testers, sorters, samplers and weighers by 2030. Workers in these positions had a median annual salary of $40,460 in 2020. Another 40,600 positions for shipping, receiving, and inventory clerks are expected to vanish, leading to a loss of jobs that paid an annual salary of $35,260 in 2020.
Other production workers expected to be replaced due to automation include timing device assemblers and adjusters and print binding and finishing workers, with each seeing some of the fastest declines of any trades.
COVID-19 is accelerating pre-existing trends
While the trend toward automating work predates the pandemic, COVID-19 has accelerated the shift. In fact, the Brookings Institution identified three primary reasons companies are increasingly embracing new technologies, including:
The COVID-driven recession is prompting firms to decrease costs.
Reshoring, or bringing manufacturing and services back to the U.S. from overseas, has increased labor costs and pushed more organizations toward automation.
Social distancing and health precautions have encouraged businesses in certain fields to turn to technology, especially for food preparation, packaging, and service.
The pandemic prompted workers to alter their career paths as they reevaluated life priorities. In fact, The Motley Fool's recent research indicated 20% of Americans changed jobs since the start of the pandemic, with two-thirds of workers citing the pandemic as the reason for their career shift. This trend is not abating; more than 4.3 million workers quit their jobs in August 2021 alone.
Worker resignations and employees' changing priorities have resulted in a tightening labor market, which only serves to further encourage companies to automate.
Worker priorities are shifting
While automation may well result in the displacement of hundreds of thousands of workers in the coming decades, it was not the primary driving force behind pandemic-related job changes. Instead, many workers voluntarily left jobs -- with 58% taking a pay cut -- in search of a better work-life balance or due to concerns about career opportunities or issues with workplace culture.
A full 42% of workers who changed jobs did so to achieve a better work-life balance. Another 41% sought a higher paycheck. A desire to explore new career paths, dissatisfaction with current work culture, and concern about lack of career opportunities were also leading causes of career shifts, influencing more than one-third of people who left their jobs.
Many job-hoppers were highly-skilled professionals, among those least likely to see their jobs replaced by technology. Eight percent of people who left their employers worked in management jobs, and another 7% had business and financial occupations. Specialists in computer and mathematical positions, as well as healthcare jobs, were also overrepresented. Most people who changed positions -- 77% -- had at least five years of work experience.
Younger professional workers were especially likely to make a career change, including 55% of millennials with more than five years of career experience. More than one-third of millennials are planning to look for a new job once the pandemic subsides. Members of Gen Z were also over-represented among career-changers, while Gen Xers and baby boomers changed jobs at a lower rate.
Higher earners were also far more likely to shift careers in search of better pay, benefits, or work-life balance, with more than 50% of employees earning $150,000 or more citing these issues as reasons to leave their job. Fewer than 40% of workers earning $25,000 or less said that pay, benefits, or better work-life opportunities influenced their decision.
The pandemic also forced lifestyle changes for many people, which may explain why women -- millions of whom are shouldering the burden of childcare -- were 10% more likely than men to have made career changes.
Gig vs. in-house work
Workers are willing to develop new skills, but few want to switch between gig and contract work. Employees in search of new opportunities demonstrated a willingness to go the extra mile to open up new doors, with 61% of career-changers receiving a new industry-recognized credential as part of their efforts to find new employment. A full 67% improved their skill set without employer help.
Most, however, were not interested in changing the nature of their work environment by shifting between gig work and in-house positions. Only 19% left in-house positions for gig economy or contract jobs. Slightly fewer workers -- 18% -- transitioned from gig work to an in-house position.
Male workers were more likely to acquire new credentials than female workers, and younger employees were significantly more likely to do so than baby boomers. Still, the fact that the majority of employees who changed jobs took this initiative suggests a strong drive to improve their work situations.
The labor market is changing for good
As automation irretrievably alters the types of positions available to workers, employee preferences are also likely to form permanent shifts in workplace cultures.
Workers must develop the skills necessary to transition into positions where automation is not an option, while companies will need to adapt to a new class of professional workers seeking more control over their career trajectories and demanding a workplace culture that prioritizes family, flexibility, diversity, and opportunities for advancement.
Employees during the pandemic have clearly demonstrated a willingness to go the extra mile to find meaningful and rewarding work. They are poised and ready to take advantage of unprecedented changes in the labor market if given the tools to do so.