Since its IPO in June, GoPro (NASDAQ:GPRO) has received a good deal of publicity in the investing world thanks to its innovative products, scrappy founder and CEO, and what appears to be a premium valuation. Here is a background of GoPro's strategy, looking past the short-term hubbub, and why the company is worth a second look from Foolish investors. 
Wearable technology before it was cool 
GoPro has been developing wearable technology devices "before they were cool." Nick Woodman developed the first GoPro camera in 2004; it was a film camera that could conveniently be strapped to a person's wrist, allowing users to easily snap a photo of memorable moments (including those underwater) on the go. GoPro's camera design evolved into what is today an incredibly versatile wearable/mountable HD video device. 
Like some others, I initially perceived GoPro as a company developing and selling a commoditized product (video cameras), but GoPro is much more than that. GoPro is as much a content and media company as it is a hardware company. GoPro's lightweight HD devices ("capture devices") and content management/sharing platform -- through GoPro Studio and the GoPro App -- enables users to capture, edit, manage, and share high-quality video of just about any activity.
GoPro's underlying focus is to eliminate the pain points of capturing, managing, creating, and sharing video content. In other words: GoPro wants it to be a frictionless process for anyone to capture great video footage, easily (and quickly) edit that footage, and share that footage with others.  
GoPro's three-pronged strategy
GoPro's strategy starts with and hinges on the development of new capture devices, with specific innovations in mind for technologies such as sensor and digital signal processing and custom lens, audio, battery, and accessory design. Simply put, GoPro relies on providing small, versatile, and powerful cameras that can capture video in high definition.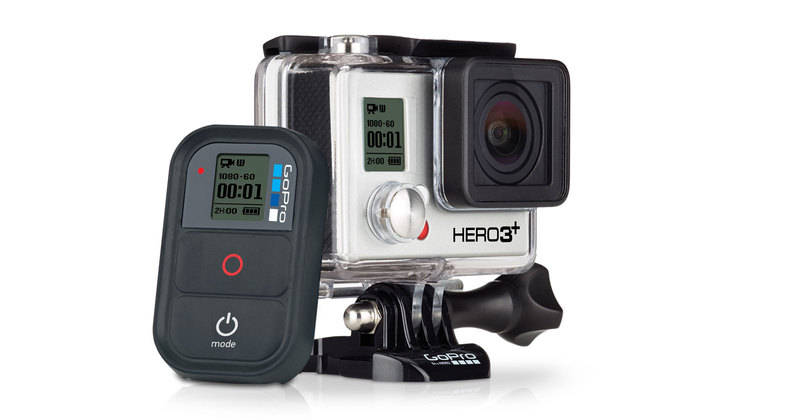 However, GoPro not only designs superb versatile cameras that allow people to capture special moments in high resolution (whether it be skydiving, a POV of a pelican's first flight, a toddler's first steps, and everything in between), the company also provides a platform for users that enables quick and easy content management, editing, and sharing capabilities.
The second component of GoPro's strategy is developing and simplifying its content management, editing, and sharing solutions for users through GoPro Studio and the GoPro App. GoPro acquired General Things, a web and software development firm, in October 2013, bringing new insights into software to assist these developments.
This content editing and sharing capability helps establish GoPro as a platform and network for its users, rather than only providing a commodity product. GoPro Studio was installed by more than 850,000 users in the second quarter of 2014, during which time the GoPro App was also downloaded 1.6 million unique times. An average of 20,000 videos per day are exported by users on GoPro Studio, and more than 6,000 videos uploaded to YouTube each day are tagged GoPro.
"How do you get millions of people on your platform sharing compelling content and giving you credit for it? You build GoPro." -- Nick Woodman, GoPro founder and CEO 
The third and most recent strategic development is the creation of GoPro Network, a media platform to share both original content (such as mini-documentaries filmed with GoPro devices) and the best content uploaded and shared by GoPro users. In early 2014, GoPro entered into an agreement with Microsoft to develop and launch the GoPro Channel on Xbox Live, and it also became a platform partner with Virgin America.
Founder and CEO Nick Woodman says GoPro aims to "leverage our customers as the world's largest production force." This "production force" includes amateurs (the vast majority of us) as well as professionals. There is even a GoPro Film School, launched in 2013, which teaches people how to shoot, edit, direct, and effectively gain exposure (through social media outlets) with their GoPro videos. 
"Our customers are the best storytellers in the world. And we have this phenomenal opportunity to build our media business on top of that, and leverage our customers as the world's largest production force." -- Nick Woodman 
The GoPro channel launched on Xbox Live on July 22, 2014, and it had over 500,000 downloads in less than one month, with an average engagement time of nearly 30 minutes in the U.S. Keep in mind that GoPro cameras are already used in more than 70 TV shows.
The Foolish bottom line
GoPro is much more than a video camera company. GoPro is a platform for people to capture, manage, and share their passions and experiences. The GoPro Network represents the beginning of a very exciting opportunity for GoPro to further leverage the incredible content generated by its users, such as this: 
GoPro is empowering hundreds of thousands of "content creators," expanding its platform to enable easy editing and sharing for GoPro users, and is now developing its social media and overall media platform to further spread the content (all of which serves as an advertisement for GoPro cameras, thus reinforcing the cycle of content creation with GoPro). In my next article, I take a deeper look at GoPro's user engagement and the company's opportunities in the media market.