A hip taco joint closed suddenly in Huntington Beach, Calif. earlier this month. The news would be unremarkable expect for the fact that the U.S. Taco Co., as the restaurant was called, was owned by Yum! Brands' (YUM 1.70%) Taco Bell. The pilot project was the chain's latest attempt to tap into the fast casual Mexican market pioneered by Chipotle Mexican Grill (CMG -0.33%) and garner favor with millenials.
Despite its financial backing, prime beachside location, and alluring design, the restaurant folded barely a year after opening, and its failure sheds light on the long list of would-be Chipotles in the market, as well as Taco Bell's own aspirations in fast casual. Let's take a closer look at the rise and fall of U.S. Taco Co.
Surf's up
At first glance, U.S. Taco Co. seemed to have everything needed to be a hit with the hipsters. 
The restaurant featured creative menu items like ghost chile ketchup, while the tacos were inspired by iconic American meals like the Philly cheese steak, the lobster roll, and fried chicken.  Milkshakes with flavors like Friggin' fried ice cream, specialty sodas, and alcoholic drinks accompanied the tacos, and it was all served at the counter fast casual-style in a space surrounded by Mexican day-of-the-dead themed decor. 
The restaurant was targeted at a demographic that normally eschews fast food, and the concept did win over some fans.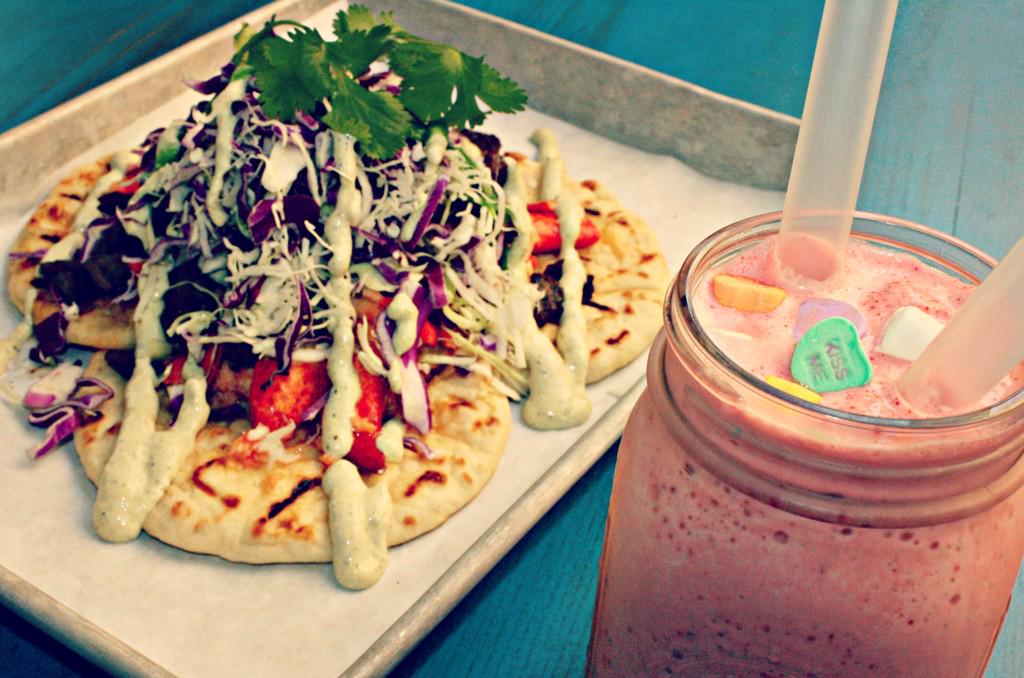 Some raved over the drinks served in mason jars, while others loved the unique taco flavors, and the restaurant rated a respectable 4 stars at Yelp.
Ultimately, however, it ran into two significant problems that brought about its undoing. 
Good idea, bad execution
While U.S. Taco Co. seemed like an excellent idea for a number of reasons, the implementation of the concept left something to be desired. Unlike Chipotle, which focuses on locally and organically sourced food, U.S. Taco Co. imported its food from the parts of the country that best represent them. For example, brisket from Texas and lobster from Maine.
For some patrons, this left something to be desired in the flavor department. Some said the tortillas were bland and complained about the Velveeta-like nacho cheese, and others said much of the food tasted frozen and comparable to components offered at a standard Taco Bell. 
Finally, there were a number of complaints that prices were too high for the size of the portions, which ranged from $3 to $10 for just one taco.   
No half-stepping
This isn't the first time a Taco Bell attempt to match up with Chipotle has come up short. Taco Bell's Cantina Bell menu, released in 2012, was supposed to be a Chipotle killer according to hedge-fund manager David Einhorn, and even led to a dive in Chipotle's stock. But reviews of the more upscale menu have been mixed, and based on Chipotle's growth since, it's clear that Cantina Bell has done nothing to slow the fast casual leader's momentum.
The difference between Chipotle and Taco Bell and the reason for U.S. Taco Co.'s demise lies in the two companies' DNA. Chipotle has increasingly staked its brand on Food with Integrity, and its kitchens proudly contain no microwaves, can-openers, or freezers. That's not the case for Taco Bell, and it means that any attempt it makes to wade into Chipotle's fresh, fast-casual territory will carry the baggage of its parent brand. After all, this is the chain that may best be known for the Doritos Loco Taco. While that's been a popular, tasty treat, it's targeting a much different customer than Chipotle.
Taco Bell made waves through the fast food industry again when it said it would begin serving alcohol at a few stores, and analysts once again offered up the same halfhearted comparisons to Chipotle. The Taco Bell Cantina will feature beer, wine, margaritas and other drinks, and tapas-style appetizers in addition to Taco Bell's regular drive-thru menu. While the Cantina chain, which is expected to grow to ten locations by the end of the year, may find its audience, one thing has been made clear by Taco Bell's past misadventures.
It isn't going to beat Chipotle at being Chipotle.