The sports and fitness space has been a lucrative one for investors in recent years. The so-called "athleisure" trend has caused a rising tide throughout the industry benefiting athletic apparel companies as workout clothes have become more accepted in day-to-day life. Stocks like Nike (NKE -1.02%) and Under Armour (UAA -5.12%) have crushed the market over the last few years as they've ridden the athleisure wave. Meanwhile, other apparel companies like jeans sellers have struggled.
Two of the more talked-about names in the sector are Fitbit Inc (FIT) and Nike. From an investing standpoint, the two companies could hardly be more different. Fitbit, the maker of the eponymous activity trackers, debuted on the public markets less than a year ago, and it has been on a rocky road since. Nike, meanwhile, has been the dominant sports brand for a generation now, and it carries a market cap of $100 billion as evidence of its success.
Let's take a closer look at these two stocks to determine which is a better buy today.
On the wearables frontier
Founded in 2007, Fitbit was one of the pioneers in the wearable technology, and it's grown to be the No. 1 seller of wearables, fending off threats from titans like Apple in the process. According to research company IDC, Fitbit commanded a leading 29.5% share of the wearables market in the fourth quarter. Still, Wall Street has been largely unimpressed with the stock since its IPO.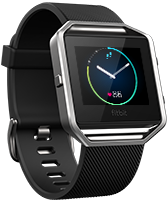 After going public at $20 last June, the stock quickly spiked to $51 in August before sliding on concerns about its future growth prospects. Shares tumbled on its recent earnings report when the company projected just breakeven earnings for the current quarter as it transitions to its new Blaze smartwatch and Alta wristband. For the full year, however, Fitbit still expects revenue to increase by about a third from 2015, but that's down sharply from 150% growth last year, indicating that the market could be fast maturing. 
Still, a number of risks remain for the company. Demand for fitness trackers could fall as the market gets saturated, and already, signs indicate that purchase intent is dropping. Fitbit could also fall behind a company like Apple, which clearly aspires to be the market leader, or technology may simply render the fitness tracker obsolete. Already, smartphones include pedometers and other such features borrowed from fitness trackers.
Where the swoosh is headed
Nike shares hit an all-time high last fall, but shares have retreated 15% since then as Under Armour's footwear sales have surged and as Nike has become embroiled in a bribery scandal in Kenya. General market weakness has also pressured the stock.
The company's bona-fides hardly need repeating. It's a global brand powerhouse and the biggest footwear seller in the world, counting running and basketball as its two strongest categories. In addition to its flagship logo, it also counts the Jordan brand and Converse as major revenue streams in its brand family. Last fall, it set an ambitious goal of hitting $50 billion in revenue by fiscal 2020 since it's well on its way to bagging its previous goal of $36 billion in revenue by 2017. The company is targeting growth avenues that include women's, digital sales, and the Jordan brand.
Under Armour, the new kid on the block, represents an increasing threat to Nike's dominance. Under Armour's footwear revenue nearly doubled in its most recent quarter, largely due to the popularity of NBA superstar Stephen Curry. Even with that impressive growth, Under Armour only brought in $678 million footwear sales last year, which pales in comparison to Nike's more than $18 billion in shoe revenue.
According to recent industry data from SportsScanInfo, Nike footwear growth remains robust, increasing by 23% in a recent week. 
Shares may be expensive at a P/E of 28, but Nike is a proven winner, and it has global reach and brand strength that should help insulate it from Under Armour's threat.
And the better buy is...
Nike and Fitbit are vastly different stocks. Fitbit is more likely to attract risk-seeking investors, while investors looking for a steady, dividend-producing stock would favor Nike.
Of the two, Nike has to be considered the better buy. While Fitbit may be the more exciting of the two, and better positioned than Nike for a short-term pop, the risks it faces are many, and the young company's long-term viability depends on just a single product line. Other tech companies have quickly popped and fizzled out -- just look at GoPro these days. Nike, meanwhile, has only strengthened its grip on the sports world over the last three decades. It's shown itself to be a master marketer and innovator, and with the athleisure trend at its back, the stock should continue to move higher. For a solid long-term bet, Nike is the way to go.