For the past 10 years, Shoe Carnival (NASDAQ:SCVL), a family footwear retailer, has grown its top line at a faster pace than its larger peer Brown Shoe (NYSE:CAL). Shoe Carnival has expanded its revenues by a 10-year CAGR of 4.7% from $590 million in 2005 to $885 million in 2014, while Brown Shoe has increased its sales by a comparatively lower annualized growth rate of 3.2% to record $2.5 billion sales in 2014.
Having delivered record revenues of $885 million in fiscal 2014, Shoe Carnival has made considerable progress with respect to its near-term goal of $1 billion sales. Looking ahead, it has also has set its sights on doubling its current store footprint to 750 stores in the mid-to-long term as it expands nationwide. There are 40 new store openings are in the pipeline for 2014.
Does Shoe Carnival have what it takes to achieve these goals?
Focusing on core customers
Shoe Carnival isn't expanding blindly. It completed a segmentation study in late 2012 to better identify its core customers. Shoe Carnival found that its core customers fall under two big categories: Savvy Families and Fashion Connoisseurs.
Savvy Families make an average of four visits to Shoe Carnival each year and spend about $102.63 per visit. They are money-conscious deal-shoppers, who tend to shop with families, for families. Fashion Connoisseurs are slightly more profitable, generating five annual trips to Shoe Carnival and spending approximately $109.02 per trip. They are brand-loyal impulsive shoppers who are convinced by deals.
Shoe Carnival has responded to the results of the study by emphasizing its value pricing strategy and driving membership growth for its loyalty program, Shoe Perks.
Shoe Carnival has a mic-person stationed in each store. This employee is assigned the role of announcing limited-duration promotions, organizing games & contents to keep customers engaged, and educating customers on merchandising information. This highly promotional shopping "carnival-like" environment helps to further validate Shoe Carnival's positioning as a value retailer. 
Shoe Carnival more than doubled its Shoe Perks membership from 1.4 million in 2012 to 3.1 million in 2013. Targeted mail communications with Shoe Perks members have seen encouraging results.The average Shoe Perks member spent $15 more per transaction compared with a non-member, while Shoe Perks members as a whole accounted for 30% of 2013 holiday sales. Going forward, Shoe Carnival has set a target to double the number of Shoe Perks members this year again.
While Shoe Carnival's primary strategy to extract enhanced sales and profits from its core customers, Brown Shoe leverages on its diversified portfolio of global brands to reach out to the widest customer demographic possible. These include Via Spiga, a chic, sophisticated footwear brand for the cosmopolitan woman sold at price points from $155 to $425, Naturalizer, a family of comfort lifestyle footwear brands with footwear moderately priced between $69 and $199, and Dr. Scholl's, where the entry-level footwear starts from as low as $25.
With its brands covering almost every price points in the contemporary fashion and healthy living categories, Brown Shoes benefits from both sales of high-margin, low-volume premium brands and low-margin, high-volume mass-market brands. Brown Shoe has more pricing power, with premium brands which contribute significantly to its profits while mass-market brands build customer loyalty and keep new entrants in the budget retailing space at bay.
More importantly, if things don't work, Brown Shoe is always ready to make changes. In the past few years, it removed brands such as certain women's specialty and private label brands because either their sales weren't significant or their profitability was too low.
In a nod to Brown Shoe's brand diversification strategy, Shoe Carnival has expanded its brand portfolio by introducing new department store brands targeted at women in a fifth of its stores in September 2013.Given positive feedback and increased sales, Shoe Carnival will be expanding its assortment of department store brands for women in most of its new stores this year.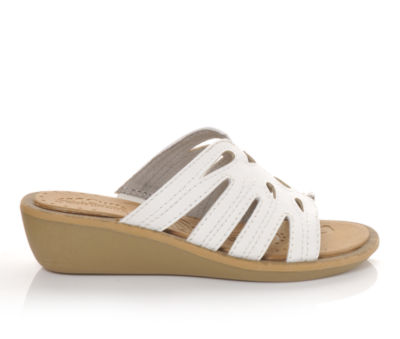 Tweaking its store strategy
Shoe Carnival has traditionally located almost all its stores in open-air shopping centers or strip shopping centers to take advantage of lower occupancy costs and further accentuate its "carnival-like" shopping experience. While Brown Shoe has most of its stores located in strip shopping centers as well, 34% of its 2013 stores are situated in outlet and regional malls.
Possibly taking a leaf out of Brown Shoe's books, Shoe Carnival has tweaked its store strategy by putting new stores in shopping malls to capitalize on the natural traffic in these locations. A quarter of its new stores opened in 2013 were located in malls.
This should help to drive Shoe Carnival's growth as it now has greater flexibility in working with a wide variety of store formats and locations
Foolish final thoughts
Shoe Carnival reported a modest 1.5% revenue growth in the first quarter of fiscal 2015, with severe weather negatively impacting sales in certain of its locations. Notwithstanding, Shoe Carnival witnessed increase in web traffic for its e-commerce site and sales in large cities such as New York City and Los Angeles following its first national television advertising campaign. In my opinion, Shoe Carnival remains on track to reach the $1 billion sales mark in a year's time as it enters new markets such as Miami and Florida in the second quarter ended May 2014.