Get our 43-Page Guide to Real Estate Investing Today!
Real estate has long been the go-to investment for those looking to build long-term wealth for generations. Let us help you navigate this asset class by signing up for our comprehensive real estate investing guide.
If you have the real estate bug and want to make it your main earner, you have a lot of options. None of them are easy, but if you choose a path that builds on your strengths and are willing to hustle, you can make your way to a larger net worth and rewarding work.
There are several ways to make a living out of real estate, all of which require different levels of capital investment, skills and knowledge. Broadly speaking, they can be broken down into the following groups: buying a property to develop and/or rent out; buying, selling or managing properties for other people; or going the whole hog and building properties from scratch.
Investment properties 
If you want to make a career or build a business through property investment, you'll need to be patient. It can take some time for the property to appreciate in value, and it may take some time to accumulate cash flow as well. 
In order to start a real estate investment business, you've got to have capital to purchase the property, at least for a down payment, working capital to maintain it or renovate if needed, and sometimes cash to sell it, too. 
There are two ways to invest in property: flipping it quick, or buying and holding it for the long term, usually as rental property.
Rental property 
Level of investment: Medium (varies, usually 20% - 25% of the purchase price)
Personality type: People person who is nimble and adaptable
If you're interested in purchasing a rental property, you've got to run the numbers and treat each one as its own individual business. 
Unlike when buying a piece of residential property that you will live in, for which you would run sales comparables on a per-square-foot basis to determine the value, you would use a series of other metrics to determine whether a rental property is a good investment:
What are the expected gross annual rents?
Will I mortgage the property and if so, what will that payment and other expenses, such as maintenance, vacancy, and utilities cost me?
What is my net operating income going to be? 
There are several different types of rental properties you could purchase:
Each one of these asset classes has different specifications and different considerations for evaluation, but you'll use a few metrics across the board for all categories to determine if the property is a sound investment:
If you mortgage the property, your bank or private lender may also want to know your numbers for these metrics and how much of a cushion you have in case things don't go as planned (such as if a recession throws your income down). To learn about getting started, seek local investor groups and attend meetings. Get first-hand experience from other landlords and take up a mentor who can help you navigate all of the potential pros and cons.
You'll also want to think about gathering as much information as possible in order to manage expectations about what owning property is like by asking professional and expert landlords to mentor you. Ask if you can join site visits, participate in meetings and shadow them so you can see the day-to-day challenges and duties of their role. 
You may choose to interview a few property managers: what is their average day like? How many visits will they make to a property in a week? Are they licensed in construction, real estate sales, or do they have other specialized expertise? Having a property manager you trust can alleviate some of the issues that may arise with rental property investing. 
Joining a local real estate investing association or group can help you meet other rental property investors who can help you gather resources on contractors, lenders, property managers, and more.
Fix-and-flip
Level of investment: Medium 
Personality type: Go-getter with local knowledge and understanding of construction and sales
Flipping is another real estate investing business, which involves buying an undervalued property and improving the value quickly through substantial renovations. 
Fix-and-flip businesses are difficult because you have to know your market, even at a street-by-street level, extremely well. Construction costs often go over budget because sometimes you simply don't know what you're getting into until you open up the walls.

Making money this way requires careful analysis on a micro level. 
Let's take this example:
You buy a property for $200,000 that needs $100,000 worth of work. When the work is completed, you hope the property will be worth $425,000. In addition to the renovation, you have the following expenses:
Assuming everything goes to plan, after subtracting your expenses from the selling price, you'd have a pre-tax profit of $83,000. This would be taxed at ordinary income rates unless you have owned the property for at least one year and one day, in which case they are taxed at capital gains rates. 
Managing contractors isn't always easy, especially if you're new to it. One of the risks, especially if the construction work overruns, is that the selling market could soften between the time you buy a property and the time you sell it. You also have to buy properties at a very low price in order to make money, and it may be hard to find those deals in a hot sellers' market. 
Financing fix-and-flips may also require that you engage a private, or peer-to-peer lender. Traditional banks are sometimes gun shy about financing construction projects, particularly since the 2008 recession. 
Private lenders will finance at high loan-to-cost ratios, even as much as 100% of acquisition and 90% of construction costs, but charge high origination fees and interest rates which are dependent on your experience level and the deal itself. 
If you are just getting started, you may want to find a more experienced partner with whom to do your first or second projects while you learn the ropes. As you grow, you could develop efficient systems and a consistent stream of cash flow that allows you to flip more than one property at one time. 
Real estate agent or broker
Level of investment: Minimal
Personality type: Diligent, resourceful, analytical -- a people person
A real estate agent is usually licensed by the National Association of Realtors and subsequently can call him or herself a Realtor. They are also often regulated by the licensing bodies of each state. 
While the agent's specialty is as a salesperson, they work for a broker whose job it is to supervise them. An agent must work for a licensed brokerage, whereas a broker can work independently within his or her own business. A broker is usually more experienced and generally has stronger relationships with people in the industry such as lawyers, contractors, and title companies.  
Because the work is commission-based, you can make your own hours and control how much money you make as a real estate agent or broker. The commissions are negotiable, but are typically 5% to 6%. The seller pays this commission to his or her agent or broker, who splits it with the buyer's agent. 
You can specialize in being a buyer's agent or a seller's agent, or do both. A buyer's agent has specific responsibilities such as:
Helping buyers find homes that meet their criteria
Helping connect buyers with financing, title companies, inspectors, and other resources
Helping buyers identify pitfalls and problems with homes 
Negotiating with sellers to meet the buyers' best interests
Seller's agents' responsibilities include:
Helping sellers set a listing price based on sales comparables
Advising sellers on what they can do to get top dollar for their properties 
Holding open houses and scheduling showings for prospective buyers
Negotiating with buyers and then helping the two parties get to closing 
Building a successful real estate agent business is all about networking. You might get your first business from your immediate family and friends. Everyone needs a place to live, and real estate agents can even earn commissions from landlords for helping them put a qualified tenant in their properties. This commission is usually about one month's rent, but can be negotiated down. 
Getting a real estate agent license varies by state, and usually requires a course, passing a licensing test, and keeping that license up to date with continuing education and the endorsement of or affiliation with a broker/supervisor. Your local association of realtors can be an extremely helpful resource to help you get started.
Property management
Level of investment: Minimal
Personality type: Responsive, flexible, project manager who's good at problem solving
There are many property owners who have full-time or other jobs, and prefer not to perform the day-to-day duties of landlording. Instead, they hire property managers.
Becoming a property manager is one way you can earn cash flow from properties without actually having to buy one. Property management firms charge a percentage of rents, usually 8% to 12%, to perform duties such as:
Collect rents
Communicate with tenants
Perform repairs and arrange for experts when needed
File for and conduct evictions
Let's say you you start your own company and manage a property with a tenant paying $2,000 monthly in rent. If you charge a 10% management fee, you'd get $200 to be on call. The more properties you manage, the more efficient you can be with responding to work order requests and showings. Many property managers also charge a fee for placing a tenant that covers the time and expenses involved in showing the property, screening the tenant, and ensuring a smooth move-in. This fee is negotiable, but could equal up to one month's rent. 
Property management is not an easy business. It is your job to field questions and concerns from tenants, and to keep the property running smoothly. You have two masters: property owner and tenant.  Your network can make a big difference in how efficiently you run your business. You need reliable contractors you can call to deal with maintenance issues quickly and for a reasonable price, real estate agents or access to online networks for listing and filling vacant units, a real estate attorney to handle any tricky issues that come about, and potentially an assistant or service to help with accounting. 
You'll also need to ensure you're abiding by any laws that may regulate property managers in your state, including holding security deposits in escrow and respecting your fiduciary duty with property owners.  You can find this information by joining a local professional organization, consulting with an experienced real estate attorney, or consulting with other management companies. 
Land and property development
Level of investment: Heavy
Personality type: Resourceful, confident, analytical project manager
Getting started in real estate development requires patience, collaboration, and money. You're essentially the first one in and the last to get paid, and development projects can take a while to come to fruition. 
In a way, fix-and-flipping is a type of property development: You're creating value out of an undervalued or underutilized asset. But there are other ways to become a developer too, such as:
Buying raw land and building new single family homes, apartment buildings, mixed-use commercial and residential properties, or warehouses.
Redeveloping old buildings for a new use that makes them more desirable and more valuable.
This type of real estate business is risky because it is highly speculative and often involves dealing and negotiating with local planning, zoning, and permit officials. If you purchase a piece of land to put a 10-unit apartment building with a retail store on the first level, you need to be sure that you can get the rents you need to make your money back and then some. 
Your expenses could include:
Civil engineering fees
Architectural design fees
Construction costs
Financing fees and interest
Carry costs (payments made to banks and utilities while you're in the construction and lease-up phases)
Landscaping fees 
In some jurisdictions, particularly if you need to change the zoning or get special permission for the project, it could require public hearings or may be contentious. Also, finding commercial tenants for a development such as a small shopping center requires the use of a competent commercial agent or broker and an intimate knowledge of the market. 
This type of real estate work is for experts because significant financial loss is possible. If you're just getting started, you could consider working for an established developer first to learn the ropes. 
Construction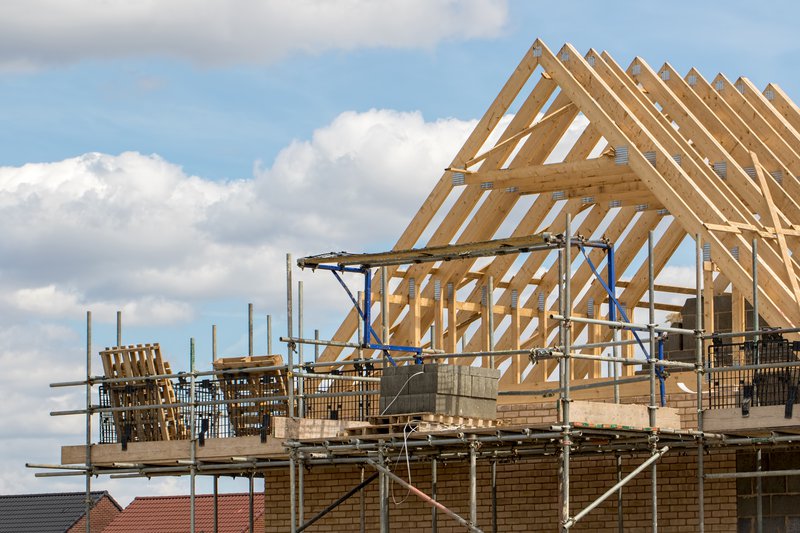 Level of investment: Varies, usually 20% - 25% of a construction loan 
Personality type: Good project manager with technical trade knowledge
If you are good at project managing and can swing a hammer, you could start a construction business working for other investors, developers, and homeowners. 
It's obviously not quite as simple as that. Not only do you need to be a good project manager, but you also need to have technical knowledge to know when things are done correctly and incorrectly, and to code. 
General contractors must have a vast network of tradespeople and other skilled and unskilled laborers in order to get a renovation or major rehabilitation finished. Most states require contractors to be licensed, which requires taking an exam and/or clocking a certain number of apprenticeship hours. 
The Bureau of Labor Statistics reports general contractors, or construction managers, make nearly $100,000 annually, but they usually charge a fee that is a percentage of the overall construction cost.
If a customer hires you as a general contractor, you are expected to put together an accurate estimate for the cost of the job. You can either structure your contracts to be a fixed price, or dependent on time and materials so that if the job goes over budget, it does not cut into your profit margins. 
In addition to being licensed, general contractors also need to be insured for liability. If they employ workers, they should also have workman's compensation insurance. 
General contractors can handle renovations or new construction, but when doing new construction they are usually referred to as builders. Builders may have to maintain a separate license and registration process in your state. 
Before you start a construction business, it would be a good idea for you to work with a couple of general contractors to see what the job is like. You'll see that you not only need experience and qualifications, but knowledge, contacts, and cash to get started. 
Try a few different things 
If you're not sure which real estate business you're most interested in, trying to flip a house or purchase a rental property that needs work can give you a good idea of the roles of different professions in the industry. Ask around and try to embed yourself with people who work in these businesses now, especially if they'll let you observe them doing the work. 
This is just a taste of your career options in the real estate world. If you're just getting out there, it's a good idea to read as much as you can about the profession you're interested in, and seek courses and qualifications that may support your new career.
At the end of the day, take your time. Real estate should be fun and you should make money. Choosing the right facet of the business based on your interest and knowledge base will give you the best chance at success.
Got $1,000? The 10 Top Investments We'd Make Right Now
Our team of analysts agrees. These 10 real estate plays are the best ways to invest in real estate right now. By signing up to be a member of Real Estate Winners, you'll get access to our 10 best ideas and new investment ideas every month. Find out how you can get started with Real Estate Winners by clicking here.