If you're trying to get a sense of where you stand financially, your net worth is a great place to start. While not a be-all, end-all indicator, your net worth can have some value in measuring your financial health. Needless to say, you're more than your net worth; however, some find it helpful to dig a bit deeper into their number to see how they can improve.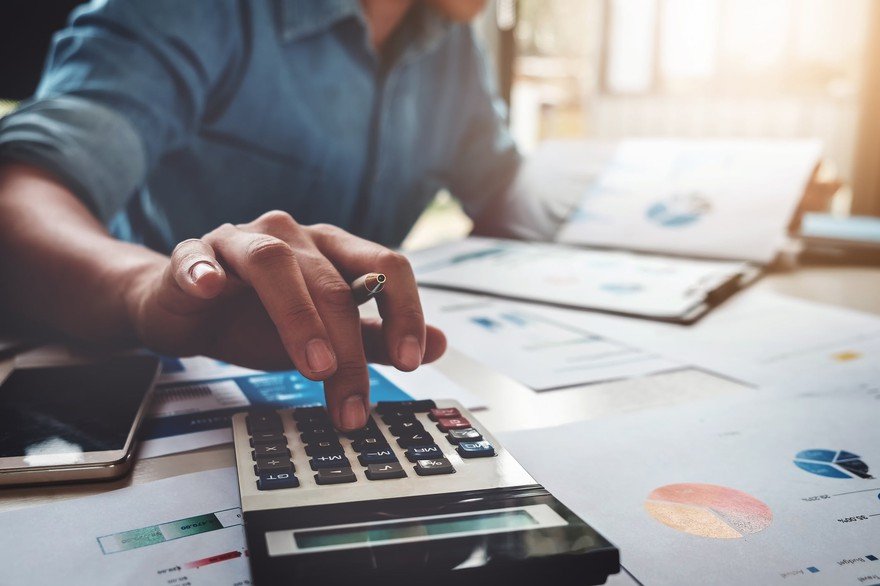 Image source: Getty Images.
Here, we'll review what net worth is and how to calculate it and look at how your net worth compares to people in similar circumstances. Then, we'll work through some frequently asked questions surrounding the subject.
What is net worth?
What is net worth?
Net worth is the difference between what you own (cash, stock, and other items) and what you owe (your debts and other liabilities). Another way to describe net worth is the excess of your assets over your liabilities. Your net worth can be positive or negative.
An asset is a resource used to hold or create economic value.
An asset is something from which you gain some future economic benefit. In the case of cash in a savings or checking account, you receive both interest and the option to spend. With stock, you own the right to your share of the company's future dividends.
A liability, on the other hand, is the opposite of an asset. It represents a future sacrifice of economic benefit. Debts like credit card balances, car loans, mortgages, and student loans count as liabilities.
The more your assets exceed your liabilities, the greater your net worth. However, if your liabilities greatly exceed your assets, you're likely in some form of financial trouble.
Calculating your net worth
Calculating your net worth
Calculating your net worth comes down to adding up all your assets, then all your liabilities, and finding the difference between the two. It's really just that simple.
To calculate your net worth, you can either write it out by hand, use sophisticated software, or choose an in-between method. Some people prefer a more manual approach, while others like a computer to automate things for them.
Try our very own net worth calculator to see where you stand. Some examples of common assets and liabilities are listed in the table below.
Examples of common assets and liabilities.

| Common Assets | Common Liabilities |
| --- | --- |
| Estimated home value | Home mortgage principal |
| Investment portfolio (stocks and bonds) | Student loan debt |
| Savings accounts or CDs | Credit card debt |
| Home contents | Personal loan balances |
| Jewelry | Tax debt |
| Owned vehicles | Car loans |
These are just some of the many assets and liabilities that exist. Depending on the totality of your life and its related complexity, you may have more or fewer assets and liabilities than someone in a similar scenario. Read on to see how you might compare to others in the same age range.
Compare your net worth
Compare your net worth
Based on data gathered by the Federal Reserve via its 2019 Survey of Consumer Finance, net worth varies across a few key dimensions: age, ethnicity, and education level. Check out the tables below to see how different net worth numbers are associated with these variables.
Net worth by age.

| Age Range | Average Net Worth | Median Net Worth |
| --- | --- | --- |
| Under 35 | $76,300 | $13,900 |
| 35-44 | $436,200 | $91,300 |
| 45-54 | $833,200 | $168,600 |
| 55-64 | $1.17M | $212,500 |
| 65-74 | $1.21M | $266,400 |
| 75+ | $977,600 | $254,800 |
On the subject of net worth by age, there's more to the table than just the numbers. First, it's good to know that average net worth tends to skew higher because of the tremendous wealth concentration in the top few percent of households. This boosts the entire average and may cause the average net worth value to look quite a bit higher than the true average.
The median net worth values tend to represent household wealth better. Remember, the median is the value at which half of households have more and half have less.
For those aged 45-54, for example, you might feel behind if your net worth is $200,000 and you see the average as $833,200. In reality, your $200,000 net worth is in the top half of households since it's above the median of $168,600.
Again, if your net worth falls below the average or median, not to worry. This is only one measure of household value, and there are several ways to improve over time.
Net worth by race.

| Race | Average Net Worth | Median Net Worth |
| --- | --- | --- |
| Caucasian (white) | $983,400 | $188,200 |
| Multiracial | $486,800 | $74,500 |
| Hispanic/Latino | $203,300 | $36,200 |
| Black | $146,800 | $24,100 |
As you'll note, the disparity in average net worth and median net worth across ethnicities is vast. This is due to the ongoing effects of generational poverty and systemic issues that have hindered certain groups throughout our nation's history.
Net worth by education level.

| Education Level | Average Net Worth | Median Net Worth |
| --- | --- | --- |
| Less than a high school diploma | $137,800 | $20,500 |
| High school diploma | $305,200 | $74,000 |
| At least some college | $376,400 | $88,800 |
| College degree | $1.52M | $302,200 |
Education continues to play a significant role in average and median net worth. Having a college education is clearly a major factor in the ability to accumulate and conserve wealth over time.
This is all to say that a college degree has numerous follow-on effects beyond just the piece of paper you receive at graduation. A college education often leads to meaningful interpersonal networks, valuable professional contacts, and key life lessons that surpass classroom material.
Higher levels of education, somewhat unsurprisingly, are clearly associated with higher levels of wealth. This helps explain why top colleges and universities have become so competitive in recent years.
The bottom line on calculating your net worth
Your net worth tends to be a better indicator of financial stability than your income alone, as it describes not what you earn but how much you've managed to keep. One way to consistently grow your money is to invest it in the stock market at regular intervals -- this can help your net worth grow even without active effort on your part.
Here at The Motley Fool, we believe long-term, buy-and-hold investing is an effective way to build generational wealth. As with any long-term endeavor, you'll want to get started as soon as possible to take advantage of compound interest and sustainably grow your nest egg.
Check out our resource library today to learn more.
Net Worth FAQs
What should your net worth be at age 30?
There's no true answer as to what your net worth "should" be at any age, but we do have some recent data to get a sense of where most people are. The median net worth of a 30-year-old is somewhere around $14,000; if you have a positive net worth at age 30, you're doing reasonably well.
Remember that most 30-year-olds are still working to pay back costly student loan debt and/or might just be getting started on paying off their first mortgage. These large obligations can drag down your net worth, even if you're earning a fair amount of money at a young age.
Does a pension count toward your net worth?
In the case of pension income in retirement, or the stream of money you receive from a previous employer, your net worth would include only the portion you do not spend. If you were to save a portion of this income, it would be counted as an asset on your personal balance sheet.
On the other hand, if your pension presents as a block of money from which payments may arise, then yes, you can include the entire amount as an asset. Different pension plans have different provisions and withdrawal options, so the degree to which you include pension value as part of your net worth may differ from person to person.
Does net worth include your 401(k)?
Yes, your net worth should include your 401(k) balance. It is considered an asset for purposes of calculating your net worth. If you have any associated loan against your 401(k), however, you would either need to include the loan amount as a liability or decrease your 401(k) balance by the amount of the loan to get an accurate net worth estimate.