Social Security scams target your personal information and your money. They use personal information, including your Social Security number, to open fraudulent credit accounts in your name -- a practice called identity theft.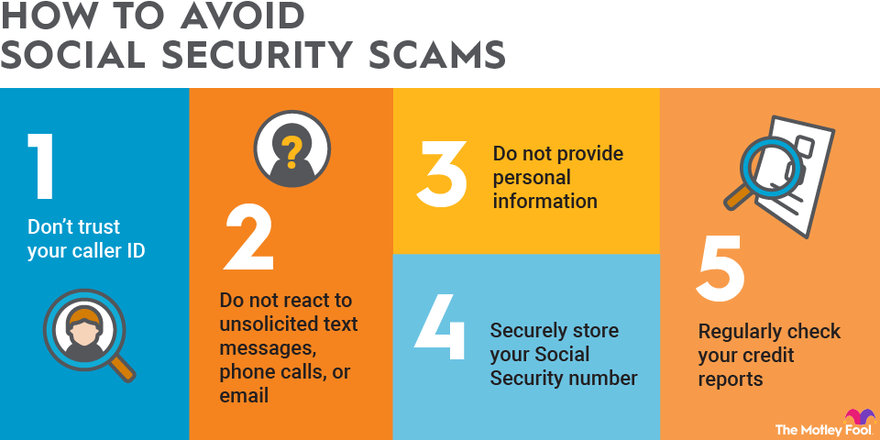 Image source: The Motley Fool
Those credit accounts fund purchases and create unpaid debts in your name. The activity can ruin your credit history, often before you know what's happening.
When money is part of the scam, fraudsters will pressure you to pay up quickly to avoid legal issues or disruptions in your benefits.
Common Social Security scams
Scammers, unfortunately, can be clever and convincing. That's why the best protective step you can take is learning some of their tricks and making yourself more likely to identify fraudulent activity before becoming a victim.
Here are six common Social Security scams:
1. Impersonation scam
Fraudsters may send you official-looking credentials or paperwork to gain your trust. Those credentials might be a badge or photo identification from a government or law enforcement agency. You might also see mail printed on agency letterhead.
Imposters will ask you for money or information -- and threaten legal action if you don't comply.
You should know that legitimate federal law enforcement officials and government employees won't send their credentials via email, text, or mail. You can safely disregard (and report) the threats of anyone who does.
2. There's a problem with your Social Security number
Scammers pretending to be helpful may tell you that your Social Security account has been compromised. They'll ask you to verify personal details to avoid disruption of your benefits.
Legitimate Social Security representatives will not contact you by phone or email to collect personal details.
3. You're owed a COLA
In this scam, the trickster asks you for something so you can get a benefit increase or cost-of-living adjustment (COLA). The request might be to share personal information or pay a fee. Either way, it's a trap.
What scammers don't want you to know is that Social Security adjusts your benefits every January automatically.
4. You can buy essential Social Security services
Another scam involves selling services that Social Security normally provides for free. Examples are replacing lost Social Security cards, providing income records, and projecting future benefits.
Social Security doesn't sell services. Anyone who tries to charge you for services is committing fraud.
5. You need to activate Medicare
Legitimate Social Security representatives will not call you to activate your Medicare coverage. If you receive a request to enroll in Medicare, it's a scam.
Most people become eligible for Medicare at age 65. If you are already collecting Social Security, your Medicare enrollment is automatic. You should receive paperwork in the mail a few months before your 65th birthday.
If you are not yet receiving Social Security, you can sign up for Medicare three months before you turn 65 either online or by calling Social Security at 800-772-1213.
6. You have been fined or overpaid
Imposters may say you've been fined or overpaid benefits. They'll ask for money to cover the fine or repay benefits. Usually, they "require" this payment in a specific format, such as cash, prepaid debit cards, cryptocurrency, wire transfers, or retail gift cards.
Legitimate Social Security representatives won't ask for money.
How to avoid Social Security scams
Protect yourself from Social Security scams by following the five practices outlined below.
1. Don't trust your caller ID
Don't assume legitimacy based on your caller ID display. Scammers can fake phone numbers. Your phone may show an incoming call from Social Security or a local law enforcement agency even when it's a scammer.
2. Do not react to unsolicited text messages, phone calls, or email
According to the Office of the Inspector General, legitimate Social Security representatives will never pressure you to act immediately. If someone tells you to click on a link or pay a fee right now, it's a scam.
If you're worried about potential issues with your benefits, call or visit your local Social Security office directly.
3. Do not provide personal information
Do not provide bank account or identity information to anyone who has reached out to you via phone, text, or mail. Such requests are usually fraudulent.
If you think the request might be legitimate, get the agency's name, look up the phone number independently, and call back.
4. Securely store your Social Security number
Sharing your Social Security number inadvertently can expose you to identity theft -- even if you haven't gotten a fraudulent phone call or text.
Memorize your Social Security number and leave the card in a safe place. Do not carry it with you. Don't write your number down or say it in public either.
5. Regularly check your credit reports
If you are a victim of identity theft, you'll see new, unfamiliar credit accounts pop up on your credit report. Checking your credit activity regularly helps you catch problems early, as well as minimize the financial and legal consequences.
Related Investing Topics
How to report a scam
You can report suspicious activity and Social Security scams to the inspector general's fraud hotline at 800-269-0271. You can also file a fraud report online.