Get our 43-Page Guide to Real Estate Investing Today!
Real estate has long been the go-to investment for those looking to build long-term wealth for generations. Let us help you navigate this asset class by signing up for our comprehensive real estate investing guide.
Note: Our market forecast includes Philadelphia data and data from its surroundings, including Camden, New Jersey, and Wilmington, Delaware.
As the sixth-most populated city in America, Philadelphia is, no doubt, a market worth investors' consideration. More than 1.5 million residents call the city home, and when you lump in residents from surrounding cities like Camden, New Jersey, and Wilmington, Delaware, you have a market reaching a whopping 6 million people metro-wide.
Its economy is strong, too. The region has deep ties to the education, healthcare, and food industries, and its many historical sites and landmarks (hello, Liberty Bell and Independence Hall!) deliver a steady stream of tourist activity as well.
The city is also home to dozens of colleges, universities, and institutes of higher education -- including renowned ones like the University of Pennsylvania, Temple, Bryn Mawr, and Villanova.
Are you considering investing in Philadelphia real estate? Here's what you need to know.
The state of the market
Philadelphia's real estate market is largely on the up and up after its pandemic-fueled troughs, but there are still challenges to overcome. Unemployment is rising, supply is low, and home prices have surged significantly over the past year.
Though there's reason for optimism, the next few months of recovery will be critical. Current Housing Tides data has many of the city's key market indicators on the "Weakening" side.
Here are the three major trends we're seeing in Philadelphia right now:
Multifamily is hitting its stride.
Supply is improving.
Prices are rising.
1. Multifamily is hitting its stride
Multifamily permits have been on a tear lately, not only outpacing forecasts but clocking in their highest numbers since at least 2016. Though that may send up red flags that a glut of inventory is on its way, rental vacancies seem to show solid demand.
Not only are vacancies down over the year, but they're also well below averages seen in many of the last five years. Throw in the area's rising number of households, and it likely spells good news for investors in this sector.
2. Supply is improving
This isn't something that can be said for most markets these days. While Philly's overall housing supply is still low, it's a big step up from national averages. Architectural billings and single-family permits have also improved in the area, and builder sentiment is strong -- all of which bodes well for the market. The only thing holding supply back is increasing construction costs, which are posing problems for builders nationwide.
3. Prices are rising
As is the case with most parts of the country, both median home prices and rents are on the rise in Philadelphia. Home prices are up nearly 14% over the last year, and rents have jumped 2.5%.
One thing to note? Both numbers come in well below national averages. Additionally, increases have started to level out in recent months, possibly indicating a slight cooldown in the market.
Philadelphia housing demand indicators
Charts courtesy of Housing Tides, an EnergyLogic company.
Demand in Philadelphia is largely on the weakening side. Unemployment is up, consumer sentiment is down, and rising home and rent prices are posing challenges. The one silver lining is that Philly's population is growing. The city has gained over 37,000 new households in just the last year.
Unemployment
Philadelphia's unemployment rate was one of the worst in the country when the pandemic first hit, topping out at over 14%. While employment recovered in the back half of 2020, that rate has started to rise once again. It currently sits at 7.7% -- up 3.1% from January of last year and more than a full percentage point higher than the national average. The metro area has lost about 229,000 jobs total in the last year.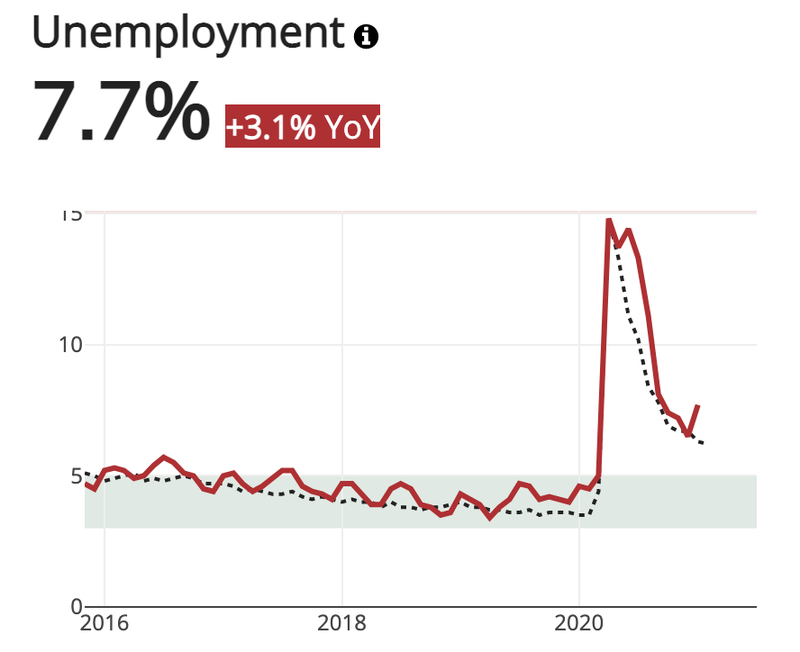 Median home price
As is the case with most U.S. cities, Philadelphia is experiencing a run-up in home prices. The metro's median price currently sits at $238,000. And while that's well below the national median of $330,000, it's still a shocking 14% jump for Philly over the year.
Those are annual trends, though, and if you look at the monthly data, the picture looks a bit different. The median price actually dropped by $11,000 between November 2020 and January 2021 (the most recent data we have). Though it's too early to call it a trend, the two-month downturn could mean the market is starting to steady -- but only time will tell.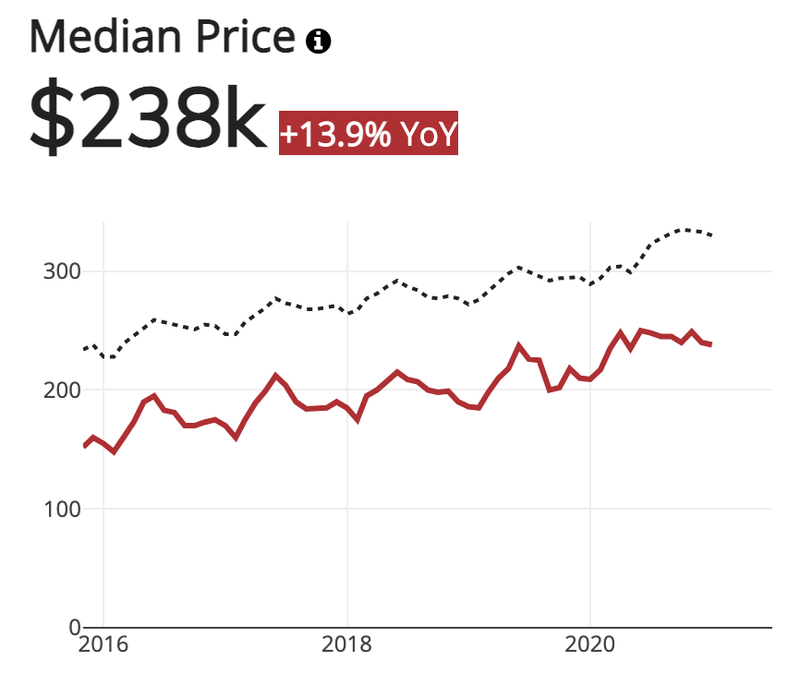 Median rent price
Rent prices are also up over the year, with a 2.5% jump between December 2019 and December 2020. Currently, the median rent comes in at $1,589 -- a $38 annual increase for the city, but still well below the nation's average of $1,740.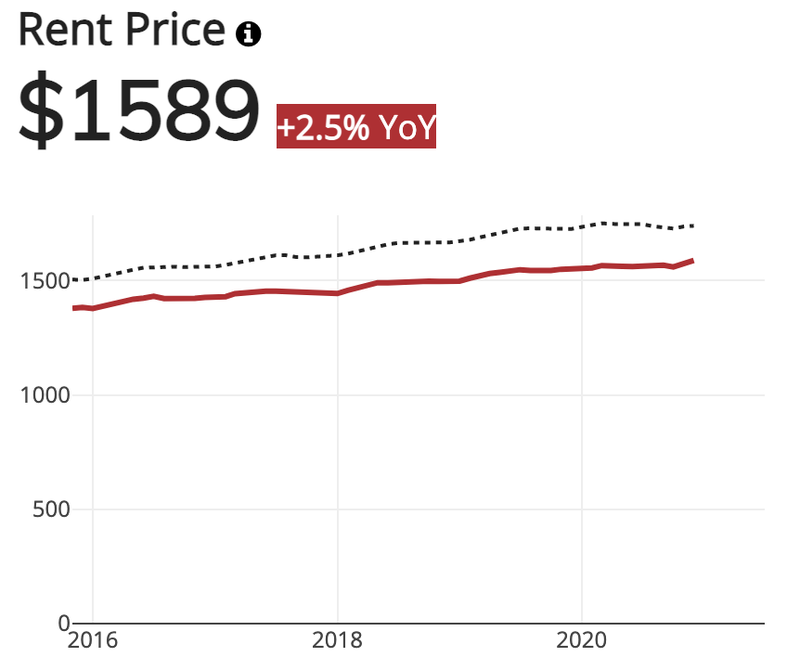 Philadelphia housing supply indicators
Supply is looking much better than demand in the Philadelphia area. Overall inventory has started to tick up, as have architectural billings, builder sentiment, and multifamily permits. Rising construction costs could put a dent in supply's recovery, though.
Total housing supply
Philadelphia currently has a total housing supply of 2.6 months. While that sounds low (and it definitely is), it's well above the national average, which currently sits at just 1.6 months. Overall, supply is down 0.67% over the year, but the city saw a good bump between December and January. If permits move in the right direction, the trend could continue.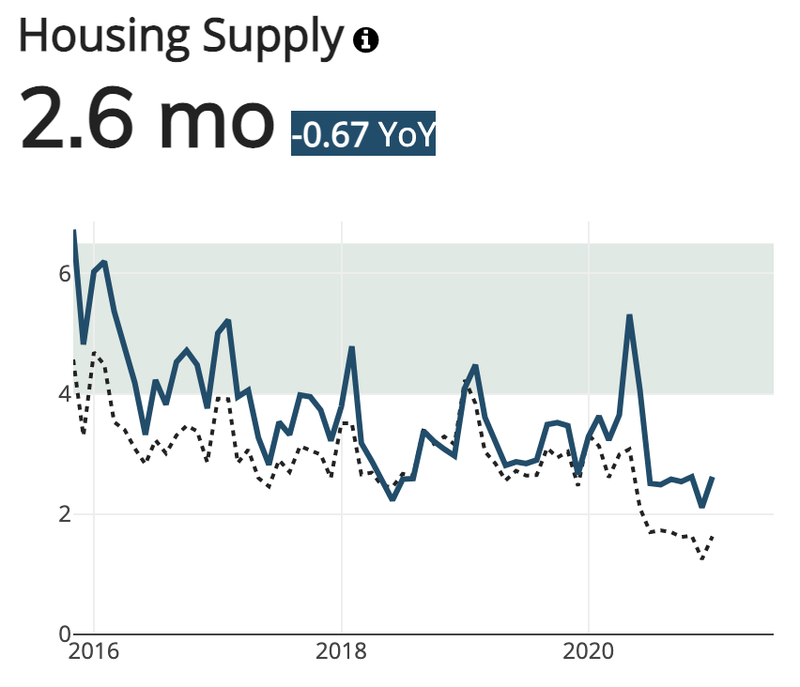 Rental vacancies
Rental vacancies are down slightly (-0.2%) annually, despite a steep incline since mid-last year. They're also well below the vacancy rates seen in years past and are quite a bit under national numbers, too. In short? Rentals are in demand, and units are filling up.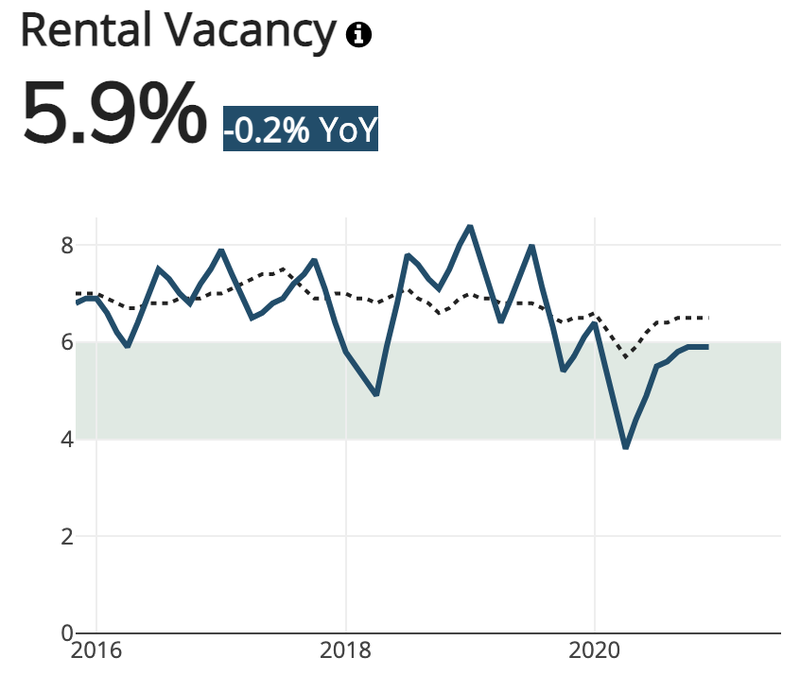 Architectural billings
Architectural billings are a commonly used indicator of future economic strength, and judging by the numbers seen in Philadelphia in recent months, the city is certainly on a strong path forward. Though architectural billings are technically down 3.4% since last year, they've recovered considerably since their pandemic trough (and are almost back to pre-pandemic levels). Still, they are below national averages -- if only slightly -- so there's definitely room for improvement.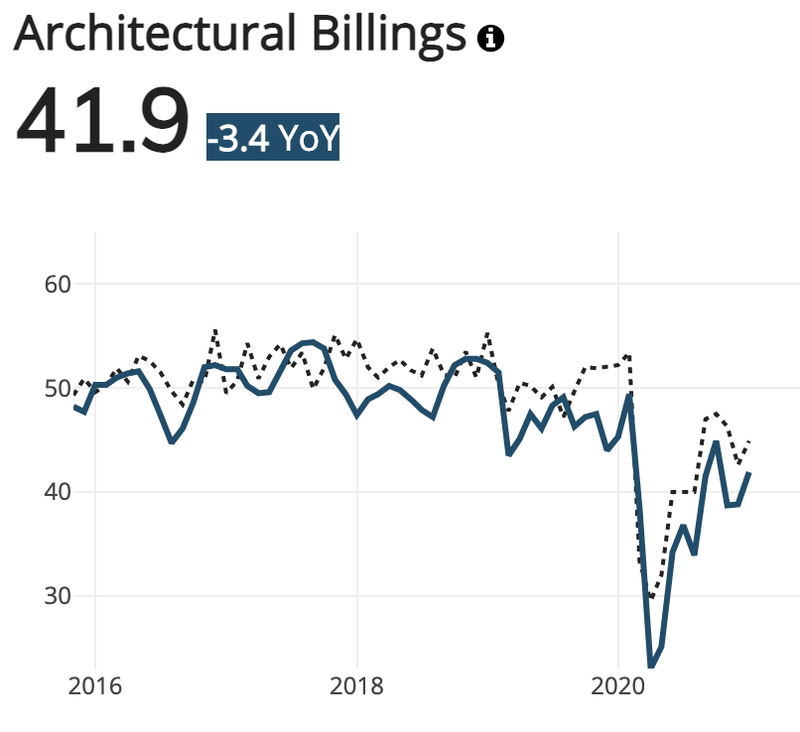 Construction indicators
Construction costs have been on the rise in recent months. In fact, according to the National Association of Home Builders, lumber prices are up a whopping 200% since last April. These increasing costs will naturally pose a challenge for builders and future housing supply -- both in Philadelphia and beyond.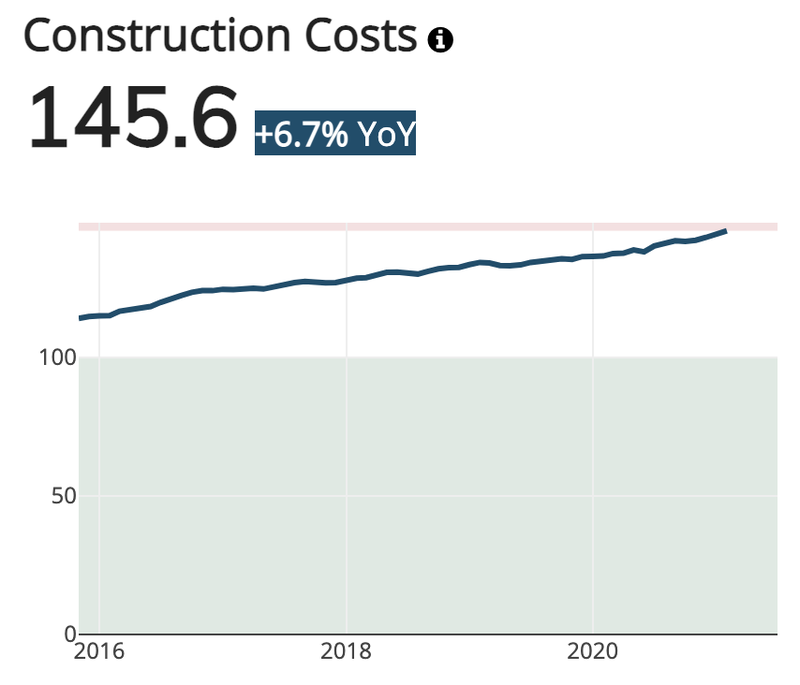 Single-family detached permits
Single-family permits have surpassed pre-pandemic levels and outshone forecasts for almost the last year. According to the most recent data, 719 permits were issued in February 2021. While that's not as high as the 844 seen back in November, it's well above both the pandemic trough (433) and rivals even the highest of 2019's numbers.

Multi-unit permits (2-plus units)
Multifamily permits are in an even better place. Nearly 1,000 permits were issued in February 2021, up from just 439 in June 2020. Permits have been on a steady incline for nearly the last year, surpassing forecasted numbers significantly in both January and February.

Philadelphia real estate financial health indicators
The pandemic has hit Philadelphia residents hard. Though both mortgage delinquencies and foreclosures are on the decline, they're still ahead of national averages. This could signal problems down the pike -- particularly when foreclosure bans and mortgage forbearance options lift in the months (or years) to come.
Fortunately, there are many other financial health indicators that show improvement in the region. The average home-price-to-income and rent-to-income ratios are either declining or holding steady, and interest rates are near record lows.
Delinquencies
About 6.4% of all mortgages in Pennsylvania are currently delinquent -- up 2.1% from a year ago. While that share has been decreasing in recent months (it was 8.8% last May), it's still outpacing the national rate, which comes in at 5.85%.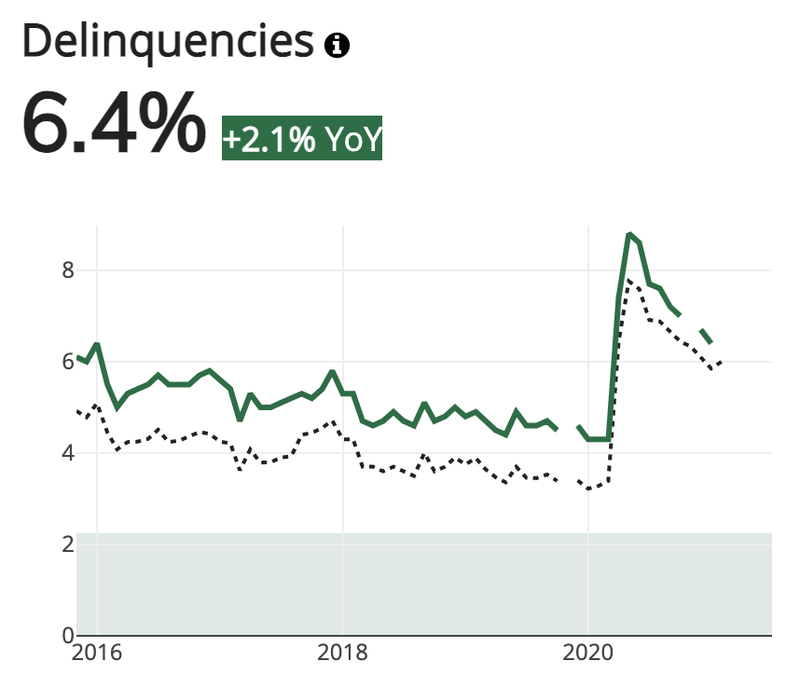 Foreclosures
Philadelphia foreclosures are in a similar boat. Though just 0.5% of Pennsylvania homeowners are in foreclosure (thanks to widespread foreclosure moratoriums across the country), they're still higher than national averages. Fortunately, foreclosures have been on the decline lately -- though only slightly. The rate was 0.6% last March.
Brand New Pennsylvania Foreclosures
Biglerville, PA
Chambersburg, PA
Chadds Ford, PA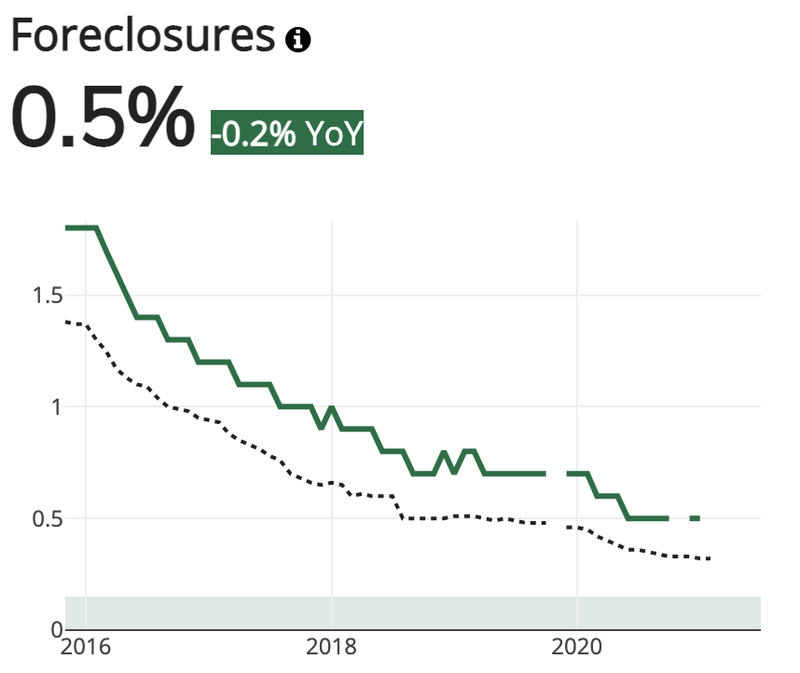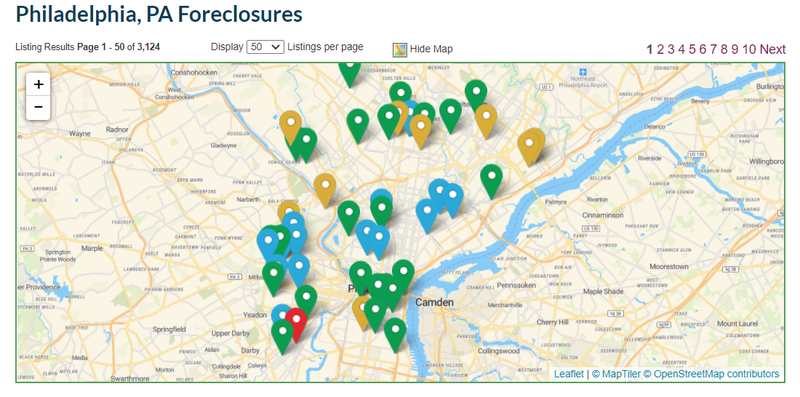 Anchor institutions
The Philadelphia metro area is home to 14 Fortune 500 companies, many in the education, healthcare, and finance industries. Here's just a snippet of the activity driving the region's economy:
Education: The Philly metro is home to countless universities and colleges -- many of which rank among the area's top employers. University of Pennsylvania (plus its health system) employs over 46,000 locals, while Thomas Jefferson University (and its Jefferson Health facilities) claim another 32,000.
Healthcare: Aside from UPenn and Jefferson's health systems, there's also the Children's Hospital of Philadelphia and Genesis Healthcare (OTCMKTS: GENN). The Children's Hospital is the region's No. 3 employer, with over 22,000 workers to its name. AmerisourceBergen (NYSE: ABC) -- a major pharmaceutical company -- is also headquartered in the area.
Technology: Tech giant Comcast (NASDAQ: CMCSA) is headquartered in the heart of Philly, employing over 17,000 workers. It came in at No. 28 on last year's Fortune 500 list, making it the second-highest-ranking local company to make the cut (behind only AmerisourceBergen).
Food: The Philly area also has a big food-related industry as well. Campbell Soup (NYSE: CPB) is located in Camden, New Jersey. Toll Brothers (NYSE: TOL) is in Fort Washington, Pennsylvania, and Aramark (NYSE: ARMK) -- which provides food services to hospitals and schools -- is right in Philadelphia.
Schools of note
The Philadelphia region is home to countless colleges and universities, some of them among the country's highest-ranked. Here are just a few you'll find in the area:
University of Pennsylvania: Ranked the No. 8 best school in the nation by U.S. News and World Report, UPenn is the area's most prestigious university by far. The college has been around since the 1700s and has an acceptance rate of just 8%.
Villanova University: Villanova is another top college in the area, ranking at No. 53 on the U.S. News list. The private, four-year school currently has just under 11,000 students.
Bryn Mawr College: Bryn Mawr is the No. 28 best liberal arts college in the nation and is located on the northwest side of Philly. The women's college currently has just 1,700 students and a teacher-student ratio of 9:1.
Temple University: Temple's another U.S. News-ranked university, coming in at No. 103 on the national rankings. It's also one of the area's biggest, boasting a current enrollment of nearly 39,000.
Haverford College, Swarthmore College, Drexel University, and Thomas Jefferson University are also in the area.
Neighborhoods of note
The Philadelphia metro region spans more than 5,100 square miles, offering hundreds of potential neighborhoods and communities for investments. Here are just a few you might want to consider:
Brewerytown: Brewerytown is a hip area just north of downtown. The neighborhood boasts lots of walkability, good transport, and a nice mix of both residential and commercial buildings.
University City: If you're interested in student housing, University City can be a good option. The neighborhood is close to both UPenn and Drexel, offering up a steady stream of tenants for years to come.
Fairmount: The Fairmount district is a hot spot for younger Philly residents. It's close to plenty of cultural attractions, as well as Center City and several local universities.
Fishtown: If long-term rentals are your thing, consider Fishtown. Located on the east side of town, this neighborhood boasts tons of restaurants, shops, and plenty of walkability.
The bottom line
Like every city, Philadelphia was hit hard by the pandemic. Though it hasn't fully bounced back just yet, many key economic indicators are moving in the right direction. When you throw in the city's strong foundational industries -- steadfast ones like education, healthcare, and technology -- there's a lot for investors to be optimistic about in the region.
Got $1,000? The 10 Top Investments We'd Make Right Now
Our team of analysts agrees. These 10 real estate plays are the best ways to invest in real estate right now. By signing up to be a member of Real Estate Winners, you'll get access to our 10 best ideas and new investment ideas every month. Find out how you can get started with Real Estate Winners by clicking here.
Aly Yale
has no position in any of the stocks mentioned. The Motley Fool recommends Comcast. The Motley Fool has a
disclosure policy
.