Tim Cook is the chief executive officer of Apple (NASDAQ:AAPL), having served in the role since August 2011. He succeeded Apple's co-founder Steve Jobs as CEO, and he's been instrumental in pushing Apple to become the world's most valuable company.
Who is Tim Cook?
Before taking over as CEO, Tim Cook stepped in to run the company when Steve Jobs had to take health-related absences starting in 2009. Jobs died in October 2011.
Cook has been key to pulling Apple from the brink of bankruptcy in 1998 and helping it to become one of the most profitable businesses in the world. He started as senior vice president for worldwide operations, quickly closing factories, shutting down warehouses, outsourcing processes, and reducing costs for Apple. He reduced inventory from months to days and made the launch of the iMac a success.
Cook was promoted to chief operating officer in 2007, when he took greater control of Apple's supply chain, ensuring the company could meet the growing demand for Apple products such as the iPod and iPhone.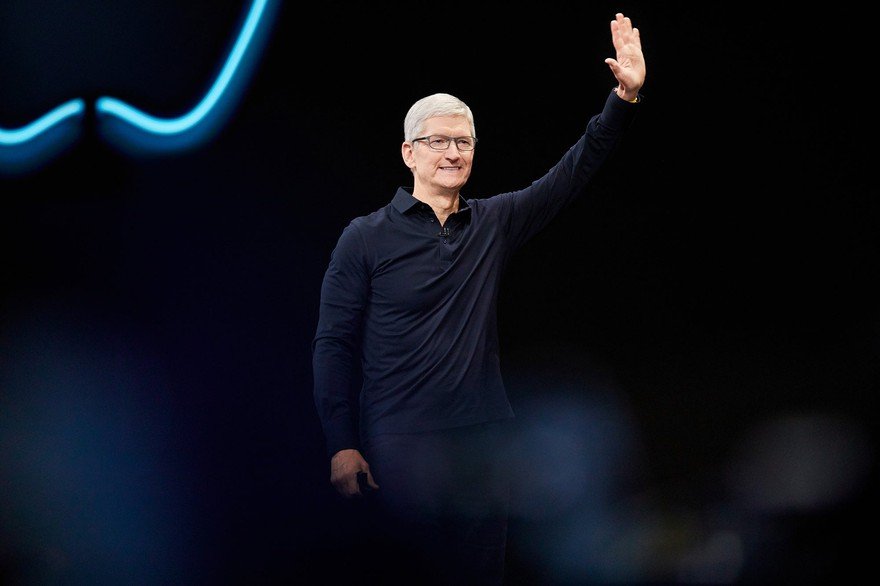 Image source: Getty Images.
The history of Tim Cook
Cook began his career in 1982, working in IBM's (NYSE:IBM) personal computer business. After graduating from Auburn University with a degree in industrial engineering, he found himself on a managerial track. He subsequently earned an MBA from Duke University. Cook was promoted to director of North American Fulfillment in charge of manufacturing and distribution for IBM in North and Latin America.
He left IBM for Intelligent Electronics in 1994, where he served as chief operating officer of the reseller division. He implemented just-in-time manufacturing, streamlining production and inventory management to reduce operating costs by improving asset turnover. When General Electric (NYSE:GE) agreed to acquire Intelligent Electronics in 1997, Cook moved on.
Cook was offered the position of vice president for corporate materials at Compaq, the leading PC manufacturer at the time. He was in charge of managing inventory for the PC maker, utilizing his logistics expertise.
His tenure at Compaq was short-lived, however. He received a call from Steve Jobs only six months after starting at Compaq. Cook took the interview just for the opportunity to talk with Jobs, "the guy who started the whole industry," as he put it in an interview with David Rubenstein in 2018.
Cook was immediately enthralled by Jobs and hoped the interview would lead to a job offer despite having just secured a top job at a leading computer company. "No more than five minutes into my initial interview with Steve, I wanted to throw caution and logic to the wind and join Apple," Cook said at his 2010 commencement address at Auburn University.
The history of Apple
Apple was founded in 1976 by Jobs, Steve Wozniak, and Ronald Wayne. Wozniak had developed a personal computer (known as the Apple I), and Jobs thought they could mass-produce the design and sell them. The release was a success and was quickly followed by the Apple II the next year. The Apple II was a huge success, which ultimately led Apple to make an initial public offering (IPO) in 1980.
While Apple continued to innovate in the 1980s with the release of the Macintosh, it struggled to maintain market share. The high price of its products made them less appealing compared to Intel (NASDAQ:INTC)-powered machines running Microsoft's (NASDAQ:MSFT) operating system. Microsoft was able to match the Macintosh's graphic user interface in 1985 with the release of a Windows operating system.
Around that time, both Wozniak and Jobs left the company. Jobs founded NeXT in 1985, focusing on workstations for educational institutions and businesses. Although NeXT's computer hardware saw minimal success, Jobs led further innovation on the software side. NeXT computers forged a path toward object-oriented programming languages and improved the graphical user interfaces on personal computers. The company also developed one of the first web application frameworks.
Apple continued to lose market share in the 1990s as the "WinTel" partnership combining Intel's microprocessors and Microsoft's OS gave PC manufacturers ways to produce cheaper alternatives to Apple's computers. Nearing bankruptcy, the company acquired NeXT in 1997, bringing Jobs back into the fold. Jobs was installed as interim CEO, and he managed to secure a $150 million investment from Microsoft and a commitment to continue developing software for the Macintosh. Microsoft saw the investment as a way to court favor after facing a big antitrust lawsuit. For Apple, it was the bailout it needed.
Under Jobs, Apple launched the iMac in 1998, the company's first truly successful product since the Apple II. It followed the iMac up a year later with the iBook. It released Mac OS X in 2001, based on NeXT's software. Apple also opened its first retail store that year, and the iPod made its debut that fall. 
The 2000s brought a massive resurgence in Apple products with the launch of important devices such as the iPod, MacBook, iPhone, and iPad, and services such as the iTunes music store and App Store.
How Tim Cook leads Apple
Steve Jobs was more of an autocrat, while Cook welcomes a more democratic process and considers all of his options before making a decision. As such, his executives are more likely to bring forward ideas and opinions.
However, Cook hasn't been afraid to fire people if there are disagreements, like he did with former iOS software head Scott Forstall and head of retail John Browett.
Cook has maintained long-term investment efforts he put in place since starting at Apple. He was making orders for flash memory in 2005, well ahead of the launch of products such as the iPod Nano, iPhone, and iPad, allowing Apple to secure better pricing and ensure supply. He moved Apple back toward designing its own chips for its PCs while maintaining relationships with manufacturers for their production.
Cook's ability to find smart and effective people for key executive roles has allowed him to take Apple from where it was at the end of 2011 to the massive profit-producing machine it is today. He's not trying to do what Steve Jobs would do; he's using his own style to create massive value for investors buying the stock and to promote the company's image.
What are Tim Cook's accomplishments?
Apple's market cap has grown from around $360 million when Cook took the reins as CEO to more than $2.5 trillion today. Revenue has increased 250% and margins have expanded to help produce even greater growth in net income.
Cook has pushed Apple into providing services for its customer base, estimated at more than 1 billion people and growing. He acquired Beats Electronics, paving the way for Apple Music and improved headphones such as the AirPods, which the company launched under his leadership. He also oversaw introduction of the Apple Watch and a host of subscription services, including Apple TV+, Apple Arcade, Apple News, and Apple Fitness.
Tim Cook's Apple
Tim Cook has been a great steward for Apple shareholders, proving himself a top CEO in the tech industry. He's leaned into his strengths in supply chain management and operations, allowing Apple to increase the popularity of its devices and services. While he's not the creative innovator Steve Jobs was, he's helped to shape the company and ultimately made it a much more profitable business during his tenure.
Adam Levy has positions in Apple and Microsoft. The Motley Fool has positions in and recommends Apple, Intel, and Microsoft. The Motley Fool recommends the following options: long January 2023 $57.50 calls on Intel, long March 2023 $120 calls on Apple, short January 2023 $57.50 puts on Intel, and short March 2023 $130 calls on Apple. The Motley Fool has a
disclosure policy
.