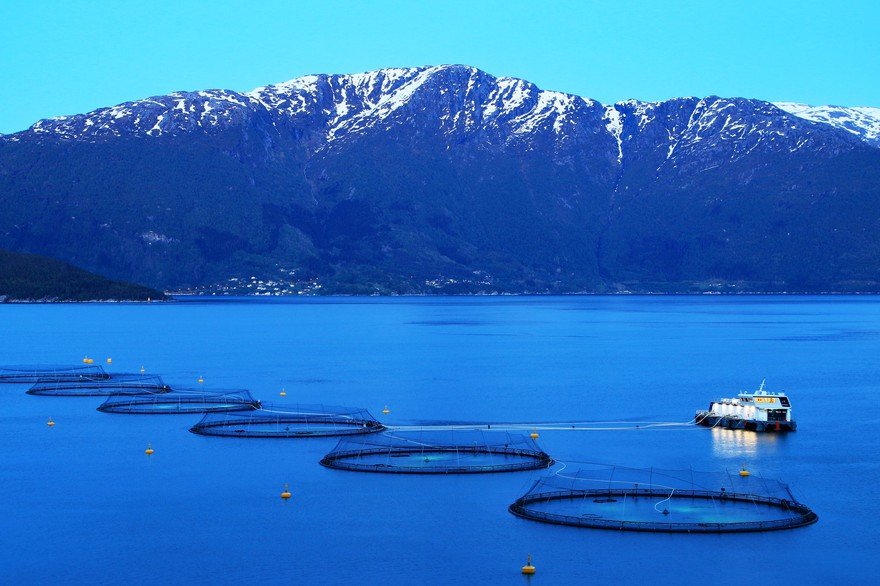 Image source: Getty Images.
There are a lot of reasons to be bullish on the seafood industry. Fish and seafood are generally considered to be the healthiest animal proteins available. Done properly, sustainable seafood is the most environmentally efficient source of protein on the planet, according to the National Oceanic and Atmospheric Administration. It's also a consumer staple, meaning it's a relatively recession-proof product.
Some think of aquaculture companies as a form of agriculture. They cultivate fish and other sea creatures in controlled environments and have become a major industry alongside wild fisheries.
If you're looking for public seafood companies, you won't find any of substantial size in the U.S. since the domestic industry is highly fragmented. In fact, the best place to look for fishing industry stocks is Norway, which is the second-largest seafood exporter in the world behind China. That's an impressive feat for a country with a population of barely five million. Keep reading to see three of the top aquaculture stocks you can buy today, all based in Norway.
Top seafood stocks in 2023
Source: Yahoo! Finance. Market cap data as of January 9, 2023.

| Company | Market Capitalization | Description |
| --- | --- | --- |
| | | |
| Mowi (OB:MOWI) | $89.9 billion | World's largest producer of Atlantic salmon and producer of whitefish and other seafood products. |
| Leroy Seafood Group (OB:LSG) | $33.5 billion | Sells farmed and wild-caught seafood products. |
| Atlantic Sapphire (OB:ASA) | $1.13 billion | World's largest land-based aquaculture company, with operations in Denmark and the U.S. |
1. Mowi
Formerly known as Marine Harvest, Mowi is one of the largest seafood companies, with an estimated 25%-30% share of the global salmon and trout market. It's the world's largest producer of Atlantic salmon.
In 2020, the company brought in $4.3 billion in revenue, in part because of the disruption in restaurant and food service customers. Profits were lower than normal as salmon prices fell due to the effects of pandemic-related lockdowns. The company reported a profit of $137 million, down from more than $500 million in 2019, although that shows that the company generates healthy operating margins in a normal business environment.
Mowi is making significant investments in technology to become more efficient. It plans to use advanced imaging technology and intelligent sensors through its Smart Farming concept, set to launch by 2025. If successful, such advances could give a significant boost to Mowi's bottom line. The company also offers a 3.4% dividend yield.
2. Leroy Seafood
Leroy Seafood counts on salmon for more than half of its revenue, but it also does significant business in trout and whitefish. The company's revenue fell slightly in 2020 to $2.3 billion, while net income declined more than 50% to $91.1 million. Historically, the company's performance has been volatile, fluctuating with factors such as fish prices.
Leroy is making a wide range of investments, including in land-based farming, adding new whitefish fishing vessels, and in its mature salmon operations, and the company expects those to drive growth over the coming years. Performance has started to improve in 2021, with pandemic restrictions easing and prices moving higher, a positive sign for Leroy as its business is ultimately dependent on market prices.  
The company is also committed to its annual dividend, which currently offers a yield of 2.6%.
3. Atlantic Sapphire
Atlantic Sapphire is the largest land-based aquaculture company in the world, meaning it raises fish in artificial, above-ground ponds in warehouse-like facilities. That strategy allows Atlantic Sapphire to raise its salmon close to its customers. The company pledges that its fish "don't fly," meaning that they don't get shipped by air. The company calls its facilities Bluehouses, of which there are two, and says it invented them as "a bio-secure space where we raise fish at optimal conditions for animal health and welfare, and with a focus on sustainability."
For the seafood industry, Atlantic Sapphire is a young company and was founded in 2010. It's still far from turning a profit and brought in just $6.3 million in revenue last year. However, the stock is being valued based on its disruptive potential, as well as its goal of producing 220,000 tons of salmon at its Florida Bluehouse, which is enough to meet half the salmon demand in the U.S.
Should you invest in seafood stocks?
Fishing is one of the oldest industries in the world, but it's also changing quickly. Technological innovations, salmon farming, and climate change all present opportunities for fishing companies on the stock market. Seafood supplied from aquaculture could soon surpass wild-caught seafood in volume, and that's making an historically commodity-based industry ripe for innovative players.
Jeremy Bowman
has no position in any of the stocks mentioned. The Motley Fool has no position in any of the stocks mentioned. The Motley Fool has a
disclosure policy
.