When you shop for a personal savings or checking account, or you apply for a home mortgage or personal loan, you're seeking retail banking services. Retail banking is the branch of the banking sector that offers financial services to individual customers. In this article, we'll cover retail banking, including the types of retail banks, common retail banking services, and why the money you deposit at a retail bank is generally safe.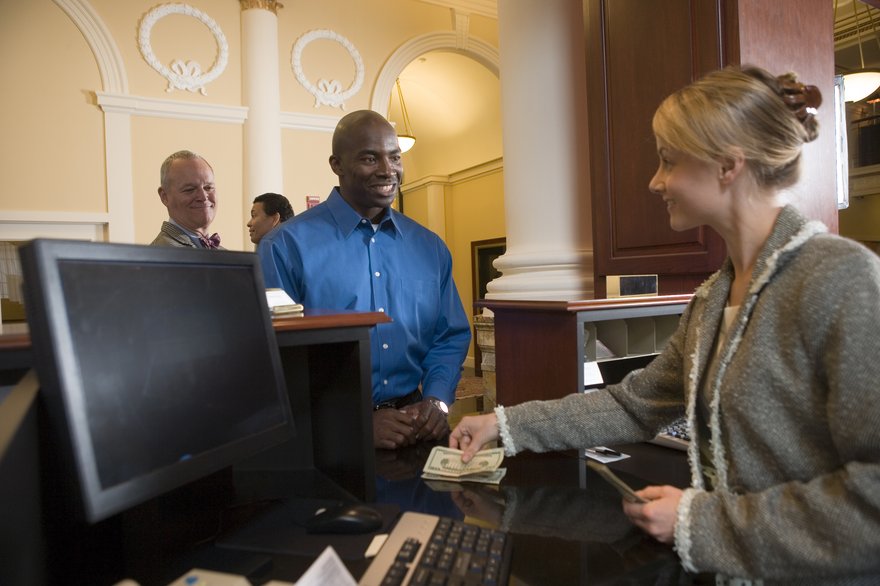 Image source: Getty Images
What is retail banking?
What is retail banking?
Retail banking is often referred to as personal banking or consumer banking. A retail bank is a financial institution you use to deposit and withdraw money and seek personal credit and loans.
Some common retail banking products include:
Demand deposit account: An account like a checking or savings account that allows you to deposit money and withdraw it at any time without penalty. These accounts can be interest-bearing, although the amount they pay is often minimal. Most retail banks offer easy access to your cash by offering a debit card and checkbook and allowing you to withdraw money from a network of ATMs.
Certificates of deposit (CDs): CDs are like savings accounts that offer what's known as timed deposits. You earn a higher interest rate if you agree not to withdraw your money for a certain window of time. You'll pay a penalty if you withdraw your money before the CD reaches its maturity date.
Secured lending: Secured loans are products like mortgages, auto loans, and home equity lines of credit (HELOCs) that are backed by collateral. For example, if you don't pay your mortgage or HELOC, the bank can seize your home.
Unsecured lending: Most retail banks offer products like credit cards and personal loans that allow customers to borrow a set amount of money that they can use for any purpose without putting down collateral.
Types of retail banks
Types of retail banks
There are several different types of retail banks that offer access to virtually all of the services listed above. Note that while the types of banks listed below offer retail banking services, they frequently serve businesses, as well. Here are some common types of retail banking institutions.
Commercial banks
Commercial banks
A commercial bank is a large financial institution that offers services to individuals and businesses, including major corporations. Most commercial banks are publicly traded companies.
A set of financial services designed for businesses, such as deposit accounts, loans, lines of credit, payment processing, and more.
Commercial banks typically have brick-and-mortar locations spread throughout the U.S., but they also make it easy to conduct most transactions online.
As of March 31, 2023, the five largest commercial banks in the U.S. by consolidated assets were:
JPMorgan Chase (JPM

-1.74%

)
Bank of America (BAC

-0.65%

)
Citigroup (C

-0.17%

)
Wells Fargo (WFC

-0.12%

)
U.S. Bancorp (USB

1.82%

)
Community banks
Community banks
A community bank is a financial institution that serves individuals and businesses within a limited geographic area. Although there's no precise definition, a community bank is generally defined as an institution with less than $10 billion in assets.
Typically, a community bank is privately and locally owned. Even when community banks issue public shares, they typically don't trade on major stock exchanges.
Credit unions
Credit unions
Credit unions are similar to banks, but they're not-for-profit institutions that are member-owned. Because they pass profits back to members, deposit accounts at credit unions often pay higher interest rates on deposit accounts and offer lower interest rates on loans compared to traditional banks.
Membership is often available based on your employer, where you live, or whether you're a member of a certain group, like a labor union or a place of worship. Many credit unions allow family members to join, as well.
Neobanks
Neobanks
Many fintech apps known as neobanks offer retail banking services, such as checking and savings accounts and loans, through mobile apps and websites. However, while neobanks offer banking services, they technically aren't banks. Deposits are held at FDIC-insured partner banks.
A bank statement is a document issued by your financial institution that shows your account activity over a period of time.
Are retail banking deposits safe?
Are retail banking deposits safe?
Given the string of bank failures that occurred in the spring of 2023, it's natural to worry whether your bank deposits are safe. But the answer is yes -- retail banking deposits are generally safe.
Federal Deposit Insurance Corporation (FDIC) insurance covers bank deposits for as much as $250,000 per bank per depositor. Because FDIC insurance is per depositor, if you had a joint account with one co-owner, your deposit would be insured for as much as $500,000. Credit union deposits are similarly insured, covered by the National Credit Union Share Insurance Fund.
Example of a retail bank
Example of a retail bank
JPMorgan Chase is the largest bank in the U.S., with $3.7 trillion in assets as of March 31, 2023. It offers a full suite of retail banking services, including checking and savings accounts, CDs, mortgages, loans, lines of credit, 4,700 brick-and-mortar locations, a network of 15,000 ATMS, and online banking services.
As with many large commercial banks, JPMorgan Chase doesn't pay super-competitive interest rates to retail customers. For example, as of early July 2023, the annual percentage yield (APY) on a one-year CD of $10,000 or less was 3%; many smaller banks and credit unions paid about 5% for a similar product.
The reason is that when a bank has lots of physical locations, they have higher overhead costs. As a result, the bank has less savings to pass along to customers. The advantage, though, is that you get more convenience and access to a wide variety of services through a single financial institution.
JPMorgan Chase is an advertising partner of The Ascent, a Motley Fool company. Wells Fargo is an advertising partner of The Ascent, a Motley Fool company. Citigroup is an advertising partner of The Ascent, a Motley Fool company. Bank of America is an advertising partner of The Ascent, a Motley Fool company.
Robin Hartill, CFP®
has no position in any of the stocks mentioned. The Motley Fool has positions in and recommends Bank of America and JPMorgan Chase. The Motley Fool recommends U.S. Bancorp. The Motley Fool has a
disclosure policy
.