The developers behind Doge Dash (CRYPTO:DOGEDASH) started with a simple idea and a big goal. They built a side-scrolling game where players could earn DOGEDASH tokens they collected if they completed all the levels. Their mission was to onboard the large portion of the world's population who hadn't started using cryptocurrency yet.
Six months later, they realized that a single game could only do so much. To take it further, they launched an "end-to-end crypto entertainment company" called HELLO. The HELLO ecosystem will include games, shows, live events, and non-fungible tokens (NFTs) under one brand. So in a few short weeks, the DOGEDASH token is scheduled to be retired, and its users and functionality will be migrated to the HELLO token instead.
If Doge Dash caught your eye, this guide will cover the game that started it all and what we know about HELLO.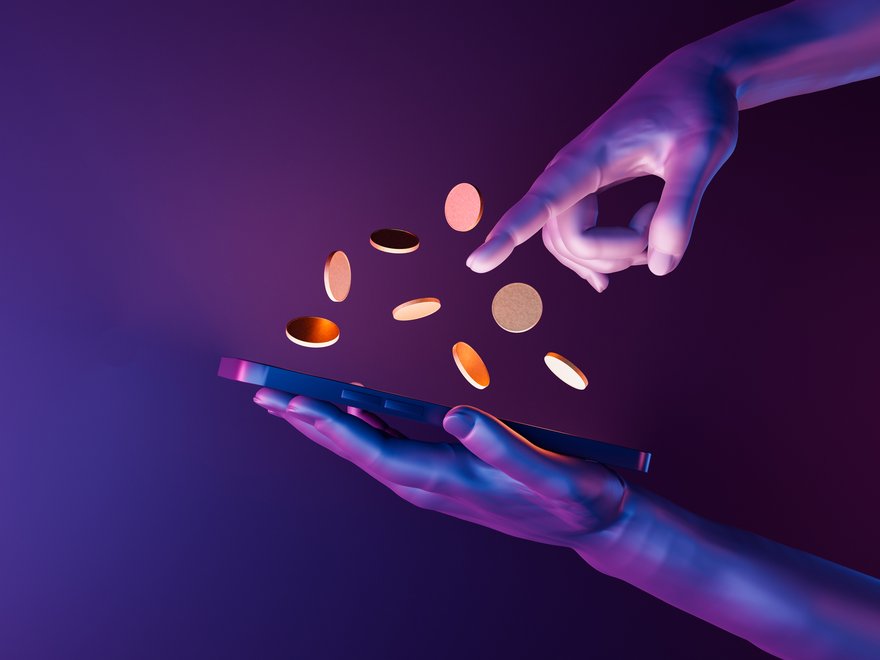 Source: Getty Images
What makes Doge Dash unique?
Doge Dash is both a video game and a cryptocurrency token. The Doge Dash game is available online and as an app. It's a side-scroller with elements of the Super Mario series, specifically Super Mario Run, a game where Mario constantly runs forward and you control his jumps.
It's the same idea in Doge Dash except you're controlling a cartoon Doge character. There are also Doge Dash NFTs, and, if you buy one, you can play the game using your NFT.
There's a small fee of 100 DOGEDASH tokens for each play, and there are 10,000 tokens distributed throughout the game's 10 levels. If you complete the game, you receive all the crypto tokens you collected. That's easier said than done since the game is difficult to finish.
As part of this project's rebrand, Doge Dash is becoming part of the HELLO ecosystem. Token holders will be able to swap their DOGEDASH tokens for the brand's new HELLO tokens at an equal value.
HELLO aims to be "the future of crypto and entertainment." Projects in the works for HELLO include a new version of Doge Dash called Dash of the Dead and a show called Crypto Cribs.
Where Doge Dash came from
Paul Caslin, a Grammy-nominated creative director, is the founder of Doge Dash and HELLO. He and a team of developers and blockchain specialists launched the Doge Dash cryptocurrency on Oct. 8, 2021. They released the Doge Dash NFT collection on Dec. 4 and the game itself on Dec. 15.
Caslin announced Doge Dash's rebrand to HELLO on April 21, 2022. The rebrand includes a migration from the Doge Dash cryptocurrency to HELLO tokens.
How Doge Dash works
The Doge Dash cryptocurrency is a BEP20 token issued on the BNB Chain, a blockchain created by Binance. The maximum supply is 100 billion DOGEDASH tokens.
Doge Dash charges a 9% tax on every transaction. This transaction is split equally three ways:
3% is redistributed to all DOGEDASH token holders.
3% is burned, meaning those tokens are virtually burned to reduce the supply and increase the value of tokens in circulation.
3% is sent to a marketing wallet.
The Doge Dash game has 10 levels of increasing difficulty and gives players three lives to complete them. Gameplay involves dashing around obstacles and enemies while collecting tokens. If a player completes the final level and reaches the doghouse at the end of the game, all the tokens they collected are transferred to their wallet.
There's a 100 DOGEDASH fee per Dash, but tokens only cost a small fraction of $0.01. For most of 2022, the cost of a Dash has been between about $0.01 and $0.05. It's possible to win a maximum of 10,000 DOGEDASH per playthrough.
A Doge Dash update added multiple difficulty levels. Higher difficulty levels cost more to play and offer fewer lives, but they also boost the number of tokens players receive if they finish the game.
Connections
Doge Dash announced a partnership with Skynet Trading in November 2021. Skynet Trading provides liquidity solutions and advisory services, and the collaboration is intended to help with future exchange listings.
Doge Dash made headlines when it named Cordell Broadus, son of rapper Snoop Dogg, as its creative director in December 2021. After the project's rebrand, Broadus became the creative director at HELLO, and he's slated to host its Crypto Cribs show.
Unique risks
HELLO is a very new and unproven company. It's still in the process of rebranding from Doge Dash, and it hasn't launched its own crypto token yet. Although it has laid out lofty goals, the only completed project from this team so far is Doge Dash, a mildly successful crypto game, and its corresponding NFT collection.
There isn't much to go on to evaluate HELLO or gauge its chances of success. The website only provides basic information on what's coming next, and the projects look underwhelming. Is the world really clamoring for Crypto Cribs, which will showcase how "the stars of the Web3 generation" spend their time and money? It sounds like MTV Cribs without any famous people.
The company is obviously planning much more than that, with aspirations to become a crypto entertainment ecosystem. However, the world of crypto is known for companies that overpromise and underdeliver. Until HELLO launches a few quality projects, it's just one of the many companies planning to be the next big thing.
Is Doge Dash/HELLO a good investment?
Doge Dash and HELLO aren't recommended as investments. The company as a whole hasn't done much to distinguish itself from all the other play-to-earn crypto games and crypto entertainment companies out there.
In terms of performance, we only have Doge Dash to go on since HELLO is still in the development process. Doge Dash started out hot, gaining more than 8,500% in its first month. Like most crypto tokens named after the Doge meme, it went downhill after its initial success, losing more than 90% of its value in the following months.
HELLO is planning to offer more than just Doge Dash, but, as previously mentioned, the current lineup of projects doesn't exactly look like it will revolutionize the crypto or entertainment worlds. That is subjective, though, so the best way to decide whether to invest in HELLO is to check out its website yourself.
If anything, take a wait-and-see approach with HELLO. Although investing in cryptocurrency is a high-risk endeavor, there are better options out there, from more established coins to cryptocurrency stocks.
How to buy Doge Dash
The easiest way to get Doge Dash is on its website. Click "Buy Coins," connect a blockchain wallet, and choose a cryptocurrency to trade for Doge Dash. You can also trade for Doge Dash on PancakeSwap (CAKE -7.07%), a decentralized crypto exchange.
There's no way to buy Doge Dash with fiat currency, and it's not available on any of the top crypto exchanges. The only way to get it is to trade for it with other types of cryptocurrency.
Keep in mind that you'll need to migrate your DOGEDASH tokens when the HELLO cryptocurrency launches. If you don't want to worry about this, it's better to wait for HELLO tokens to be available.
Doge Dash had some success by adding a crypto twist to a classic video game formula. Investors should be cautious about its new HELLO brand because going from a game to an entertainment ecosystem is a considerable jump.
Lyle Daly
has positions in PancakeSwap. The Motley Fool has no position in any of the stocks mentioned. The Motley Fool has a
disclosure policy
.