Investing in Social Media Stocks
Social media isn't new anymore, but it's still a fast-growing industry. About 3.8 billion people are active social media users in 2021. By 2025, the number of users is expected to climb to 4.4 billion. The biggest social networks still make most of their money from advertising, but social media is maturing and generating revenue from sources such as e-commerce, digital payments, and video games.
Investing in social media has more than doubled shareholder dollars since the start of 2018, as measured by the performance of the exchange-traded fund Global X Social Media ETF (NASDAQ:SOCL). Returns have been driven by top names such as Meta Platforms's Facebook (NASDAQ:FB), Snap (NYSE:SNAP), Twitter (NYSE:TWTR), and Alphabet's Google (NASDAQ:GOOGL) (NASDAQ:GOOG), which also owns YouTube.
Aside from the major players, plenty of other emerging social platforms are worth your attention. With hundreds of millions of people expected to become regular internet users in the next few years, now is a great time to consider investing in social media companies.
Best social media stocks
These are some of the leading social media stocks to own in 2021 and beyond:
| Company | Market Cap | Description |
| --- | --- | --- |
| Match Group (NASDAQ:MTCH) | $42 billion | The parent company of dating apps Tinder, OkCupid, and Hinge. |
| Etsy (NASDAQ:ETSY) | $30 billion | A social selling platform that enables discovery of unique items. |
| Pinterest (NYSE:PINS) | $29 billion | A visual sharing, search, and discovery platform. |
| IAC/InterActiveCorp (NASDAQ:IAC) | $14 billion | An investment firm with a long track record of fostering up-and-coming social media sites. |
| Zynga (NASDAQ:ZNGA) | $8.3 billion | A leader in mobile and social video games. |
| Bumble (NASDAQ:BMBL) | $6.4 billion | The parent organization of dating and relationship apps Bumble and Badoo. |
Data source: YCharts as of market close Nov. 2, 2021.
1. Match Group
Match Group -- best known for its dating sites Tinder (the top downloaded dating app worldwide), OkCupid, and Hinge (popular among younger generations) -- has been producing double-digit revenue growth for years. Finding companionship via the web has steadily become normalized over time, but COVID-19 has helped to solidify the demand for online dating services. Match grew steadily even at the height of the 2020 pandemic lockdowns.
Compared to other large social media businesses, Match has a unique business model. It derives most of its revenue from subscriptions paid directly by users rather than advertising. With online dating becoming more commonplace, especially in emerging economies, Match continues to forecast strong growth in revenue. It also completed the acquisition of South Korea-based social and video platform Hyperconnect for $1.725 billion over the summer of 2021.
2. Etsy
Etsy is best known as an e-commerce platform, but it stands out for its unique approach to facilitating online sales. Not only does the company specialize in vintage and handmade goods, but Etsy is also an online discovery platform where shoppers directly connect with creators. With more than 7.5 million sellers and 96 million active buyers, Etsy is one of the largest e-commerce platforms with a social focus.
Etsy has grown in part by acquisitions. It owns the vintage music equipment and reseller site Reverb, and it recently purchased Depop, the used-apparel marketplace that has tens of millions of users worldwide -- most of them members of Generation Z, born in the late 1990s or early 2000s. Etsy also owns Elo7, dubbed the "the Etsy of Brazil," which is helping the company to increase its presence in the largely untapped South American market.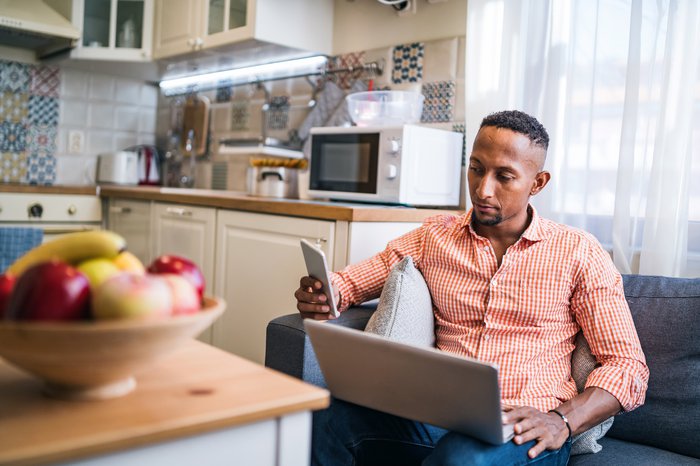 3. Pinterest
The visual sharing, search, and discovery company was a huge winner during the COVID-19 pandemic. Millions around the globe flocked to Pinterest while confined to their homes, and many are choosing to continue using Pinterest even as the pandemic starts to ease. With more than 450 million monthly users, it has become a top site worldwide for merchants and creators to advertise their products via a unique picture- and video-based format.
Pinterest reported a sharp slowdown in year-over-year active users in the summer of 2021 as more people started to leave home again. The company is spending heavily to continue increasing its user base and ways for businesses to build their brand on Pinterest, but it nevertheless is experiencing some growing pains as the pandemic eases. However, it is generating net income and positive free cash flow now, so Pinterest is in good shape. Its strong financial position and large global user base explains why fintech company PayPal Holdings (NASDAQ:PYPL) had reportedly expressed interest in acquiring Pinterest.
4. IAC/InterActiveCorp
IAC is hardly a household name, but the holding company has fostered and sold several well-known social media and online interactive platforms. Among them are Match Group, the travel and tourism conglomerate Expedia (NASDAQ:EXPE), and the online video and streaming site Vimeo (NASDAQ:VMEO).
While IAC has a proven track record of investing in and expanding businesses in the social realm of the internet, its current focus is not strictly social media. IAC's main focus is its majority stake in home project company ANGI Homeservices (NASDAQ:ANGI), but it also is engaged with many other companies, including Dotdash. This conglomerate includes Investopedia, Simply Recipes, and other websites. It's also acquiring Meredith's (NYSE:MDP) media and publishing business, which owns magazines such as PEOPLE, Better Homes & Gardens, Allrecipes, Southern Living, and InStyle.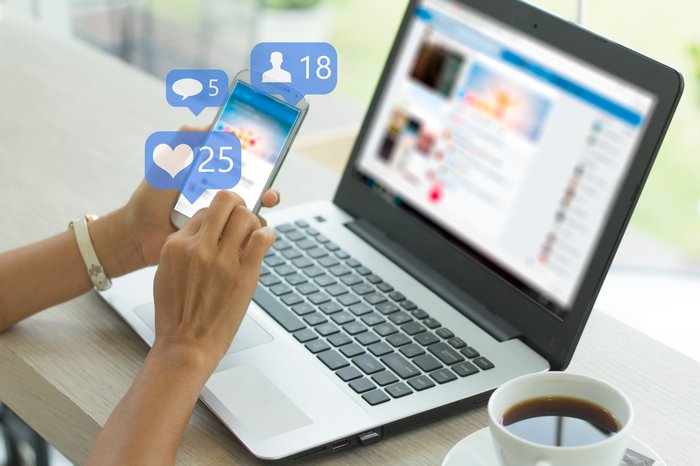 5. Zynga
Zynga is one of the largest mobile game production companies, and mobile gaming is the largest segment of an already large and steadily expanding video game industry. The company is responsible for popular titles such as Words With Friends, Zynga Poker, Farmville, and Toon Blast. Zynga acquired developer StarLark and its hit game Golf Rival in 2021.
Building social experiences and live events through games has been key to Zynga's success. With a massive user base spanning more than 150 countries, the company is planning to offer more live gaming experiences via its mobile app to keep users engaged and interacting with each other. Besides revenue from in-app purchases, Zynga also generates about one-fifth of its sales from advertising. Its recent acquisition of the mobile ad platform Chartboost is strengthening the social gaming giant's ability to make money from ad sales.
6. Bumble
Bumble (and its subsidiary Badoo) was founded by a former executive at Match Group's Tinder, and it has emerged as one of fastest-growing dating apps. The company's initial public offering (IPO) in early 2021 raised $2.5 billion in cash, and it stands out for being one of just a few female-founded and -led companies. Bumble is succeeding because it takes a fresh approach to social networking and online dating.
Bumble and Badoo's basic features are free to use, and the company primarily makes its money from one-time, in-app purchases and premium subscriptions. In less than a decade (Bumble was founded in 2014), this top dating and relationship service has accumulated millions of users worldwide and is still expanding rapidly, forecasting double-digit percentage sales growth for 2021.
Should you buy social media stocks?
The social media business model is still evolving and changing. With roots in advertising-based revenue, social media companies are finding new ways to connect people all over the world while more effectively monetizing their expansive networks. Investors in social media stocks should be comfortable with buying and holding while the social media industry reaches maturity.