Premarket trading used to be a domain exclusive to institutional investors, but more and more online brokers are offering extended-hours trading to retail investors.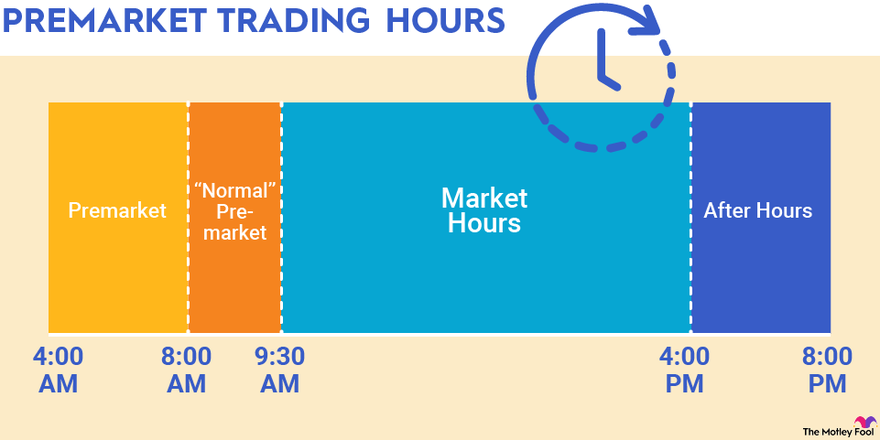 Image source: The Motley Fool
Premarket trading takes place before the standard trading hours for a stock exchange, allowing investors to buy and sell stocks ahead of the market open. Typical premarket trading hours in the U.S. are from 8 a.m. to 9:30 a.m. ET, but some exchanges will execute trades as early as 4 a.m. Investors also can place orders for premarket trades in advance of those trading hours.
In this article you'll learn why you might want to buy or sell stocks in the premarket trading session, how to do it, and the pros and cons of premarket trading.
Understanding premarket trading
Understanding premarket trading
Companies often release important news outside of normal trading hours. For example, some companies will issue their quarterly earnings early in the morning, well before the market opens. Some companies also will wait to issue press releases announcing big partnerships, new products, or executive changes until early in the morning.
Such news can have a meaningful impact on how the market values a stock. It's why you'll often see a stock's share price open at a much different price than its previous close when it releases earnings. If you want to trade on an early morning news release as soon as possible, you'll need to place an order for the premarket trading session.
How to trade
How to trade premarket and after hours
Trading in the premarket or after-hours session is a bit different than buying or selling a stock during normal trading hours. While orders during the trading day are routed through an exchange like the Nasdaq or New York Stock Exchange, extended-hours trades use an electronic communications network, or ECN.
An ECN is a service your broker uses to match buy and sell orders and to execute trades. Although it effectively does the job, it has some limitations; traders can only use limit orders on an ECN.
You might be used to placing market orders for stock trades, which will fill at the prevailing rate during the day. With a limit order, you have to name your price, and there's no guarantee that the trade will execute. If it does execute, however, it's guaranteed to execute at your price or better.
The first step to place a trade for the premarket session is to log into your brokerage account. Your broker may have a specific area of their website or app to place extended-hours trades, separate from standard orders.
The broker will also detail when you can place an order for premarket trading. This is usually any time after the after-hours trading session closes and before the premarket trading session closes. Note that most extended-hours trades are only good until the end of the current trading session. They do not carry over into normal trading hours.
Once you find where to place your order, you'll need to submit a limit order. You specify how many shares you want to buy or sell and the price you're willing to accept. Once you've placed your order, the broker will send it to the ECN, which will try to match your order with others on the network based on limit prices.
So if you submit a buy order for 100 shares at $50, the network will look to match your order with an order to sell at least 100 shares at $50 or less. If it finds a match, it executes the trade, and everything settles in two trading days, just like normal trading hours.
Pros and cons
Pros and cons of premarket trading
There are several advantages and disadvantages of participating in premarket trading.
Pros:
Take advantage of big price changes. Sometimes the initial reaction of the overall market to a news release goes against your interpretation and your long-term outlook for the stock. If you participate in the premarket session, you may be able to take advantage of a big price change. While there's a chance that a premarket price could stick, it also could disappear by the time the market fully digests the news when it reopens.
Trade when it's convenient for you. If you're unable to place trades during the workday, which corresponds with normal trading hours, you may be interested in using premarket or after-hours trading to execute your trades.
React to the news ASAP. If a company's news release makes you think a stock is a screaming buy or sell, you might not want to wait around until the market opens. The price could be much worse by then. Premarket trading allows you to get in early, ahead of many other investors.
Cons:
You might not be able to get the best price available. When you place an order for premarket trading, it only goes to the electronic communications network your broker uses. Other brokers and institutional traders may use different ECNs, limiting the orders you can match with. During normal trading hours, trades execute on the exchanges and brokers will aggregate orders across all trading venues, including market makers and ECNs, ensuring you get the best available price.
There's no guarantee that your order executes. Only a small percentage of investors participate in premarket trading. Although that number increases when a company puts out a big news release, there's still limited liquidity in the market. That's exacerbated by the fact that your broker only has access to a single ECN. Therefore, there's an increased likelihood that your trade never executes because there aren't enough shares trading hands.
Big differences between buy and sell prices. Because there are fewer participants in the premarket session, the bid-ask spread can be much wider than in normal trading hours. That can make it difficult for investors to gauge the actual market price when placing orders.
The bottom line
If you like to keep up with breaking news and trade stocks based on the most recent information, you may want to see about your broker's extended-hours trading. Making premarket trades allows you to react to early morning earnings releases and news before the market opens. And, while the technical aspects of premarket trading may be a bit more complicated than trading during normal hours, many brokers are making it more accessible to retail investors.
Premarket Trading FAQs
Can you trade on premarket?
Yes. Many online brokers offer premarket trading services. Check your broker for hours, fees, and how to place an order.
Who is allowed to buy premarket?
There are no limitations on who is allowed to buy premarket. If you have a brokerage account with access to an electronic communications network, you'll be able to place an order for the premarket session.
Is buying premarket a good idea?
As with most things in personal finance and investing, the answer to whether buying premarket is a good idea is, "It depends." If you're actively following a stock and the company's news releases, have a good idea of how to quickly interpret news as it comes out, and can make quick decisions, premarket trading might be a good idea. If premarket trading allows you to execute a trade for a stock at a price you're happy with and otherwise wouldn't be able to get in normal trading hours, then it's also a good idea.
But keep in mind that premarket trading is often volatile with limited liquidity. If you're looking to get in and out of a trade quickly, you might not have success with premarket trading. If you can't handle the volatility and determine a fair market price for your trade, premarket trading might not be for you.