We use physical keys to provide owners with secured access to their homes, cars, and other important items. Cryptocurrency uses a similar key-based security system. Instead of a jagged piece of specially cut metal, cryptocurrency keys are a string of numbers and letters.
There are two types of cryptocurrency keys: public and private. A private key is like a password for cryptocurrency. That makes it an essential security feature to protect a user from unauthorized access to their funds. Just like it's important to protect the key to your home, it's vital to safeguard the private key to your cryptocurrency because it grants the holder access and control over those funds.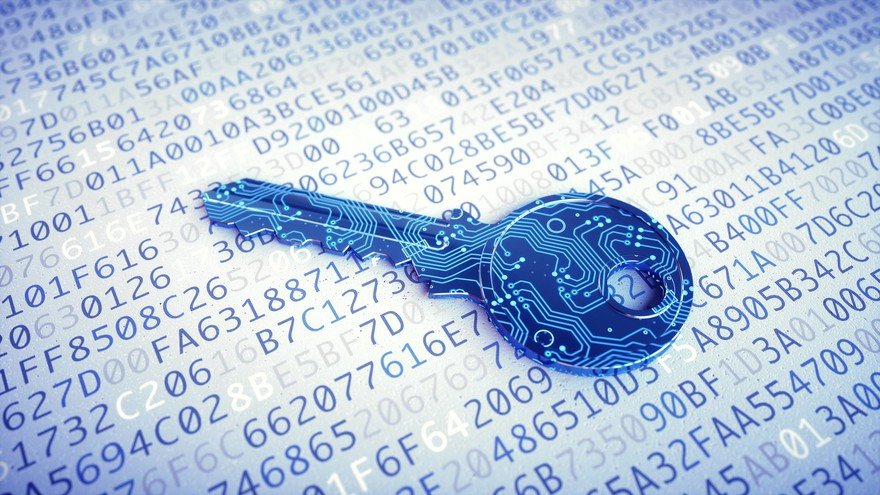 Image source: Getty Images.
What is a private key?
You'll receive a unique pair of keys when you initiate your first cryptocurrency transaction with Bitcoin (CRYPTO:BTC) or another token. You'll get a public key -- a code that allows you to receive cryptocurrency -- and a private key, which gives you control over those funds. A private key is a large, randomly generated string of alphanumeric characters with hundreds of digits. This secret number acts as a password to protect a cryptocurrency holder and is the key to unlocking access to the virtual vault that holds your cryptocurrency. Its sheer size makes it nearly impossible for someone to crack and steal your cryptocurrency.
How the private key is used in crypto
Cryptocurrency uses a set of digital keys and addresses to convey ownership and control over virtual tokens. The public key is like an address. You can safely share a public key with others to let them know where they can send you funds. 
A private key works like a password. It's known by the user and serves as their digital ID. It authorizes the user to spend, withdraw, transfer, and carry out any other transaction from their account.
The public key allows anyone to deposit a digital token into any public address, but only the holder of the unique private key can withdraw funds from the account. Because of that, it's crucial to prevent your private key from being lost or stolen.
Public key vs. private key
As previously noted, a public key is an address. Think of it like your home address, email address, or post office box number that you can give to someone else so that you can receive something from them. In this case, a public key is where you can receive cryptocurrency from someone else.
A private key is like the physical key or password that safeguards the contents of your address. Only the private key holder has the authority to remove something from the address. In the cryptocurrency world, it grants the user the authority to remove funds from the account.
Importance of private keys
Private keys help secure digital money. Cryptocurrencies such as Bitcoin and Ethereum (CRYPTO:ETH) are decentralized, meaning that no bank or other financial intermediary holds your funds. Instead, crypto is distributed across a network of computers using blockchain technology. That makes all crypto blockchains -- including all public key and transaction information -- available for anyone to see. 
Even though everything happens out in the open, it's completely anonymous. You don't provide your name, address, or any other information to use crypto. Instead, keys are the key to crypto transactions. A complex algorithm generates a public key from a private key, making them a matched pair. The private key verifies that the person making the transaction with the public key has the ownership to complete that transaction. A private key provides security for cryptocurrency transactions by proving ownership.
Pros and cons to private keys
Private keys have their benefits and drawbacks. On the plus side, private keys provide a high level of security for cryptocurrency transactions. Given their large size, it could take years to crack a private key. It's also faster and easier to carry out the encryption of private keys on the blockchain. 
However, the major drawback is the potential loss of a private key. If you lose a private key, no one will ever be able to decrypt the received data. That means no one could access the cryptocurrency in a blockchain wallet if the owner lost their private key. Along those same lines, if you store your private key in an insecure location, someone else could steal it -- and all your cryptocurrency.
How to store your private key
It's imperative to store your private key somewhere safe so that it doesn't get lost or stolen. There are many ways to safely store cryptocurrency and your private key, which fall into two basic categories:
Store them in an online crypto wallet. The simplest way to keep your private key safe is by storing it in a digital wallet. It's called a "hot" wallet because it holds your private key on the internet. That makes it easy to use your digital currency. Users should choose a digital wallet provided by a company with a long track record of security that uses features such as two-factor authentication.
Store them somewhere safe offline. You can also store your private key offline, either on a computer not connected to the internet, printed or written on pieces of paper, or memorized. This method, known as cold storage, protects your private key from digital theft. However, it makes your cryptocurrency less useful and creates other risks such as memory loss, misplacement, and physical theft.
Hot wallets are more convenient and often free. Meanwhile, cold storage is often more secure, especially if stored on a cold wallet (i.e., a computer or device not connected to the internet), although those options usually cost money.
Private keys are the key to keeping your cryptocurrency secure
Like the key to your home, a private key gives the holder access. In this case, they can use their cryptocurrency as they wish. Because of that, it's imperative that you make sure you don't lose it or that it doesn't fall into the wrong hands. That's why it's vital to store it in a safe place so that you can keep your cryptocurrency secure and access it when you want to use your funds.