Rapid 5G mobile network construction will continue in 2022. According to researcher Statista, global 5G subscriptions are expected to double and surpass 1 billion this year. Meanwhile, 5G infrastructure spending needed to support the change could increase 22% this year to more than $23 billion worldwide, according to Gartner.
This massive technology rollout will take years to complete. It will encompass wide swaths of the global economy since 5G network development will have substantial overlap with items ranging from automotive technology to video games and virtual reality (part of "the metaverse"). Consumers and businesses will need to upgrade smartphones and other devices that can connect to 5G networks, making the upgrade cycle a top investment theme for 2022 and beyond.
The top 5G stocks to buy in 2022
5G is the fifth generation of wireless networking technology. It offers lower latency (the time between an input or request for data and the network's response), along with download speeds up to 100 times faster than 4G. Mobile providers such as T-Mobile (NASDAQ:TMUS) and rivals Verizon (NYSE:VZ) and AT&T (NYSE:T) are all great options for investing in 5G, but investors wanting higher growth exposure to 5G can also focus on companies providing infrastructure, equipment, and technology.
Semiconductor companies, manufacturers of mobile tech equipment and infrastructure, and real estate asset holders are well positioned to benefit from the proliferation of 5G. Several 5G exchange-traded funds (ETFs) also focus on companies building the next generation of mobile technology.
Data source: YCharts. Market cap as of Jan. 3, 2022.

| Semiconductor Companies | Market Capitalization | Description |
| --- | --- | --- |
| Broadcom (NASDAQ:AVGO) | $274 billion | A diversified developer of chips and electronic components for phones and networking hardware. |
| Qualcomm (NASDAQ:QCOM) | $209 billion | The leader in mobile computing chips; practically every smartphone on the planet contains Qualcomm hardware. |
| Skyworks Solutions (NASDAQ:SWKS) | $26.4 billion | Designer of radio frequency chips that allow smartphones and other devices to receive a mobile signal. |
| AMD (NASDAQ:AMD) | $181 billion | Top chip company that is making a key acquisition to break into new markets, including 5G. |
| Nvidia (NASDAQ:NVDA) | $753 billion | The pioneer of the graphics processing unit, which is finding new uses outside of its traditional video game roots. |
Data source: YCharts. Market cap as of Jan. 3, 2022.

| Equipment and Infrastructure Companies | Market Capitalization | Description |
| --- | --- | --- |
| Corning (NYSE:GLW) | $31.7 billion | The legacy glass and ceramics firm is refocused on technology that includes 5G equipment and radio transmitters. |
| Ciena (NYSE:CIEN) | $12.0 billion | A fiber-optic equipment and network software provider for the telecom industry. |
| Arista Networks (NYSE:ANET) | $43.7 billion | A top provider of data center equipment and management software. |
Data source: YCharts. Market cap as of Jan. 3, 2022.

| Real Estate Companies | Market Capitalization | Description |
| --- | --- | --- |
| American Tower (NYSE:AMT) | $130 billion | One of the largest REITs and focused on mobile network infrastructure. |
| Crown Castle (NYSE:CCI) | $89.7 billion | A leading mobile network REIT in the U.S. with a growing number of 5G small cell tower deployments. |
| Digital Realty Trust (NYSE:DLR) | $49.7 billion | A top data center developer with a group of mobile network clients using its services to manage 5G. |
Best 5G chip companies
The basic building blocks for 5G are semiconductors -- the electronics that process data and execute commands in a computing system. These companies provide the chips that make 5G work. Top chip companies include:
1. Broadcom
Chip design giant Broadcom is a top name in 5G. Its circuitry designs can be found across the mobile network ecosystem in base stations that create wireless signals and network infrastructure that serves as the backbone of the internet. Broadcom also designs parts that connect smartphones and other devices to a wireless signal.
In recent years, Broadcom has made several acquisitions to add infrastructure management software to its operation. The segment assists customers with monitoring and securing their networks and cloud computing assets and has boosted the company's profit margins since the software is often packaged with network hardware. Broadcom's free cash flow profit margin was an incredible 49% in 2021.
2. Qualcomm
Qualcomm's product portfolio includes chips that enable 5G technology in everything from Internet of Things (IoT) devices and industrial equipment to smartphones, cars, and even modems that make up the 5G network. Qualcomm has profited from the smartphone boom since the early 2000s by focusing on the tech behind 3G and 4G mobile networks.
The smartphone industry has matured, and unit sales no longer reliably post double-digit percentage growth. However, the 5G device upgrade boom is lifting Qualcomm's sales higher again, and management says it sees its total potential phone markets (excluding other mobile devices and automotive) growing an average of 12% annually through 2024. The company has ample cash on its balance sheet to drive innovation in hardware, and it has consistently paid a dividend for almost two decades.
3. Skyworks Solutions
Skyworks Solutions sells the basic components that power smartphones. It designs radio frequency chips that allow a phone to connect to a mobile network, so the uptick in 5G adoption has been a boon for the company.
Skyworks is now using its know-how to enter other sectors, including virtual reality, smart-home devices, connected industrial equipment, and medical devices. It bolstered its presence with the purchase of Silicon Labs' (NASDAQ:SLAB) automotive and network infrastructure segment in 2021. Although it's the smallest chipmaker on this list, Skyworks has a healthy balance sheet and is highly profitable with a strong growth outlook.
4. Advanced Micro Devices
AMD makes this list because of its acquisition of Xilinx (NASDAQ:XLNX) -- the industry leader in field-programmable gate array (FPGA) chips. FPGA chips can be reprogrammed and reconfigured at the hardware level even after they've been built. As new hardware is developed for 5G, the adaptability of FPGA chips makes them ideal for building the basic equipment to deploy 5G technology.
The merger, expected to be completed in the first quarter of 2022, gives AMD access to a best-in-class research and development department and will also improve AMD's profitability since Xilinx's profit margins are far higher than those of traditional AMD chips used in personal computers and data centers.
5. Nvidia
Nvidia pioneered the graphics processing unit (GPU), which is most commonly used in high-end video games. However, GPUs are also being used for other applications such as AI, self-driving car development, and 5G.
Since 5G networks enable faster download speeds and also can handle higher traffic and intelligently route network signals where they're most needed, high-end GPUs are ideal for this task. Nvidia's GPUs are being used by telecom companies and equipment makers, and 5G deployment is likely to increase the need for GPUs to operate cloud-based video games streamed over networks. Already a huge enterprise, Nvidia is finding a potentially gigantic new market in 5G, and the company has a history of making technological advancements with its massive hardware and software suite.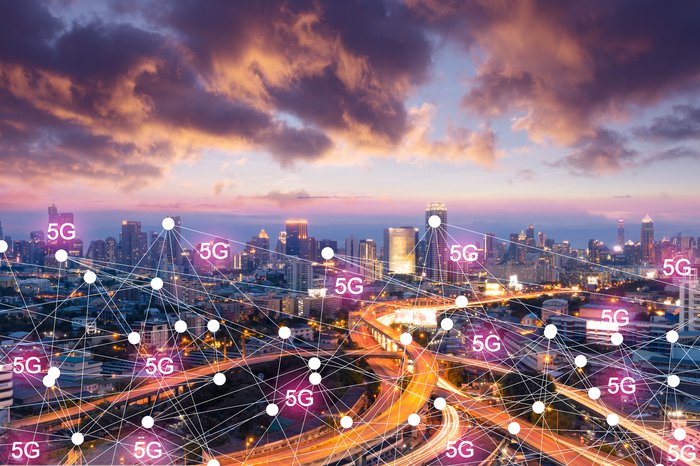 Best 5G equipment and infrastructure stocks
Beyond the basic chips needed to power 5G telecommunications, general equipment makers provide hardware that makes mobile networks possible. To reach businesses and consumers, wireless 5G signals need extensive equipment.
1. Corning
Before it gets turned into a high-speed Wi-Fi signal, 5G data needs to travel along the wired portion of the internet just like other electronic data. That's where fiber-optic cable comes in, and Corning -- the legacy glass and ceramics manufacturer -- is a major supplier. Even as they deploy new radio towers, many telecoms providing 5G service also need to add more high-speed cable to their networks.
Corning also builds small cell antennas and accompanying software -- core components of 5G systems used in office buildings and venues such as sports arenas to deploy wireless signals. Corning has been around for a long time, but it has a long history of paying a rising dividend to its shareholders.
2. Ciena
Ciena is another company that sells fiber-optic equipment and network design services to communications companies. Ciena's profits from the expansion of 5G technology have enabled the company to pay down debt, increase its cash reserves, and repurchase stock. Along the way, it's developed new capabilities, including a software segment that helps telecoms manage their networks.
As organizations update their systems to handle 5G, the company is capable of providing the engineering design and the materials needed to deploy next-generation mobility. After a sales slump early in the COVID-19 pandemic, Ciena is back in growth mode again.
3. Arista Networks
Data center and internet infrastructure company Arista Networks is an often-overlooked 5G stock. Because 5G can carry massive amounts of data -- enabling ultra-high-definition video streaming or communications for network-connected vehicles -- data centers will play an increasingly important role in mobile network management.
Arista is a top equipment provider for data centers, with open-source hardware and management and cybersecurity tools. Arista is well positioned to benefit from the accompanying boom in cloud computing services as 5G further increases the capabilities of mobile devices.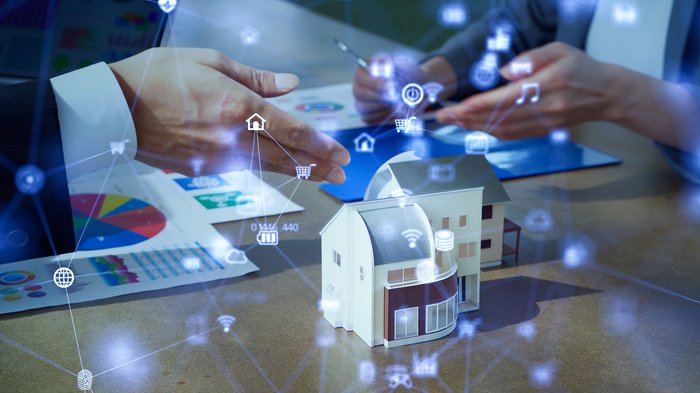 Best 5G real estate investments
5G also requires real estate. Towers and other fixed assets are needed to broadcast 5G signals, and real estate investment trusts (REITs) American Tower, Crown Castle, and Digital Realty Trust are some of the largest players in the sector.
1. American Tower
American Tower is one of the largest REITs and is a top real estate company in tech. It concerns itself primarily with the land, buildings, and cell tower sites crucial to the function of both mobile networks and internet infrastructure and has almost 220,000 properties worldwide. It also establishes fiber-optic networks that connect 5G small cell sites to the rest of the internet, which is a critical service for mobile network operators as more consumers and businesses rely on a mobile service for their internet use.
2. Crown Castle
Crown Castle is much smaller than American Tower, but it is a leading North American communications infrastructure property manager. It operates more than 40,000 cell towers and has tens of thousands of miles of fiber and a fast-growing portfolio of small cell nodes for 5G deployment. Although there are industries growing faster than real estate, Crown Castle offers its shareholders the potential for growth as the 5G industry develops while also paying out income.
3. Digital Realty Trust
Digital Realty Trust is a top developer and acquirer of data centers, the basic computing units of the cloud computing industry. However, since there is overlap between cloud services and 5G, it's noteworthy that Digital Realty's clients include telecommunications companies that are building the physical assets to make 5G possible.
Although their investments are primarily designed to generate income, all three REITs have seen share prices significantly increase over the past decade. As mobility becomes increasingly important around the globe and data volume continues to swell, the demand for American Tower, Crown Castle, and Digital Realty Trust real estate assets will only grow.
Related topics
Invest in 5G for the long term
While previous telecom network upgrades enabled the smartphone and mobility booms, 5G technology is entrenching digital technology even more into daily life. It overlaps with cloud computing given that so many people now work from home, and it is also unlocking new forms of entertainment such as high-definition video, video game streaming, and virtual reality. Investors who are patient throughout the lengthy course of 5G's deployment are likely to see attractive long-term returns.