Investing in Consumer Staples Stocks
Whether you think about it or not, you probably rely on consumer staples every day. These are products like packaged food and beverages, cleaning and personal hygiene products, household products like paper goods, and alcohol, tobacco, and cosmetics.
They're the kind of goods you buy and stock your house with regardless of the greater state of the economy, and the amount you buy or spend on them is relatively fixed. In this way, the consumer staples sector behaves much differently from consumer discretionary businesses like restaurants, hotels, and apparel. Consumer discretionary goods are best defined as wants rather than needs. They are products or services that consumers will purchase if they have sufficient income. With those kinds of goods and services, consumers tend to increase their spending and consumption in good economic times and pull back during a recession.
Consumer staples companies may not have the highest earnings growth or year-over-year revenue growth because as market leaders, they are already large, mature companies. But these stocks make up for that modest growth with safety, reliable profits, and defensive positioning.
Advantages of consumer staples stocks
Consumer staples are noncyclical, meaning they offer investors safety during recessionary climates. Since these companies sell products like food and cleaning products that consumers rely on regardless of the state of the economy, they tend to generate solid profits even in a weak economy.
Did you know...
Consumer staples are noncyclical, meaning they offer investors safety during recessionary climates.

They are also generally defensive, dividend-paying stocks, meaning they tend to outperform in down markets. Some of them are Dividend Aristocrats, meaning they've increased their dividend payout every year for at least 25 years. For this reason, consumer staples stocks are often popular with retirees and other investors seeking income and security. Many of them offer better dividend yields than the S&P 500, which pays a 2.2% yield as of April 2020.
Because these companies operate in a stable sector and sell products that are always in demand, the biggest consumer staples companies have been around for ages, sometimes a century or more. That's a sign of their ability to endure a wide range of challenges and economic cycles, and it adds to their attractiveness as defensive stocks with healthy dividends.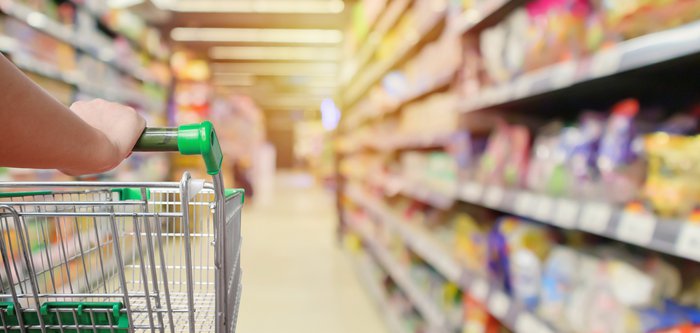 Top consumer staples stocks
Just as you're already familiar with many consumer staples products, you likely know many of the top stocks in the sector, such as Coca-Cola (NYSE:KO), Procter & Gamble (NYSE:PG), and Pepsico (NYSE:PEP), which we discuss below.
Coca-Cola (NYSE:KO) has long been a favorite of investors like Warren Buffett, as the world's biggest beverage company. The company has been around for over 100 years and was one of the best-performing stocks in the 20th century. Though consumers are now drinking soda less frequently due to health concerns, Coca-Cola has diversified into a broad array of beverage brands, including Dasani, Powerade, Topo Chico mineral water, Zico coconut water, and the Costa coffee chain. After acquiring a brand, Coke generally expands its distribution and adds to its marketing budget to ramp up sales, leveraging its own competitive advantages. While its brand reputation is likely its biggest competitive advantage, its distribution network and marketing muscle add to its fortitude and create barriers to entry.
Procter & Gamble (NYSE:PG) may be best known for some of its marquee brands, which include Tide detergent, Gillette shaving products, and Crest toothpaste. The company is nearly 200 years old and has 22 brands that generate $1 billion or more in annual revenue across several categories, including paper products, laundry detergent, diapers, and beauty products. Nearly all of them are No. 1 or No. 2 in market share in their respective categories. P&G is a Dividend Aristocrat with a history of innovation. It is currently developing products including nontoxic insect repellent Zevo, and last year it released a line of plant-based cleaning products called Home Made Simple. After streamlining its business by selling off non-core brands, restructuring, and cutting costs, the company looks as strong as it's ever been.
Pepsico (NYSE:PEP) is more than just its namesake beverage brand. The company also owns Frito-Lay and Quaker, as well as other popular beverage brands like Tropicana and Gatorade. Its Frito-Lay snacks business generates nearly as much revenue as its beverages do internationally, and that business has proven to be a source of growth while soda sales in the U.S. and internationally. With global brands and distribution, Pepsi enjoys many of the same advantages as Coca-Cola, and has also grown through acquisitions over the years. In 2018 it acquired SodaStream, which gave it a leading position in countertop soda making. Like Coke and P&G, Pepsi is a Dividend Aristocrat, having raised its quarterly payout for 48 years in a row.
Consumer staples ETFs
For investors who prefer to get exposure to the whole sector rather than pick individual stocks, buying an exchange-traded fund in the sector is the most sensible option. The chart below presents three different ETFs in the industry, Consumer Staples Select SPDR Fund (NYSEMKT:XLP), Vanguard Consumer Staples ETF (NYSEMKT:VDC) and iShares U.S. Consumer Goods ETF (NYSEMKT:IYK).
Source: Yahoo Finance
All three of these ETFs have Coca-Cola, Procter & Gamble, and Pepsico as their top three holdings.
In addition, they own retailers like Walmart (NYSE:WMT) and Costco (NASDAQ:COST) that trade similarly to consumer staples, as well as stocks like the following:
| Fund Name | Ticker | Expense Ratio |
| --- | --- | --- |
| Consumer Staples Select SPDR Fund | NYSEMKT:XLP | 0.13% |
| Vanguard Consumer Staples ETF | NYSEMKT:VDC | 0.1% |
| iShares U.S. Consumer Goods ETF | NYSEMKT:IYK | 0.42% |
Key metrics to watch
I've given you some of my favorites, but you can find great consumer staples stocks, too. In order to evaluate consumer staples companies and choose the best stocks, it's important to understand some key industry metrics. Those include the following:
Organic sales: This metric strips out certain factors and events that may affect revenue, such as acquisitions, divestitures, and foreign currency, and therefore gives the best picture of how the underlying business is performing. Organic sales growth is made up of two components: volume growth and price growth. It's better for companies to grow organic sales through increasing volume, which can be understood as the number of units sold, rather than price hikes, because volume increases are more sustainable and mean increasing demand as well as market-share gains often. Price increases, on the other hand, help lift profitability, but brands can only raise prices so much.
Market share: This is the percentage of total sales that a company or brand gets in a given category, like diapers or soda. Since consumer staples products tend to be slow growers and demand is rather fixed, companies are fighting over market share, or pieces of the same pie, rather than enlarging the market. That means market-share gains are key to showing strength, or competitive advantage. Companies don't often report market share directly, but data is generally available from third parties. Companies also tend to note market-share gains when they are relevant.
Dividend yield: Another key factor to use to assess consumer staples stocks is their dividend yield. Since these tend to be mature, highly profitable, and long-lived companies, they almost always pay a dividend, and their yields are generally better than that of the S&P 500. What investors like about consumer staples stocks is their defensive positioning and their ability to pay a steady dividend, as many of them are Dividend Aristocrats. Their well-recognized brands, marketing reach, and global distribution help create barriers to entry, protecting profits and ensuring their dividends. High dividend yield and reliable dividend growth also make up for sometimes modest earnings growth and help lift total return.
A timeless business model
Consumer staples are among the safest stocks on the market because they sell timeless products that consumers always need like food, toilet paper, cigarettes, and detergent. Because the leaders in this sector are so big and have a global reach and the products don't change much, there are significant barriers to entry and little chance of industry disruption. While a start-up may make a popular beverage, for example, it is unlikely to achieve the same distribution as Coca-Cola or match the beverage giant in marketing.
That means these companies are likely to endure for generations to come. Though they may not deliver the fastest earnings growth on the market, their ability to withstand recession, increase their dividend, and put up consistent growth make them excellent choices for investors looking for reliable, income-producing stocks that will help them sleep easy at night.
You might like: